May 1, 2020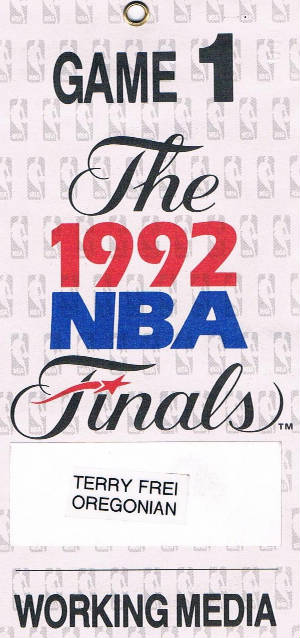 "The Last Dance," the 10-part series on Michael Jordan and the Chicago Bulls' run to six NBA championships in the 1990s, is drawing immense interest.
I've been thinking back to when I was sports columnist at The Oregonian, covering the 1992 NBA Finals.
Jordan and the Bulls broke through for title No. 1 in 1991, knocking off the defending champion Pistons in the Eastern Conference Finals and then the Lakers in the championship series.
So in 1992, the Finals matched the Trail Blazers and Bulls, and it was an intrguing series for a handful of reasons.
It also was the Blazers' second trip to the Finals in three years. They'd lost to the Pistons in four games in 1990 and then were the best team in the league in 1990-91, winning 63 games in the regular season. In retrospect, that was the Blazers' best team in the three-season stretch -- and the only time they didn't make the NBA Finals, thanks to a six-game loss to the Lakers in the West finals.
By then, as this series shows, Jordan was well on the way to being ... just Michael. Or MJ.
And the Blazers could have had him. (More on the details in my May 6 column for woodypaige.com.)
That was part of the stage-setting for the 1992 Finals.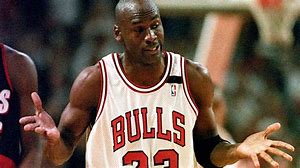 Jordan went nuts in Game 1, scoring 35 points in the first half, including uncharacteristically nailing six 3-pointers in the first half. He famously shrugged toward the broadcast table (Hey, what can I say?), and I also was among the Oregonian contingent at court level that also included Dwight Jaynes and Kerry Eggers.
So ... here are my deadline columns on the series-opening Game 1 and the series-ending Game 6, both at Chicago. (You didn't get to go into the computer system and keep changing your stories for online beyond newspaper deadline. There was no online.)
Another misconception is that the series was a blowout. It wasn't. In fact, the Finals were tied 2-2 after four games and for most of Game 6, it seemed as if the Blazers were going to win and extend the series to seven games.
They didn't.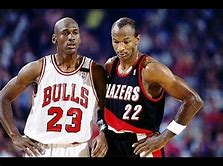 Oregonian
June 4, 1992
CHICAGO -- This isn't tennis, Clyde Drexler said all week. This isn't golf, he said. Eventually, a slight strain of impatience crept into his voice when the questions persisted, coming in waves. Michael vs. Clyde. Air vs. Glide. Olympian vs. Olympian. Champ vs. challenger. Absolutely, and rightfully so, it was the matchup angle being played up from coast to coast, and not just in a quick NBC promo for the National Basketball Association Finals during ``Nightly News.''
Drexler left out boxing.
Maybe he subconsciously sensed he was being set up for the sucker punch.
Anybody vs. Jordan is a mismatch.
When Jordan is at his best, as he was with a 35-point first half in the Bulls' 122-89 romp Wednesday night in Chicago Stadium, ``incredible'' is an understatement. His team could be tough to beat if the other Bulls do nothing but relax and allow themselves to be sucked into the jet stream.
And when Jordan, who usually neither needs nor looks for 3-pointers, comes out Wednesday night and makes 3-pointers with the ease of free throws?
Lethal Weapon 23 had gone nuclear.
``It was definitely incredible,'' Drexler said. ``He made some medium-range jumpers, too. But that's actually the shot you want him to take. Those are the shots that are going to be available in Game 2.''
Jordan vs. Drexler -- as well as Bulls vs. Blazers -- was no contest.
The Bulls could have picked the score, so when there was a little commotion in their huddle during the third quarter, the guess is they drew numbers out of a 1992 NBA Finals hat and settled on 122-89.
Now, ladies and gentlemen, let's get back to boxing.
The way this went, there should have been a grizzled, gravel-voiced trainer named ``Murph'' in the corner, throwing in the towel for Drexler when it became bloody and gruesome in the second quarter.
The Illinois State Boxing Commission would suspend Drexler's license for 90 days after this knockout.
Drexler might have flown to new levels this season. He might have become the second-best player in the NBA. He might have made the Olympic selectors seem short-sighted.
Jordan still is on another planet.
Drexler's right: This is a team game. The point isn't that Drexler was bad, because he wasn't, really. He was very ordinary, and after the acclamation comes your way, that's fair criticism. His whole team was embarrassed, but it is the superstar's burden to be expected to become even better when the spotlight shines. There are unrelenting, sometimes unfair, sometimes unreasonable, high expectations that the great players treat as welcome challenges.
As Jordan did in Game 1.
You sensed that Jordan was getting a little peeved, too, by all this talk. Is Clyde getting to your level? Could it be that you guys are now 1 and 1A, not 1 and 2? And especially because you're going to be matched up in more than name -- unlike the Magic vs. Michael talk of 1991, when the two marquee guards rarely guarded each other -- isn't this an invigorating challenge?
It's safe to say: Jordan used it. He took this talk and used it, almost like a high school football coach putting clippings on the bulletin board of the locker room. The one element in Drexler's game -- and even Jordan said this -- that might outdo Jordan is the Portland guard's 3-point touch, which took on a new reliability this season.
``I knew what the hype was in terms of myself against Clyde Drexler, but I just tried to stay within the framework of the offense, the system,'' Jordan said. ``Next thing you know, the shots started falling from everywhere.''
It couldn't have been that coincidental. The Blazers condensed their defense, sure, but Chicago knew that was coming. The 3-pointer, the shot at which Drexler was supposed to have the advantage, was going to be there. Jordan knew that.
And because this indeed is a team game, when Jordan was this devastating, the Bulls made the Blazers look like the Orlando Magic. On one of Orlando's worst nights. On one of those nights when Orlando had seven guys hurt and was using guards who a week earlier were riding vans to Albany, N.Y., for a minor-league game and wondering if they should quit and go to air-conditioning technicians' school.
Jordan stunned them, and they didn't do much to fight back.
The Blazers turned the ball over 21 times.
Usually relentlessly aggressive, they got beat on the defensive boards, giving up 16 offensive rebounds to the Bulls.
They came into this series bristling at the ``stupid'' label. But the way they played in Game 1, repeatedly making horrible decisions and letting their offense disintegrate, let's say they barely even got their name written on the test paper before they broke their pencils and couldn't answer any more questions.
One game?
Sure.
It wasn't that long ago that Cleveland embarrassed Chicago in Game 2 of the Eastern Conference finals -- in Chicago Stadium, no less -- and some fans probably walked out saying hockey's Blackhawks were the city's best bet for a winter sports title. The Bulls recovered from that debacle, and it would be possible that the Blazers could, too.
But Jordan will have to come back down a little closer to earth.
CHICAGO -- Would it have been better to lose quietly in Game 6 of the NBA Finals, going meekly into the offseason with a routine, maybe even decisive loss on the road?
Or is it better to be able to say you almost saved face, but ended up with egg all over it?
Yes, it's going to be hard to remember that the Trail Blazers played a courageous, terrific game for three quarters on Sunday night. It will be much easier to summon the memory of their horrific, fourth-period collapse in Chicago Stadium.
Their lead, the 15-point lead over Chicago after three quarters, the lead that looked even more secure the instant the Chicago Bulls came out for the fourth period without Michael Jordan, disappeared.
Along the way, so did all the Trail Blazers' timeouts.
Rick Adelman tried to arrest the slide with ``Time!'' after ``Time!'', but couldn't do it. ``I was trying to stop the momentum, and I ran out of timeouts and they wouldn't allow me any more,'' he said wryly after the Bulls' 97-93, series-ending victory.
So in the final few minutes of Game 6, America saw the Blazers trying to pull this game out on the fly, trying to regain both their lead and their composure in the eye of a storm. And if Adelman could have traded half his playoff share for one extra timeout in the final minutes, he might have done it. He took a huge risk, a very defensible risk that will be ripped nonetheless, and he lost.
``I talked during the last timeout,'' Adelman said, ``saying, `We're out of them now, we've got to make something happen,' but it was very difficult. When it's a close game at the end, and you're without timeouts, it's very difficult.''
But the fact is, the Blazers did not lose this series on Sunday night.
They lost it in 1984, as even Michael Jordan attested.
On the court after the game, even as ``Rock and Roll, Part II'' blared through the sound system, Jordan's hollered comment was: ``Thank you for drafting me!'' A little later, he picked up the same theme. ``I'm so glad Chicago drafted me eight years ago,'' Jordan said in the interview area, with his right arm balanced across a souvenir basketball, with a championship hat on his head and the title trophy to his left.
No, the Trail Blazers didn't lose this series because of, ahem, ``a lack of adjustments,'' ``shortage of gray matter,'' or even a debilitating case of moss between their toes. Moss between the toes, by the way, makes as much sense as some of the reaching contentions that have been tossed out the past few days about the Blazers' plight.
They lost it eight years ago, when they passed on the chance to draft Jordan, taking Sam Bowie instead.
They lost in the 1992 finals because they didn't have Jordan, and the Bulls did.
That little fourth-quarter run with the Bulls' F Troop was an aberration, because without Jordan, the Bulls are nobodies, and that should make this collapse even harder for the Blazers to take.
Going much deeper than Jordan in the list of reasons is like having someone ask you the weather report, and you go on and on for about five minutes about high-pressure systems and low-level disturbances and midmorning adjustments, when you could have told the guy all he wanted to know with three words: ``Clear and hot.''
All right, for the record, Terry Porter had an awful series; Clyde Drexler was less than superstar sensational; Adelman didn't come up with the magic solutions; the Blazers didn't find a way to slip a bulldozer onto the court and get away with using it on defense, and they passed on the opportunity to double-team Jordan in the crucial final minutes of Game 6 and got burned.
Yet Jordan beat them. Even if the Blazers had held on in Game 6, Jordan was going to summon the will to beat them in Game 7. With a little help from his friends. A better team, better because of Jordan, beat them.
In the next few days, in the aftermath of the Bulls' second straight championship, somebody's probably going to try to pawn off a piece on the ``Building of a Two-Time Champion.'' It would list all these brilliant decisions made by the Chicago front office over the years. Drafting Scottie Pippen and Horace Grant. Trading for Bill Cartwright (in a rotten exchange for Charles Oakley). Getting John Paxson. But, really, once the Bulls drafted Jordan, and discovered just how lucky they had been, the rest was about as tough as deciding whether it should be pepperoni or sausage on the Domino's. Jordan can make obvious decisions seem inspired.
The Bulls were brilliant only if somebody slipped decision-clinching negative information into the Blazers' scouting file on Jordan, and/or tampered with Bowie's college-days X-rays. The challenge after drafting Jordan was: Just get him a decent supporting cast, to steal a phrase. That probably could have been done with the NBA Central Scouting reports and a satellite dish in somebody's back yard. They already had the man that would revitalize the game in Chicago. For that, they had -- and still have -- Portland to thank.
So the Chicago fans, several of whom were showing up in Chicago Stadium for Bulls games before that draft, now are fighting over tickets in divorce settlements and are screamingly told at every home game that they're ``THE GREATEST'' fans in the NBA.
If the Bulls hadn't drafted Jordan, Chicago's yellow ties probably would be getting into brawls over the office's hockey season tickets instead. They'd be saying: When's Jordan coming in with Portland, and can we get those tickets? The leaguewide renaissance of the mid-'80s on would have had an effect in Chicago, too, and attendance would have picked up, but this level of fanaticism?
No way.
But late Sunday night, the horse-riding policemen were standing guard outside the Stadium. Nearby, on the West Side, the celebration turned ugly in a few spots with scattered looting. On nearby Division Street, two taxis were smashed by marauding ``fans.'' And Horace Grant went live on Chicago's Channel 7 and pleaded for calm. ``Turning over taxicabs and burning buildings is not the answer,'' he said. ``Celebrate, do what you want, don't drink and drive in it, but just have fun.''
If the Blazers had only called Jordan's name, Chicago would have been quiet on Sunday night.