For 2017, scroll down for...
On the Colorado Scene commentaries
Links to Mile High Sports online commentaries.
Mile High Sports, December 30
Semyon Varlamov needs to start stealing games
December 27, 2017
Magazine-type sports talk
can work in Denver, too ...
as a change of pace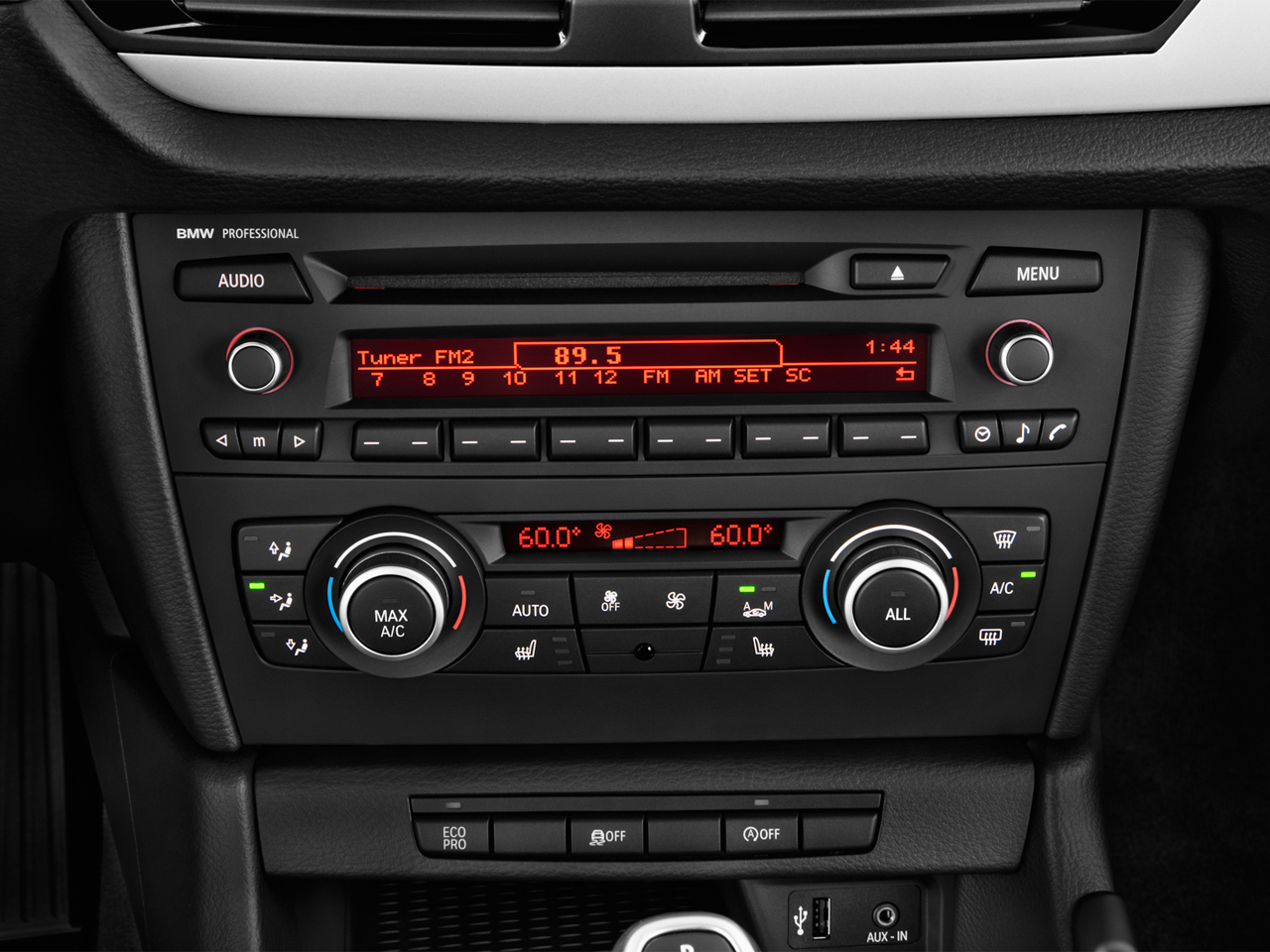 A couple of years back, I placed tongue in cheek -- well, mostly -- and
proposed an "Anything But Broncos" sports talk radio show for a general
sports fan audience.
Our subject matter could be free form and eclectic, touching on anything
on the Colorado and national sports scenes except the Broncos. That would
mean the Nuggets, Avalanche, Rockies, CU, CSU, DU, Air Force, Rapids,
Mammoth, Outlaws ... and more. Yes, and more. If CSU Pueblo is in the
Division II national football playoffs, for example, we'd find a way to talk
to ThunderWolves coach John Wristen, perhaps closing with his
recommendation about where to get the best Pueblo slopper or what to
order at the Mill Stop or Latronica's.
Implicit in all of it would be that you might not be a fan of everything
we talk about, but through guests and discussion, we'll try to make it
interesting, entertaining and educational. Yes, about all of those teams.
There are terrific stories tied to every team in the state. They can be found
and told. And when we're done with a segment, if you say, "I didn't know
that...," or "That was interesting...," or "Mike Bobo sounds like a good guy,"
or, "That really ticks me off," we've succeeded.
The callers would be in on it, and they would know that the second they
mentioned anything remotely connected with the NFL team, we'd hang up
on them. It could become part of the routine, with callers intelligently
discussing, say, the Rockies' Charlie Blackmon for four minutes and then
at the end of the call add, "But about Brock Osweiler ....," before the click.
The idea never got anywhere.
The time might be right now.
Before I go any farther, though, I need to concede this would be a niche
show with a gimmick. At least at the start.
Despite their problems, the Broncos still are the undisputed kingpins
of the Colorado sports market. They always will be. Even now, as the
Broncos have "slipped," discussion of dysfunction can draw as much
interest, or more, than picking apart mediocrity. Talking Broncos -- all,
most or any of the time -- is safe, common denominator radio for ratings
and business purposes. I get it.
I've done radio work in Denver on several stations, mostly as a weekend
co-host and a fill-in co-host during the week. I have enjoyed it. I mostly
enjoyed it when we did more than talk about the Broncos. But I also
remember the time my co-host and I talked about Tim Tebow for three
hours. Later, a close buddy confronted me, saying he was sick of the
myopic approach, both on the station and on that show, and arguing
we should have talked about other things. Then he added, "But while
I have you, let me tell you what I think about Tebow ...," and he
proceeded to talk about Tebow for 10 minutes.
That, to me, is Denver sports talk radio in a nutshell.
I'd love to hear or do that "Anything But Broncos" show. I'd concede that
the Broncos are No. 1, but what could we possibly say that hasn't been
covered, and usually to the point of overkill, elsewhere? And covered to
the point that so much of the Colorado sports scene has been overlooked
or underplayed? This would be a niche approach that won't be for everyone.
Even those proclaiming they want more broad-based subject matter on more
stations and shows would have to be willing to be open-minded. No Broncos.
None at all. That's the gimmick and the concession: You can get that anywhere
else, even on the eclectic shows in the market (and there are some). One segment
would be about the Avalanche, the next would be about CU hoops, the third
about the Nuggets ... and so on. If you're interested in one of those, but not the
other, would you tune out? Or would you stick with us, agreeing that listening
to discussion about a team you don't passionately follow -- say, DU hockey and
an interview with NCAA championship coach Jim Montgomery -- also can be good
radio? Neither will this join the niche shows of single-sport and/or team emphasis --
about the Rapids and soccer, for example. This will not be a haven for fans who
tightly focus on one team or sport only, beyond the Broncos, or get deep into
analytics. This is a magazine-type show for a general audience. About ...
Anything But Broncos.
Absolutely, this kind of show is more for another age, when listeners
were in the den or the office, accustomed to staying with a single show --
perhaps for the entire show. It s not made for getting in and out of the car,
though I believe sampling it during the commute or the run to the store
could work, too. You will not be turning on the radio and hearing the exact
same things discussed as earlier in the day, even if it was different hosts; or
the day or week before. In other words, don't tell me you've had it up to
here with Broncos talk, then when I toss out the many alternatives, you say,
"Who cares about CU basketball?"
As a two- or three-hour alternative and change of pace, an Anything About
Broncos, magazine-type show could work. It could find a niche.
But about Demaryius Thomas ...
Click.
Mile High Sports, December 18
Tyson Barrie isn't pictured, but he's still in the picture
Mile High Sports, December 17
On this (unnamed) line, Landeskog amps it up
Mile High Sports, December 15
December 2, 2017
Rangeview's J.D. Paige
is a CSU Rams stalwart in
a revolving-door program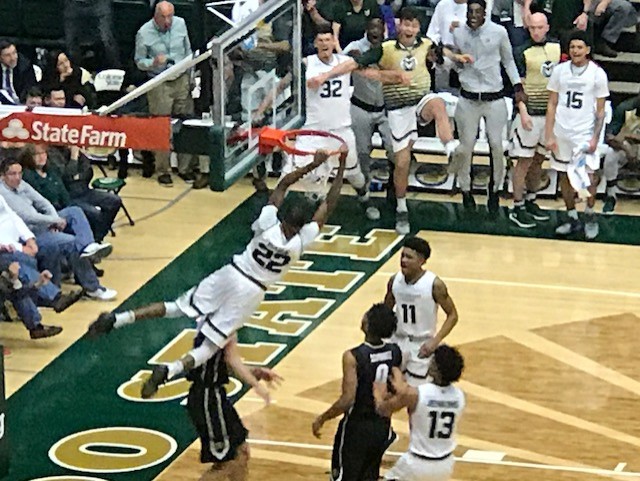 J.D. Paige dunks against the Buffaloes, putting CSU up 56-42 with 12:22 to play. .
FORT COLLINS -- Four years ago in Aurora, I visited with Rangeview
High junior guard Jeremiah Paige for a major profile.
He had just turned 17 two weeks earlier, was coming off a 40-point
night in an early-round state tournament game, and was attracting
considerable attention as one of the top players in the state. Also,
he already had a handful of offers from major programs, including
Colorado, Colorado State, Denver and Wyoming.
We met again Saturday in the hallway of Moby Arena, after Paige --
now known as J.D. -- had 16 points to help CSU knock off previously
unbeaten CU 72-63.
Prentiss Nixon, the Rams' other junior starting guard (at right), also had 16.
Paige and reserve guard Juan Sabino II, who is from Fountain and didn't
get off the bench Saturday, are the only Colorado products on the CSU
roster.
"This was huge," Paige said of wining in the intra-state rivalry. "It was a
really big win for us and for me, just to come out and prove a point."
Earlier in the interview room, he said, "I'm excited. This one meant a
lot. . . We just came off a loss (at Missouri State) and we were just
trying to get on track."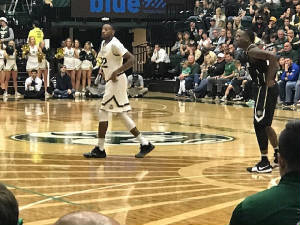 So, no, he wasn't effusive. That's not Paige. But the CU-CSU rivalry
goes back two generations in his family.
J.D.'s grandfather, Larry Paige, played two seasons at CSU before
the Los Angeles Lakers drafted him in the seventh round in 1978.
Breaking through from that spot to make an NBA roster was virtually
unprecedented, and Paige was no different. But he had game, and he
came away saying nice things about CSU -- including later to his
grandson.
For most of Paige's teammates, CSU-CU is a short-term, once-a-year
matchup with a school from another league, the Pac-12, and about 40 miles
to the southwest. Yes, it can be emotional, as it became at times Saturday,
but then it's move on to the rest of the schedule. The Rocky Mountain
Showdown football rivalry is similar in some ways, but consider that the
announced crowd at Moby Saturday was only 5,217, far short of being full
and there is much less of a circle-the-date feel to this in hoops. Yes, it was
an 11 a.m. start and, yes, it was televised regionally. But otherwise, though
CSU coach Larry Eustachy praised both the size and the fervor of the crowd,
it could have been a matchup with Boise State.
There should be a way to arrange for a home-and-home each season, or even
a three-game series with the third at the Pepsi Center. But that's not going to
happen, and this had to do -- for Paige, the Denver native; plus CU's four in-state
products; and the fans who care on both sides of the rivalry.
Paige spent most of his childhood living with his mother, Amber Jones, in
Denver before they moved to Aurora when he was in elementary school.
He returned to Denver for his eighth-grade year, attending Morey Junior
High and living with his father, Samir Paige, who was at the game Saturday
and reacted emotionally when his son made the emphatic dunk shown in my
picture above. The next year, he rejoined his mother in Aurora and enrolled
at Rangeview, and that turned out to be a serendipitous decision. Eventually
choosing CSU, he redshirted for a year under Eustachy and was a full-time
starter by his sophomore season.
With the combustible Eustachy relying on a revolving door cast of transfers,
both from junior colleges and other Division I schools, and also having
players depart in what has become the frequently nomadic NCAA player
pool, Paige is unique in the Rams' program. He's from Colorado and he
seems destined to play all four years for Eustachy -- and even be in his
program for five years. Nixon might do that too, since the junior came
to CSU from Bolingbrook, Illinois, High, and has stayed the course, too.
"I think I made the right decision to come here," Paige said. "I liked
the older guys who were around me earlier." At that point, he mentioned
a handful of Rams, including Daniel Bejerano. J.J. Avila and Gian Clavell.
"Those guys took me and really molded me," he said.
But what of the high-turnover nature of the program?
"That doesn't really affect me too much," he said. "You just get the team
you've got and just try to make the best of it. Coach Eustachy is a really
good coach. He believes in me and I believe in him. My defense wasn't
what it should be when I got here and he's helped me a lot with that.
So I think him for that."
Eustachy even acknowledged the uniqueness of Paige and Nixon's
status in the program. They began at CSU and they have stayed there.
"This is not just a game for those guys," Eustachy said. "This is Prentiss'
and J.D.'s school. We like to include J.D. because he's from here and
we recruited him, but we recruited Prestiss just as long, when they
were both sophomores in high school -- ninth-graders, or sophomores
at least. So they take pride in this university and they know that this is
not just a regular non-conference game. It's very important. I can't say
enough about the two."
For his part, Paige several times said the Rams realized the visiting team
had won the previout games in the rivalry, and that was the basis for some
on-court chatter.
"All I said was, 'Not here, not this time,'" he said.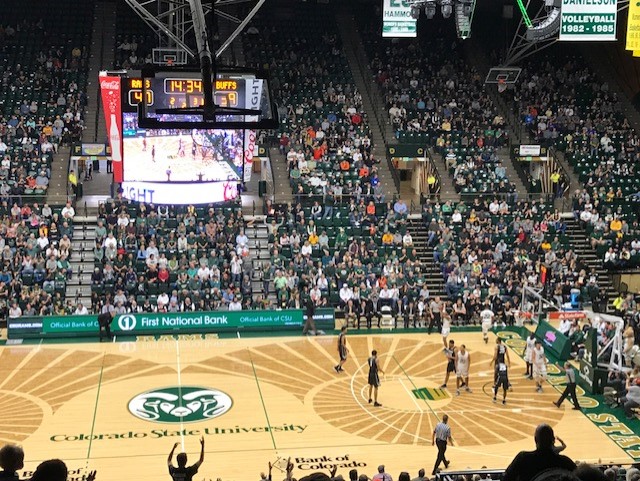 The less-than-full house at Moby Arena.
Mile High Sports, November 30
November 23
And so the Broncos
scapegoat Mike McCoy
and turn to Paxton Lynch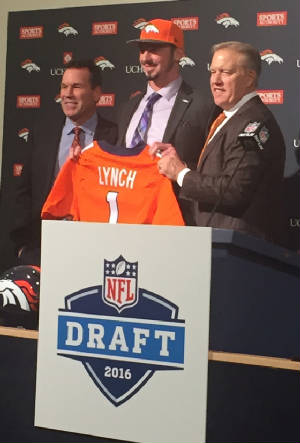 In 2016, as I worked on my annual newspaper draft
assignment -- the quickly done, yet extensive profile
of the Broncos' top pick -- I snapped this of Gary Kubiak,
Paxton Lynch and John Elway.
I'm not sure exactly when scapegoating assistant coaches became the
fashion in college and pro football, but it did.
In the college game, the head coach often is responding to an athletic
director who has heard from disappointed boosters (i.e., contributors)
calling for, at the very least, staff changes. It demonstrates to the boosters
that they have influence. The head coach will remain on the job, at least
for another year, but an assistant or two will go.
In the pro game, it's similar, whether the pressure to make changes
comes from above, or it's a head coach's own attempt to deflect blame.
Or, as often is the case, both.
The "fairness" of assistant coach ousters, of course, should be considered
individually. I'm not going to be so naive as to say they're always getting
bad deals. There has to be accountability at the staff level, too.
Yet there's a fine line. If you haven't drafted or signed a decent linebacker
in five years, it's not always fair to blame the linebackers coach for problems.
(Obviously, that's a generic example, not a specific one.) My objection is
when staff firings are more about dodging blame and buying time than
they are sincere decisions made after considerable evaluation and inevitable
agonizing.
When first-year Broncos coach Vance Joseph this week announced the
firing of offensive coordinator Mike McCoy, and the elevation of quarterbacks
coach Bill Musgrave to coordinator, my first instinct was to label it
scapegoating, and I'm still convinced there's a lot of that in it.
John Elway is neither a happy camper nor a happy executive vice president
of football operations. Firing Joseph, either now or after his first season on the
job, is a ludicrous suggestion for about 20 reasons. That's not a blind
endorsement for Joseph's work; it's a concession that as a savvy football man,
Elway had to know first-time head coaches require patience. (See Belichick, Bill.)
Under a previous regime, Josh McDaniels, who got off to a 6-0 start in 2009, lasted
until late in his second season. He was fired more for Videogate and the general
impression he was out of control than because of the 3-9 record at that point
in 2010.
But during this type of season, the reflexive response is to say: Do something!
In this case, the Do Something was to fire Mike McCoy.
Do Something used to mean after the season. Now it means Now. Even in
November ... or sooner.
McCoy proved his willingness to adapt to the circumstances when
fashioning the Denver offense to Tim Tebow. He did not become an
inflexible idiot overnight. The "per sources" narrative is that his offense
was too complicated and his call sheet too extensive, including plays not
practiced during the week. Yet it's interesting the way that virtually came
out of nowhere and wasn't much discussed until this week.
There are two asterisks here.
One is that Joseph got considerable, um, help from above in assembling
his staff. So he wasn't as strongly tied to McCoy as he otherwise would
have been, and this decision obviously wasn't his alone, either.
The second is that Musgrave -- the former Gold Helmet winner at Grand
Junction High, four-year Oregon starter, former Broncos backup and well-
traveled NFL assistant -- was here to step up and take over the offense. His
previous stop was at Oakland as the coordinator until Jack Del Rio curiously
resented his influence and even his salary as one of the highest-paid assistants
in the league and ousted him after last season. The Raiders' 2017 offensive
production, albeit with Derek Carr missing one game with the back injury he
suffered in Denver, has slipped considerably from a year ago.
Musgrave's charge now is to work with and strategize for Paxton Lynch,
but it's not as if he had to introduce himself to Lynch as the young quarterback's
six-game audition begins. He would have been working with Lynch regardless.
The strategizing part of that formula is the major difference, with Musgrave at the
top of the offensive staff's hierarchy.
Rarely does a quarterback switch involve such overt concessions. Nobody is
being fooled here. This is an assessment period, laying the groundwork for
offseason decisions. A playoff berth is out of the question. The hope is that
once Lynch is thrown in, with the lights on and bright, he will at least dispel
the impressions generated by his much-derided and allegedly shaky work
ethic and failure to soak up the playbook.
Brock Osweiler wasn't effective enough to help end the Broncos' skid, and
he'll be gone. If you're talking "fair," it would have been more fair if Osweiler
had a longer trial this time around, or even if Trevor Siemian, after a hiatus
from the starting lineup, was allowed the chance to rekindle the early season
competence that not long ago had some folks beating the drums for the
Broncos to tie him up to a long-term extension as soon as it was possible.
But this isn't about fairness. It's about pragmatism.
If Lynch falls flat on his face or is terrific, of course, the answers will be
clear. Write off Lynch as the long-term answer, most likely bringing in a
veteran free-agent signee ticketed to start; or embrace Lynch him as the
No. 1 moving forward.
But the most intriguing and perhaps even most likely scenario is that
after six weeks, the results will be ambiguous, the picture fuzzy rather
than clear. That wouldn't preclude keeping Lynch and bringing in that
veteran to be the No. 1, but at this point, the Broncos seem willing and
even committed to consider Siemian the backup moving forward here.
In 2016, when I did that extensive draft-weekend profile of Lynch (read it
here), tracking down past coaches and others in his life, I was struck by
how well-liked he was, but also that he was a bit goofy. I don't mean that
as a criticism, but an observation. Or even as praise, because it seemed
more endearing than a negative.
But since his signing, that seems to have been transformed into evidence
for coaches and teammates that he still needs to grow up, to mature, to
act like a quarterback. Goofiness and quarterback success are not mutually
exclusive (see Rivers, Philip), but that requires accompanying inspirational
charisma.
Lynch hasn't inspired anybody yet. This is his chance.
Earlier, Elway and the Broncos drafted Osweiler in significant part
because he played the role, sounding and looking like a quarterback.
As a terrific all-around athlete once on track to play basketball at Gonzaga
instread of heading to Arizona State, his intriguing and potential upside
were as much the selling points as what he had done on the field in limited
time as a Sun Devils starter under Dennis Erickson.
It's no accident that at least in terms of physical profile, Lynch and Osweiler
are similar. The most striking aspect of that picture above is how Lynch
towers over Elway.
Franchise quarterbacks are rare and elusive. This is Lynch's chance to
show that one development model and timetable doesn't fit all.
If he fails, the Broncos likely not only will look for another quarterback.
They might need another scapegoat.
Mile High Sports, November 22
November 19, 2017
Red Miller was a Ring of Fame figure
Here before he was a Ring of Famer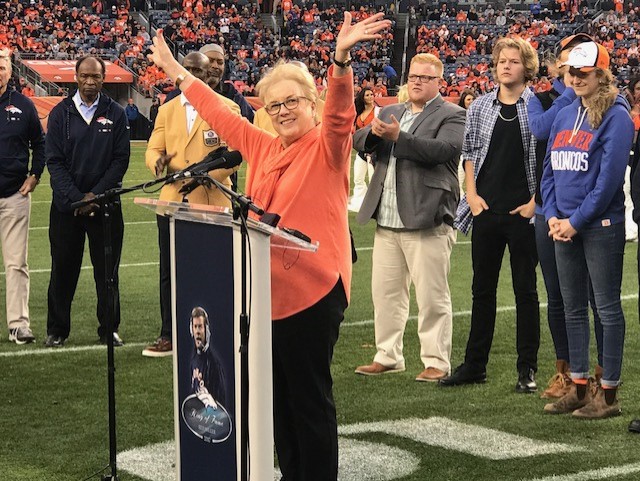 Nan Miller, Red's widow, praises the Denver fans on Red's behalf during the halftime ceremony.
Behind her are Red's grandchildren and that's Orange Crush safety Billy Thompson at the left.
I could hear Red Miller saying, "Thata way, Nan."
His widow, Nan, did a terrific job representing Red and his family
Sunday at the halftime ceremony inducting the former Broncos coach --
at long last -- into the Ring of Fame. The ceremony by necessity was brief,
but it was well done and did Red justice. With Annabel Bowlen, owner Pat
Bowlen's wife; PR man emeritus and unofficial team historian Jim Saccomano;
and Tom Jackson, representing Miller's players in his two stints in Denver
(the first stint as an assistant), also speaking, Nan was up to the challenge of
honoring Red and thanking those he coached, worked with and affected. That
includes the Denver fan constituency that helped make that 1977 season magical
-- both those who lived it and those who cared enough to learn about it ... even
if that meant being regaled by parents, bartenders and scribes who correctly
swear it was a ground-breaking experience for the Denver market that couldn't
be duplicated.
Nan and Red were married after Red's coaching career was over, and he was
a successful stockbroker. But Nan gets it, knows what this is all about and --
most of all -- loved Red.
Finishing up her turn at the podium at halftime, she saluted "the greatest
fans in the NFL. You've been here since 1960, a lot of you, and Red loved
you. You loved him back."
In the interview room after the ceremony, Nan expounded on their reaction
when getting the news about the Ring of Fame. "Really, truly we thought it
woud never happen," she said. "We thought those days were past, you know.
So it was quite a surprise. But it was just kind of quiet and peaceful. . . He has
been appreciated for the last 40 years, really, by this community. And that's
what it's all about, really. It's the little kids that come up and they don't even
know who he is, but their mom and dad say, 'Hey,' and they're just so excited
that he'll sign a football. The neighbor kids, he takes them to our basement and
says, 'Hey, pick out something,' and that just means the world to those little
kids. They never forget that. As we go about or daily business, in and out of
restaurants and the grocery store and whatever, somebody always stops him
and says, 'Thank you for what you did in 1977,' or, 'It was so much fun back
then. Our family had so much fun.'
"It was wonderful and it was magic. For anybody who was here back in '77,
it was unbelievable. It turned the town on end for sure and put us on the map."
In the time I spent with Red researching '77: Denver, the Broncos, and a Coming
of Age and then in our occasional visits in ensuing years, we never once talked
about the Ring of Fame. He attended ceremonies when his former players
were honored, but I never got the impression he was embittered by, or even
concerned with his exclusion. There were understandable lingering feelings
about his early 1981 firing, which was a fluke because the Phipps brothers
sold the team to Edgar Kaiser, and Kaiser wanted the hot, young coaching
prospect of the time -- Cowboys assistant Dan Reeves.
Yes, Reeves did a good job in his stint here and even was the first Broncos
coach to make the Ring of Fame, and it certainly was Kaiser's prerogative
to make a change, but it wasn't "right," either. But Pat Bowlen took over
the team soon after, and Red was in Denver the whole time, working, retiring,
and living with Nan in south Denver.
Red took the head coaching job with the ill-fated Denver Gold for the
USFL's 1983 inaugural season to be a head coach and stay in Denver, but
he never got another NFL chance, in part because he was unwilling to
become an assistant again as an intermediate step. In particular, if he had
accepted an offer to join the Raiders staff -- yes, the Raiders -- he might even
have been able to move up there or better position himself as a possible
second-chance hire in the coaching carousel. He feuded with tight-fisted
Gold owner Ron Blanding, who zealously wanted to stick to the new league's
low-cost model to the point of ridiculousness, from the start and lasted only
half of a season on the job before -- oh, the irony -- Craig Morton replaced him.
(That added to the strain in the Miller-Morton relationship.)
Red's Ring of Fame honor was long overdue, and it was unfortunate that
it was posthumous. But it was appropriate and worth celebrating.
Next up should be Otis Armstrong, who isn't on the Ring of Fame despite
winning an NFL rushing title. The catch there is Armstrong's long-ago legal
battles with team doctors over serious neck and spine injuries. But that
shouldn't matter. He's deserving.
This from earlier about Red: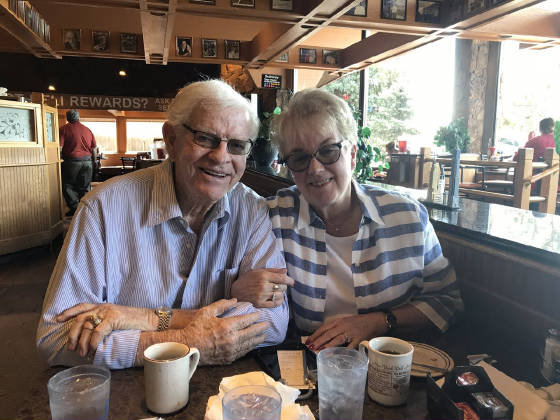 Previous: October 5, 2017
Red Miller, who had suffered a stroke nine days earlier while watching the
end of the Broncos-Chargers game at home, passed away in the early
morning hours on September 27, and his funeral in Greenwood Village
today was a moving experience.
What a terrific man.
At the Thursday service, Red's son Steve -- who like Red is a gifted pianist --
honored Red by playing "A Closer Walk With Thee" and "Somewhere Over
the Rainbow," as well as offering memories of Red in a turn at the microphone.
His wife Nan also spoke, as did grandchildren Taylor, McLane, Bobby, Nick and
Cory, and it all was touching. Many members of the '77 Broncos attended and
Billy Thompson represented Red's former Bronco players in a turn at the
microphone.
The above is Red and Nan when I had breakfast with them on August 23
at New York Deli News. We had an enjoyable conversation, and he already
was looking forward to and excited about his induction into the Broncos'
Ring of Fame at the November 19 game against the Cincinnati Bengals.
Here's what I call the Quintessential Red -- Red being Red -- passage
from '77, about the Raiders rivalry.
And this is an additional excerpt, about Red's background, including
growing up in Macomb, Illinois as the son of a coal miner and scrambling
for everything he had.
I'm proud to have told his story.
October 27, 2017
CSU Fetes Glenn Morris
With Olympic Oak Tree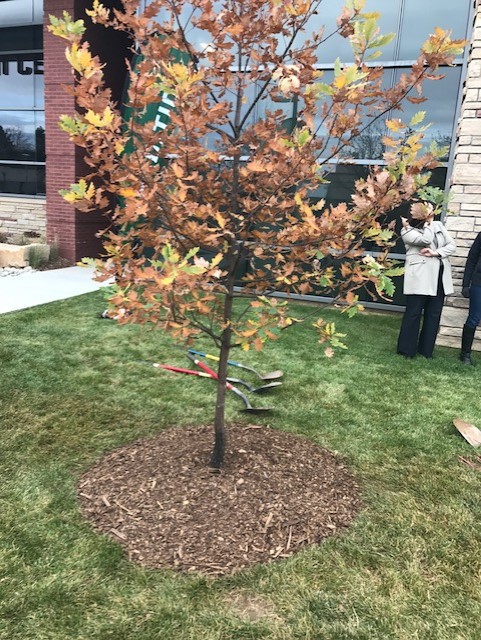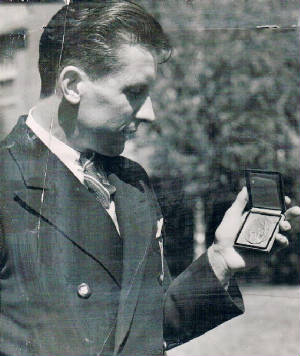 FORT COLLINS -- This was the Glenn Morris Oak Tree Sequel.
On Friday afternoon, outside the Iris and Michael Smith Alumni Center
at the northwest corner of the new stadium, Colorado State planted an
oak tree to honor Morris, the 1936 Olympic decathlon champion from
tiny Simla, 49 miles northeast of Colorado Springs.
Before winning gold at Berlin and becoming briefly one of the most
famous athletes in the world, Morris was a football and track star,
plus the student body president, at what then was known as Colorado
A&M.
The main speaker during the ceremony Friday was CSU's Tony Phifer,
a former Coloradoan sports writer whose self-described "obsession" to
track down the oak tree Morris was presented in Berlin -- to go with the
gold medal -- started a chain of events that, indirectly, led to me writing
Olympic Affair. It's why I dedicated the book to Phifer and Morris Ververs,
the long-time educator in Simla who in essence was the trustee of Morris'
legacy.
Here's the beginning of that Afterword (touched up to avoid repetition):
In May 2010, I heard from former newspaperman Tony Phifer, a senior writer for Colorado State
University's Division of External Relations. Tony and I serve together on the selection committee
for the Colorado Sports Hall of Fame. Tony suggested that an upcoming ceremony on the CSU
campus in Fort Collins might be in my wheelhouse for a Denver Post story. CSU was going to
plant an oak-tree seedling to salute Glenn Morris.
Why an oak tree?
Tony explained that the German Organizing Committee officials handed out seedlings for the gold
medalists to take home and plant, preferably in their hometowns or at their universities. As the trees
grew, they would be reminders of the Olympic spirit. Less trumpeted was that they also could be
considered links to mythology's Thor and his "Donar Oak." Tony found a picture that proved Morris
presented his tree to CSU president Charles Lory in September 1936. By the 21st century, though,
nobody seemed to know where it had been planted, if it had been planted at all, or what happened to
it. Tony wrote stories for university publications on the mystery, and he hooked up with Don Holst,
the 1968 Olympic men's decathlon coach and an Olympic historian who lives in Chadron, Nebraska.
Holst sought to trace the few known surviving Berlin trees, produce second- and third-generation
oak seedlings, then plant them at various sites tried to the 1936 Olympians around the country.
In May 2010, it was CSU's turn -- in honor of Morris.
In advance of that 2010 ceremony, I visited Simla, meeting with Ververs and
even holding Morris' gold medal, and did considerable additional research on
Morris. I pre-wrote an extensive feature on Morris that I would touch up while
attending the ceremony for publication in The Denver Post. What I had came
across was fascinating, including that controversial German filmmaker Leni
Riefenstahl and Morris had an affair tied to the making of her acclaimed
documentary, Olympia. Morris told others about it, including his brother
and A&M booster Sparks Alford, and Riefenstahl wrote about it in her 1987
autobiography. A half-century after the affair, she stunningly admitted that
she, a manipulative woman accustomed to getting her way, was crushed
when Morris declined to remain in Germany, or return soon, to be with her
and act in German films. Instead, he soon married his college girlfriend and
embarked on a brief, unsuccessful stint in Hollywood, including portraying
Tarzan in the dreadul Tarzan's Revenge.
After doing that story, I realized I had just scratched the surface, and
plowed on in the research and writing -- and two years later, Olympic
Affair was published.

Phifer also was instrumental in the CSU decision to rename the field
house on the east side of the campus after Morris.
It seemed only right to find a way to honor Morris at the new stadium
and that's what Friday was all about. The tree planted near the field
house seven years ago is not particularly robust, but it turned out that
Tim Buchanan, the city of Fort Collins' forester, also had obtained two
additional oak saplings of the same lineage from Holst seven years ago,
and one had grown into a healthy, if still developing tree. Buchanan
donated it to CSU, and the decision was made to plant it at the stadium
in Morris' honor.
Before the ceremonial first shovels and then the replanting of the tree,
Phifer outlined the Morris story in his turn at the microphone, including
the Olympic champion's stay at A&M/CSU. Then he brought up the
oak-tree saplings, pointing out that Morris had remained in Europe
after the Games competing in other meets at the behest of the USOC.
(He also returned to Berlin for supplemental Olympia filming with
Riefenstahl.)
"Then he was back on the ship for another week, and so he carried this
seedling with him for all this time, and I started to think, 'Where would
it be at CSU and where would they have planted it?'" Phifer said. "I was
still at the Coloradoan at the time, writing for the newspaper, so I started
looking for the tree around the Oval, which was really the only part of
campus that existed back then. I couldn't find anything that resembled
a tree that would be the right size, the right type. I looked at every tree
over there ... Then I started doing some research in other ways. I went
to the Morgan Library to start looking for old copies of the Collegian and
I was really getting frustrated because I couldn't find any information
about this tree."
Then came the discovery.
"Finally, this one day I was just flipping through these pages and I really
wasn't paying attention and, voila ... "
He then pointed at an easel to his right, where the picture of Morris
presenting the sapling to President Lory was displayed.
"... that photo appeared on the front page of the Collegian. And I said,
'Oh, my God, the oak tree made it to Fort Collins, made it to campus.'
That me even more crazy about this story. In fact, my wife (Kathy), who
is right over here, one day looked at me and said, 'You know what you
are? You're obsessed. You're obsessed with this story. You're obsessed
with this oak tree,' and I really kind of was. Then I wrote a story and
that story was seen by the foresters at CSU and also Tim Buchanan, the
forester for the City of Fort Collins. They agree with me, there was no
Olympic oak on this campus. That became more and more of a mystery.
What happened to this tree?"
Phifer noted that after he joined the CSU staff a couple of years later,
he wrote another story on the mystery for the university's magazine,
and it caught Ververs' attention. Ververs contacted Phifer and they
talked about Morris, and then also a CSU alum in Chadron pointed
out the story to Don Holst. That led to Holst offering an Olympic
oak-tree seedling to CSU, and giving two more to Buchanan.
And that all led to Friday's ceremony.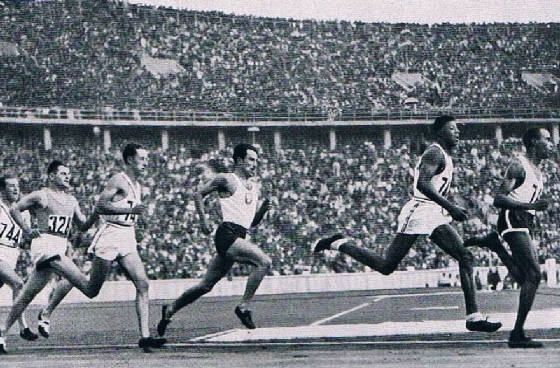 John Woodruff, second from right during the 800 meters in Berlin,
weaved though traffic to get to the front and claim the gold medal,
plus an oak tree seedling.
Buchanan also spoke at the ceremony Friday, and he explained that
Holst's seedlings, including the three he gave to CSU and Buchanan,
were third generation in the lineage. The original seedling was the
one given to 800-meter gold medalist John Woodruff and was planted
in Connellsville, Pennsylvania. That tree flourished, and still is alive, and
Holst -- who since has passed away -- took seeds from that tree and
planted them near the U.S. Track and Field Hall of Fame on the Butler
University campus in Indianapolis. The seedlings brought to Fort Collins
are the offspring of that tree.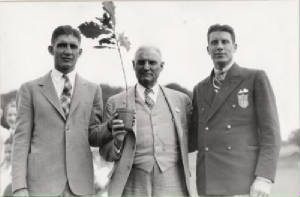 So while the mystery of what happened to the seedling Morris himself
presented to CSU might never be solved, he now is honored with two
offspring trees from from the Olympic crop on the campus.
Morris' gold medal, transported from Simla to CSU five years ago,
now is in a case inside the Alumni Center, honoring CSU's
Olympians -- also including six-time gold medalist Amy Van Dyken.
One part of getting the game-day football experience back to campus
now can be saluting Morris and the tree outside the stadium, and
seeing his gold medal in a tour of the Alumni Center.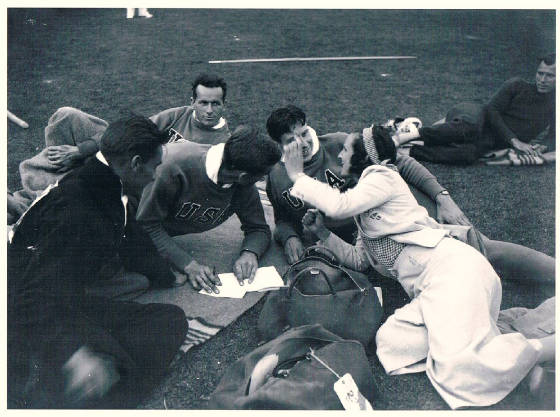 Glenn Morris and Leni Riefenstahl.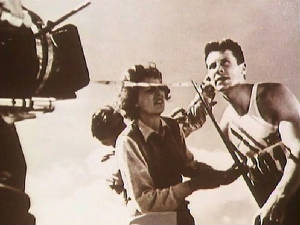 October 18, 2017
Paul Stastny looks back on
his Decision ... and more
Paul Stastny as an Avalanche. (Jerry Mellman photo.)
When the public address announcer confirmed that Paul Stastny scored
the St. Louis Blues' first goal Thursday night, many in the Pepsi Center
crowd booed. Left unsaid, or at least unannounced, was that he had just
collected his 600th career NHL point.
"If you're a nobody, they don't really care," Stastny, who later added an
assist , told me after the Blues' 4-3 win. "It's just part of it. That's fine.
That's hockey. The fans are so competitive here, they just want to see the
hometown team win. If I get booed and we're winning, fine. If we're losing,
then it sucks. It'a always fun here, it's always tough come back and I think
every game has become easier. I still have friends over there" -- and he
rattled off the nicknames for Matt Duchene, Gabe Landeskog, Tyson Barrie
and Erik Johnson -- "and I'm always going to be close to a lot of those guys."
I can't speak for all of the booing fans. I assume it was because of the widespread
perception that as the trading deadline approached late in the 2013-14 season,
Stastny led on the Avalanche and general manager Joe Sakic, causing them to
believe that although they couldn't get Stastny signed to an extension then, they
would have a bona fide chance of doing so in the offseason, either before becoming
an unrestricted free agent, or perhaps even shortly after.
He didn't lead them on. I was on the road trip with the Avalanche as the trading
deadline approached and passed, and was with the team when Stastny attended
morning mass in Detroit, waited, and was told that although he hadn't agreed
to an extension, he wouldn't be traded, either. I talked to him the next day, and
I'm absolutely convinced he wasn't turning his back on the possibility of returning
to the Avalanche.
He was going to see what was out there, and that turned out to be a four-year,
$28-million deal, astounding those -- including me -- who believed that while a
terrific player whose contributions are difficult to quantify, he had been overpaid
for the term of his previous five-year, $33-million deal with Colorado.
It's great hindsight to say Colorado should have traded him at the deadline to
make sure it got something for him. But it's wrong in this sense: Think of the
context. The Avalanche was coming down the stretch of an amazing season,
poised to make what we all assumed would be a decent playoff run and it trades
Stastny? The uproar would have been immediate and resounding.
The strange thing about all of it is that it seemed he had found a "hometown"
deal -- he was raised in St. Louis, where his Hall of Fame father, Peter, had
finished his career -- but since he joined the Blues, he actually has continued
to live in the Denver area in the offseason with his wife, Haley. He's been here
since 2004, when he showed up as a University of Denver freshman and played
on the second of the Pioneers' consecutive NCAA championship teams and then
signed with the Avalanche after his sophomore year.
I asked Stastny if, after three years, he could say more about his mindset
during that stretch, one that in retrospect was the first sign that perhaps
that the Avalanche's amazing 112-point season in 2013-14 wasn't a sign
of things to come.
"There's a lot of stuff that goes on when you're signing of deciding
where you're going to sign and what you're going to do," he said.
"Everyone thinks it's just about (money), but it's not. You have to
take into account where you're going to play, where you're wanted,
how much you're going to play. You want to be on a winning team.
There are a lot of factors. At the end it was down to St. Louis and Colorado,
and the last couple of days it was down to maybe three teams, and then
one of those teams went away and it was down to St. Louis and Colorado.
"You can ask my wife. For us, it was the toughest decision we ever made.
But looking back, it was the best decision. I came (to the Blues) and I
think we both grew as people, and I met some new people I hated playing
against and now they're some of my best friends. It turned out good, but it's
always tough, and you to take the emotion out of it."
But wait. He signed with his hometown team, and he continued to live
in Denver?
"Because I went to school here, as a kid I kind of matured here," he said.
"I lived on my own, and when I met my wife, I was 22 and she was living
here. A lot of guys from DU end up living here, and so do a lot of other guys.
They spend their summers here and it's such a good spot."
This all comes against the backdrop of the amazing Stastny family story,
starting with the fact that Paul's father, Peter, had 1,239 points in his
NHL career, and Paul's uncles, Anton (636) and Marian (294) also
played in the league, all after coming over from what then was
Czechoslovakia, part of the Soviet-dominated Eastern European bloc.
For Peter and Anton, it was a scene out of a John le Carre novel (or
movie adaptation).
This was only six months after the brothers -- proud Slovaks -- played for
Czechoslovakia in the 1980 Olympics at Lake Placid, losing 7-3 to the Americans'
"Miracle on Ice" team in group competition and finishing fifth.
While again playing for Czechoslovakia in a tournament in Innsbruck,
Peter and Anton defected, at one point taking a harrowing ride the wrong
way down a one-way street. They made it to North America, signing with
the Quebec Nordiques, and older brother Marian followed them later.
It was a true All-American story when Paul became a regular choice for
United States teams in international competition, including the Olympics.
He's also still a Denver guy -- even though he no longer is with the Avalanche.
October 3, 2017
Wounded in theater shootings,
CSU's Golditch reacts to Las Vegas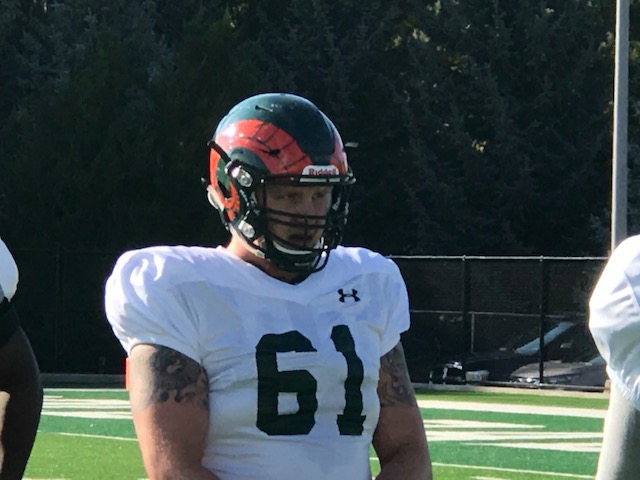 Zack Golditch at the Rams' Tuesday practice.
FORT COLLINS -- Colorado State offensive tackle Zack Golditch awakened
Monday and on television spotted the terrible news.
"It was very tragic and my heart definitely goes out to those people affected
by it," Golditch said after the Rams' practice Tuesday, when the death toll
in the Las Vegas shootings was at 59.
"I know what those people are going through and I really feel for them,
in all their situations. They're going through heartbreak. I don't know if
anyone was affected the same way I was, so I can't really say much more,
but I know they're struggling."
In July 2012, Golditch was a Gateway High senior-to-be when he attended
midnight showings of "The Dark Knight Rises" at a multi-plex theater complex
in Aurora. A deranged shooter opened fire in one theater, killing 12. Amid the
horror and chaos, Golditch was among the 70 wounded. He was in the adjacent
theater when shrapnel burst through the wall and struck him in the neck.
Because they were struck by fragments coming from the other theater,
Golditch and two other wounded were the only victims whose injuries
led to lesser-charge guilty pleas of second-degree attempted murder at
the 2015 trial, and the killer was sentenced to 12 life sentences, plus
3,318 years.
When he later consented to speak about the trial and verdict during
the 2015 football season, Golditch would only say, "Justice was served."
On Tuesday, as sad but heartening stories of heroism amid the Las Vegas
horrors continued to be discovered and told, Golditch said, "You can
always find some positivity in negative situations. For me, it was seeing
the support from the community around me, the messages of love, people
coming together after what happened."
Five years later, Golditch now is a redshirt senior for the Rams, and he
and center Jake Bennett -- from Bear Creek -- anchor the CSU line for one
of the most productive offenses in the nation, outside of the 17-3 loss to
Colorado in the opener. Even the 41-23 loss to Alabama looks better each week,
since the Crimson Tide allowed a total of three points in subsequent SEC
wins over Mississippi and Vanderbilt.
"Zack has played awesome this year," CSU coach Mike Bobo said Tuesday.
"We've talked about him a lot the last couple of weeks. He's an unselfish guy,
he's moved around. He's played right tackle, left tackle, he's played guard.
He's playing at a high level for us. He's got really good technique. He's got
a little bit tougher. He's always had toughness, so maybe the word I'm looking
is that he's a little bit nastier in trying to finish here in ballgames."
Golditch said the offensive line "definitely has room to improve. It seems like
we're breaking in a shoe this year. It's like you kind of wear a shoe a couple of
days and it feels good, but it's not really broken in. We're starting to understand
the big picture of things, we're starting to bring guys along.
"That's not just on the offensive line, it's on the backfield, Nick (Stevens), the
receivers, defense. The defense is definitely stepping up big this season. I think
our upside is what we want to make it. I think we have the potential to do great
things in this conference. I think we have the potential to play our best, every
Saturday. Everybody."
And after all, it's just football.
Catching up with the Finns: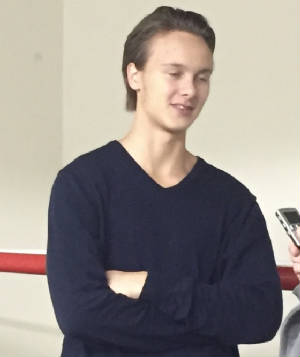 DU's Henrik Borgstrom Avalanche's Mikko Rantanen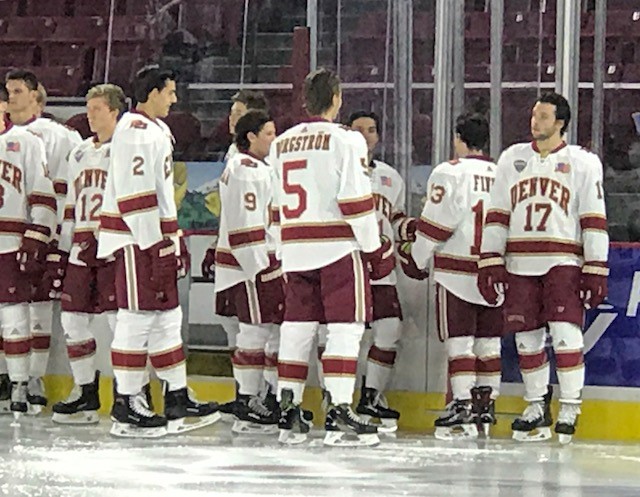 Henrik Borgstrom (5) and his Pioneer teammates before the team picture was taken Tuesday.
September 26, 2017
After ruling out "one and done,"
Borgstrom is back with Pioneers
There were times last season, during the University of Denver's NCAA title
run, when I'd catch myself wondering: How did Pioneers freshman center
Henrik Borgstrom ever last until the Florida Panthers claimed him with the
23rd choice of the 2016 NHL draft?
And not only that, how did he go unclaimed the year before, his first year
of draft eligibility?
Even on a team with eventual Hobey Baker Award winner Will Butcher
and World Junior Championships American hero Troy Terry, plus other
players that helped make the Pioneers a terrific blend of talent, character,
grit and chemistry, Borgstrom often took over games.
He was only 19 and looked young enough to be counting down the days
to the driver's license test. Listed at 6-foot-3 and 185, he was lanky and in
need of being locked in the weight room.
He was playing thousands of miles from home, something European
players become accustomed to, but only after that year of two of coping
with the culture shock and their second languages as everyday communication,
especially testing when that also includes university classrooms.
After piling up 22 goals and 43 points in 37 games as a freshman, Borgstrom
is back for a second season with the Pioneers, ruling out a one-and-done
scenario that would have been similar to Tyson Jost, the No. 10 pick last
year, signing with the Avalanche after his freshman season at North Dakota
and joining Colorado for the stretch run. It wasn't shocking, given that his
physical immaturity was obvious, including to the Panthers. But Borgstrom
returning still is a huge boost to the Pioneers' chances of repeating.
"I don't think I was ever too close," Borgstrom said Tuesday at Magness
Arena. "In my mind, I had a clear picture of this year and in my opinion,
I just needed a year of two more. . . I even talked with Florida, but I kind
of knew I wanted to come back and I don't think I'm ready to go there yet.
I want to be confident about myself."
The intriguing complication was that Montgomery, the ex-NHL journeyman
forward who won't move on to coach in the NHL unless it's on his terms and
in the right spot, interviewed for the Panthers' head-coaching opening that
eventually went to former Avalanche defenseman Bob Boughner, an assistant
with the San Jose Sharks last season.
"At first, the team was waiting for him to make his move," Borgstrom said.
"But he has built this program and I feel like he's so smart, he knows so
much about hockey, it was scary if he would have left. We're so happy
he came back, too."
Borgstrom added he "would have considered" signing with Florida if
Montgomery had taken the Panthers' job, but it's worth noting that even
as an NHL coach, Montgomery likely would have considered it best for
Borgstrom -- and his NHL organization -- in the long run to play at least
one more season of NCAA hockey.
"It would have changed a lot," Borgstrom said of a possible Montgomery
departure. "Monty was the guy who recruited me here, with (assistant)
David Carle. I kind of thought who would be the next coach and stuff
like that. You have to go over all that stuff and it was kind of scary."
On Tuesday, Montgomery noted of Borgstrom: "It's amazing how
much strength he's put on. I think the biggest thing is for him to gain
that professional consistency, coming every day to get better. It's scary
what he can be if he attains that simple goal, I don't think he really can
be stopped."
A recent bout with mononucleosis after his return to Denver in August
temporarily derailed Borgstrom's offseason conditioning program.

"I actually put on 10 pounds in the summer, but I lost it. Once I got back
here, I got sick and I wasnt able to eat or anything," he said. "I'm trying to
get that weight back. I felt strong. I still feel stronger than last year, for sure,
but I want to get that rate back. I feel better right now."
So now the quest is for a repeat, a daunting task in any sport -- and any level.
"Our goal is to win another 'natty,' and that's the first thing in my mind,"
Borgstrom said. "That's why a lot of players, guys like (Evan) Jansen and
Troy (Terry), they decided to come back, too, to accomplish the same thing.
Personally what I want to do is be a better hockey player this season, more
consistent all the time and be at my best level every night. I know that's
possible. I just have to get a focus a lot better in certain games."
There probably was more of a chance that Terry, the Highlands Ranch
product who was Anaheim's fifth-round choice in 2015, would sign over
the summer, but he also is back and a candidate to play for the U.S. Olympic
team in South Korea early next year.
"He had a great season last year and this season obviously we have a
special team again here at the university," Borgstrom said. "It's a great
opportunity for him to represent his country again. I don't know if he
can be more of a hero (than in the WJC last season) after last year, but
hopefully he can do it."

September 24
Rantanen hoping to build on
solid rookie season for Avalanche
When Mikko Rantanen scored six goals in his final eight games of Colorado's
horrible 2016-17 season, the Avalanche at least avoided the additional
embarrassment of not having a single 20-goal scorer.
Goals at Dallas and St. Louis on the season-ending road trip left Rantanen
with 20 on the nose, and I talked with him about it in the visiting locker room
at the Scottrade Center after the final game. There was a certain symmetry to
the accomplishment, too, since the Finnish rookie was -- and still is -- only 20.
"Of course, it's a good milestone," Rantanen said. "But it's such a tough
season for the team, it's tough to be too happy. I'll try to do it more often
too."
Rantanen managed to reach 20 goals despite suffering an ankle injury
suffered in a rookie showcase game against San Jose, missing training
camp and then starting the season at San Antonio on what amounted
to a four-game rehab and conditioning assignment. He also missed two
of Colorado's final 10 games with a lower body injury before returning
for that final two-game road trip.
If the young Finn is the Avalanche's leading goal-scorer again this season,
that won't be a good sign. That's got little to do with Rantanen himself, but
more to do with the expectations and necessity for Nathan MacKinnon, Matt
Duchene (if he isn't traded) and Gabe Landeskog to greatly improve on their
production in mostly horrific and underachieving years. As the 10th overall
choice of the 2015 draft who spent most of his first pro year going through
indoctrination to the North American game in the AHL at San Antonio, Rantanen
is on track to perhaps threaten the 30-goal barrier this season.
He had his first goal of the exhibition season Sunday night in a 5-1 win over
the Minnesota Wild at the Pepsi Center.
"It's hard to say," Rantanen said after the game. "I never try to say how
many goals I'm going to score. I just want to play hard and if it comes,
it comes."
Last season, Ratanen's emergence was one of the few positives in what
was the NHL's worst single-season performance since the 1999-2000 Atlanta
Thrashers stumbled to 39 points ... as a first-year expansion franchise.
"The sky's the limit for Mikko," Avalanche coach Jared Bednar said after
the rout of the Wild. "I have high expectations for him. He's not going to
sneak up on anybody now. So he's going to get the other team's best
defenders every night, which he did for the most part last year as well.
He's going to play a lot of minutes and we want to use him properly.
For me, I think he can become more consistent. We've got to make sure
he's pushing the pace for our team on a nightly basis, for every period
and every shift."
Rantanen is playing on a MacKinnon-centered line, and that seems
likely to remain the case when the Avalanche opens the regular-season
with a three-game trip to face the New York Rangers, New Jersey Devils
and Boston Bruins.
"I want to get better all-around, defensively, too," Rantanen said. "I want
to be more effective in the O-zone, too, to help the team and try to get more
possession time. That's what we need as a group and if you are on the power
play, that needs to be better, too. We're younger and we're faster, too, and the
game is going that way, where you need a lot of fast guys to build on. We
have that and it's going to be an exciting season."
As general manager Joe Sakic promised last season, the Avalanche has
jettisoned marginal -- or worse -- veteran talent and gotten both younger
and faster. What that will translate to in the standings is far from certain,
but Rantanen more is among contemporaries this season than he was
when he was the "kid" in 2016-17.
"I don't think I'm going to be playing a lot different," he said. "I'll be
playing smarter, only because I know the league better. I know what
to expect, so it will be easier this year. Everybody knows what last
season was, so we have to forget it and go forward. I think everybody's
hungry to win this year and get some crowds back."
August 27, 2017
And nearly six years later ...
Colorado State opens its stadium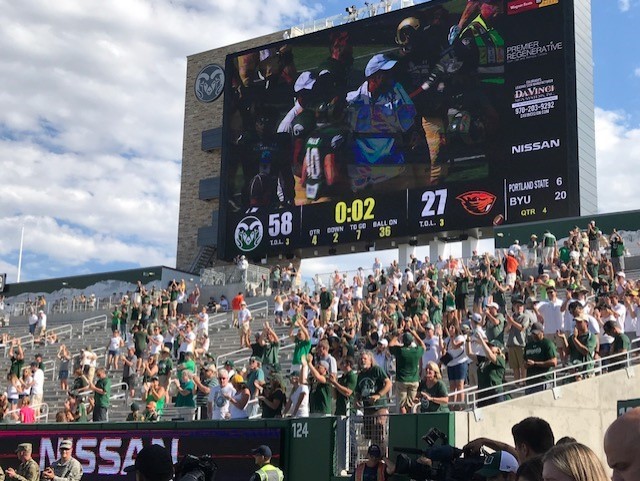 The final seconds roll off the clock.
August 27, 2017
FORT COLLINS -- As the Oregon State-Colorado State kickoff approached Saturday
at the Rams' new on-campus stadium, I found the story online and thought back
to my chat with school president Tony Frank in his office in December 2011.
(An aside: From here on, until CSU sells the naming rights to the stadium, I'm
just going to call it Sonny Lubick Field. The $20-million contribution over 30
years to transfer the Sonny Lubick Field designation from Hughes Stadium to
the new facility was roughly what CSU hoped to get for naming rights, anyway,
helping explain why the school is willing to wait for the right offer for the stadium
name. Folsom Field works for Colorado. Sonny Lubick Field can work for Colorado
State, at least until the naming rights are sold.)
A few weeks before my talk with Frank, prominent alumnus, former quarterback
and booster Jack Graham had reacted to athletic director Paul Kowalczyk's pitch
to him to contribute to upgrading the Hall of Fame room at Moby Arena by saying
that wasn't a difference maker.
A difference-maker, Graham said, would be … get this … an on-campus football
stadium. Soon, he was extolling the project to Frank.
This is part of the transcript of my conversation with Frank a month later.
FRANK: "When Jack came to me [in mid-November] and was saying, 'You know,
this Moby idea that I've been pitched to contribute to is interesting, but I don't think
it changes the game. I think what would change the game is an on-campus stadium.'
And he started talking about the big view for athletics and some of his experiences
that he'd had and what had led him to talking about this…He said, 'I would like to
lead the effort to raise the funds to build an on-campus stadium.' So we talked about
that for a while and I said, 'Let me think about that a little bit.' And the more I thought
about it, the more I thought, 'This is exactly the sort of thing I'm looking for.'
"So I went back and met with him the next week … I said, 'The on-campus stadium
is great, I think it's a great project, but I don't think it's a game-changer. The game-changer
is a cultural change in athletics and that starts from the athletic director down. I'm
thinking of making a change there and are you interested?'"
FREI: Can we anticipate an on-campus stadium?
FRANK: "Well, I think we'll try hard to get there. Immediately, when you say
something like that, people say, 'Where are you going to get the money?' We
don't know. We haven't raised a penny for it. There's not been a cent committed.
And, 'Where will you put it?' At this point, I have people in Facilities going, 'Really?
An on-campus stadium? OK…and what exactly can we tear down?' So we're going to
have to figure out a place to make that work and what that looks like. I don't know if
we'll get there or not. I think we'll try hard, because I do think that would be a big factor.
One of the things I do think about that is the idea of recreating that college game day
atmosphere where your alumni are coming back, bringing their kids, and people are
coming to your campus. You can get somebody out of Denver, with a high school kid,
and they can say, 'Hey, let's go up and watch the CSU game, and while they're here, they
could see this campus.' We have this great campus and what a great way to get people
on it. Even if we were successful and start really packing people in at Hughes, the people
who aren't from CSU are never going to connect to this campus, never are going to see that.
So I don't know if we're going to get there or not. We're going to try hard."
CSU pulled it off.
Six years later, Sonny Lubick Field opened.
Wedging it in among other coverage duties at the newspaper, I extensively covered
and opined through the process, much of the time from 2015 on finding ways to schedule
myself for CSU coverage around Avalanche coverage. I wrote about the stadium process
through forums, board of governors meetings, controversies, steps forward, steps back,
and the ultimate green-lighting of the project on December 6, 2014, and then the construction.
And Saturday, the first game.
The Rams were impressive in the 58-27 pummeling of Oregon State, with Nick Stevens
throwing for 334 yards and three touchdowns -- quite a contrast to the disastrous
season-opening performance against Colorado a year that led to him being pulled
and losing the starting job until freshman Collin Hill suffered a season-ending knee
injury against Utah State on Oct. 8. CSU has elite talent at wide receiver, most notably
Michael Gallup, and the problem won't be scoring points. The defense gave up
333 yards to Oregon State in the first half before playing well in the second, coming
up with Tre Thomas' game-breaking 44-yard interception return for a touchdown to
open up a 34-20 lead.
I asked both Stevens and senior center Jake Bennett what that first=game experience
was like, especially considering that if they keep coming back, they can still be bragging
in their 50s that they played in the stadium's first game.
"It was incredible," Stevens said. "Like you said, there's only one first game here,
so you're a part of history of the stadium forever. Haley (Nick's wife) bought me
a brick on my birthday last year so our names are on the stadium forever. That's a
real cool deal when you can have something that's going to be here forever. We're
obviously not going to build another one of these in five years, so you're legacy is
going to be here for awhile. So it was really, really an awesome atmosphere, and I'm
glad it turned out the way it did."
Said Bennett, from Lakewood's Bear Creek High School: "Right now, I think it's damn
cool. I played in the last game at Hughes, the first one here and I can also say that we
won both. It's just something special for me and something I'll be able to tell in my glory
years later down the road."
Graham, the proud parent, was there. Fact is, as bitter as their parting was -- and it
was, and still is, more bitter than publicly disclosed -- the stadium would not have
been built without the combined efforts of these two men. Shepherding the project
through the labyrinth approval process couldn't have been pulled off by anyone but
Frank, with his deep reservoir of credibility and record of success at CSU, and if he had
accepted another job before the green lighting, the 2017 opener might have been at
Hughes Stadium Saturday.
Graham's idea and energy were indispensable, of course, and John Morris -- first
Graham's deputy, then his interim successor -- made crucial contributions that
helped keep the project from unraveling. And even Jim McElwain -- yes, Jim McElwain --
had a hand in it, since without that remarkable 10-2 season in 2014 as the Board of Governors
were about to decide the fate of the stadium proposal, it would have been much harder to
gain approval.
And late Saturday afternoon, McElwain's successor -- Mike Bobo -- looked out at the
assembled media in the home team interview room at field level and appropriately
opened with: "First of all, I just wanted to say how excited I am for this university,
this community, the Fort Collins community, our fan base. It was an awesome day
to be a Ram."
Oregon State is going to have a hard time avoiding the Pac 12 North cellar, but the
Beavers were a major test of legitimacy for the Rams. If they weren't good enough
to beat the Beavers on this emotional opening day, they would have had no shot at
beating the Buffaloes in the Rocky Mountain Showdown Friday night and a painful
1-3 start would have been looming. Now, with CU playing its opener and the Rams
having a game in the book, this shapes up even more as a competitive, fun night at
Mile High Stadium (yes, that too) -- regardless of which team wins.
The stadium? There still are a few bugs in the system, and the major one was that
concession lines were intimidatingly long. That can be taken care of, though.
Traffic was no worse than conventional football game-day traffic, and in fact, the
drive from Denver to the stadium -- albeit with the plan to arrive at least two hours
before the game -- actually took less time than it does on a business or school weekday,
given Fort Collins' growth, weekday traffic and the fact that the entire city seems to be
under construction.
Long-term, the Rams' hope to get to the Big 12 or otherwise break into a Power 5
league, or to become the powerhouse of the Mountain West, took a huge step forward
Saturday. Attaining the latter might lead to the former. The stadium was in progress
when league officials interviewed CSU and other possible expansion candidates, so
it already has come into play as a selling point.
Unfortunately, in the college football arms race, nothing is stagnant. Oregon's
showcase facilities not long ago were the gold standard. But the Ducks two years
ago opened up a new football operations building connected to Autzen Stadium.
So many other schools, including CU, have upgraded existing stadiums and built
new facilities to go with them. New gets old fast. Now, with CSU's football facilities,
including adjacent practice fields, concentrated at the stadium, the trick is going to be
to stay on top of things.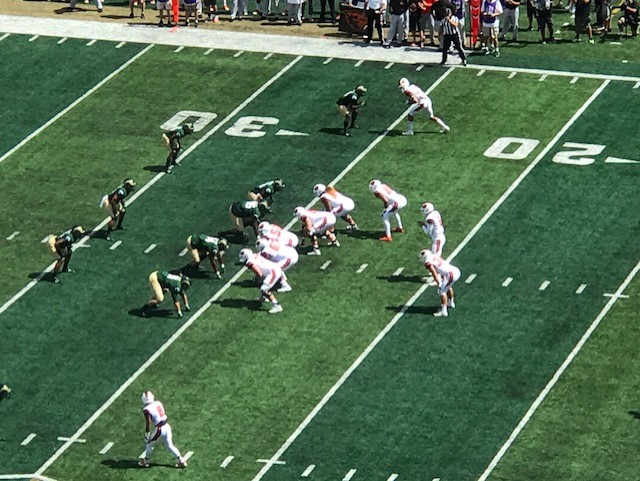 The Beavers are about to run the first play from scrimmage in the new stadium.
Ryan Nall (34) ran for one yard.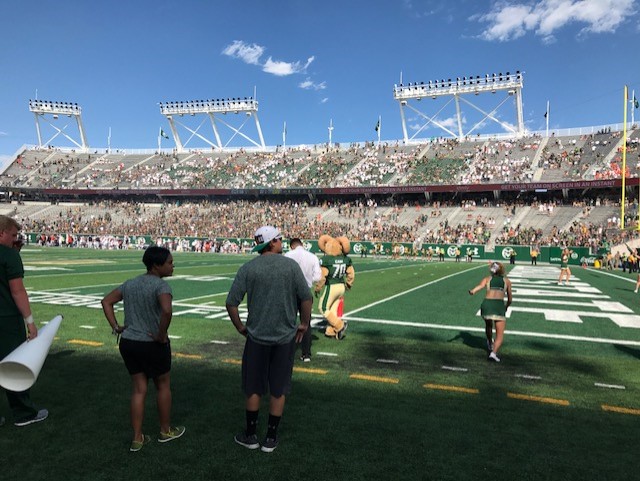 From the field late in the game. As CU has known for years, and CSU discovered Saturday,
one of the perils of putting the stadium next to the library is that when the games get
out of hand, students rush off to study. (That's the story and we're sticking to it.)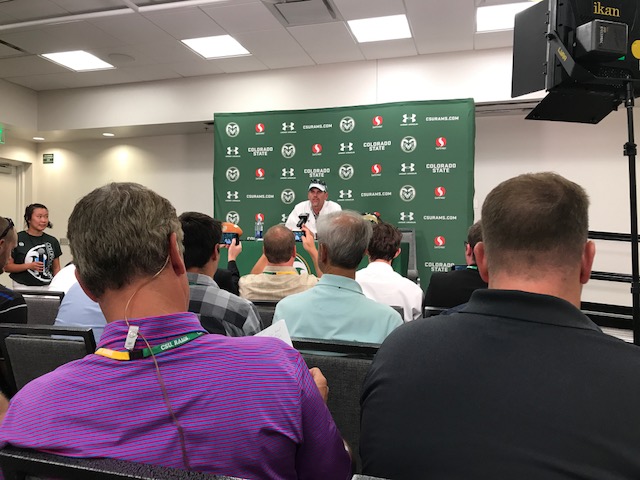 Mike Bobo post-game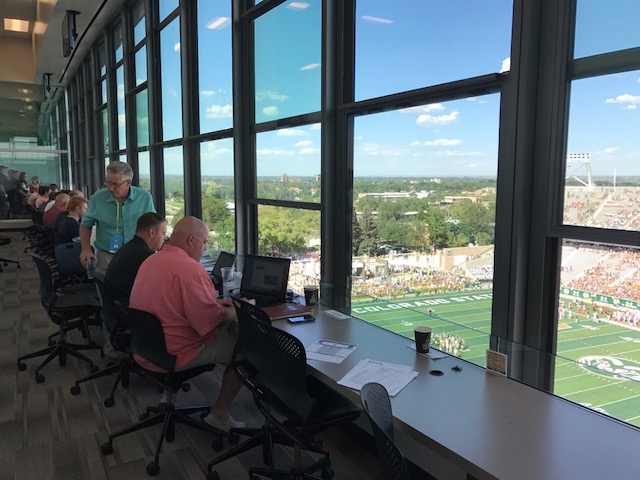 Front row of the new press box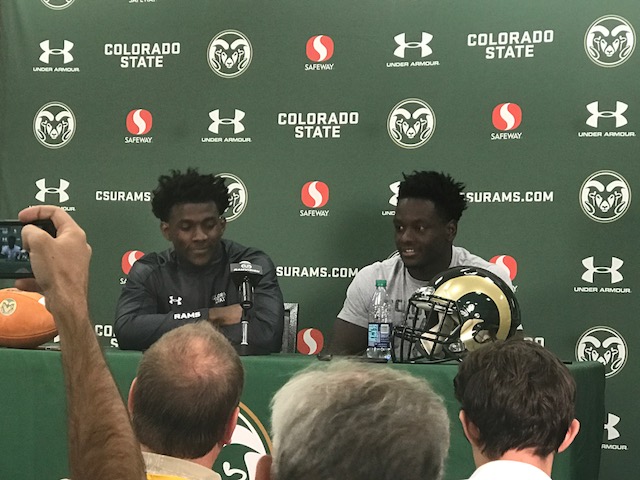 Wide receivers Detrich Clark and Michael Gallup in the interview room.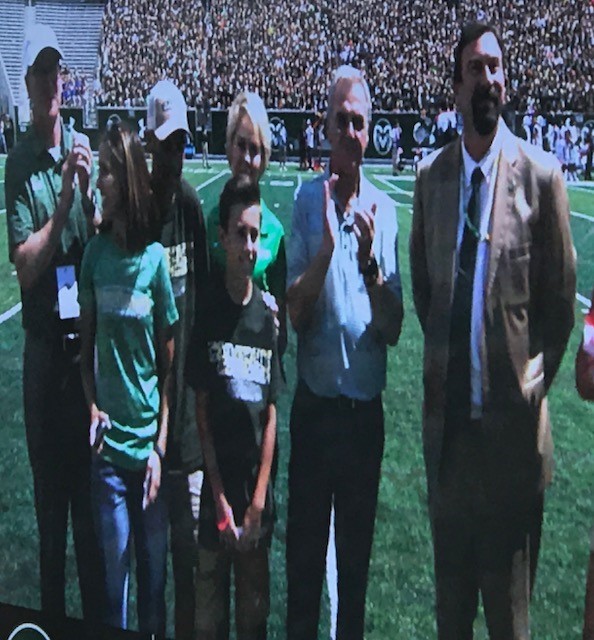 Scoreboard shot of Sonny Lubick, as in Sonny Lubick Field, with Tony Frank.