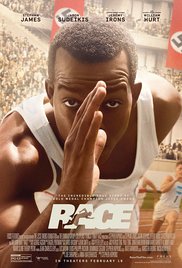 Reacting to "Race"
March 8, 2016: I finally saw "Race," the Jesse Owens bio-pic, last week.
I have considerable interest in the material because it overlaps with events in
my fact-based novel, Olympic Affair: Hitler's Siren and America's Hero,
about 1936 decathlon champion Glenn Morris and his brief, but torrid
relationship with German filmmaker Leni Riefenstahl. Yes, I'm hoping
"Olympic Affair" makes it to a theater near you in the future and, although
my votes don't count, I periodically update my own choices to play Morris
and Riefenstahl.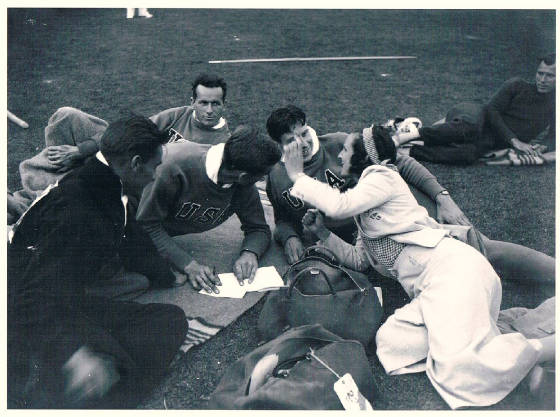 Leni wth Glenn Morris during the decathlon competition

At the 1936 Games, Riefenstahl, the dancer and actress who had branched
out into filmmaking and made chilling documentaries about Nazi party
congresses (including the notorious "Triumph of the Will"), was working on
"Olympia," bankrolled by the Nazi regime. Her claims, then and later, that it
was an International Olympic Committee project were absurd.
Ultimately, "Olympia" was an panoramic and ambitious work, especially for
its times, with a few wince-inducing flaws. (It's available on DVD, but be
careful to select a full two-disc set with English narration or subtitles
available.) While the film covered the entire Summer Games, and
Riefenstahl went to many of the sites, track and field was most prominent
and the Olympic Stadium was the featured venue.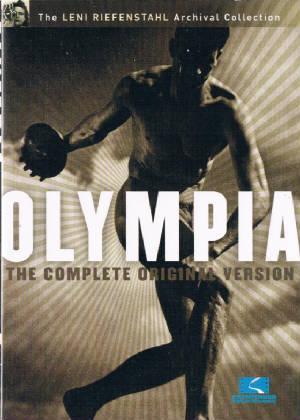 Glenn Morris isn't portrayed and isn't mentioned in "Race." Yet he was the
second-most prominent U.S. athlete at the Games, celebrated internationally
and named the winner – ahead of Owens, who had angered the U.S. athletic
establishment by turning pro after the Games – of the Sullivan Award as the
nation's top amateur athlete in 1936.
In contrast, Riefenstahl (portrayed by Dutch actress and singer Carice van
Houten) is featured prominently. Her role as liaison between, among others,
Reich propaganda minister Joseph Goebbels, whom she despised, and U.S.
Olympic officials, including Avery Brundage, is emphasized and even
perhaps a bit overstated. This might seem to be stunning today, but whatever
her opinions were in private (and she was a manipulative, calculating, cynical
opportunist), she actually did treat Owens and other U.S. African-American
track athletes with respect during the Games and in the finished film – a film
that passed Hitler's muster at its long-delayed premiere in 1938. There was
condescension involved, too, but the truth was that the African-American
athletes, while subjected to some vitriol, in general were surprisingly
decently received by the German public in and around the Games. That's
especially the case when evaluated against the backdrop of segregation and
racism in the U.S. at the time.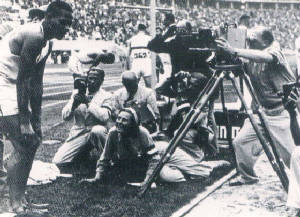 Leni while filming Archie Williams, winner of the 400 meters

Believe me, I understand that intellectual compromises and storytelling
contrivances, including composite characters, imagined dialogue, and
"bridge" events, must be used to distill a complex and panoramic non-fiction
story into a screenplay. I've done it with Horns, Hogs, and Nixon Coming
and Third Down and a War to Go. My third screenplay is an adaptation of
my first novel, The Witch's Season.
If I ever write an adaptation of Olympic Affair, it starts with my concession
that it's a novel based on conventional non-fiction research, transformed into
the telling of the story I saw unfolding in my head as I filled in the blanks
with events and dialogue. In fact, the headline on the Philadelphia Review
of Books review labeled it "cinematic."
In that sense, the book already has done what screenplays adapted from non-
fiction books have to do. I took the truth as the foundation, followed what I
knew to be the truth as closely as possible, and made it my story. As I
explain in the Author's Afterword, I can't even answer definitely what is and
isn't "true" in the book. I admit that sometimes I regret not trying to pull off
the sleight of hand that has worked – and worked spectacularly – for other
authors. And that's writing this kind of deeply-researched fiction, based on
truth and yet also speculative, and then label it and have it categorized and
shelved as "non-fiction" or "history."
If at times it seems this movie should have been called "Jesse Owens Goes to
the Olympics," his electrifying and monumental performance at the 1936
Games – especially given the setting – and the lead-up were worthy of this
treatment. A mini-series perhaps could have taken him from there, including
him having to indulge in such box-office contrivances as racing thoroughbred
horses to make money, and to his eventually becoming an corporate
ambassador speaking to schoolchildren across the country about his
experiences. (I write about one such 1977 appearance in Denver in '77:
Denver, the Broncos and a Coming of Age.) But an Owens "life story"
would have had to gloss this over and subsequent events, and while it
would have been interesting, it also would have diluted the impact of the
truly fascinating '36 Olympics material.
Here's the catch: If part of the foundation of any movie is that it be accepted
as the truth, or a reasonable facsimile of it, to evoke emotions and sympathy,
excessive departures from what really happened or the credible should be held
against it. Unfortunately, at least from my perspective, there are many '
examples of beloved and allegedly true, or based-on-truth sports movies that
are mostly hogwash. The screenwriter can say, "This isn't a documentary ...
it's a movie," or cite the "Based on a True Story" disclaimer if it's in
the credits or on the poster, with no embarrassment whatsoever. ("Based on a
True Story" usually is a red flag.) And we let them get away with ridiculous
concoctions as they also ask us to react based on the premise that this really
happened. It's tricky for me, given what Olympic Affair is, but at least I have
admitted what it is ... and isn't.
Yet based on my own research and writing and, yes, my gut feeling, I don't
believe "Race" ever got ridiculously out of hand in telling Owens' story.
None of the storytelling and narrative devices used in "Race" were offensive
or insulting, unlike, for example, the excessive dramatic license in "The
Express," about Ernie Davis.
Actually, the part of the film that might seem most contrived to those who
don't know the story is German broad jumper Luz Long's open support of
Owens during the competition and their private meeting in the Olympic
village. It's stunning, but mostly true: The German star, who finished second
to Owens, effectively flipped off Hitler and his henchmen. Whether he knew
that or was simply reacting naturally is irrelevant. Either way, it's a reminder
that not all Germans, or even far from it, were fanatics supporting the Nazi
dogma ... at least not in 1936. I flesh that out in Olympic Affair, with Long
making additional appearances among Glenn Morris and other American
athletes.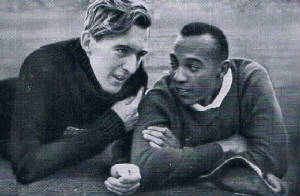 Luz Long and Jesse Owens

The Jackie Robinson bio-pic, "42," came very close to crossing the line with
exaggerations about incidents, but most viewers got the symbolic nature of the
excesses. An aside: While it would have been a reach to have anyone noting
this in 1936, the runner-up to Owens in the 200 meters, Mack Robinson, had
a kid brother named Jackie. Yes, that Jackie Robinson.

In this case, it's doubtful that the Ohio State football players treated Owens
with the hateful disdain shown in the film, but I'm not going to say it doesn't
work (double negative, sorry) as a symbolic portrayal of what he went
through on and around the Columbus campus in the 1930s.
Another reach, or even fabrication, involved what the film portrays as a snub
of Owens when Brundage takes him to Hitler's box area to meet the Fuhrer.


On the first day of track and field competition, Hitler did start out meeting
track and field medalists, hosting two German winners -- shot-putter Hans
Woellke and javelin thrower Tilly Fleischer -- and the three Finns who swept
the 10,000 meters. The high jump ran late, though, and U.S. African-
American athletes Cornelius Johnson and Dave Albritton led a sweep that also
included bronze medalist Delos Thurber. Hitler left a few minutes before the
medal ceremony. The Germans claimed it was for security reasons, in effect
to beat the rush and the traffic, but that was the snub. And that's when the
Germans were told that the Fuhrer couldn't be selective in meeting medal
winners. Also, in my novel, I have the U.S. athletes informally talking
amongst themselves, agreeing that after that, they wouldn't go and meet
Hitler, even if invited.

The next day, when Owens won the 100, there even were reports that he

looked up at Hitler's loge and waved at him. Owens himself said he didn't feel
snubbed when he wasn't invited to meet Hitler. Tales of Hitler meeting
several (or many) U.S. athletes during the Games are false. One exception
was a meeting with women's 100 meter champion Helen Stephens, and Hitler
was enraged when a picture of the encounter was taken and even more when
it was circulated the next day. If you accept that the film's depiction of a snub
of Owens is symbolic of Hitler's contempt for the African-American athletes
and stands in as a plot device for the original snub of the high jumpers ... it works.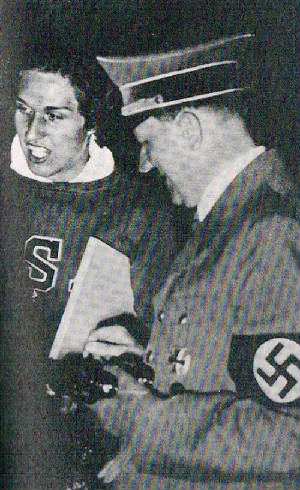 Helen Stephens with Hitler

A little thing: I jumped when I noticed Stephan James, as Owens, carrying
an oak tree seedling after a medal ceremony. That was a little, very accurate,
detail. The German Olympic Organizing Committee gave each gold medalist
a seedling to take home and plant, preferably in their hometowns or at their
universities. Glenn Morris donated his to what now is called Colorado State
University, where he had been a football and track star, plus student body
president. Pictures of that ceremony show Morris and university president
Charles Lory, but if the tree ever was planted, nobody could find it on the
campus. In 2010, CSU replanted a new seedling – drawn from another gold
medalist's flourishing tree – near the field house where Morris trained. That
ceremony drew me to the Morris story and led to me writing the book.
"Race" surprised and gained considerable credibility with me by taking on
the disgusting events that indirectly led to Owens' fourth gold-medal win, in
the 400-meter relay. U.S. Jewish runners Marty Glickman (yes, later a
famous sportscaster) and Sam Stoller under Olympic Trials protocol should
have been on the relay team, and they were brought to Berlin as part of the
team under that assumption. It's unclear to what extent Brundage and the
German hosts were directly involved in the snub, and the film's stab at a
scenario is at least credible. Regardless, there is no disputing that
U.S. track coaches concocted ridiculous reasons in an attempt to justify
excluding Glickman and Stoller and avoid having Jewish gold-medal
winners "embarrass" the German hosts. The idea that Owens and 100 meter
silver medalist Ralph Metcalfe were needed on the relay team to beat the
Germans was absurd. Glickman probably even should have been
representing the U.S. in the 100, but he was victimized by quick revision of
the placing behind Owens and Metcalfe in the race at the U.S. Trials on
Randall's Island. (Replays and electronic timing were far in the future.)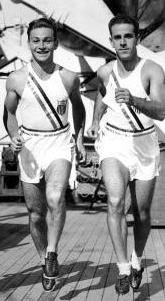 Marty Glickman and Sam Stoller on SS Manhattan, en route to Germany

Owens' resistance to the exclusion of Glickman and Stoller, and to his
sudden addition to the relay team, seems to have been exaggerated.
Glickman later wrote that Owens in fact did say Glickman and Stoller should
be allowed to run, but his narrative leaves the impression that Owens didn't
fight it to the degree portrayed in the film. Owens' fourth gold medal was
tainted, and less honorable filmmakers might have ignored that rather than
acknowledged it.
Owens also is portrayed, as might be expected, with considerable sympathy,
noting his human flaws, including when his head was turned in early days of
his pre-Olympic celebrity. Other incidents, as when he apparently had quite
a good time on the ship on the way over to Europe (which Helen Stephens
later discussed in her autobiography) are left alone.
The "formulaic" criticism leveled against "Race" in lukewarm or worse
reviews has some merit, but it has been overstated. Yes, at times, you do get
the sense of boxes being checked off, but that happened in other highly
regarded bio-pics. The checkmarks are there because they generally work.
(Even "Patton" had those moments.) But if "Race" was excessively
formulaic, for example, the controversy over the fourth gold medal would
have been ignored.
The track and field scenes are well-done. Some critics seem to think they
should have been presented in the ridiculous cliche of slow motion and
dramatic "Chariots of Fire"-style music, but I'm fine with the way the events
play out here. A 100-meter sprint starts ... and it's over. That's reality.

The Olympic Stadium setting, including Hitler's loge and the area behind it –
however that's all pulled off – seems to be accurate.
The acting is first-rate, most notably the work of Jason Sudeikis as Owens'
Ohio State coach Larry Snyder; and Jeremy Irons as Avery Brundage.
"Race" is an under-rated film, deserving of respect and a better reception.
I'm hoping that "Olympic Affair" someday can tell its similar story from a
different angle.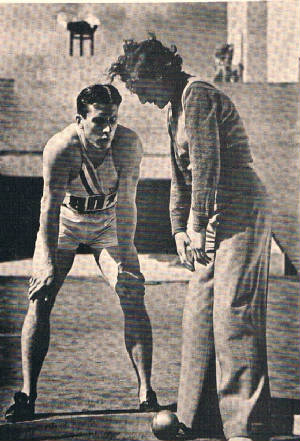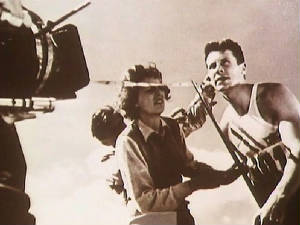 Leni and Glenn during re-creations for Olympia
link
Two paperback editions set for February release
Twists and turns
on the book front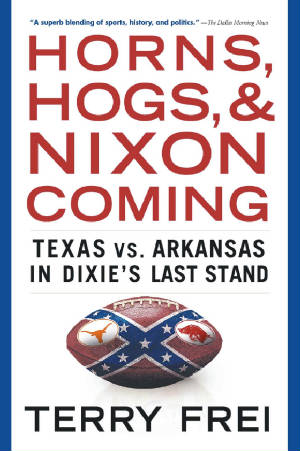 January 17, 2016: Different publishers are involved, so this is
mostly coincidental. (I think.) But new paperback editions of two
of my books are being released in the next month -- March 1939:
Before the Madness from Lyons Press on February 1; and Horns,
Hogs, and Nixon Coming from Simon and Schuster on February 16.
HHNC especially has had a unique life on the shelves. Simon
and Schuster also published the hardcover edition in 2002. Then it
granted a license to Taylor Trade to publish the trade paperback in
2004. Taylor Trade has kept it in print ever since, with Simon and
Schuster continuing to sell it as an e-book. But with the license
expired, Simon and Schuster recently reclaimed the paperback
rights, leading the publication of its own edition. As I understand it,
the Taylor Trade version also will remain available until stock is
depleted.
With Taylor Trade's support, HHNC has demonstrated rare longevity
as an "evergreen" book, and its paperback publication was the
the start of a terrific working relationship with Rick Rinehart
and the folks at Taylor Trade, a Rowman and Littlefield imprint --
a relationship that has lasted over a decade and through four other
books, plus changes at the publishing house following Rowman and
Littlefield's acquisition of Globe Pequot Press.
I'm especially grateful for Rick and Taylor Trade allowing me to
turn conventional non-fiction research about 1936 Olympic
decathlon gold medalist Glenn Morris and Nazi propagandist
filmmaker Leni Riefenstahl into a fact-based novel, Olympic Affair,
which I still believe is my best work.
Taylor Trade stuck with HHNC for over a decade, but now it's a
Simon and Schuster print property again. I'm not sure I completely
understand all the reasons involved, but with the 50th anniversary
of the game approaching, I welcome Simon and Schuster to the fight
involving my agressive and continuing protection of the book as
intellectual property. One notable author blatantly pilfered from
HHNC and Freddie Steinmark's I Play to Win in cobbling together a
book that sold to well-meaning producers, who clearly later realized
they had purchased a tainted property, but plowed on. That saga isn't
over. Filmmakers were placed on legal notice September 15, 2014.
That's the S&S paperback front cover above, and it's a slight tweak
from its hardback, adding the quote from Si Dunn's Dallas Morning
News review that also was on the Taylor Trade paperback cover. It
doesn't include the background picture of anti-war protesters that
Taylor Trade used to hint that this was about far more than sports.
Also, after reading, most readers figured out that the subtitle -- Texas
vs. Arkansas in Dixie's Last Stand -- was intended to be interpreted
broadly, but also as a specific reference to the bitter controversy
that fall and in game week over whether the song "Dixie" would
continue to be used as an unofficial athletic anthem at Arkansas.
(Unfortunately, one notable and early reviewer -- an anonymous
lone wolf among the positive notices -- seemed to have no idea.)
Two weeks after the new Simon and Schuster paperback is out,
Lyons Press -- under the Rowman and Littlefield umbrella -- will
release the March 1939: Before the Madness paperback. That's two
years after Taylor Trade published the hardback tale of the first NCAA
basketball tournament, a remarkable and audacious undertaking
for its time; of its first champions, Howard Hobson's Oregon
Webfoots; and of the rival NIT and its champions, Clair Bee's
Long Island University Blackbirds.
That subtitle, by the way, also involved double meanings, since
troubling March events in Europe were foreshadowing the outbreak
of World War II later in the year, and it certainly was long before the
NCAA hoops tournament became the national obsession it is now.
The two new paperbacks both are coming to stores near you -- and
already are available for pre-ordering online.
link
RIP, Lt. Col. John Mosley
A trailblazing hero
Saturday, May 23, 2015: The sad news came tonight that Lt. Col.
John Mosley died Friday.
I interviewed him several times, including for books,
and on camera for Fox Sports Rocky Mountain.
This is part of the "Fourth Down and a War to Go" chapter in
Playing Piano in a Brothel. That chapter is about the players in the
1942 Colorado-Colorado A&M game and their World War II service,
and this passage features Mosley.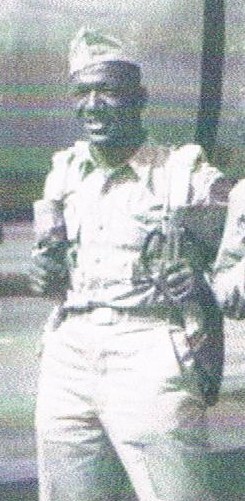 Number 14 John Mosley, Guard
Many of the players in the 1942 game came from Denver, and one of
them was a trailblazer. Aggies guard John Mosley was raised in a
home on Marion Street, across the street from Whittier School. John
Sr. was porter on the Union Pacific Railroad and his wife, Henrietta,
was a housewife.
"The old expression was that it takes a village to raise a child," John
Jr. told me. "Denver was actually a village at that time, so all the
neighbors and community people in the area helped raise the
children. We couldn't go two or three steps without someone saying a
word of encouragement or criticizing us for what we were doing or not
doing."
Significantly, the Aggies' program was integrated long before the
University of Colorado's. I came across Mosley while researching my
book Third Down and a War to Go.
At the time, covenants and standards essentially prevented black
families from living anywhere other than extreme northeast Denver.
"The types of things going on in Denver were quite similar to what
was happening down South, in terms of drinking fountains and the
various department stores," he told me. The segregated lunch
counters in downtown Denver included those at Kress and
Woolworth, and he took pride in being part of the movement that led
to their integration in later years.
I asked how those experiences couldn't have left him embittered.
"I didn't look at it that way," Mosley said. "I looked at it as an
opportunity to move ahead. I really didn't have any bad feelings about
who was responsible for the segregated activities and the types of
discrimination we experienced. I was too busy trying to ensure that I
got everything I possibly could out of school and also to participate in
athletics."
Mosley also was active at his church and with the Boy Scouts, the all-
black Troop 150, and sang in a quartet called the "Junior Mills
Brothers." The quartet appeared in many of the Denver theaters and
also on KLZ radio. Mosley laughed and remembered with wonder that
they once were paid $5 for each gig.
He often went fishing for crawdads at City Park, using pieces of liver
as bait. "We'd go down to Lafayette Street and sell crawdads to
people," he said. "Crawdad meat was considered very tasty at the
time." He also visited the old National Guard field on what is now
Park Hill Golf Course and watched planes land and take off. "I
pretended I was flying," he said.
A National Merit Scholar at Manual, Mosley went to Fort Collins with
his childhood buddy, Charles Cousins, also the son of a Pullman
porter, and enrolled at A&M. "I wanted to go to school with my
buddy," Mosley said. "He went up there with the intention of going to
veterinary school."
Mosley was an all-city fullback at Manual, but he wasn't pursued to
play collegiate football, even under the limited recruiting practices of
the times.
There were nine black students at the school. Most of the time, six
men shared a small house off campus. Four of Mosley's housemates
were Harry Martin, Eugene Combs, Jesse Douglas, and Junior James.
"We called ourselves, 'The Lonesome Boys,'" Mosley said.
Most of the Fort Collins restaurants wouldn't serve blacks. "We would
load up on food in Denver, as we came down on weekends," Mosley
said. "Our whole existence was cooking for ourselves. We could eat at
the student union and there was an ice-cream parlor where we could
get ice cream. All the rest had signs up. Some of the things were so
demeaning, I didn't want to recall them, but I do remember, 'No
Niggers allowed,' or, 'We don't serve Niggers here.'"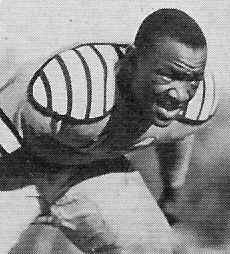 Cousins and Mosley went back and
forth from Denver to Fort Collins
during their college years. "As a result
of working on the Union Pacific
railroad in the summertime, Charles
and I were able to acquire Model
A Fords," Mosley said. "We went up in
tandem because if one broke
down, we were able to have the other
pull or shove or render some help to
make sure we made it down from
Fort Collins to Denver or
back up."
Housemates nicknamed him "One-Tea Bag Mosley,"
because he tried to nurse a single bag through a month. They saw no
humor in him trying out for football as a freshman in 1939. "I just
showed up and asked for a uniform," Mosley said. To re-emphasize:
before that season, there wasn't a single black player in the Mountain
States Conference, which included CU.
Nearing his thirtieth anniversary as the Aggies' head coach, Harry
Hughes welcomed Mosley. "I guess he felt that he knew he was
retiring soon and to have a black on his football team was no big deal
because they couldn't do anything to him," Mosley said. "And he
recognized that I could contribute to the team."
His teammates' reactions, especially at first, were mixed.
"I had to sell myself not only to Harry Hughes and the coaches but to
the players," Mosley said. "There were many players from Texas and
the Western slope, farmers and so forth, who didn't like black people.
That was quite an experience to gain the support of my teammates.
My first night out for football, one of the players from the Western
Slope tackled me, and in doing so, he slapped his hands down on my
helmet at the ears. That actually knocked me out. When I came to,
Eugene Combs was there on the sidelines watching and he was
laughing. He said, 'I told you not to go out for football. I told you these
guys weren't going to treat you right.' But the fact that I could play
football and block and tackle was productive in showing what I could
offer to the team. I won't call out any names now, but there were
several players on my team who never accepted me. But most did."
He played fullback until he was switched to guard as a senior.
"Naturally, there was name-calling and that type of thing," he said. "I
had no problem in my responses, because I didn't respond. It was my
teammates, Dude Dent and Woody Fries, who were quite vocal in
ensuring that those voices didn't get out too much. The way I
responded was through my ability to tackle and to run the ball hard. I
never had to 'fight my own battles' on the football field. There were
some things that were said, and that was constant, but if anyone tried
to challenge me any other way, all my teammates would come and get
in their way. I always backed off. I got several awards for being a good
sportsman, and that was one thing I didn't have to worry about. The
way I got around that was on the next play or subsequent plays, if I
was blocking someone or tackling, they knew that they got hit and
blocked. So you always had a chance to get back at those who weren't
too polite."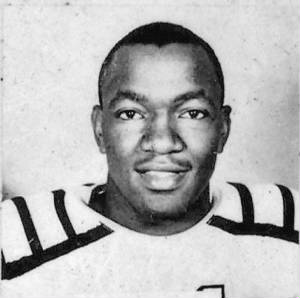 During the 1940 season, when Mosley was a sophomore, the Aggies
traveled to Salt Lake City to play Utah. On Friday, they went to a
movie theater. An usher told Mosley he would have to sit in the
balcony.
"As the team went in, Coach Hughes asked the players, 'Hey, where's
Mosley?' Somebody said, 'They sent him upstairs.' He told the
assistant coach, 'You go in there and make this announcement: All
Aggies, get the hell out of this damn theater!' The team came out and
they were asking, 'What's wrong?' And Coach Hughes said, 'We're not
going to that damn theater because they wouldn't let Mosley sit
downstairs.'"
By the time the 1942 season began, Mosley was down to one
roommate, Harry Martin, who was majoring in chemistry and went
on to be a physician. They lived near the campus. Mosley considered
CU the enemy on the playing field and noted that while the Buffaloes'
football program hadn't yet been integrated, he had friends attending
the school. "We used to go down to visit them, and they were
restricted, as we were," Mosley said. "They were off campus, on Water
Street. That was the black district down there and they lived with
black families."
At A&M, Mosley was named vice president of his class as a junior and
senior and hoped to become the first black in Advanced ROTC at
A&M. "I had the correct academics and was well-known on campus,
and I thought it was a shoo-in for me," he said. He took a physical at
Fitzsimons Army Hospital.
"Understand, I had been playing football for six years and wrestling
and taking physical exams every year," he said. "I went back up to
Fort Collins and was awaiting my assignment for Advanced ROTC,
and they said, 'Sorry, you didn't make it; you didn't pass the
physical.'"
Doctors told him he had a heart murmur.
I asked Mosley if he was an angry young man at that point, given what
he was going through in Fort Collins and in football and wrestling.
"Very definitely, but I had had some very good white friends and
buddies up at CSU," he said. "I certainly wasn't angry at them. I was
angry at the system. The president up there was a guy named [Roy]
Green. I never will forget Green. He was a racist S.O.B."
When the door was shut to Advanced ROTC, Mosley sought an
alternative.
"They were starting up a program called civilian pilot training, and it
was at most of the colleges around the United States," he said. The
civilian pilots ferried military aircraft to bases around the country or
even to bases overseas. "So I decided, 'This is the way I am going to
beat this game,'" Mosley said. "You had to get your own flight physical
and pay for it. I got my money together, went to the flight physician,
and he examined and passed me."
He started taking flying lessons in Fort Collins.
"When you signed up for civilian pilot training, you had to either sign
up for the Army Air Forces or the Navy," he said. "At that time, the
Navy wasn't even thinking about having blacks fly their airplanes. The
only thing that was left was this experimental group, down in
Tuskegee."
The all-black 99th Fighter Squadron was formed at Tuskegee in June
1941. By late 1942, the 332nd Fighter Group was considered the
umbrella organization for the Tuskegee Airmen. Mosley made it his
goal to join the Airmen.
Before he entered the service, an experience as his graduation
ceremony approached left him reluctant to return to Fort Collins for
many years. Fort Collins businessman "Sparks" Alford clumsily tried
to congratulate Mosley.
"Sparks was really the sponsor of the team," Mosley said. "He went on
all of our trips and he owned the Burlington, the bus run from Fort
Collins to Denver. He did give me a job of mopping up the bus station,
which was just a little cubbyhole down by the train station. I worked
for Sparks for two years, I guess, maybe three, and we were good
friends because he was a sponsor of the team. Whatever the team
needed he would certainly work very hard to try and give the team
that type of support. In getting my diploma, I was the happiest person
in the world, thinking, 'Boy, I really have it made,' and that type of
thing. I saw Sparks, and Sparks came up to me and said, 'Hey, John,
very good, if you every get in jail just give me a buzz and I'll get you
out.' That to me was the most disappointing thing, to suggest that I
might be a candidate for jail. I'd never been to jail in my life and
certainly hadn't been involved in any problems up in Fort Collins. For
him to think that the only thing I could do was to get involved in
trouble some way left a very bad taste in my mouth."
Mosley was astounded when he wasn't drafted after graduation. "My
peers were given their degrees early so they could go in," Mosley. "I
got my degree, and my process was sitting and waiting. September
came along, and nothing. I thought for sure I would be going down to
Tuskegee." He complained to the draft board, and he was told that
there had been a mix-up and his draft board believed he already had
been called up. Soon, he was called in to the Army.
Instead of being sent to Tuskegee to fly, however, he was dispatched
to a segregated field artillery unit at Fort Sill.
"I started writing letters, along with my parents, to congressmen and
the White House," Mosley said. "I said, 'Look, I have actually been
trained in flying, and why haven't I been sent down to Tuskegee?'"
He got his wish two months later.
"When I was going through," he said, "they didn't graduate any more
pilots than they needed with the 99th [Fighter Squadron]. If they lost
two people in the 99th, two people would graduate. They would
eliminate you for anything-shoes not shined or for any attitude you
had that wasn't appropriate. I often tell people I'm the best pilot in the
world, but there were pilots better than I was who got washed out for
nothing because they didn't realize they had to demonstrate they
could out-strategize their white instructors. Those were the kinds of
things we had to go through.
"The one goal I set for myself was I wanted to get those silver wings. I
knew I had to do everything in the world to scrap and to prove myself.
Although we had black instructors through primary training, they
were all white instructors at basic and advanced. That's where the
washouts were frequent. We used to say, 'How many did we lose in
Europe, three or four?' And three or four would graduate from the
next class. It was that sensitive and [there was] quite a bit of trying to
outdo your fellow classmates so you would be selected to advance.
That wasn't very pleasant, either, because you were fighting against
other blacks down there trying to make it. I didn't tell my flight
instructors that I already knew how to fly."
Why not?
Mosley said the word was that instructors would feel threatened by
that and find a way to "wash out" that Airman.
Following pressure from black-owned newspapers and from the
White House, the first black airmen served in combat, flying fighters
in North Africa and Europe. In 1945, Mosley was one of the first
blacks trained to be a bomber pilot. "They didn't trust us with B-17s,
with bombs," Mosley said. "They thought the first thing we'd do was
head for 1600 Pennsylvania Avenue. They really had to sell Congress
with 'we think we can trust those guys now,' so we were permitted to
fly B-25s."
Part of the training was at Tucson, and then at Freeman Field in
Indiana.
"They had a provision that there would be no black officer above the
rank of captain, and there wouldn't be any white officers below the
rank of major," Mosley said. "The white officers were all considered
instructor personnel, and they had an officers' club they called the
Instructors' Club. To ensure that we as black officers recognized that
we weren't supposed to use it, they had two MPs standing up there.
We discussed this and said, 'This is not right.'"
The angriest was pilot Daniel "Chappie" James. Mosley said James
announced that the pilots should just storm into the officers' club.
Eventually about forty of them did just that and were arrested, but
Mosley was on a training mission to South Carolina at the time.
"The commander of the airfield used to carry around a swagger stick
and put it under his arm," Mosley said. "We used to mock him by
picking up a stick and carrying that. He decided to court-martial
everybody involved. He had issued a statement that we were supposed
to sign, that we understood we were not supposed to go into the
officers' club. Of course, nobody signed it. We were sent back to
Kentucky by Fort Knox. They thought by moving us back there, it
would be a more secure thing. They thought there might be a
revolution."
While the insurrectionists were awaiting their court-martials, Mosley
said, they were under confinement at the Kentucky airfield in a
barracks behind barbed wire. "German prisoners also were housed
there, and they had the complete run of the base," he said. "They
could use the PX. The airfield was somewhat separate from the Fort
Knox unit, but the Germans had assignments over there, picking up
the trash and things like that. It was most embarrassing to watch
those German prisoners and then to look over there to the barracks
that housed the guys who were under arrest, and the German
prisoners had the full run of the base, it seemed like. So you knew
what they thought of us. That was really disturbing."
Mosley said that the court-martial was held in the base's theater.
Future Supreme Court Justice Thurgood Marshall was one of the
defending attorneys.
"It was a comical show for all of us blacks on base because we had to
get there at six in the morning to get in line and get in the theater,
because everyone wanted to crowd in there to watch this court-
martial," Mosley said. "It really was the white base commander who
was on trial. It was embarrassing to him and to the armed forces and
the War Department, and following that, only about four people
received a very minimal reprimand and letters in their files."
By then promoted from copilot to pilot, Mosley and others were
ticketed to fly in Pacific combat had the war continued into late 1945.
As a reservist after the war, he was asked to write a position paper
about the possible integration of the armed services and was told it
would it would reach President Harry Truman's desk. He doubts that
it did. But that report also is part of the reason why he always felt he
had at least a small role in Truman's decision to integrate the military.
"The integration of the armed forces was really a prelude to all the
kinds of civil rights activities that took place in this country," Mosley
said. "That's why I use the Tuskegee Airmen as being the basis for all
of this developing and making America what it should be. You asked
why I wasn't bitter. It was because I was part of the movement to
prove that we were capable of making a contribution to the
development of this great nation. We had the foresight to know that
this would be the best nation in the world. And it is the best nation in
the world. The Armed Forces would have never been integrated had it
not been for the Tuskegee Airmen proving they could fight, wanted to
fight, could be relied on to fight, and were not afraid of giving their
lives to accomplish their missions and goals."
During the Cold War years, Mosley spent reserve stints in the new
U.S. Air Force flying supplies to West Germany and North Africa and
also worked for the YMCA. During the Vietnam War, he was an
operations officer in Thailand as U.S. pilots flew bombing missions
over North Vietnam. He retired from the Air Force in 1970 as a
lieutenant colonel and served as special assistant to the
undersecretary in the Department of Health, Education and Welfare
in Washington before returning to Denver. He worked at the regional
office for the Department of Health and Human Services until he
retired.
Mosley was inducted into the Colorado Sports Hall of Fame in 2009,
and I was honored to introduce him at the banquet.
link
Appearance in ESPN 30 for 30
Stephen C. Mitchell's
fine film: Nixon's National Champs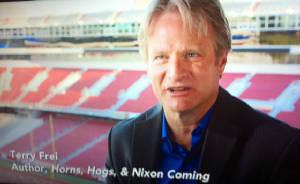 Monday, December 29, 2014: In August, I was flown to Fayetteville
to be interviewed in Razorback Stadium for Stephen C. Mitchell's
ESPN 30 for 30 documentary film, Nixon's National Champs. After
months of communications, I enjoyed meeting Stephen and Lee
Waldrep and working with them, and without going into details, I
can attest to their painstaking perfectionism -- and patience. I also
had time to catch up with old friend Bob Holt of the Arkansas
Democrat-Gazette, and he introduced me to the Catfish Hole, the
dining highlight of my year.
I watched the film's premiere showing Sunday night on ESPN. Chris
Fowler and Pat Buchanan also appeared in it, following Stephen's
own setup comments at the start.
It's terrific, wryly funny and enlightening.
Stephen contacted me because of my book Horns, Hogs, and Nixon
Coming, a very panoramic work.
Because I also have written the screenplay adaptation and it's on the
market -- and, yes, I have stories about that -- I was gratified to
realize that Stephen had his own ideas and vision. He was not going
to be like others who came before him. Those folks either:
a) brazenly asked me to help them to not just use HHNC as their
roadmap, but also poach from it.
Or,
b) simply lifted, going far beyond fair beyond fair use, almost always
minus acceptable citation.
More recently, my legal position relative to one tainted book and a
connected feature film project has been made clear to producers.
I'm not backing down. That saga is only just beginning. You'll hear
more about it.
In contrast, in a short documentary, Stephen wanted to highlight a
very specific aspect of the story -- Nixon's presumptuouness in
stepping into the 1969 national championship campaign -- set against
the backdrop of the first-ever four-team national playoff. He
found amazing footage of Joe Paterno and Penn State, the
aggrieved and snubbed undefeated team that beat Missouri in the
Orange Bowl, and did more with the Nittany Lions than I had in
my book.
Impressed with his ingeniousness and energy, I agreed to be part
of his film, and I'm glad I did. We had agreed that the film could
help bring renewed attention to the book, published in hardback
in 2002 and still available in the Taylor Trade paperback edition and
a Simon and Schuster e-book; and also to the film project,
represented by Jeanne Field of Windfall Management.

Because Stephen had limited airtime and was so tightly focused,
there was much material about the '69 Texas-Arkansas game that
had to be left out, or was extraneous to his tale. That's
where it was win-win for both of us. Yes, I'm hoping his fine film
whetted the appetite of viewers to explore the book, which focuses
on the game, those two teams and -- in the most revelatory material I
came across -- the startling things going on around the game in that
cauldron year.
Those included, but were not limited to:
-- Black students and their supporters preparing to storm the field

in front of the president and on national TV if the Arkansas
band played a single note of "Dixie" after weeks of heated
protests of the song's use as the unofficial anthem for Razorback
sports.
-- An anti-Vietnam War protest, including Vietnam and World War II
veterans I tracked down, on the hill above the stadium. ABC
ignored the protest, but it was in plain sight of the Nixon
entourage, seated facing it.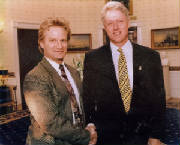 -- Bill Clinton listening to the game on short-
wave radio in England, where he was a
Rhodes Scholar. At the time, his ultimately
notorious Dec. 3, 1969 letter to Col. Eugene
Holmes, a Bataan Death March survivor, the
head of the Arkansas ROTC program and the
future father-in- law of Razorback tailback Bill
Burnett, was on its way to Fayetteville. I spoke
with Holmes for the book, and it was his only public statement on
the issue after Clinton's angst-filled letter to him was released during
the 1992 presidential campaign.
We couldn't have known when that picture was taken in the White
House in 1997, he would appear in one of my books five years later.
-- The pending integration of both teams' varsities. Both
had African-American scholarship players as freshmen -- Texas'
Julius Whittier and Arkansas' Jon Richardson -- and there
was much more to this than met the eye, too. On the Arkansas side
alone, the black law student who suffered a superficial gunshot
wound the night before the game as the "Dixie" debate continued
had played freshman football for the Razorbacks in 1965 but
ultimately decided not to attempt to go out for the varsity team the
next year.
Later, he was the defense attorney for Jim Guy Tucker in the
Whitewater trial and questioned President Clinton on videotape
in the White House.
Beyond that, of course, the game itself was an imperfectly played
classic, and I went into extensive detail about it, including the fact
that Texas safety Freddie Steinmark -- like me, an alumnus of and a
former athlete at Denver's Wheat Ridge High -- played that day on a
leg being eaten up by cancer.
So yes, there were many subplots Stephen couldn't get into in 22
minutes. He brilliantly kept his focus tight and produced a terrific
film -- one I was proud to be in.
link
Honoring Jerry Frei at Oregon spring game
A great weekend with
the Ducks in Eugene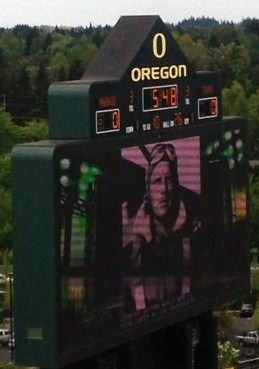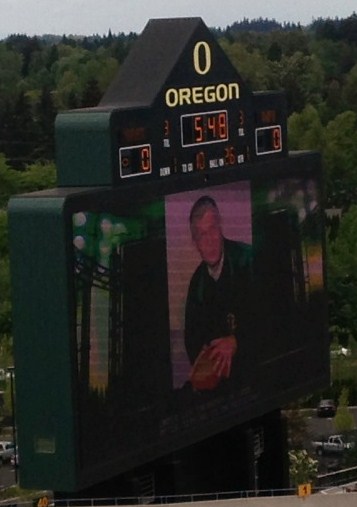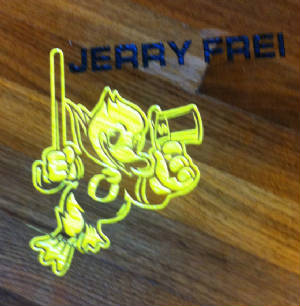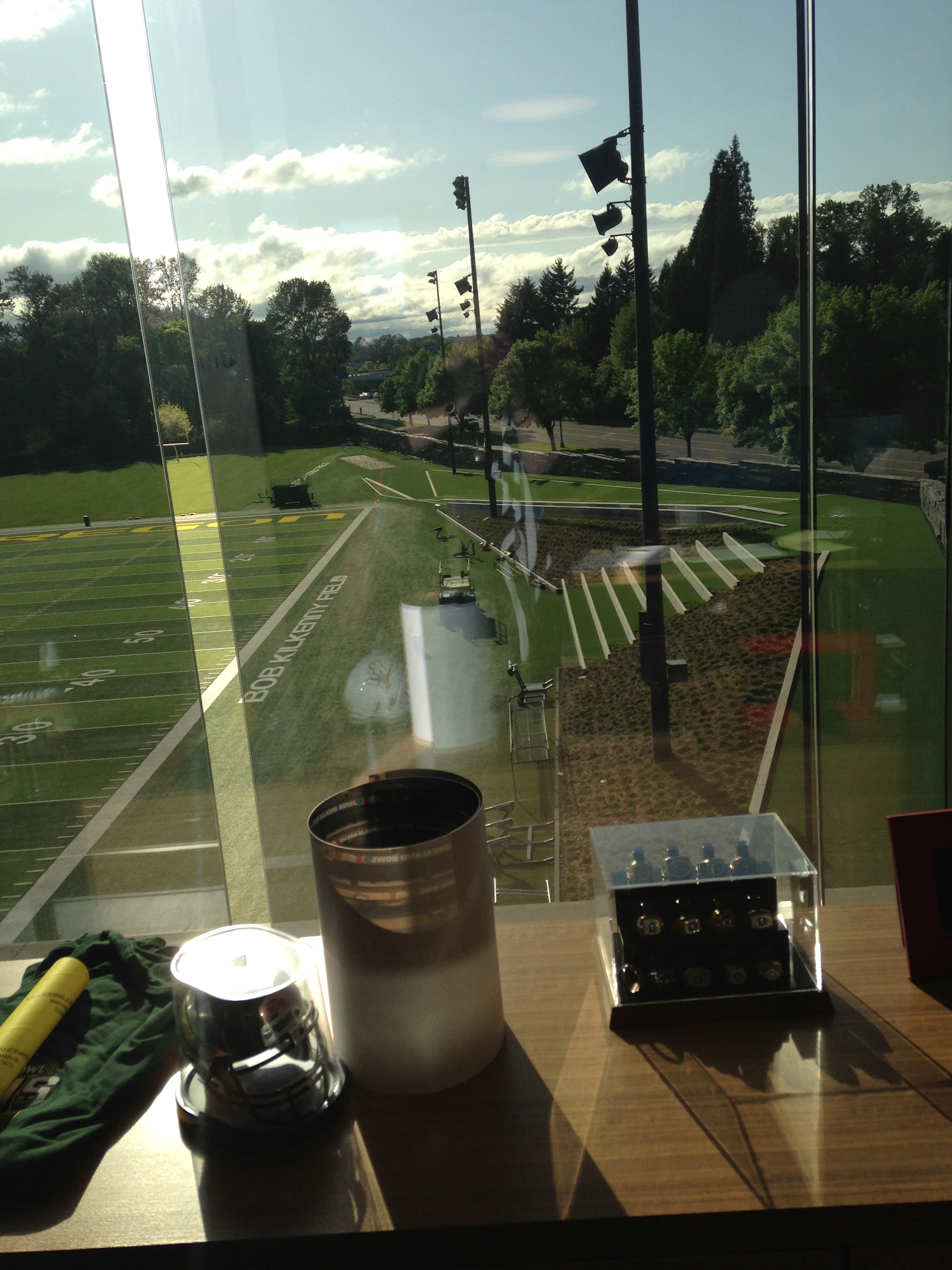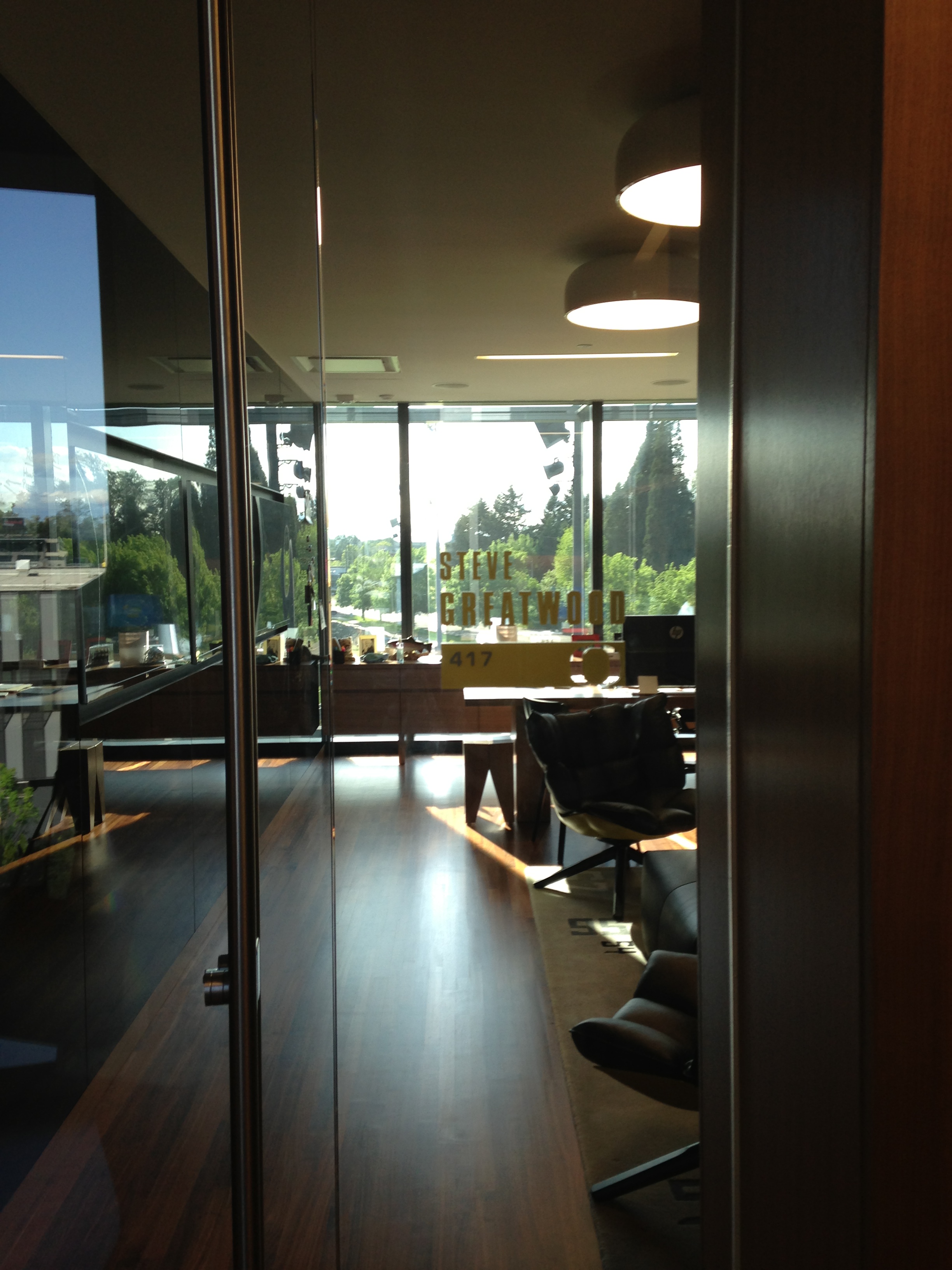 Jerry Frei Offensive Line Coach's Office
May 4, 2014: I'm back from an emotional and gratifying family
visit to Eugene, where the University of Oregon athletic department
honored our father, Jerry Frei, by offically unveiling the Jerry Frei
Offensive Line Coach's Office in the new Hatfield-Dowlin Complex
and showing a tribute video on the scoreboard screen during the
first half of the Oregon Spring game at Autzen Stadium. Appropriately,
the tribute was read by Don Essig, the long-time public address
announcer at Oregon games.

In keeping with the military appreciation theme of the day, the video
prominently mentioned the aspect of Jerry Frei's background that was
never listed as part of his coaching biography during his 17-season
tenure with the Ducks as an assistant and ultimately their head coach.

That was his 67 combat missions as a P-38 fighter pilot in World
War II, flying generally alone over Japanese targets to take
reconnaissance photos in advance of the bombing runs. The one-man
plane was unarmed; cameras replaced the guns.

I noticed Oregon players on the field watching the video and clapping.
On Friday, Kim Murray of the Duck Athletic Fund treated us to lunch
at The Wild Duck, across the street from Matthew Knight Arena. It
significant for us, also, because the first home I remember living in in
Eugene was about a block from there, on Columbia Street. (It's no
longer there, thanks to university expansion.)

Then we took tours of the Casanova Center and the new football
complex, which is truly as breathtaking as you've heard, and had a
met and ate dinner with many of the former players and coaches
who had played golf that afternoon. It never gets old to hear stories
from Jerry Frei's former players and coaches, and they made me
even more proud to be his son. And it was nice to again see and
talk with former Oregon coach Rich Brooks, retired and now living
back in the area. Thanks to Jeff Eberhart of the Oregon athletic
department; athletic director Rob Mullins; and offensive line coach
Steve Greatwood, who all were terrific.

On Saturday, I also enjoyed running into and speaking with Rob
Moseley, editor of GoDucks.com, and Ryan Thorburn of the Eugene
Register-Guard, formerly of the Boulder Daily Camera. And thanks
for Oregon's David Williford for helping setting up a halftime radio
appearance for my brother, David, and me with Jerry Allen, the
veteran radio voice of the Ducks.

Four of the five Frei siblings, plus family members, were there. Dave
and I were joined by our sisters, Judy Kaplan and Nancy McCormick.
The fifth sibling, former ballerina and now ballet company executive,
Susan Frei Earley, had performances over the weekend in Tulsa
and wasn't able to attend.
Secondarily, and this was merely a coincidence because this honor
was in the works long before the release of March 1939: Before the
Madness, I also did a signing for the book about the first NCAA
basketball tournament -- a tournament won by Oregon's legendary
"Tall Firs" -- and its times.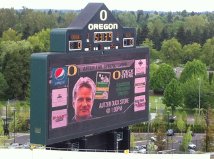 That also made the scoreboard, at left.
I also was appreciative that the sons of
two members of that legendary 1939
team came to the signing. The first is
Scott Wintermute, son of Tall Firs
center Slim Wintermute; the second is
Scott McNeeley, son of backup guard
Red McNeeley. Scott had provided me
with a CD interview his mother and aunt conducted with Red late in
his life about his war-time experiences. Red was a torpedo bomber
pilot in the Navy and earned the Distinguished Flying Cross for his
heroics during the Battle of Iwo Jima.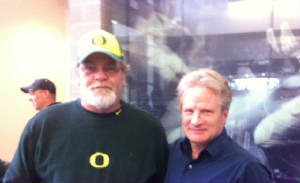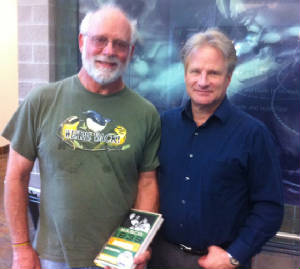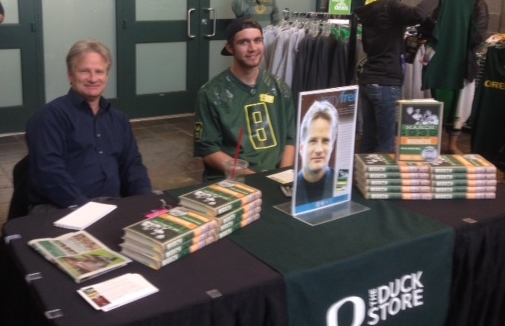 Setting up for The Duck Store signing. That's Jordan of the
Duck Store staff ... not Marcus Mariota.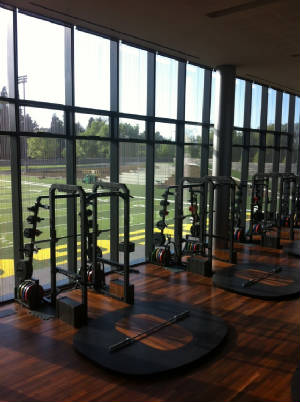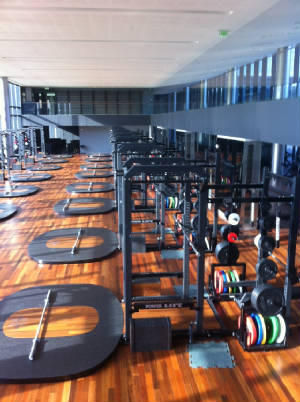 Oregon's weight room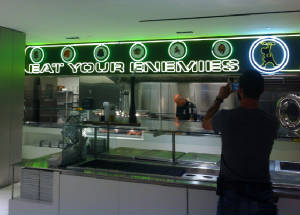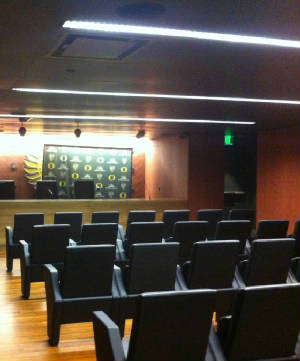 Oregon's cafeteria, left, and media interview room, right
link
Catching breath after March 1939: Before the Madness promotion
"And we welcome to the show ..."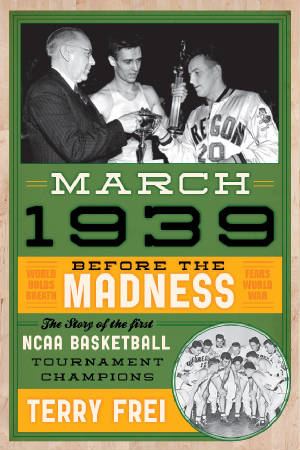 April 22, 2014: March 1939: Before the
Madness has been out for about
10 weeks now, and the response has
been heartening in many ways ...
including at the box office, so to
speak. The national radio "tour"
lasted several weeks, and I enjoyed
it. I've generally found that hosts (or
their producers who are intrigued
enough to book me to talk about the
book do their homework, whether
that means reading the book or at
least sufficiently familiarizing
themselves with the material to
intelligently converse with me
about it. So my public thanks to
them all.

The most intriguing appearance was on Public Radio
International's The World, and I actually heard the segment in my
car on the afternoon of April 7, a few hours before the start of the
Connecticut-Kentucky championship game. I had gone
to the Colorado Public Radio studios on the previous Friday to
be interviewed on a broadcast-quality line, and the produced
segment broadcast included only a relative snippet of my
comments. But I understand that and am accustomed to that sort
of process from the writer's side of the equation.

So there I was, immediately after a somber segment on the
situation in Afghanistan.

The World understandably was most interested in and intrigued
by my approach of framing the basketball season and
tournament against the backdrop of the Sino-Japanese war and
Nazi Germany's bellicosity in Europe, including its mid-March
invasion of Czechoslovakia. In all my books, I've taken great care
to tell the sports stories as part of the times, and in this case,
debates were raging over whether the U.S. should become
involved in another European war, if it came to that. It did, of
course, but forums on college campuses -- including Oregon --
were addressing the issue without the foresight of knowing that
the events of December 7, 1941 essentually would end all those
debates. So these men in the first tournament were hearing the
drumbeats of war and wondering if they would have to serve.
Many did. In that sense, I consider this book a prequel to Third
Down and a War to Go, about slightly younger Wisconsin football
players winning a version of the national championship in 1942
and understanding they soon would be in military -- and not
football -- uniforms.

Here's that segment.
link
Enjoyable appearances in Glenn Morris' backyards
Playing the Lincoln Theatre
and the Fort Collins Library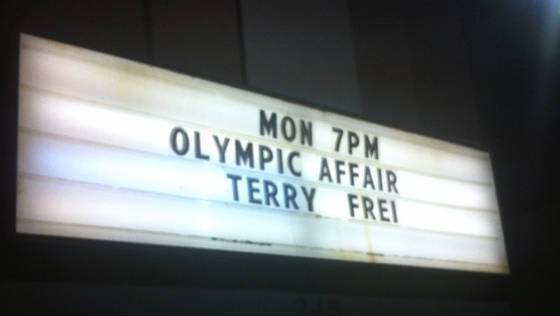 February 21, 2014: Before turning more promotional attention
to the new March 1939: Before the Madness, I made two very

enjoyable appearances to discuss and sign Olympic Affair in the last
10 days.
The first was February 10 in Limon. It was the first time I'd ever
done an appearance in a theatre, and it was in the historic
Lincoln Theatre in Limon. My thanks to Ryan Kaufman of High
Plains Media and Broadcasting for setting it up and putting it on.
Glenn Morris, the protagonist in Olympic Affair, was raised 24
miles down the road from Limon, in Simla, so I mainly discussed
that book, including the research and the decisions I made in
presenting it as historical fiction rather than a conventional non-
fiction work. But I also ran through my other projects and enjoyed
fielding questions -- all standing in front of the movie screen.

Then last night, I had a great time talking about Olympic Affair at
the Old Town Main Library in Fort Collins, on behalf of the city's Old
Firehouse Books. Morris, of course, also was a star athlete and
student body president at the school that now is CSU, and he trained
in what now is called the Glenn Morris Field House on the east side
of the campus. The turnout was good, the questions following my
presentation were terrific and thought-provoking, and because of the
proximity to where he spent his collegiate years and a post-graduate
year preparing for the Olympics, I almost felt as if Morris was
listening in on us.
link
Publishers Weekly praises MARCH 1939: BEFORE THE MADNESS
"Carefully crafted, fast-moving
and refreshing"





December 22, 2013: I should have been waiting at Sardi's.
The new online and print editions of
Publishers Weekly include a very nice advance review of my
upcoming book, March 1939: Before the Madness.

It closes with: "Carefully crafted, fast-moving, and refreshing, Frei's
study of the scrappy Oregon Webfoots' campaign ... is quite
memorable."

link
Julius Whitter, first black Longhorn letterman, is inducted into U of Texas Hall of Honor
Horns, Hogs and Nixon Coming
dealt with Dixie's Last Stand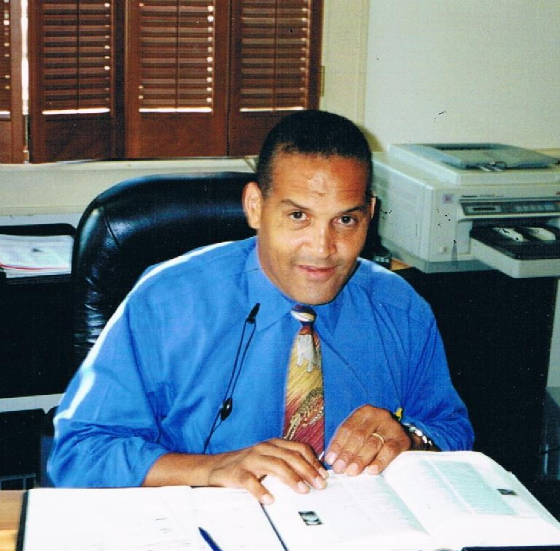 November 6, 2013: Julius Whitter last weekend was among the ex-players
inducted into the University of Texas' Hall of Honor.

He was the Longhorns' first black football letterman, and I visited him in
2001 at his law office in Dallas during the research for Horns, Hogs, and Nixon Coming (2002).

No black players participated in the 1969 Arkansas-Texas game that is the
book's focal point, but both schools had black scholarship players on the
freshman teams that season and were on the verge of varsity squad
integration. It's a major plotline in the book -- and part of the reason for the
subtitle Texas vs. Arkansas in Dixie's Last Stand -- and I enjoyed speaking
with Whittier. Arkansas' freshman scholarship player was running back Jon
Richardson, and I also spoke with Hiram McBeth, who was on the "B" squad
in 1969 after essentially being appointed by the Black Student organization to
go out for football and integrate the program; and with Darrell Brown, who
ended up the attorney for Arkansas Gov. Jim Guy Tucker in the Whitewater
trial and as such questioned Bill Clinton on video in the White House.
Brown had gone out for freshman football in 1965 and in that sense was the
first black Razorback.

Here's my introductory passage on Whittier:

When Julius Whittier committed to attending Texas, he didn't know he
would become the Longhorns' first black letterman.

"I didn't go there with that as a goal," he says. "I went there because I
wanted to play big-time football, take a shot and see how I stacked up against
guys like me. If I was an icebreaker, I didn't feel the breaking ice."

Whittier says he never felt as if Darrell Royal had to be dragged screaming
into the era of integrated college football. "There may have been those
coaches who made it their goal to make sure college football stayed white,"
Whittier says. "I didn't see that in Coach Royal, didn't see it as a burning issue
with any of the white football players, and even in looking back I don't see it.

"I think the guys I played with felt comfortable they had the skills to compete
with anyone, whether that guy was white or black. So, no, I don't see
Coach Royal as a fiber in the fabric of the part of football that may have
wanted to keep it white. Coach Royal basically came to a school that got its
personality from the state it served. Not that he was some big social revolutionary
or anything, but I think he recognized that to stay who we were, we
were going to have to use black athletes.

"There's a strength that was added to the team by adding different ethnic
backgrounds. I think Royal appreciated that and was unafraid. [But] he had a
board of regents that thought maintaining racial purity was more important
for a long time."

UT's first black letterman came from San Antonio. Julius's father, Oncy,
was a doctor, and his mother, Loraine, was a teacher. As he was being raised,
Julius was somewhat naïve, because the San Antonio schools were a Texas oasis,
integrated for years. White kids and black kids and brown kids went to
school together, and from junior high up, students got "bus cards" and could
attend any school in the district. But it was as if the city couldn't quite figure
out how far to extend this progress.

One example of San Antonio's reticence was that blacks still had to enter
the historic Majestic Theater through the back door and sit in the back.

Julius's sisters, Cheryl and Mildred, worked at the Handy Andy market, and
discovered that they wouldn't be allowed to advance to cashier's jobs; those
were reserved for the white girls. Loraine, active in the NAACP, helped organize
a protest march on the store; eventually, Cheryl and Mildred and
other black girls were allowed to handle the money, too. Julius's older
brother, also Oncy, set the example for Julius—one he didn't always pretend
to match. Oncy was meticulous in his dress, polite in manner, and studious to
an extreme. "He was the gentleman," Julius says. "I was the renegade." But
Oncy also was involved in the Black Guerrilla Theatre group, which was in
the same building as the militant Student Non-Violent Coordinating Committee
and was raided at one point by San Antonio police. "My brother got
clubbed in the head, along with several other people, and we had to get him
out of jail," Julius says.

At Highlands High School, predominantly white, Julius took part in a
protest of the dress code, wearing a dashiki he borrowed from Oncy. Oncy
could argue with teachers and win them over, at least earning their respect;
Julius could say what was on his mind and be tossed from class. Oncy was an
all-city offensive lineman in football, and he ended up at Howard University
in Washington, D.C. Julius was surprised when he discovered his options included
attending the University of Texas and playing football—with all
those white boys! At the end of his senior season, he discovered that his parents
and his high school coach had cut a deal to lessen the recruiting pressures.

"When the season was over, we were tearing down our lockers and my
coach called me into the office," Julius says. "There were three bags of letters
on his desk."

"This is for you, as a reward for the year you had."

"What is it, Coach?"

"They're letters from different colleges and universities, Julius. And I want you to
read this one first."

Coach Darrell Royal was telling Julius Whittier the University of Texas
Longhorns wanted him.

"I didn't know who he was," Whittier says. "I don't say that to minimize
who he was, I say that to show how sheltered I was."

Royal's head defensive coach, Mike Campbell, came to San Antonio, met
with Whittier, and helped schedule a visit to the UT campus. "I bought into
Campbell's honesty," Whittier says. "He was straightforward. He was just an
old white man who knew how to play football. He turned out to be just what
he showed me—a straight shooter."
As Julius also set up visits to North Texas State and SMU, and he sifted
through the letters from Big Ten schools, his mother's NAACP friends were
aghast that he was considering UT. "They had this fear that I wouldn't get a
fair shot, that I would be just suiting up and holding a dummy," Whittier
says. "My mom was fascinated by the challenge, though."

Royal didn't make the kid from San Antonio any promises about how
much he would play. "That part's up to you," Royal said. Like James Street
and others before him, Whittier took that as a challenge. "You know the
bumper sticker that says 'Hire a teenager while they still know everything?'
That was me," he says. And he wouldn't be the only black player in the program,
he was reminded. On his recruiting visit, Whittier was shown around
by the freshman halfback, Leon O'Neal. "He told me the white folks were
OK," Whittier says, smiling. "Then he left. It didn't bother me at first, until
I thought about it later and he kind of left me there. I was expecting to go
there and be real good friends with him for the next two, three years. We got
along real well on my recruiting trip."

As he settled in at UT during that 1969 season, Whittier became increasingly
bothered because his teammates seemed blinkered and insulated from
the events swirling around them. And, no, at times he
didn't
feel welcome.

"It's almost a southern gentleman kind of racism to the extent that I never
got invited out on the drinking sprees," Whittier says. "Everybody knew I
didn't drink. But there were also white boys invited out on these sprees who
didn't drink."
He was quoted in the February 15, 1970,
San Antonio Express-News
as saying:

"The problems I've had have been with some of the players. Texas seems
to recruit a lot of boys from small towns, and most of them have small minds
just like their fathers. I've gotten the message from them. It's subtle, but to
them I'm definitely an outsider."

Years later, Whittier can repeat his "small-town boys" newspaper statement
almost verbatim. You bet he heard about it, and he hasn't forgotten. He
doesn't seem to give the Longhorns, even when all except Whittier were
white, enough credit for their wide spectrum of attitudes, viewpoints, and
level of seriousness, but it's understandable why.

"By that I meant they weren't out to change the world in any way," he says.
"They were out to play first-class football at a first-class football school. Race
didn't get in our way. The social change that I was into and used to in my
home life, through my mom's stewardship, was not part of what they were
about. They were about playing football and stepping into the life that a
solid football career at a solid football school gets you."

But in 1969, Whittier was just a freshman linebacker, anyway, not a part of
the varsity. The tricky part was freshmen were considered lower life forms in
the football area of Jester Center, subject to the usual hazing rituals of being
ordered to shine shoes, do laundry, go out for hamburgers or beer at two in
the morning, or make beds. The freshman season was a plebe experience, and
the tradition was that the first-year players couldn't even enter through the
main door of the dining hall until they had beaten the Texas A&M freshmen.

Whittier regarded a few upperclassmen as his protectors—including
sophomore Randy Stout, who shared time at left guard with Bobby Mitchell,
plus backup running backs Billy Dale and Bobby Callison. He felt they were
watching out for him, making sure the freshman indoctrination pranks didn't
go beyond the norm, to racial harassment. (When Dale was a senior and
Whittier was a sophomore, they roomed together in Jester.)
Whittier also came to like defensive tackle Greg Ploetz.

"It didn't appear that I was being treated any different than any other
freshman," Whittier says. "I think I was respected, too, because I was aggressive
and got after it. I didn't slink to the back of the line when it was time for
shit drills. In fact, I had made a promise to myself that when they said to line
up I always would be first in line, even if I had to push and shove to get there.
I wanted the coaches to know they didn't have to worry about me being willing
to stick my face in there."

During that fall, the other Longhorn freshmen and a few of the upperclassmen
noticed a few other things about the black kid: He could be late for lunch
because he was at a protest!
He would hang out
with the hippies!
He went to the
Moratorium march, and he was sympathetic when students protested a
Memorial Stadium and street expansion project that forced the bulldozing of
Waller Creek between the stadium and the main part of campus. The administration
and many students couldn't understand why moving the channel
thirty feet was such a problem. So what if it killed a few trees and a few turtles?

"I had to walk by this fight to go into the stadium to get dressed to play
football," Whittier says. "I was having to face the fact that what I was doing
and the system I was playing in was the dynamite behind the movement to
move Waller Creek. I'd have to walk past Frank Erwin"—the chairman of
the board of regents—"and the other regents observing the protesters to
make sure they didn't interfere with construction. Kids tied themselves to
trees to stop the bulldozers."

Whittier says that while coaches made snide remarks every once in a
while—
Heard you were up there with all the hippies!
—they never attempted to
tell him he couldn't take part in protests or be politically active, either that
freshman year or later. In fact, he says, trainer Frank Medina surprised him
by saying, "If you take care of business here, you're fine with us."

The 1969 freshman team went 5–0, finishing off with a victory over Texas
A&M in Austin on November 21. Then the first-year players settled in to
watch their "heroes" close out the varsity season against Texas A&M and
Arkansas.

"Those guys were like gods to us!" Whittier says. "You could tell that
there was never a thought in their mind that anyone was going to beat
them."

Certainly not Arkansas.
link
Marty Glickman in Olympic Affair: Hitler's Siren and America's Hero
Before he was a sportscaster...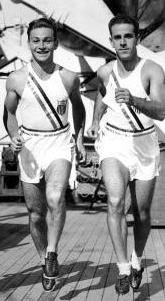 (Marty Glickman, Sam Stoller on SS Manhattan on way to Germany)

September 2013: I finally was able to watch the HBO
documentary on Marty Glickman, a major figure in my novel
Olympic Affair: Hitler's Siren and America's Hero, last night. HBO
On Demand for subscribers is a wonderful thing. The notation is
that "Glickman" will be available that way through September 23.
Glickman, destined for a career as one of the best play-by-play
sportscasters of all time, and fellow Jewish sprinter Sam Stoller
were frozen off the U.S. 400-meter relay team at the 1936 Berlin
Olympics, coincidentally leading to Jesse Owens adding to his
gold-medal collection with his fourth. As I write in my book, there is
considerable evidence and no doubt in my mind that U.S. Olympic
Committee czar Avery Brundage and others conspired to keep
Glickman and Stoller off the relay team to avoid "embarrassing" the
Games' German hosts — including Adolf Hitler. The documentary addresses
that and reaches the same conclusion.
As I had been promised, it is a superb and revealing portrait of one
of a trailblazing — in more ways than one — sportscaster who was
especially influential within his craft. Writer, director, and producer
James L. Freedman did terrific work here. Probably most
underplayed in what I had read and heard about the documentary
was the amazing rounding up and use of archival film and pictures
of Glickman through the years, especially during his athletic career
as a sprinter and football player. Time after time, I'd catch myself
marveling and congratulating Freedman for his doggedness and
ingenuity because I'm assuming nobody dropped a box of old films
and material on his front porch one morning. I also appreciated
and identified with how well he was able to cope with the fact
that Glickman died in 2001. He was able to use footage of earlier
Glickman interviews, and while I suspect he was wishing that he
had been able to do this much sooner, while Glickman was alive,
and do "new" interviews himself, it's not jarring or ruinous. I can
identify with Freedman in the sense that I suspect angst in having
to bring America this story a decade after Glickman's death — and
not while he still was alive — was part of the motivation every day.
"Glickman" is superb, and for many, it was or is
going to be revelation about a figure they has seen or listened to
growing up. But this doesn't need to be only for those old enough
to have that reason. It's a history lesson — a very relevant one —
also.
Here are passages from the first half of my book, which
revolves around U.S. decathlon champion Glenn Morris'
passionate, yet ultimately toxic and contaminating, affair
with German actress, propagandist and filmmaker Leni Riefenstahl.
Morris was from tiny Simla, Colorado, and was a
former football star and student body president at the school
now known as Colorado State. Later narrative material documents
Glickman and Stoller's shameful exclusion from the relay team.
They had not "qualified" for the 100 or 200 -- even that
involved a bit of controversy, as noted below -- but went to
Berlin as alternates and were expected to be on the relay team,
if the usual protocol was followed. It wasn't.
A few background notes: At a farewell dinner the night before
departure, a Broadway producer had told Morris to win the gold
medal and then use it to make a very derisive gesture to Hitler.
The Hotel Lincoln now is the Milford Plaza. And "Badgers" was the
derisive term the athletes had for Olympic Committee functionaries.

FROM CHAPTER FIVE: BON VOYAGE

In the middle of the Hotel Lincoln lobby, the pot-bellied small-time lawyer
in an ill-fitting American Olympic Committee blazer bellowed through a
megaphone. Sweat dripped down the Badger's face despite the early-morning
hour.

"Gentlemen . . . and ladies! Have your Olympic identification card out.
Show it when you get on a bus, so we can check you off. From here on out,
you have to assume nobody's going to recognize you or take your word for
who you are! That's everywhere, but also, if Mr. Hitler is around, the more
likely they'll be to react and ask questions later. So when men in strange
uniforms tell you where to go or where not to go, do what they say."

Glenn thought of the Broadway producer's suggestion the night before
and smiled. Then, looking at the Badger in his funny suit, he laughed. An
elbow dug sharply into his ribs. Next to Glenn, his eyes narrowed by fury,
was the spunky Jewish sprinter from New York City.
Barely out of high school.

Looks more like one of these corner newsboys hawking New York papers than an

athlete. Glickman. Marty Glickman.

"What's the idea, Marty?"

"You think that's funny?"
"Think
what's
funny?"

"The Nazis' bullshit."

"Hold on," Glenn said, pointing at the Badger. "I was just thinking about
him
warning us to put up with a bunch of guys in funny uniforms over there.
That's all we've been doing for the past two days here!"
Not wanting to sound too cocky, Glenn didn't bring up the producer's
suggestion for what to do after winning the gold medal.
"Do you even
know
what the Nuremberg Laws are?" Glickman asked
sharply.

"Absolutely," Glenn said.

"You're comparing the Nazis and some guys telling us to get in line to pick
up a handbook?"

"You're reading too much into this," Glenn said. "Way too much."

Jack Torrance, the huge shot-putter beloved as "Baby Jack" and "Baby
Elephant," stepped between them. Glickman needed to stand on his toes
and lean to the side to even see the six-foot-two Morris; and that made, first,
the decathlete, and then the sprinter, laugh. If anything was going to foil
Torrance in Berlin, it was that the world record-holder and former football
player at Louisiana State University had gotten fat and flabby after leaving
college while serving as a Baton Rouge policeman. The rumor was the scales
at the physicals couldn't even handle him, and that he was up to at least 325
pounds.

"Now boys," Torrance drawled. "Need I remind you we're all on the same
team from here on?"

"Honest, Marty," Glenn said, "I didn't mean anything by it . . . except
against the Badgers."

Shaking his head, Glickman said, "Sorry. I guess all this has me a little
on edge. I'm going to the
Olympics
, but it doesn't feel right. I'm starting to
wonder if Brundage insisted we go over there just so he could hug Hitler and
tell him what fine ideas he has."

"I understand, Marty," Glenn said. "Or at least I'm trying to."

"Good," Torrance said. "Now shake hands . . . or no more throwing lessons
for you, Morris, and I'll accidentally drop a shot put on your toes, Glickman,
about the time we're passing Greenland."

Torrance stepped aside, letting them shake hands, and then said, "So
we're square? From here on out, it's all red, white, and blue, one for all, and
all for one."
Glenn felt old, telling himself:
When I was Marty's age, "the world" was the
globe in the corner of Old Man DeWitt's history room at the high school . . . and
I didn't know much about it.
FROM CHAPTER SIX: ONBOARD BONDING

They all ran a few sprints, and at one point, Marty Glickman waited for
Glenn and asked if he could talk to him privately. Over here, he gestured.

"First off," Glickman said, "I'm going to play football at Syracuse, so I
identify with you."

"Thanks," Glenn said.

"The other thing you should know . . . well, you were at the Trials, weren't
you?"

Glenn nodded.

Glickman continued, "So you know, I'm looking over my shoulder a bit
here, too. We ran that 100-meter final and they told me I was third—behind
Owens and Metcalfe. So I'm being interviewed on the radio, and they're saying
I'm the boy who's going to be running with them in the 100 meters in
Berlin, and while I'm talking, the judges come and tell me I've been bumped
down to fourth behind Frank Wykoff . . . and then they say I was fifth, behind
Foy Draper, too. So I've gone from running in the 100 at the Olympics with
Jesse and Ralph to just being on the team and hoping we stick to the way it's
been done in the past so I have a spot in the sprint relay. The two guys they
suddenly placed ahead of me in the 100 run for Cromwell at USC. So . . ."

Dean Cromwell of USC was the American team's assistant coach, nominally
in charge of the sprinters.
"How do they pick the relay?" Glenn asked.

"It's always been that the top three from the trials run the 100, and then
the next four run the relay. So if they stick to that, it should be Foy Draper,
me, Stoller, and Mack Robinson. But there are no real rules, so I'm at their
mercy now. Mack doesn't care all that much because he's running in the 200,
but for me and Stoller, the relay's our only chance. Writers already are saying
the coaches are telling 'em nothing will be decided until we're in Berlin.
Maybe not until the last minute."

Glenn was incredulous. "How could they take you and not let you run?"

"They might. They said we'd at least run in the exhibitions over there
after the Olympics. And . . ."

Glickman suddenly was a bit self-conscious.

"What else were you going to say?" Glenn asked.

"Well . . . look, we've talked about this, but the Germans would prefer
there aren't any Jews competing at all. The Badgers know that, too. I'm not
saying they'll screw us because of that, but I'm wondering. We'll just see what
happens." He paused, and then added, "Come on, let's run."
FROM CHAPTER EIGHTEEN: OPENING GAMBITS


As the athletes waited on the May Field, Glenn noticed but didn't at first
feel a light rain again falling. He thought: These hats are good for something.

"Get a load of that!" Walter Wood called out, pointing beyond the Bell
Tower to the Glockenturm Plaza.

Armed Germans in various uniforms had gathered. Cars pulled up in the plaza,
and one large limousine arrived at the foot of the Bell Tower. Adolf
Hitler emerged from the back seat. Scattered shouts of greetings came from
the few German civilians allowed in the area. Glenn was surprised at how
quiet it was otherwise. Hitler, wearing a brown uniform and high black boots,
returned the Nazi salute to an honor guard. Then he moved on to greet three
men, and Glenn recognized two of them from the Americans' welcoming
ceremonies—the chubby mayor of Berlin and Dr. Theodor Lewald of the
German Olympic Organizing Committee. Lewald and the third man—
Glenn assumed he was an Olympic official, too—wore long coats, high collars,
and medallions draped around their necks on chains.

Soldiers filed down the corridor on the May Field, showily looking side
to side as Hitler and his entourage followed. Hitler's group was perhaps
seventy-five men—military officers, Olympic officials, and other functionaries.

Glenn inched up, so close to Hitler's pathway that the soldiers brushed
him. Then he saw Leni, squeezed onto the flatbed cart behind her cameraman,
who was angled to catch the reaction of the athletes to Hitler. As she
approached Glenn's vantage point, she spotted him. Their eyes met. As the
cart went by, with her poised behind cameraman Walter Frentz, she gave
him the start, the barest hint, of a smile. For a moment, Hitler was no more
than ten feet away.

Marty Glickman ended up at Glenn's shoulder. He shook his head in
wonderment. "Can you believe how close we were? Somebody could
have. . ."

He left it there.

The looks they exchanged confirmed they both knew Marty wasn't talking
about getting an autograph.

As Hitler moved on, he didn't look to either side, despite scattered cries
from among the athletes. Mostly, it remained eerily quiet.

Soon, though, the roar announced: The Führer had entered the stadium.
link
Missy Franklin succeeds Glenn Morris as Coloradan Sullivan winner
Yes, the Golden Boy from Colorado was
named top U.S. amateur athlete of 1936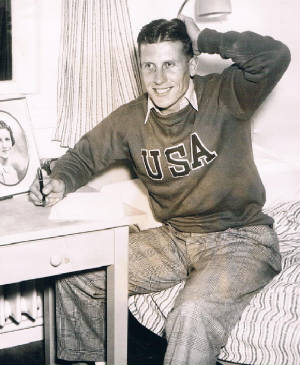 April 16, 2013: Missy Frankin, as expected, was named the winner of the Sullivan Award
as the top amateur athlete in the United States at ceremonies in Orlando tonight,
duplicating the feat of another Olympic hero from Colorado.

Glenn Morris, from tiny Simla, and the former football star and student body president at
Colorado State, won the decathlon (breaking his own world record) at the 1936 Olympics in
Berlin and then was named the Sullivan Award winner for that year. That was a bit of
a surprise, considering Jesse Owens had won four gold medals at Berlin, but I touch on one
of the reasons why he didn't in the following passage from Olympic Affair: Hitler's Siren
and America's Hero. For the record, I did change his wife's name in the book, for reasons I
touch on in the afterword. And this passage follows tumultous behind-the-scenes events that
took place when he returned from Europe, where he had been embroiled in the toxic and
contaminating affair with Leni Riefenstahl.


In December, Glenn was living in New York and working for NBC
Radio as a liaison for sports broadcasts, and preparing to compete
for the New York Athletic Club, when he and Karen were married at
her parents' home in Sterling. She gave up her teaching job and
moved with Glenn to Manhattan.

That month, he also was named the winner of the Sullivan Award
as the nation's top amateur athlete for 1936, and he angered AAU
officials when he reacted honestly, saying to the reporter who
informed him of the news: "If I won, what happened to Owens? I
thought he'd get it." He knew many of the voters were holding it
against Jesse that he quickly had declared himself a professional
after the Games, and Glenn was especially sheepish because he
didn't intend to remain an amateur much longer, either.
link
On Jackie Robinson's older brother, Mack
Silver at Berlin, then on to run at Oregon
April 15, 2013: On this day, the 66th anniversary of Jackie Robinson's
major-league debut with the Brooklyn Dodgers, my reaction to seeing the
movie "42" on Sunday is in The Denver Post and here.
In it, I mentioned the lack of backstory -- probably inevitable, necessary and

understandable -- and brought up that Jackie's older brother, Mack, was an
accomplished athlete as well. I'd been aware of that virtually since childhood
because he was among the athletes honored in the hallway displays in the
University of Oregon's McArthur Court.
I learned more about him in research for Olympic Affair, and he in fact
makes several appearances (and several speeches) in the book. As I
mentioned in the column, Robinson finished second to Jesse Owens in the
200-meter dash. Hitler was watching from his private loge, Leni Riefenstahl
and her crew were filming for the documentary Olympia, and the entire
experience of being in Berlin against the backdrop of Nazi rule left most of
the athletes at least affected. Yes, the Nazis were on their best behavior and
the worst horrors still were in the future, but the drumbeats were sounding at
an Olympics that America came close to boycotting.

After the Games, Mack ended up heading to Eugene and ran track for the
Webfoots. As Jackie would do later, Mack first attended Pasadena City
College before moving on to a four-year school. In researching my upcoming
March 1939: Before the Madness, I acquired a copy of the 1939

Oregana, the U of O yearbook. I quickly realized the deadline for the
book was early, apparently designed to enable the book to be published
and available by the end of the school year. So the details of the
Webfoots' run to the first-ever NCAA basketball title, in 1939, aren't in
the volume and the sections on the spring sports are about the 1938 seasons.

Here's Mack's picture in the Oregana, with the eyebrow-raising caption
included (sorry for the amateur cell phone picture's lack of focus).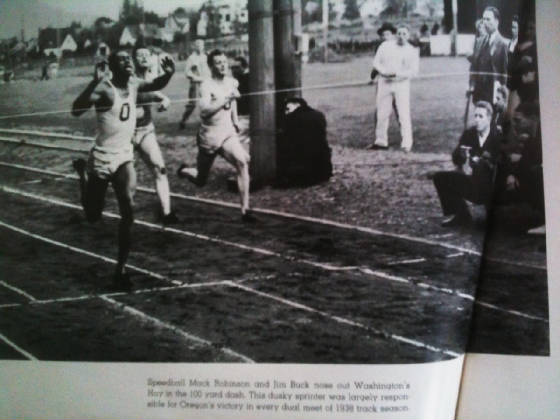 Here's Frank Litsky's New York Times obituary of Mack Robinson. Note
the challenges he faced after leaving Oregon -- challenges and maltreatment
that Jackie Robinson noticed.
link
1942 Badger and WWII Hero Passes Away in Eau Claire, Wisconsin
R.I.P., Dave Donnellan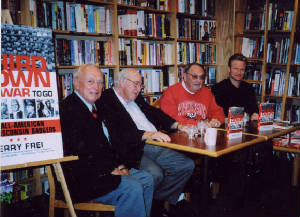 March 31, 2013: In the picture above, I'm sitting with three members of
the 1942 Wisconsin Badgers in the Borders Bookstore in Eau Claire,
Wisconsin.
From the left, they are: Don Litchfield, a long-time local automobile
dealer; Dave Donnellan, who owned a major real-estate firm; and John
Gallagher, a fixture before retirement as, first, the football coach and
then as principal at Memorial High.
The appearance was tied to the release of Third Down and a War
to Go: The All-American 1942 Wisconsin Badgers. Donnellan's
military head shot is the second from the right in the row of
individual pictures on the cover of the hardback.
Dave Donnellan passed away on March 19. He was 90.
Damn.
This is from Christena T. O'Brien of the Eau Claire
Leader-Telegram.
During the question-and-answer session at Borders that day,
Donnellan's youngest granddaughter raised her hand.

"Were you ever scared?" 8-year-old Monica Hart asked her
grandfather.
The question, from one so young and so wide-eyed, got to me.
Even before the answer.
"All the time," Donnellan said softly. "Every single day."
In World War II, Donald Litchfield was a B-25 pilot and John
Gallagher was a Marine.
After the presentation and signing, Dave Donnellan's wife, Jane,
gently told me her husband had been too modest.
When I interviewed him, Donnellan hadn't told me he won the
Bronze Star.
Over his objections, I got that in the book's second printing and
then in the new paperback version,
Third Down and a War to Go.

I've touched on this before, and I'll say it again: Donnellan's reaction
was so typical, because I had heard something similar
from my own
father, a P-38 fighter pilot in the Pacific, and also a '42 Badger
, and
from so many others in his generation.
Additional coverage of Dave's death in the Eau Claire
Leader-Telegram:

Beloved Eau Claire businessman remembered
Editorial: Donnellan's resume only part of what made him special
Obituary
link
My choices for the top sports movies of all time
Gone With the Wind or
Slap Shot? It's a tossup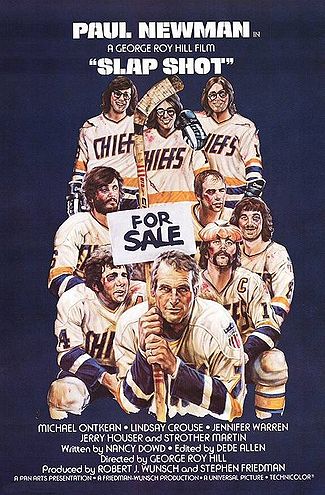 February 22, 2013: The Oscars are Sunday night, and no
sports movies are among the best-picture nominees. That's
not much of a surprise, considering only three sports-themed
movies — Rocky, Chariots of Fire, and Million-Dollar Baby —
ever have been named best picture. But there have been
many great sports films. Here's a list of my own diverse
favorites, plus some other thoughts on the genre.

1, Slap Shot (1977). Nancy Dowd's script about the fictional
Charlestown Chiefs, plus the improvisation by the great cast,
including Paul Newman and Strother Martin, made this the
best of all time. (Her brother, Ned, played Ogie Oglethorpe,
and his experiences in hockey's minor leagues were the
inspiration for her script.) The lame sequels, long delayed,
went straight to DVD.

2, Bang the Drum Slowly (1973). Mark Harris, who wrote
the novel, also wrote the screenplay, and that's always a
good sign. Not even he could quite replicate the sardonic
humor of the novel (or, actually, the series of Henry Wiggen
novels), but it was a terrific movie, starting Robert De Niro,
Michael Moriarty and Vincent Gardenia. The first novel in the
series, The Southpaw, was a better book than Bang The
Drum Slowly, but this almost certainly was a better choice
for a movie.

3, Breaking Away (1979). For a long time, Steve Tesich,
also a novelist, was my favorite writer. And this script was
why. The dry humor and the human touch made this so
much more than a "bike-racing" movie. Plus, those of us
who grew up in college towns recognized the "townie"
elements of the story.


4, Without Limits (1998). I'm a little prejudiced here,
because I was raised in Eugene and revered the film's hero,
distance runner Steve Prefontaine, after watching him
compete as early as when he was attending Marshfield High
School. (He had the attitude of a strong safety and probably
would have scoffed if anyone tried to get him to talk about
the Zen of running.) But his fellow former University of
Oregon runner Kenny Moore wrote the far better of the two
bio-pics about the great and charismatic runner who died
way too young.

5, Raging Bull (1980). De Niro plays Jake LaMotta, Martin
Scorsese directs. A dynamite one-two combination.

6, Bull Durham (1988). I actually found the most-quoted
Kevin Costner speech a bit much, but the rest was terrific. As
a teenager, I worked for and took a few trips with a
minor-league baseball team, and this movie rang true to to
me more because of those experiences than because of what
I encountered later in my occasional stints covering
major-league baseball.

7, Field of Dreams (1989). The rare case in which the
movie, again starring Costner, while a bit sappy, was about
800 times better than the overwrought book (Shoeless Joe).
Not long after the movie came out, while on a trip to cover a
football game at the University of Iowa, I was a complete
tourist, making the side trip to Dyersville and playing catch
with fellow scribe Paul Buker on the actual Field of Dreams
diamond.

8, The Longest Yard (original, 1974). I don't know why it
made me so mad that Hollywood remade this. Well, maybe
it's because so many who saw the remake actually thought it
was good. But it hit on the great marketing strategy of giving
media types bit parts so they'd hype it – and it worked. It
couldn't hold the original's you-know-what.

9, 61* (2001). Hank Steinberg wrote and Billy Crystal
directed the dramatization of Mickey Mantle and Roger Maris'
chase of Babe Ruth's home-run record.

10, Caddyshack (1980). Yeah, I can rattle off the lines, too.
It's also the greatest cable movie ever – you can tune in "x"
minutes in and know exactly where you are.

11, Bad News Bears (original, 1976). Walter Matthau was
brilliant, and so was the script. Unfortunately, the bad
sequels, a mediocre television series and yet another absurd
remake have diminished the franchise.

12, Hoosiers (1986). OK, I liked it, too; I just don't have it
as high on the list as many do.

13, Chariots of Fire (1981). One reason I was prone to like
it was because among the kids sports books I checked out of
the library in grade school were those written by Jackson
Scholz, the ex-Olympic sprinter who was one of the major
figures in this movie.

14, Rocky (1976). The sequels perhaps cause me to
downgrade this, but when it came out, it was a refreshing,
low-budget underdog story of its own. And I always say "wid"
at Pat's.

15, A League of Their Own (1992). It understandably was
billed and sold as a lighthearted comedy; in fact, Penny
Marshall directed an excellent "dramedy."

16, And I'll add the linemates of Miracle (2004) and Miracle
on Ice (1981). The latter, with Karl Malden but not Michael
Douglas, was pretty good for its rushed, television movie
circumstances; and in the former, Kurt Russell was eerily
on-target playing the Herb Brooks role.

The most over-rated sports movie ever: Million-Dollar Baby
(2004), which became an utterly absurd melodrama in its
final half. With all due respect to Clint Eastwood, Morgan
Freeman, and Hilary Swank, this has got to be one of the
worst best-picture winners ever … although some of the
recent winners give it a run for the money.

The frivolous sports movies I could watch (and have watched)
again and again: It Happens Every Spring (1949), with
Ray Milland; Major League (1989); and Damn Yankees (1958).

Best TV sports movie: Brian's Song (original, 1971).


link
A nice essay/review in prestigious Philadelphia Review of Books
Author Jim Blanchet: Olympic
Affair is a "success as both a
stand-alone novel and historical fiction"

February 18, 2013: The Philadelphia Review of Books today
posted author Jim Blanchet's essay on, and review of,
Olympic Affair.

Here's the snippet I have posted:
"Using his initial information ... and a combination of
deduction and artistic license, Frei fills in the blanks left by
history and tells his own version of the story. The
combination of the diligent research techniques he used to
write his widely acclaimed non-fiction books ... and creativity
makes Olympic Affair a success as both a stand-alone novel
and historical fiction. While simultaneously recalling the
athletic triumphs of participating nations, Frei builds a
tension-filled love affair that steals the show from the most
controversial Olympic Games in history. Combining inference
and invented dialogue, he forces the reader to invest deeply
in even the most outlying of characters, some of which he
pulls from history and personalizes through fiction
(swimmer/actress Eleanor Holm Jarrett, heavyweight
champion/restaurateur Jack Dempsey and even
chancellor/psycho Adolf Hitler). Through the developing plot,
the details of the Olympics and the skewed historical
perspective of men and women living in a pre-WWII
environment, Frei has (maybe unintentionally) created a new
sort of story regarding the US-Nazi saga ... Olympic Affair
offers a chronicle that proves why athletic drama often goes
well beyond the field (or track) of competition. An athletic
controversy, a triumph against adversity or a love affair can
bring together the fanatics, the casual followers and those
who just happen to appreciate a good yarn, no matter the
origin. And who better to tell a story of that kind than an
acclaimed sportswriter and non-fiction author turned
novelist?"

link
Tattered Cover signing and Denver Press Club Book Beat
Making the promotional rounds
in Denver for Olympic Affair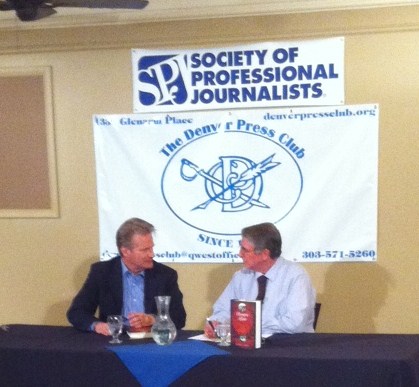 January 25, 2013:
In the past couple of weeks, I made appearances at the
Tattered Cover (East Colfax branch) and at the Denver Press Club to
discuss, answer questions about, and sign
Olympic Affair
.
The January 17 appearance was my sixth at the TC, and it remains a pleasure
and a thrill to speak at one of the nation's top independent bookstores. (One
regret: I haven't ever appeared at Powell's, which I used to haunt when we
lived in the Portland area.) This time, it was a joint "Evening of Historical
Fiction" appearance with Paul Levitt, the University of Colorado professor
emeritus whose terrific and panoramic novel,
Stalin's Barber
, also is
from Taylor Trade. Rick Rinehart of Taylor Trade moderated the discussion.
Paul and I, in fact, both publicly thanked Rick for taking a chance on our
novels -- the first ones Taylor Trade has ever published. Until recently, in
fact, the TT Twitter profile noted that it published books "in all genres except
fiction." Now, it says: "We are the trade divisions of the Rowman &
Littlefield Publishing Group. We've got books in nearly every genre! Sorry,
no zombies, no vampires." Taylor Trade also published the paperback
version of
Horns, Hogs, and Nixon Coming
; plus
'77: Denver, the Broncos
and a Coming of Age
and
Playing Piano in a Brothel
.


After the signing portion of the program, as is the custom, we both signed
extra books for the TC, so autographed copies of both
Olympic Affair
and
Stalin's Barber
are at the East Colfax branch.
Then on January 24, Bruce Goldberg of the
Denver Business Journal
, also
the Denver Press Club's president, interviewed me for a "Book Beat"
program at the DPC. Among those in the audience were fellow authors
Michael Madigan and Dennis Dressman, both former editors and
executives at the
Rocky Mountain News,
and they asked me questions
about my methodology and the book itself
. (
Mike briefly was my boss
when I worked part-time at the
News
when I was in college.)

link
Screenplay versus book: Horns, Hogs, and Nixon Coming example
Same Opening, Different Style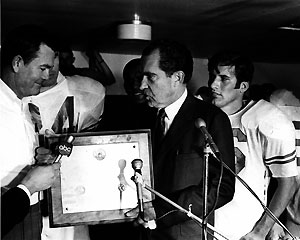 I've found that writing screenplay adaptations of existing works – in
these instances, of my own books – isn't agonizingly difficult. I've
done it three times and without going into details, all have been in or
are in "the loop." I've had meetings, lunches, cocktails at the Beverly
Wilshire and (appropriately, as you'll see) breakfast at the Hotel
Bel-Air, and a discussion in a Hollywood star's Brentwood living
room ... all of it. But, no, you haven't seen any of those films on
the screen. Yet.

I'm not saying writing an adaptation is "easy," and it's based in part
on the recognition that any script is a starting point for the director
and it will undergo considerable change in the process. And in
some cases, that's putting it nicely.

From the start, the story is already in my head and the computer,
dialogue or suggested dialogue is in front of me, and the biggest
challenge is avoid trying to simply put the book in screenplay
form. That requires stepping back, taking liberties and – most
important – deciding what to focus on and what to leave out for a
feature-length film.

Third Down and a War to Go, the book, was about Wisconsin's 1942
college football team winning the national championship and then
going off to war, with some not coming back. For the screenplay,
I tightened the focus, making it more the story of three of the
Badgers' stars. The opening is different than that of the book, starting
with team captain and two-time All-American end Dave Schreiner
serving as a Marine in the Pacific and receiving a letter and a clipping
informing him that his Badgers co-captain and lifelong buddy, bomber
co-pilot Mark Hoskins, has been shot down on a combat mission and
is feared lost.

The Witch's Season, the book, was about a team modeled on my
father's Oregon Ducks of the late 1960s, the famous men on his staff
and team, and the tumultuous campus. The screenplay version
compresses the time frame, ending the film right after Nixon's
election, rather than on his Inauguration Day. It leaves part of the
story unresolved, but with enough foreshadowing for viewers to fill in
the blanks themselves.

Horns, Hogs, and Nixon Coming (2002) was the most challenging,
perhaps because it's the one that I could envision being done as
a mini-series rather than a film. For several reasons, I won't give away
the gist of the decisions I made, but I will say that I cut out alot of
the story and back story and made it very specific.

Two of those three are non-fiction books, and I found that the
experience of doing the screenplays – taking a true story and
imagining dialogue and scenes – helped greatly when writing Olympic
Affair: Hitler's Siren and America's Hero, which even more than the
other books is almost what I consider the novelization of a
screenplay. (A screenplay that doesn't exist.) Reviewers have noted
the "cinematic" approach.
Now, for an example: Although there are major differences between
the HHNC book and screenplay, I started both with the same 1985
"scene" – former Razorbacks defensive back Bobby Field, then an
assistant athletic director at UCLA, encountering former President
Nixon outside the Hotel Bel-Air. After this, of course, the story flashes
back to 1969. As it turns out, of course, while Nixon remembered
quite a bit about the events of December 6, 1969 game in
Fayetteville, there was a lot more going on that he didn't know
about.

Here's the opening segment of the screenplay. I can't supply
the popcorn and keep in mind that when I originally wrote it, it was
roughly eight times as long before I was reminded it needed to be
snappy and set the stage for the flashback.


EXT. UCLA FOOTBALL PRACTICE FIELD, LOS ANGELES – DAY
Sprinklers spray as Bobby FIELD, late-30s, fit, and wearing a gray "UCLA FOOTBALL"
T-shirt, takes off at a one-time serious athlete's stay-in-shape pace.
EXT. NORTH EDGE UCLA CAMPUS, LOS ANGELES – DAY

Field approaches the campus entrance and sprints across the street, entering Stone Canyon
Boulevard.

TITLE:
LOS ANGELES
MARCH 30, 1985
MALE RADIO NEWSCASTER (v.o.)
Among the stories we're following on KNX 1070: Reclusive ex-President Richard Nixon is
visiting his native Southern California, and he was spotted having dinner at Chasen's last night
with Paul Keyes, the producer of the old "Laugh-In" TV series. No word on whether
President Nixon reprised his attempt at the show's "Sock It To Me" catchphrase on the
show during the 1968 campaign.
FEMALE RADIO NEWSCASTER (v.o.)
John, you have to say that right. It was a question.
MALE RADIO NEWSCASTER (v.o.)
(Bad Nixon imitation)
"Sock it to
me
?"

EXT. STONE CANYON BOULEVARD, BEL AIR – DAY
Field runs up the winding road. Hotel Bel Air is ahead. Three Men in suits walk toward Field.
AGENT 1 and AGENT 2 are big and fit. The man in the middle is Richard NIXON at age
72, getting morning exercise. Ten feet short of Nixon, Field puffs out a greeting.
FIELD
Good morning.
EXT. HOTEL BEL AIR PARKING LOT, BEL AIR – DAY
Field has reversed his direction and is coming down the hill. He spots Nixon again, next to the
hotel's canopied entrance. Field detours into the parking lot and slows to a walk. As the
Agents step forward, he approaches the former president and lifts his right hand in a
self-conscious greeting.
FIELD
Hello, Mr. Nixon … Mr. President. Sorry to bother you, sir, but I decided I should introduce
myself. I'm Bobby Field. I'm the football defensive coordinator on Terry Donahue's staff at
UCLA.
NIXON
Sure. You had a fine season.
Nixon offers his hand. Field shakes it.
FIELD
Thank you, sir.
(beat)
As a matter of fact, in 1969, I was a defensive back for the University of Arkansas and you,
sir, came to our game in Fayetteville against…
NIXON
…Texas!
FIELD
Yes, sir.
A limousine pulls up. The DOORMAN opens the back door. Nixon doesn't move.
NIXON
Terrific game! Numbers one and two in the nation. Texas with James Street running the
wishbone offense and throwing that long pass … Arkansas with Bill Montgomery firing away
to Chuck Dicus … That fine Texas boy, Freddie Steinmark, visited me later at the White
House … I was in the stands, freezing, with Governor Rockefeller and George Bush and
Senator Fulbright … and it comes down to the final minutes and it's anyone's game … and
…
AGENT 1
Sir, we should go.
NIXON
What a thrilling finish! And when it was over, I went to both dressing rooms.
FIELD
Yes, sir, this is the second time I've shook your hand. This time, I'm not crying.
Agents nudge Nixon into the car. Limousine pulls away. Field watches with the doorman.
DOORMAN
That must have been some football game, him rattling all that off. He had a hard time coming
up with his wife's name yesterday.
TITLE COMES UP: HORNS, HOGS, AND NIXON COMING
link