April 25, 2020
NoCo health care execs tell
Weld County commissioners:
Opening "too soon" would be dire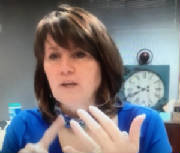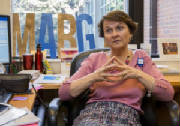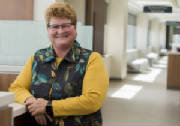 Left: Mitzi Moran, CEO, Sunrise Community Health (Screen shot: KUSA/Channel 9)
Center: Margo Karsten, President, Western Region, Banner Health (Michael Brian)
Right: Marilyn Schock, President, UC Health Greeley Hospital (Michael Brian)
When I worked in Greeley, I spoke with and wrote about several area health care executives -- including the three pictured above.
Here's my dual profile of Margo Karsten, whose company oversees North Colorado Medical Center near downtown Greeley, and Marilyn Schock, whose firm has the new competing UCHealth hospital that opened last year in West Greeley.
Here's what I wrote about Moran and the remarkable Sunrise Community Health during the infamous Bomb Cyclone Storm in early 2019. And here's Channel 9's excellent look at the situation Friday, including an on-camera interview with Moran about the challenges Sunrise faces during the pandemic. With its anchor Monfort Family Clinic in Evans, Sunrise and its 11 facilities are the primary health care outlet for the area's disadvantaged.
On Saturday, Karsten, Schock and Moran were among the six who signed and sent a letter to the five Weld County commissioners, expressing their concerns and fears about the commissioners' "Safer at Work" plan that would allow businesses to re-open if they follow specified social-distancing guidelines.
The three other signatories of the letter to the commissioners were:
-- Hoyt Skabelund, CEO, Northern Colorado, Banner Health.
-- Kevin Unger, president and CEO of Poudre Valley Hospital in Fort Collins, Medical Center of the Rockies in Loveland, and UCHealth Northern Colorado
-- John Santistevan, president and CEO of the Fort Lupton-based Salud Family Health Centers.
I obtained a copy of the letter, and what a hard copy looks like is below.
Most notably, here's the summarization passages:
"Opening too soon or without a staged plan will negate the community, individuals, and businesses' hard sacrifices to date and lead to widespread, severe illness that our health system cannot handle. The resulting deaths will be tragic. The resulting strain on health care will be overwhelming. If we open too soon and the virus spikes, do we have enough health care workforce to staff our facilities? To staff the alternative care sites housing those who are ill? Enough equipment to house the patients? The resulting impact on the economy will be even more hardship and disruption. . .
"As health care leaders, we want to protect the health and welfare of northern Colorado. If we open the economy slowly enough with strict adherence to public health guidelines, we can bend the curve, meet the need, and allow our community to safely return to a healthy life and strong economy long term.
"The impact to our economy now is real and destructive. We can rebuild business -- we cannot replace lives that are lost. We implore you to reconsider your 'Safer-at-work' plan. Please lead a staged, slow opening of the economy. Please promote unified public health guidelines. And tell us how we can help you -- we stand ready to serve."
Leading up to that, the letter noted:
"We also believe the immediate threat of death and serious illness related to COVID-19 needs to be further mitigated before the economy is fully reopened. Unified guidelines must be followed, opening must be staged. As health care leaders, we see firsthand the devastating effects of this virus on people and their families, We are directly aware of the fact that Weld County has the 3rd highest rate of COVID-19 cases and deaths in Colorado -- and the numbers continue to rise. We see exhausted health care workers leaning in with courage and compassion, setting fear aside to care for hundreds of people fighting for their lives.
"In our hospitals, we have never-seen-before numbers of patients relying on ventilators to stay alive. We have additional COVID-19 hospitalized patients, all of whom could decompensate very quickly to ventilator-level care or death, all of whom are facing weeks of recovery. Many of whom may be facing CIVID-19 related chronic disease moving forward.
"In primary care, Sunrise Community Health is seeing 70-80 patients walk in every day seeking care, 80% of them with respiratory issues. Of the more than 600 tested for COVID19 at Sunrise, 40% have been positive. Emergency Medical Ssrvices (EMS) crews are responding to our main facility in Evans multiple times per week for patients in crisis.
"We are thankful the public health measures in place have had the intended effects and have helped us weather the storm. But we need more time to see cases, deaths and hospitalizations decrease to know if we have bent the curve."
This tends to be misunderstood in Denver and other areas, where Weld County often is thought of as "Greeley." Yes, Greeley is the county seat and the home of the University of Northern Colorado and now-troubled JBS USA meat packing plant, which the Monfort family sold to ConAgra in 1987. But Greeley is only a small geographic part of the sprawling county, which also includes such towns as Evans, Eaton, Platteville, Ault, LaSalle, Frederick, Severance, Mead, Hudson, Johnstown, Erie, Fort Lupton, Firestone, Erie, Dacono, Milliken, Keenesburg, Roggen ... and whomever I left out. Most of those towns and rural areas tend to be far more conservative than Greeley.
Greeley City Council Friday said it would remain in line with Governor Jared Polis' "Safer at Home" plan to go into effect Monday, part of a phased-in "reopening." Clearly pertubed by the Weld County commissioners' counterplan, Polis Friday mentioned yanking business licenses and emergency funds to the county.
"As Governor," he said, "I'll take whatever steps necessary to protect the health of the residents of Weld County."
In Greeley, the city-issued statement Friday made it clear the city wouldn't join a county rebellion.
The statement read, in part: "Based on the best medical advice and information available, Greeley officials will extend the widespread public closures of city facilities until June 2 in order to best protect the health, safety and future of the community."
In the same statement, Mayor John Gates said, "Based on the medical and scientific data, and the high number of cases in Weld County, the city of Greeley strongly supports following the 'Safer at Home' philosophy. This approach protetects lives, flattens the curve and is a step in the right direction for getting our community back to a fully operational economy."
About the rest of the county, the commissioners should heed the messages -- both from Gates and the six health care execs. The commissioners obviously are well-meaning and backing off shouldn't be interpreted as weakness, but as prudent reconsideration.
(Finally, for the heck of it, here's an illustration of why I enjoyed my year in Greeley; how and why I made friends there and in Weld County; and why I still care about the area.)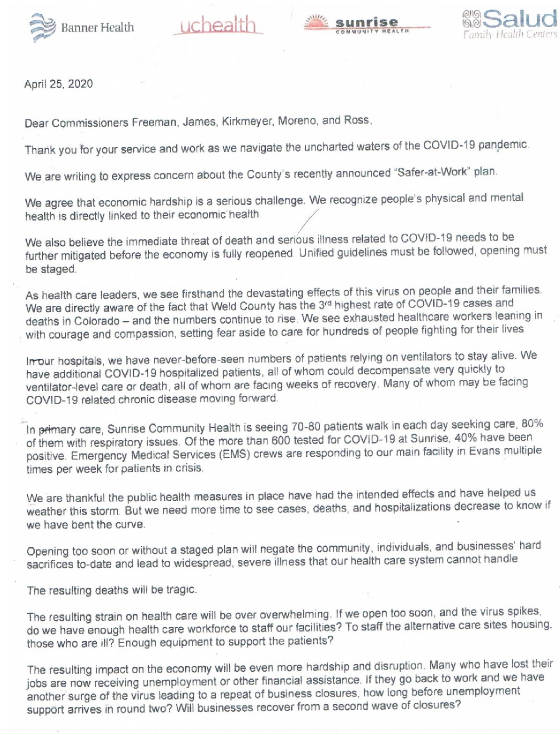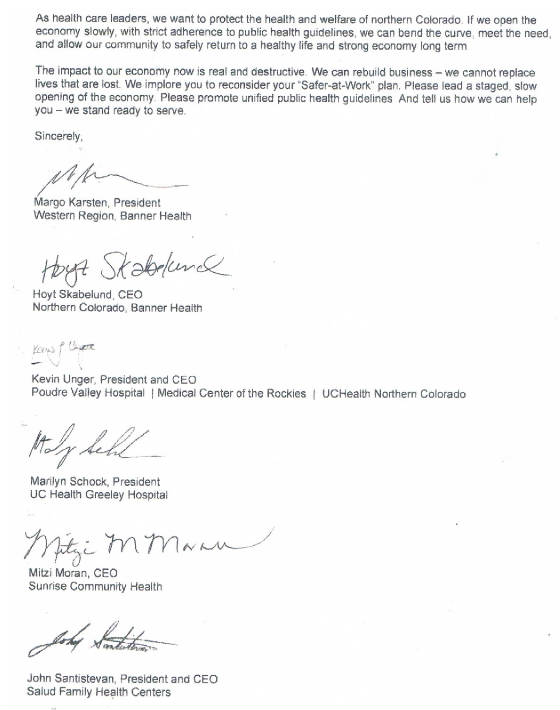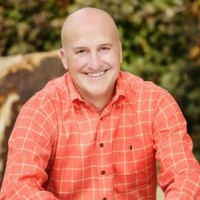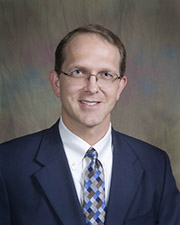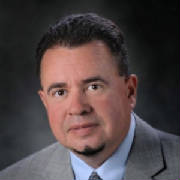 Left: Kevin Unger, president and CEO, Poudre Valley Medical Center, Madical Center of the Rockies, UCHealth Northern Colorado
Center: Hoyt Skabelund, CEO, Northern Colorado, Banner Health
Right: John Santisteven, president and CEO, Salud Family Health Centers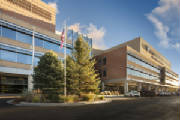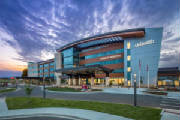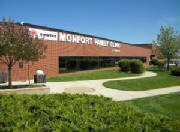 Left: Banner Health's North Colorado Medical Center, Greeley
Center: UCHealth Greeley Hospital
Right: Sunrise Community Health's Monfort Family Clinic, Evans