Checking in with the Rams:
We're talking about practice ... fields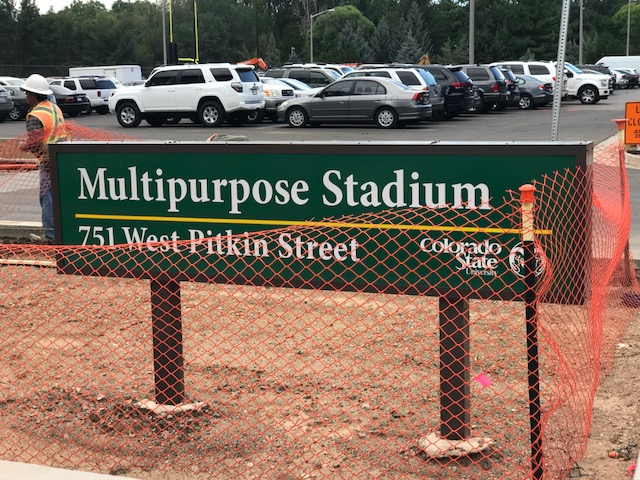 Yes, the stadium name remains available, but that's not a cause for concern because
the $20 million an anonymous donor pledged over 30 years to transfer the Sonny Lubick
Field designation from Hughes Stadium to the new stadium essentially met what CSU
was seeking for naming rights. My March 2016 story on that.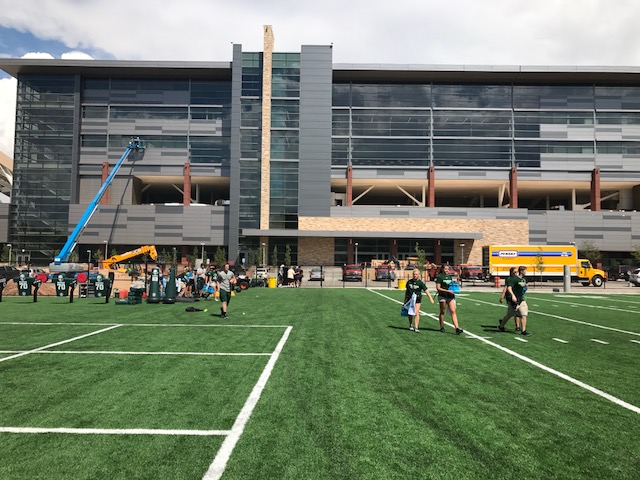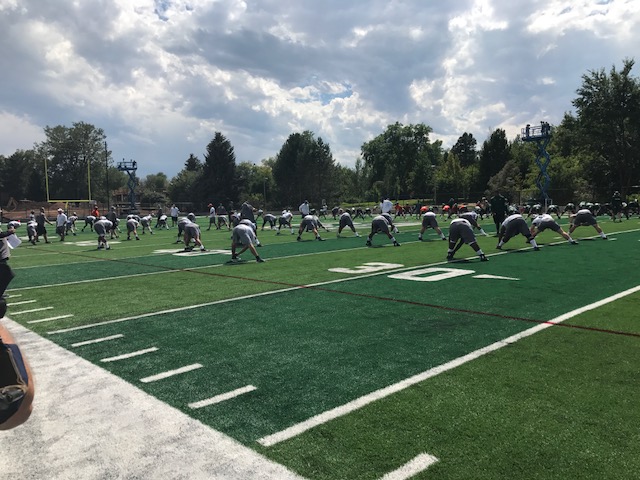 The new practice fields, against the backdrop of the west side of the stadium.
FORT COLLINS -- With the days counting down before the Multipurpose Stadium's first game, against Oregon State on August 26, I attended a Colorado State practice on the artificial turf fields just west of the stadium.
With the stadium understandably getting much of the attention, this has been underplayed: These are the practice fields that, at least in theory, might not have been.
They weren't locked in as part of the original plan, and CSU hoped to keep the project within spending constraints that would enable the practice fields to be an "add-on" while keeping the bonded indebtedness within the original budgeted amount.
Here's what athletic director Joe Parker told me in May in advance of president Tony Frank's updating report to the CSU board of governors: "We bought some things off our 'add-alternate' list with contingency dollars, including the practice fields on the west side and a couple of other pieces. The practice fields never were in the project to begin with, and that was the one thing we wanted to make sure we could add, if we managed the project well. It's an almost $3 million investment."
Let's be realistic: After going through all of this, CSU would have searched for virtually any way possible to get the practice fields into the stadium project. The process essentially began when former CSU quarterback Jack Graham -- then a booster, but destined to serve a tumultuous stint as athletic director and then run for the Republican nomination for a U.S. Senate seat in 2016 -- visited Frank and audaciously broached an on-campus stadium as a project he could support. And it went from there, through a public debate, financing and planning period that at times came off as a farcical snippet from "Alice in Wonderland."
Maneuver through that labyrinth and then have the Rams continue to practice on inadequate fields next to Moby Arena, or perhaps other nearby areas on campus, and not next to the stadium? I'm assuming the Rams still would have dressed for practice and been headquartered in the plush new quarters at the stadium, but the walk would have been, well, a pain.
To the public, it would have been no more an eyebrow-raising curiosity, and it certainly wouldn't have diluted the enthusiasm over the stadium, but to the Rams program itself, it would have been a slight asterisk amid the euphoria. A plush new house with a carport instead of a garage. A nice new car with a stupid donut spare tire. (Oh ... they all come that way?) "Hamilton" tickets for the night after Lin-Manuel Miranda left his show.
Because of the geography around the stadium -- with Lake Avenue near the southern side and Pitkin Avenue at the northern side -- there wasn't unlimited space for the new practice fields, and Mike Bobo will have to make do with what amounts to a field and a half of artificial turf, as opposed to roughly twice as much space on the grass and artificial turf fields next to Moby.
I asked Bobo whether the lesser practice space affected anything he and his staff could try to do.
"It does a little bit," he said. "But I actually like the closeness of everybody, on the practice fields. We had a lot of space, but parts of the practice fields were so far away, sometimes we weren't as crisp when we changed between periods or (when) we changed drills. We're able to fly around a little bit more. We're always going to be moving at practice. I felt more energy. And the biggest reason is I like the surface. The surface is 10 times better, many times better than the surface there. It was hard for our guys to go fast and keep their feet. So this surface helps us a lot."
Senior tackle Zack Golditch, from Aurora's Gateway High, noted: "I don't feel we need tons of space. We have our field and another field next to it. Offense and defense, you only really need two fields. The turf is amazing, the facilities are amazing, and I think it will change the program. It's something we even saw this first day of practice. And now, when you think about the vidoes and the graphics years ago about what this place was going to look like, it looks exactly what it was supposed to look like. I don't think it's teally hit me yet, but it's incredible. And to be able to practice right there and to visualize ourselves playing in there August 26, it's pretty cool. To be from Colorado and to be able to open the stadium, I think that will be a life-long memory."
So, no, it isn't just the stadium on game day. But building this place is a huge step forward on the overall facilities front, too.
"I think that you can build team chemistry a lot faster when you have a facility where guys aren't here just to lift and are then going straight home," said quarterback Nick Stevens. "There's guys around everywhere, the new locker room, the new players' lounge, and I see guys going into the weight room a lot more motivated to do extra work and stay around because the facilities are so nice, they kind of want to get the most use out of it. It helps chemistry-wise, that's for sure."
Within the past two years, I've toured the upgraded football facilities at both Oregon and Colorado as part of existing stadiums, and CSU's new digs in the new stadium itself are in the same league -- figuratively, not literally. Including the practice fields. Everything's in one place.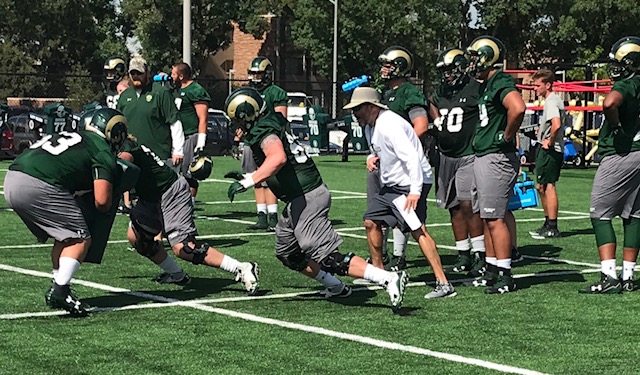 Zack Golditch (61) works in a drill under the watch of offensive line coach / offensive
coordinator Will Friend on the Rams' new practice field.