For 2019 On the Colorado Scene, scroll down
For 2018 On the Colorado Scene Archive, go here
For 2017 On the Colorado Scene Archive, go here
For Greeley Tribune stories and columns, go here.
March 23, 2019
After line breakup, injuries,
MacKinnon soldiers on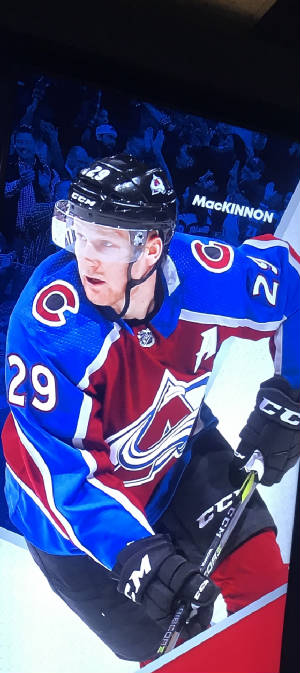 It wasn't that long ago that we were trying to come up with a clever nickname for the Avalanche line — Nathan MacKinnon centering Gabe Landeskog and Mikko Rantanen — that seemed destined to stick together for the ages. The Production Line and the French Connection already were taken and my suggestion, the NordiCanadian Line (one from Canada, two from Nordic nations ... get it?), didn't catch on.
Now with Landeskog out since since he was injured at Dallas on March 7 and Rantanen due to miss his third game, also with an upper body injury, at Chicago Sunday night, that leaves MacKinnon the only one active among the three. In an attempt to shake things up and to try to get more balanced scoring from multiple lines, Avalanche coach Jared Bednar separated them, anyway, in early February and has put them back together intermittently since. But at least until Rantanen is back, and it could be as soon as next Wednesday at home against Vegas, MacKinnon likely will continue centering J.T. Compher and Alexander Kerfoot for the time being.
And the Avalanche's unlikely resurgence, back into contention for a playoff spot, will continue.
I admit it, too: To paraphrase Dave "Tiger" Williams, which never gets old, I thought them Avs were done like dinner when they lost consecutive home games to Carolina and Anaheim, but they have won four in a row — including Saturday afternoon's 4-2 victory over Chicago Saturday in the Pepsi Center — to get back in the hunt. They were holding down the second Western Conference wild card spot, leading Minnesota and Arizona by one point, going into Saturday night's games.
MacKinnon didn't have a point in the win over the Blackhawks Saturday, and he hasn't hit the scoresheet in the past three games, but the Avalanche got by. I sat down with him after the game for a one-on-one discussion at his stall.
At least now he knows that I'm not there seeking to write another piece about whether he ever could live up to the expectations he faced as a No. 1 overall NHL draft choice, and whether he ever would progress into the "generational" No. 1 pick conversations with Sidney Crosby, Connor McDavid and perhaps Auston Matthews. (I admit I overdid that angle when I was around the Avalanche more often in the early years of McKinnon's career.) Crosby, McDavid and MacKinnon recently were tabbed as the top three forwards in the league in the NHL Players Association's poll. McDavid was a runaway winner, at 63.6 percent, with the Nova Scotia pals — Crosby and MacKinnon — next at 17.2 and 4.1 percent, respectively. That's not a huge vote for MacKinnon, but players could only vote for one, and cracking the top three is a major acccomplishment. This is MacKinnon's sixth season, yet he's still only 23.
"You have chemistry with some guys there now out of the lineup," MacKinnon said. "It's definitely an adustment, but we have a lot of good players in this room and we've had a decent record since Gabe's gone down and we've gotten help from everybody, so it's been positive. The thing is, we'll get those guys back, or at least Mikko for sure. I don't even know what's wrong with him..." — his nose didn't seem to be growing — "...but we'll get him back and we'll get Gabe back for the playoffs, and that's the goal, to make the playoffs and get the team back together. And you never know what can happen. That's our mindset."'
MacKinnon at one point was upset when cooler heads prevailed as he was playing major junior and he wasn't allowed to play high school basketball on a spot basis in the Halifax area, and he remains a major hoops fan. So he's genuinely excited about the Nuggets' success this season and the possibility of having both Denver teams in the playoffs for the first time since 2010 — when both lost in the first round, the Avalanche to San Jose and the Nuggets to Utah.
"It'd be great to have us both make it," he said.
But one of the reasons I brought that up was because the Nuggets and Avalanche had similar seasons a year ago — with playoff berths on the line in what amounted to play-in games in the final regular season games. The Nuggets lost at Minnesota, the Avalanche beat St. Louis at home, and it set the benchmarks for this season. The Avalanche, its rebuild seemingly ahead of schedule after a dreadful 48-point disaster in 2016-17, was expected to make additional improvement this season, while the Nuggets to a point were let off the hook after falling short, with making the playoffs a reasonable goal. Instead, it's the Nuggets who are surprising this season.
"We made it by one point last year," MacKinnon said. "So it's not like we were a Cup favorite this season. We won the last game of the season to make the playoffs. But, yes, our goal is to win the Stanley Cup, not just make the playoffs. Just making the playoffs doesn't rally matter."
With seven games remaining, MacKinnon has 37 goals and 54 assists. He was tied for ninth in goals going into Saturday night's games and his 91 points placed him seventh in the league. He stands a bona fide chance of bettering his numbers of last season (39 goals, 58 assists and 97 points), when he finished second in the Hart Trophy voting ... and should have won. So this much is obvious: Last season was no fluke.
"I just want to be the player this for the next 10, 15 years," he said, then laughed. "OK, maybe not 15, but 10 for sure. I work hard at it. I take it more serious than I have when I was 18, 19, 20. That's when you're coming in and you learn, when you're young, I feel confident that I continue this." He said cracking the top three forwards in the NHLPA poll "is humbling. There are so manay very talented players in the league, it could have gone to a lot of different guys. Obviusly, I'm happy they voted (for) me, but it's just a poll."
But the point is, the votes he gets now are for accomplishment, for cracking the very elite ... and not for underachievement.
March 21, 2019
CU in the NIT? 81 years ago,
they were in the first one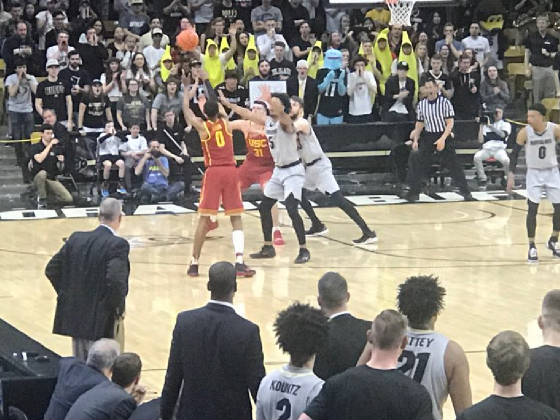 Tad Boyle watching from the sideline in the Buffs' final regular-season game against USC
When I researched March 1939: Before the Madness, I came across three things about the University of Colorado program in that era that I hadn't known. And I was reminded of them as the 2018-19 Buffs accepted a bid to the NIT and beat Dayton in the first round, and it turned out that they'll play host to another NIT game against Norfolk State on Monday night. That's because Norfolk State knocked off Alabama in the first round.
One, the Buffaloes appeared in the very first National Invitation Tournament in 1938. It's a bit confusing because at the time, the NIT wasn't even officially called that. The Metropolitan Basketball Writers Association, with an eye on following the success of regular-season doubleheaders staged in Madson Square Garden, organized and staged the 1938 and 1939 tournaments and also flaunted the conflict of interest, hyping them to the point where you'd think Roanoke College -- one of the six teams in the 1939 tournament -- was the equal of the top teams in the nation.
Two, the reason the Buffaloes were considered a marquee drawing card and coveted as a member of the 1938 field was that their star was one of the highest-profile college athletes in the nation at the time.
Byron "Whizzer" White.
Yes, the future U.S. Supreme Court justice, the renowned football hallfback, also played basketball for the Buffs.
I didn't know that.
Here's the story of that first NIT, from the pages of my book:
* . * *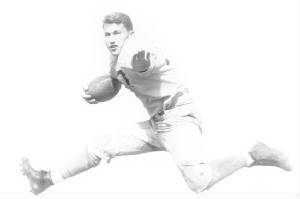 Meanwhile in New York, the first national invitation tournament was played on March 9, 14, and 16, 1938, so it sandwiched the PCC title series. It definitely was an outgrowth of the regular-season doubleheaders and involved the type of conflict of interest for writers that wouldn't have been tolerated later. Although Ned Irish's fingerprints were on the tournament, too, the Metropolitan Basketball Writers Association, made up of New York scribes, founded, sponsored, and promoted it—and promoted it to the point where they sometimes came off as carnival barkers imploring passersby to enter the tent. The writers' group was founded in 1934, and Irving T. Marsh and Everett B. Morris, both from the Herald Tribune, were its ringleaders. Morris also was the paper's boating writer.
The plan was to follow Ned Irish's doubleheader formula in putting together tournament fields, mixing New York–area teams with intriguing squads from other parts of the country. One of the goals was to confirm New York's primacy in the college basketball world, and the tournament did that, but there was some confusion because nobody seemed to know what to call it. Most often, it was "the national invitation tournament," with the informality of lowercase letters, but it also was labeled the Metropolitan Basketball Writers' tournament, the New York writers' invitation tournament, and several other combinations. Capital letters and/or the NIT acronym didn't come into play right away.
The participants in that six-team 1938 inaugural invitation tournament were Colorado, Oklahoma A&M, and Bradley Tech, joining eastern entrants Temple, New York University, and LIU. As those with the farthest to travel, Colorado and Oklahoma A&M had byes, and the writers probably were second-guessing the bracketing that matched two New York teams, NYU and LIU, in the March 9 quarterfinals, which guaranteed the early elimination of one local draw. In a shocker, NYU knocked off Clair Bee's Blackbirds 39-37. The Blackbirds finished the season with a 23-5 record, disappointing given the expectations and a soft schedule, with the other losses coming to Marshall, Minnesota, Stanford, and La Salle. In the other quarterfinal, Temple beat Bradley Tech 43-40.
Colorado had won the Rocky Mountain region's Big 7 league, but the Buffaloes were sought because they had the biggest star in the tournament—an event its home-state Denver Post, by the way, called "the first national Invitation Intercollegiate tournament." That star was a scholarly fellow from Wellington, Colorado. Byron "Whizzer" White was an All-American halfback for the Buffaloes and a solid starter for Colorado in basketball. The New York scribes couldn't get enough of him, just as they had enjoyed building up Luisetti when he came through with Stanford during the regular season. The Colorado hero was the toast of Manhattan from the time he arrived with the Buffaloes' traveling party. He had eight points in the March 14 semifinals as the Buffaloes edged NYU 48-47 on Don Hendricks's late basket.
In the other semifinal, the Oklahoma Aggies, coached by 33-year-old Henry "Hank" Iba, lost a 56-55 heartbreaker to Temple. The New York scribes puffed out their chests as they typed, knowing the nip-and-tuck semifinals had been exciting, and hoped for a reprise in the March 16 championship game.
Instead, they and the fans got a stinker. Temple routed Colorado 60-36 to win the tournament title, and Whizzer White bowed out of his college basketball career with a 10-point night.
Minutes after the championship game, he again was being asked which he would choose—the outlandish $15,000 contract from franchise owner Art Rooney to play for the Pittsburgh Pirates (yes, Pirates, pre-dating Steelers) or a Rhodes scholarship to study in Oxford.
"There are about 500 people trying to make up my mind," he said in the Madison Square Garden dressing room. One way to tell that White already was an extraordinary celebrity was that at least one scribe actually talked to him after the game instead of following the usual procedure of typing eyewitness accounts of the game and not seeking comment from anyone involved.
Temple, the tournament champions, finished the 1937–38 season with a 23-2 record. Many in the east advanced the Philadelphia squad as the nation's best, and it wasn't unreasonable. Their head-to-head victory over Stanford, the west's top team, bolstered the claim. There were scattered references to the Owls as "national champions," but for the most part, the national attitude—at least among those who noticed in other areas of the country—seemed to be that the Owls had won a new tournament for New York teams and invited guests, no more suited to select the best team in the land than, say, a holiday tournament. It was a tournament for select (and selected) teams, but not a national championship, and Stanford wasn't there.
After beating the Webfoots for the 1937–38 PCC title, the Indians didn't go anywhere, except perhaps to their homes during spring break. They already had made two cross-country trips to New York and beyond in the previous sixteen months. That was enough.
Considered an experimental venture that first year, the invitation tournament was pronounced a success. The catch, though, was that organizers couldn't count on having a Whizzer White–type drawing card every year from among the teams brought in from outside the New York area or the East Coast.
Stanford coach John Bunn was one of many in his profession who began to wonder if there might be a way to both combat the national invitation tournament and determine a national champion, perhaps as soon as the upcoming 1938–39 season.
* . * . *
OK, that's No. 1 and No. 2.
No. 3 is that when the National Association of Basketball Coaches indeed put together the first NCAA tournament for 1939, setting up four-team regionals in San Francisco and Philadelphia,with one representative from each of eight districts, and then a championship game in Evanston held in conjunction with the NABC convention, the Buffaloes were one of a handful of teams turning down invitations. My opinion is that by the end of the season, the eventual champion -- Oregon -- was the best team in the nation, and the Ducks routed all three of their opponents, Texas, Oklahoma and Ohio State. But we'll never know how the Buffaloes would have done.
Here's how that came about, again from March 1939: Before the Madness.
* . * . *
The Colorado Buffaloes had gotten over their loss to St. John's in Madison Square Garden. They easily won their league with a 12-2 league record, beating out (in order) Utah State, Utah, Wyoming, Denver, Brigham Young, and Colorado A&M. The Buffaloes were the obvious NCAA tournament choice in the Rocky Mountain district that included the states of Colorado, Wyoming, Utah, Montana, and New Mexico.
CU officials announced that they would conduct a vote among the players and take the result under advisement. With the Buffa- loes' season over and no league playoffs, Colorado's players knew they would have two weeks to rest up for the regional—or, to put it another way, their season would be extended at least two weeks if they accepted the bid. These were mostly the same fellows who the previous year had traveled by train cross-country to play in the first national invitation tournament, and then made another trip to New York in December. Would they be up for more travel, first to San Francisco, then possibly to Chicago? For a new tournament?
The Buffaloes' decision was announced Tuesday.
No, thanks.

Colorado's athletic committee said that it had consulted with Coach Frosty Cox and the players, and the decision was based on the fact that the Buffaloes were banged up, tired, and even sick. CU's star center, Jack Harvey, was hospitalized three times during the season and missed the final three games because of illness, and two other starters had spent time in the hospital, also. Without naming the national invitation tournament, the committee said CU wouldn't consider taking part in any other tournament, either. The Buffaloes were going to stay home.
The next day, the head of the NCAA Tournament's Rocky Mountain district selection committee, Wyoming coach Dutch Witte, said his group had recommended to Harold Olsen that Big 7 runner-up Utah State—coached by the respected Dick Romney, a former multiple-sport star himself and a member of a prominent Utah family— get the NCAA bid.
Harold Olsen went along with that, and Utah State's athletic council quickly accepted the invitation.
* . * . *
If the Buffs win two more games, beating Norfolk State and then the Xavier-Texas winner, they'll make the NIT's Final Four in Madison Square Garden.
Secondarily, here's my Greeley Tribune column out of the Buffs' final regular season game, a victory over Southern California at home. It touches on Tad Boyle's connection to Greeley, then pivots to the current Buffs.
February 7, 2019
Sakic support of Bednar
seems genuine -- and it's
the right thing to do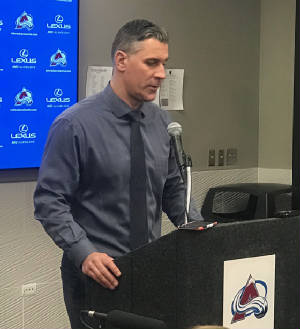 The Avalanche is reeling.
After a 4-3 overtime loss at Washington Thursday, the Avs had lost five in a row and were 5-15-4 in their last 24. Yes, only five wins in their past 24, or since they were 17-7-5 after a December 6 win at Florida.
Especially in hockey, I've always felt that it's unseemly to be among the first to broach the issue of whether a coaching change is imminent, and/or needed. That's because it can become a self-fulfilling prophecy. I'm not saying a single writer or media member bringing it up makes a change inevitable, but once the speculation starts, it can gather momentum.
This is a league in which general managers -- some of them former coaches -- have championed the scapegoating phenomenon, deflecting the blame for on-ice problems from the front office to the bench. And it goes beyond that. If players "tune out" coaches, it's often because they've gotten the impression they can or are expected to -- and can get away with it.
So Joe Sakic's decisive statement that he's not considering firing Jared Bednar is a bit refreshing. It's also fairly convincing because Sakic already has shown he will defy NHL convention, as evidenced when he stuck with Bednar after the horrendous 48-point 2016-17 season, the worst bang-for-the-buck season in NHL history. It would have been embarrassing to fire Bednar after only one season, but it also wouldn't have been all that surprising. Sakic was convinced that Patrick Roy's August resignation put Bednar in a difficult position, but he still could have taken the easy way out and made another change.
This is not an unconditional, blind endorsement of Bednar's work. The coach must be accountable, too, and if Sakic concludes after the season that something must be done, fair enough. But now? It would be panic, it would be making Bednar accountable for having awful goaltending and a roster with other deficiencies being exposed. Bad goaltending is deflating and demoralizing, and it affects everything. But this also is a team still without enough scoring depth beyond the top line -- when it's together -- and with two smallish defensmenen among its top six. Yes, Tyson Barrie and Samuel Girard are adept puck-handlers and offensive threats, but it's playing with fire in the defensive zone. (Plus, Girard hasn't been as productive offensively as he needs to be.)
It's this simple. It really is. If either goalie, Semyon Varlamov or Philipp Grubauer, gets his act together, the other issues suddenly will seem less significant and debilitating. The question is how soon, or even if, that will happen. The most amazing thing of all is that the Avalanche hasn't fallen completely out of playoff contention. The Avs can get back in the hunt -- that's a tribute to Irv Brown -- with one good run.
A coaching change now, or in the foreseeable future, isn't the answer.



January 26, 2019
Is it time to try the
confectionary store
clerk in the Avs' net?
At the arrival of the All-Star break and then its bye period, the Avalanche had gone 5-13-3 in its previous 21 games.
The biggest shock of all is that Colorado still is hanging on to what would be the second wild card playoff spot in the Western Conference by its fingernails. Seven teams, including the Avalanche, are within three points of one another in the race for the two spots. Yes, the Avs, thought to be on the rise after last year's 95-point season, seems to have been reduced to shooting for a wildcard spot again.
I'll concede this: The Avalanche is not perfectly constructed.
The Avs need more secondary scoring, beyong the NordiCanadian Line of Nathan MacKinnon centering Gabe Landeskog and Mikko Rantanen.
They every once in a while falls victim to the perills of having two undersized, if speedy and crafty, defensmen among the top six. Neither Tyson Barrie nor Sam Girard are capable of physically intimidating work in front of the Colorado net. Or anywhere else. And as a group, the Avs' "D" has been no better than mediocre.
But let's be real.
The major problem here is the goaltending.

The lack of faith in the men is in the net is debilitating for any team, and one of the reasons is that it becomes a rationalization. . . or a self-fulfilling prophecy. Teammates become tight, overly concerned that a single mistake too often can lead to a puck in the back of the (wrong) net. And on the rare nights when the goaltending is major-league and larcenous -- in other words, on the nights when the Colorado goalie has done his job -- the post-game narrative is a condescending overreaction, as if Semyon Varlamov or Philipp Grubauer has reprised Patrick Roy or Dominik Hasek in their primes and the game video should be sent to the Hall of Fame in Toronto.
With 32 games remaining, of course, it's possible that one or the other could snap out of this and give the Avalanche competent work in the net. But for now, this is just flat-ut unacceptable: Varlamov has a goals-against average of 2.82, only 25th among NHL qualifiers, and a save percentage of .908. In his contract year, while attempting to prove that he can stay healthy, the issue of whether he again can do elite work moving forward in the net has reappeared. Grubauer's goals-against of 3.38 is awful, 46th among the 50 qualifiers, and his save percentage of .891 is below what I tend to call the Astrom Line for a reason.
Flashing back to the 1979-80 season -- yes, nearly 40 years ago -- the outspoken and snappily-attired Don Cherry passed through to coach the lowly Colorado Rockies for one season.
Cherry hated his goaltenders. The goaltending indeed was bad, but in retrospect, I probably concurred too easily with Cherry's position that Hardy Astrom, who was acquired from the New York Rangers and making decent money, was the worst NHL goalie of all time. That team had a lot of problems beyond its own crease.
A handful of others in the league who played twenty or more games that season had worse goals-against averages than his 3.75, and there were even a couple who played more than half their teams' games—Hartford's John Garrett and Los Angeles's Mario Lessard. Regardless, Cherry held his nose long enough to use Astrom in 49 games, while also trying Bill McKenzie, Michel Plasse, and Bill Oleschuk in the net.
It came to a head in February, when the Rockies had to settle for a 4–4 tie at Hartford when Plasse had only 17 saves.
Cherry had let loose many times, but he got into high gear that night. "Our goaltending was horse—-," he said, standing a few feet from the trailer where I had done a between-periods interview with a fledgling Connecticut-based cable operation called ESPN. "Let's face it. Come on. Let's be honest. We're not going to go anywhere until we get a goalie. I've tried everyone except the guy who works in the confectionary store."
Jared Bednar's code word for substandard goaltending is "OK." As in, "He was OK." He hasn't tried to insult anyone by letting the goalies off the hook, but he hadn't let loose, a la Cherry, either.
It's that simple. If the Avalanche doesn't big-time goaltending, from someone, down the stretch, this season will be both regression and a huge disappointment, wasting the magical work of the top line.
January 20, 2019
Can Kroenke
Sports Empire
Stay on a Roll?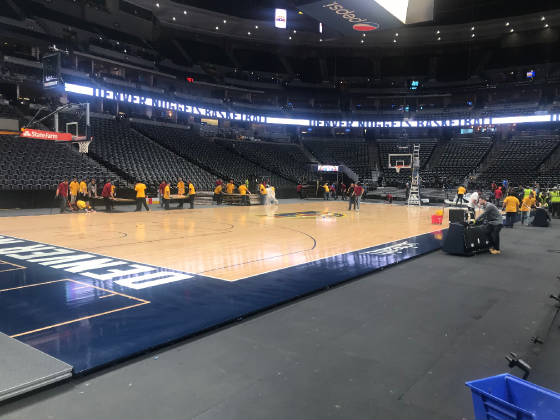 After the Avalanche routed the Los Angeles Kings Saturday, workers put the finishing tuuches on installing the floor for what turned out to be the Nuggets' romp over the Cleveland Cavaliers.
The Los Angeles Rams are going to the Super Bowl. And they're just part of the Stan Kroenke sports empire that also includes the Denver Nuggets, Colorado Avalanche, Colorado Rapids, Colorado Mammoth, and Arsenal FC.
Could this just be the start?
An audacious thought, I know, but the Kroenke portfolio mostly was struggling mightily on the field, court, ice and pitch not all that long ago and this already represents a turnaround.
So...
The Sean McVay-coached Rams obviously have a bona fide chance of giving Kroenke an opportunity to accept the Vince Lombardi Trophy -- which is no Stanley Cup -- after Super Bowl LII in Atlanta in two weeks.
Can that be just the start of a big year for the Kroenke empire?
The question, of course, is what would qualify.
I'd say on this side of the pond, it would be the Nuggets and the Avalanche both at least reaching their Western Conference finals, the Rapids returning to respectabiity in Major League soccer after a dreadful 2018, and indoor lacrosse's Mammoth recovering from a slow start to make the National Lacrosse League playoffs.
And on the other side of the Atlantic, it would mean Arsenal -- currently embroiled in controversy and mediocrity at best on the pitch in the English Premier League -- at least do well enough to convince the rabid and critical soccer fandom that the Kroenke ownership isn't incompetent at the real football. Kroenke has been involved in ownership since 2007 and has been sole owner since last August.
The Nuggets, with Nikola Jokic and Jamal Murray leading the way, are a half-game behind the Warriors in the Western Conference going into Monday's games are are the top candidates to make a deep playoff run. The problems are that last Tuesday's Warriors rout of the Nuggets in Denver was remindful that Golden State is meandering through the regular season and capable of flipping the switch at any time -- and on any night. A title? If -- and that's a big if -- the Nuggets get past the Warriors to reach the NBA Finals, they've had problems with Milwaukee, the most likely finalist from the East.
The Avalanche has been maddening, mercurial and underachieving and the biggest favor anyone can do for them is to stop making excuses. They aren't playing Hall of Fame goalies every night, their puck luck isn't always bad, and any team with three linemates headed to the All-Star Game should be held to a higher standard now that residing on the playoff bubble.
But we all know the way this league works. In some ways, I'm convinced the Avalanche has a better chance of making its league finals than does the Nuggets. I'm not sayin g it will happen. I'm saying it could. That's because there's no Warriors here and if Semyon Varlamov stands on his head from the second he arrives at the rink to the time he leaves, the whole dynamic changes. Plus, this now is a talented -- talented, not deep -- enough team to pull it off in a wide-open league.
Beyond the Nuggets and Avs, the Mammoth needs a bunch of sock tricks, the Rapids need to stop collecting ties, and the Rams need to continue to have the guys in stripes let 'em play.
January 13, 2019
Alex English was both
smooth and breathtaking
.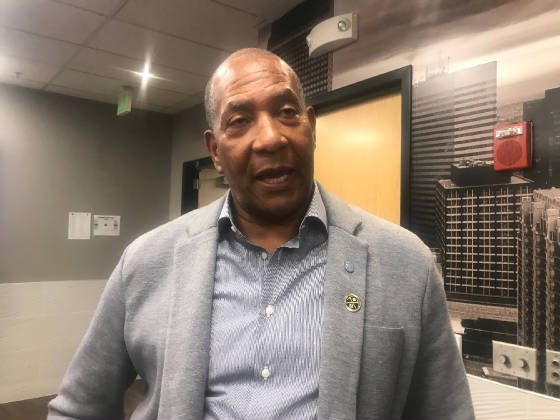 Alex English at the Nuggets' game against Portland Sunday night.
On Sunday night, the Nuggets commemorated "Skyline" night by wearing their retro jerseys -- which look like someone put the original skyline jerseys in the washing machine with way too much bleach -- against Portland and honored former smooth-as-silk forward Alex English.
I went to say hi and be a part of English's pre-game media availability.
The previous time we visited was at the Nuggets' home opener last season, against Sacramento in October 2017. The Nuggets honored a handful of former players that night, including English, David Thompson, Dan Issel, Byron Beck and Dikembe Mutombo.
This time, the spotlight was on English ... alone.
Although his number (2) was retired in 1992, when the Nuggets still played in McNichols Sports Arena, and it now hangs in the Pepsi Center, English for many years felt a disconnect with the Nuggets after his trade to Dallas and then during his working career as an assistant coach and scout. He wasn't shunned; it was more apathy. Now, in part thanks to vice president of basketball operations Lisa Johnson, a treasure trove of institutional knowledge, the Nuggets have done a better job of re-embracing their past.
"I feel much better," English said. "If you look at most teams that are successful, they're successful because they have a history that is part of their success. You look at the Lakers, you always see Kareem and Magic and Kobe talk about that being their team. And the Celtics as well. So I think history is vey important. I can compliment them on reaching out to all of their former players and bringing them back and making them feel like they are a part of what they have been, what they've built."
He said of his reacton when he returns: "Of course, it's a different arena. But it's always great to come back, especially now that they're doing so well, and to see the fans come out to support them ... I have fond memories of being here in Denver and playing for Doug Moe and playing for the teammates I had. I had a wonderful time."
I joked with him about having fond memories of the irascible Moe, whose verbal prodding made English a better player -- and whose passing-game, relentless-movement offense made English a star.
"To you guys, he was probably like a big mean, ol' bad boy," English said. "But he was a big baby. You get him off the court, get him out of the environment, he's just a big baby."
After the hockey Rockies moved to New Jersey in 1982, I was switched to the Nuggets beat.
Alex was aready there.
Because of the convivial atmosphere in McNichols Sports Arena in those days, with media wandering through both offices, I didn't feel as if I was starting from scratch, and I knew a lot of folks in the Nuggets' organization. Moe already was calling me "Dip----," as he did with everyone he liked (or, in some cases didn't like).
One of my first assignments on the beat was to cover the then-troubled Thompson's trade to Seattle, and all the dramatic subplots surrounding it. (He never got to wear the skyline jersey.)
Thompson's departure nudged English a bit more to the Nuggets' forefront, and that was the silver lining.
English was the sneakiest, sleekest, smoothest big-time scorer in NBA history, always moving in the passing game. He was not made for SportsCenter highlights; what he did was maneuver, glide, float ... and score. His nickname -- "Pink Panther" -- was apt.
At the end of the night, if you weren't tracking it, you'd go: "He had how many points?" And they all counted.
He was a great player who didn't get enough credit because of his low-key personality and a game that took paying attention to, to truly appreciate. The Nuggets were his third stop, after Milwaukee and Indiana, and we hadn't seen this coming.
Among the English highlights the Nuggets show of English when they honor him is one that believe sums him up. It was a gliding shot over and past a challenging Maurice Lucas, then with Phoenix. It was nothing flashy, but he simply got the shot with one of the most physical players in the league with his arms up and within, oh, 18 centimeters.
That's how Alex scored. averaging 25.9 points in 11 seasons with the Nuggets. He scored in traffic or without flashiness leaned almost imperceptively just far enough to get the shot off -- and in.
I asked him how his game would fit in today's league.
"Well, you know I'm not a three-point shooter," he said. "I still would be a mid-range game player. There's some room for mid-range. I worked with DeMar DeRozen in Toronto. He's a mid-range player that I love to see play. That's missing in the game today. But it's exciting to see guys come down and if they know how to shoot threes, to make threes. It's exciting to see that. Different style, though. For a minute there everybody was talking about defense and trying to play like the Pistons. And as we evolved and as the Golden State Warriors started playing like the Denver Nuggets of old, everybody said, 'That's how we need to be playing.' Everybody's kind of migrated back to the old ways with the addition of the threes."
He was asked what he thought when seeing James Harden launch 15 three-pointers in a game.
"It drives me crazy," he said. "Even though I scored a lot of points, and I shot the ball a lot, I was a team player. I liked getting my teammates involved and letting them be a part of the game as well."
But that was the beauty of the passing game, with its constant moving -- of both bodies and ball. By definition and design, everyone was involved, regardless of who scored. Including guard T.R. Dunn, who rarely kept the ball for more than four-tenths of a second.
"I wish I was still coaching," English said. "It's an unstoppable offense. Even if you wanted threes, you still could get threes. But nobody has adapted, or tried to adapt Doug Moe's offense. It was so successful, as you know ... And contrary to what people say about us playing defense, if you look at the teams that forced the most turnovers, blocked the most shots, we were always there. We had three, or four, actually, of the toughest defenders that have played the game in T.R. Dunn, Bill Hanzlik, Elston Turner, and Wayne Cooper's got to be there for shot blocking."
English has been watching this Nuggets team with great interest from afar.
"They've got a good vibe going," he said. "They're winning. It helps when the fans come out and support you. And they've got a good coach. Mike Malone's a very good coach. He's done a very good job of bringing them together ... I personally feel they'll be in the Western Conference Finals, if they continue to play like this. They're such a balanced team. Even though (Nikola) Jokic and (Jamal) Murray get a lot of credit, when I watch them I see a lot of different pieces that contribute. I'm glad to see Will Barton back. I feel like he's a major part of their success and once he gets back and gets acclimated to playing, he's going to be a big contributor. And you all haven't had Isaiah Thomas yet. I coached Isaiah Thomas in Sacramento. I think he's going to be a bg plus for this team because he can score. Tough little guy."
Sandy Clough of "The Fan" asked him about Jokic, who a little later would have 40 points, 10 rebounds and 8 assists against the Blazers.
"He sees the floor so well, he scores, he shoots threes," English said. "The only other player in the league right now that I feel is comparable to him is DeMarcus Cousins, who I coached in Sacramento. He's got a lot of the same skills and maybe Anthony Davis."
Now, about those skyline jerseys. I've told this story before, but it's appropriate. The Nuggets unveiled the original version at a news conference after holding a fan contest to design them. At the news conference, they said they had brought in a special model, and then Kiki Vandeweghe came out in the new jersey. And we were told that after lengthy negotiations, he had just agreed to a new, long-term contract. They had managed to keep that quiet, and it was a big deal.
Shortly thereafter, the winning designer visited me at the newspaper office.
He was mad that the Nuggets hadn't exactly followed his design.