For 2019 On the Colorado Scene, scroll down
For 2018 On the Colorado Scene Archive, go here
For 2017 On the Colorado Scene Archive, go here
January 13, 2019
Alex English was both
smooth and breathtaking
.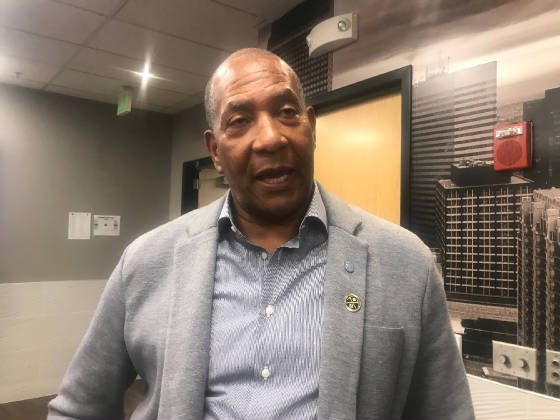 Alex English at the Nuggets' game against Portland Sunday night.
On Sunday night, the Nuggets commemorated "Skyline" night by wearing their retro jerseys -- which look like someone put the original skyline jerseys in the washing machine with way too much bleach -- against Portland and honored former smooth-as-silk forward Alex English.
I went to say hi and be a part of English's pre-game media availability.
The previous time we visited was at the Nuggets' home opener last season, against Sacramento in October 2017. The Nuggets honored a handful of former players that night, including English, David Thompson, Dan Issel, Byron Beck and Dikembe Mutombo.
This time, the spotlight was on English ... alone.
Although his number (2) was retired in 1992, when the Nuggets still played in McNichols Sports Arena, and it now hangs in the Pepsi Center, English for many years felt a disconnect with the Nuggets after his trade to Dallas and then during his working career as an assistant coach and scout. He wasn't shunned; it was more apathy. Now, in part thanks to vice president of basketball operations Lisa Johnson, a treasure trove of institutional knowledge, the Nuggets have done a better job of re-embracing their past.
"I feel much better," English said. "If you look at most teams that are successful, they're successful because they have a history that is part of their success. You look at the Lakers, you always see Kareem and Magic and Kobe talk about that being their team. And the Celtics as well. So I think history is vey important. I can compliment them on reaching out to all of their former players and bringing them back and making them feel like they are a part of what they have been, what they've built."
He said of his reacton when he returns: "Of course, it's a different arena. But it's always great to come back, especially now that they're doing so well, and to see the fans come out to support them ... I have fond memories of being here in Denver and playing for Doug Moe and playing for the teammates I had. I had a wonderful time."
I joked with him about having fond memories of the irascible Moe, whose verbal prodding made English a better player -- and whose passing-game, relentless-movement offense made English a star.
"To you guys, he was probably like a big mean, ol' bad boy," English said. "But he was a big baby. You get him off the court, get him out of the environment, he's just a big baby."
After the hockey Rockies moved to New Jersey in 1982, I was switched to the Nuggets beat.
Alex was aready there.
Because of the convivial atmosphere in McNichols Sports Arena in those days, with media wandering through both offices, I didn't feel as if I was starting from scratch, and I knew a lot of folks in the Nuggets' organization. Moe already was calling me "Dip----," as he did with everyone he liked (or, in some cases didn't like).
One of my first assignments on the beat was to cover the then-troubled Thompson's trade to Seattle, and all the dramatic subplots surrounding it. (He never got to wear the skyline jersey.)
Thompson's departure nudged English a bit more to the Nuggets' forefront, and that was the silver lining.
English was the sneakiest, sleekest, smoothest big-time scorer in NBA history, always moving in the passing game. He was not made for SportsCenter highlights; what he did was maneuver, glide, float ... and score. His nickname -- "Pink Panther" -- was apt.
At the end of the night, if you weren't tracking it, you'd go: "He had how many points?" And they all counted.
He was a great player who didn't get enough credit because of his low-key personality and a game that took paying attention to, to truly appreciate. The Nuggets were his third stop, after Milwaukee and Indiana, and we hadn't seen this coming.
Among the English highlights the Nuggets show of English when they honor him is one that believe sums him up. It was a gliding shot over and past a challenging Maurice Lucas, then with Phoenix. It was nothing flashy, but he simply got the shot with one of the most physical players in the league with his arms up and within, oh, 18 centimeters.
That's how Alex scored. averaging 25.9 points in 11 seasons with the Nuggets. He scored in traffic or without flashiness leaned almost imperceptively just far enough to get the shot off -- and in.
I asked him how his game would fit in today's league.
"Well, you know I'm not a three-point shooter," he said. "I still would be a mid-range game player. There's some room for mid-range. I worked with DeMar DeRozen in Toronto. He's a mid-range player that I love to see play. That's missing in the game today. But it's exciting to see guys come down and if they know how to shoot threes, to make threes. It's exciting to see that. Different style, though. For a minute there everybody was talking about defense and trying to play like the Pistons. And as we evolved and as the Golden State Warriors started playing like the Denver Nuggets of old, everybody said, 'That's how we need to be playing.' Everybody's kind of migrated back to the old ways with the addition of the threes."
He was asked what he thought when seeing James Harden launch 15 three-pointers in a game.
"It drives me crazy," he said. "Even though I scored a lot of points, and I shot the ball a lot, I was a team player. I liked getting my teammates involved and letting them be a part of the game as well."
But that was the beauty of the passing game, with its constant moving -- of both bodies and ball. By definition and design, everyone was involved, regardless of who scored. Including guard T.R. Dunn, who rarely kept the ball for more than four-tenths of a second.
"I wish I was still coaching," English said. "It's an unstoppable offense. Even if you wanted threes, you still could get threes. But nobody has adapted, or tried to adapt Doug Moe's offense. It was so successful, as you know ... And contrary to what people say about us playing defense, if you look at the teams that forced the most turnovers, blocked the most shots, we were always there. We had three, or four, actually, of the toughest defenders that have played the game in T.R. Dunn, Bill Hanzlik, Elston Turner, and Wayne Cooper's got to be there for shot blocking."
English has been watching this Nuggets team with great interest from afar.
"They've got a good vibe going," he said. "They're winning. It helps when the fans come out and support you. And they've got a good coach. Mike Malone's a very good coach. He's done a very good job of bringing them together ... I personally feel they'll be in the Western Conference Finals, if they continue to play like this. They're such a balanced team. Even though (Nikola) Jokic and (Jamal) Murray get a lot of credit, when I watch them I see a lot of different pieces that contribute. I'm glad to see Will Barton back. I feel like he's a major part of their success and once he gets back and gets acclimated to playing, he's going to be a big contributor. And you all haven't had Isaiah Thomas yet. I coached Isaiah Thomas in Sacramento. I think he's going to be a bg plus for this team because he can score. Tough little guy."
Sandy Clough of "The Fan" asked him about Jokic, who a little later would have 40 points, 10 rebounds and 8 assists against the Blazers.
"He sees the floor so well, he scores, he shoots threes," English said. "The only other player in the league right now that I feel is comparable to him is DeMarcus Cousins, who I coached in Sacramento. He's got a lot of the same skills and maybe Anthony Davis."
Now, about those skyline jerseys. I've told this story before, but it's appropriate. The Nuggets unveiled the original version at a news conference after holding a fan contest to design them. At the news conference, they said they had brought in a special model, and then Kiki Vandeweghe came out in the new jersey. And we were told that after lengthy negotiations, he had just agreed to a new, long-term contract. They had managed to keep that quiet, and it was a big deal.
Shortly thereafter, the winning designer visited me at the newspaper office.
He was mad that the Nuggets hadn't exactly followed his design.