On the Colorado Scene is Terry Frei's commentary page, focusing on Colorado sports and, when pertinent or the mood strikes, news and entertainment. This perhaps is the forerunner of a modestly priced subscription site with proven Colorado professionals providing commentary and coverage. Stay tuned.
Reaction welcome at terry@terryfrei.com.
NOTE: I am happy to announce I will be joining Nate Lundy's team at Mile High Sports, contributing commentaries about the Avalanche and more. This page will remain operative and I will continue to write here as well, with links here to my Mile High pieces.
CONTENTS (Scroll down)
Paul Stastny looks back at his Decision
For this to work, Bernier has to be better
Jared Bednar's second season -- and chance -- with the Avalanche
Michael Gallup ran a stop and go route to reach CSU
Sven Andrighetto swiftly skating into Avalanche forefront
Avalanche leadership is a core issue
It's official: Avs-Eagles AHL affiliation in 2018-19
Can't somebody tackle No. 14?
Lakewood couple on the Las Vegas night of terror
RIP, Red Miller
CSU's Zack Golditch flashes back
Checking in with the Finns:
1, DU's Henrik Borgstrom
2, Avalanche's Mikko Rantanen
Showdown: The officials took over the game
Looking ahead to the Rocky Mountain Showdown
And nearly six years later ... Colorado State opens its stadium
On Denver's pre-Broadway "Frozen": Let Her Sing, Let Her Sing
Checking in with the Rams: We're talking about practice ... fields
Paul Stastny looks back on
his Decision ... and more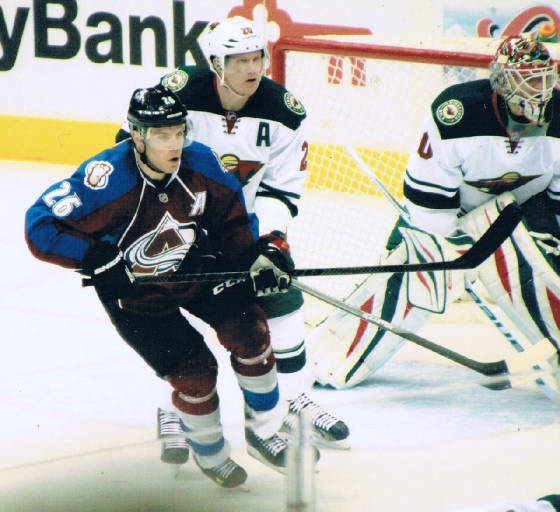 Paul Stastny as an Avalanche. (Jerry Mellman photo.)
October 18
When the public address announcer confirmed that Paul Stastny scored the St. Louis Blues' first goal Thursday night, many in the Pepsi Center crowd booed. Left unsaid, or at least unannounced, was that he had just collected his 600th career NHL point.
"If you're a nobody, they don't really care," Stastny, who later added an assist , told me after the Blues' 4-3 win. "It's just part of it. That's fine. That's hockey. The fans are so competitive here, they just want to see the hometown team win. If I get booed and we're winning, fine. If we're losing, then it sucks. It'a always fun here, it's always tough come back and I think every game has become easier. I still have friends over there" -- and he rattled off the nicknames for Matt Duchene, Gabe Landeskog, Tyson Barrie and Erik Johnson -- "and I'm always going to be close to a lot of those guys."
I can't speak for all of the booing fans. I assume it was because of the widespread perception that as the trading deadline approached late in the 2013-14 season, Stastny led on the Avalanche and general manager Joe Sakic, causing them to believe that although they couldn't get Stastny signed to an extension then, they would have a bona fide chance of doing so in the offseason, either before becoming an unrestricted free agent, or perhaps even shortly after.
He didn't lead them on. I was on the road trip with the Avalanche as the trading deadline approached and passed, and was with the team when Stastny attended morning mass in Detroit, waited, and was told that although he hadn't agreed to an extension, he wouldn't be traded, either. I talked to him the next day, and I'm absolutely convinced he wasn't turning his back on the possibility of returning to the Avalanche.
He was going to see what was out there, and that turned out to be a four-year, $28-million deal, astounding those -- including me -- who believed that while a terrific player whose contributions are difficult to quantify, he had been overpaid for the term of his previous five-year, $33-million deal with Colorado.
It's great hindsight to say Colorado should have traded him at the deadline to make sure it got something for him. But it's wrong in this sense: Think of the context. The Avalanche was coming down the stretch of an amazing season, poised to make what we all assumed would be a decent playoff run and it trades Stastny? The uproar would have been immediate and resounding.
The strange thing about all of it is that it seemed he had found a "hometown" deal -- he was raised in St. Louis, where his Hall of Fame father, Peter, had finished his career -- but since he joined the Blues, he actually has continued to live in the Denver area in the offseason with his wife, Haley. He's been here since 2004, when he showed up as a University of Denver freshman and played on the second of the Pioneers' consecutive NCAA championship teams and then signed with the Avalanche after his sophomore year.
I asked Stastny if, after three years, he could say more about his mindset during that stretch, one that in retrospect was the first sign that perhaps that the Avalanche's amazing 112-point season in 2013-14 wasn't a sign of things to come.
"There's a lot of stuff that goes on when you're signing of deciding where you're going to sign and what you're going to do," he said. "Everyone thinks it's just about (money), but it's not. You have to take into account where you're going to play, where you're wanted, how much you're going to play. You want to be on a winning team. There are a lot of factors. At the end it was down to St. Louis and Colorado, and the last couple of days it was down to maybe three teams, and then one of those teams went away and it was down to St. Louis and Colorado.
"You can ask my wife. For us, it was the toughest decision we ever made. But looking back, it was the best decision. I came (to the Blues) and I think we both grew as people, and I met some new people I hated playing against and now they're some of my best friends. It turned out good, but it's always tough, and you to take the emotion out of it."
But wait. He signed with his hometown team, and he continued to live in Denver?
"Because I went to school here, as a kid I kind of matured here," he said. "I lived on my own, and when I met my wife, I was 22 and she was living here. A lot of guys from DU end up living here, and so do a lot of other guys. They spend their summers here and it's such a good spot."
This all comes against the backdrop of the amazing Stastny family story, starting with the fact that Paul's father, Peter, had 1,239 points in his NHL career, and Paul's uncles, Anton (636) and Marian (294) also played in the league, all after coming over from what then was Czechoslovakia, part of the Soviet-dominated Eastern European bloc. For Peter and Anton, it was a scene out of a John le Carre novel (or movie adaptation).
This was only six months after the brothers -- proud Slovaks -- played for Czechoslovakia in the 1980 Olympics at Lake Placid, losing 7-3 to the Americans' "Miracle on Ice" team in group competition and finishing fifth.
While again playing for Czechoslovakia in a tournament in Innsbruck, Peter and Anton defected, at one point taking a harrowing ride the wrong way down a one-way street. They made it to North America, signing with the Quebec Nordiques, and older brother Marian followed them later.
It was a true All-American story when Paul became a regular choice for United States teams in international competition, including the Olympics.
He's also still a Denver guy -- even though he no longer is with the Avalanche.
Mile High Sports, October 16
Michael Gallup, CSU's latest
superstar receiver, ran a stop and go
route to get to Fort Collins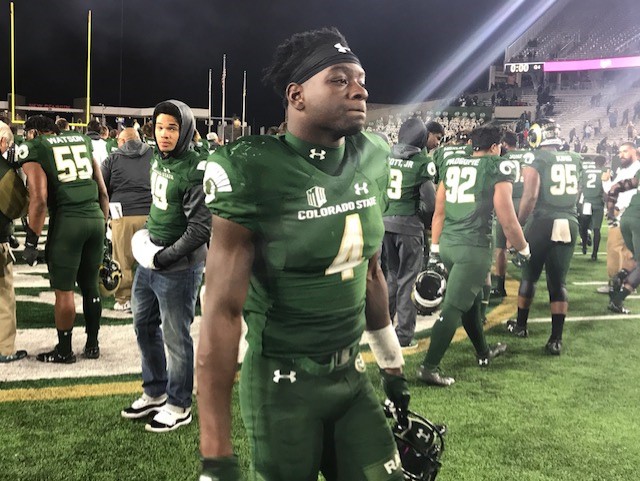 Michael Gallup heads to the CSU locker room
October 14
FORT COLLINS -- When the game finally ended four minutes after midnight at Sonny Lubick Field, Nevada junior defensive back Ahki Muhammad sought out Colorado State receiver Michael Gallup.
Near midfield, Muhammad held his helmet in one hand and loosely reached around Gallup with the other, in what became a mutual embrace.
As they separated, the 5-foot-9 Muhammad looked up and got in a parting shot.
"You'll have a long career," Muhammad told Gallup.
As CSU pulled out a 44-42 win over the Wolfpack on Saturday/Sunday, Gallup had 13 receptions for 263 yards and three touchdowns -- of 56, 7 and 17 yards. On a chilly night when Nick Stevens threw for 384 yards, and had a fourth TD pass to Dalton Fackrell, the senior quarterback was both accurate and trusting, showing faith in Gallup's ability to go get the ball, to outmaneuver defenders in the air and come down with it.
When it was over, Gallup had 59 receptions for 948 yards and five TDs for the season, with the Rams -- who came back from a 42-31 deficit late in the third quarter -- now at 5-2 overall and 2-0 in the Mountain West.
I asked Gallup if that was as good of a game as he could have.
He said he didn't know about that, and then added: "But we had fun. We faced adversity pretty well. I personally don't think it should have been like that, but it is what it is and we came out on top. . . I'm very confident. I like going up and getting the ball. It's fun. You look at the defender's face, and he's kind of looking really sad and stuff like that."
Gallup had eight catches at halftime against the Wolfpack, then "only" two more in the third quarter. CSU coach Mike Bobo said he noticed Gallup's frustration when the ball wasn't going in his direction as often.
"I had to tell him not to get frustrated there a little bit in the third quarter," Bobo said. "You could tell (from) his body language there on the sideline he was getting a little frustrated. I said, 'You're going to win the game for us, son. We're coming to you, you get ready to answer,' and he did. He was communicating. I could tell the way he was coming out of the huddle, he wanted the ball. He's such a big body that makes tough catches and the way our quarterback is playing right now, it's hard to cover him."
Said Gallup: "When you're just running past some dude, you just kind of want them to just throw you the ball. It would be pretty simple. I don't need to get frustrated like that. I need to keep my head up, keep positive vibes going. That's bad on me, I just need to keep pushing. That's my fault."
Sound bites in a post-game news conference doesn't define, but the fun thing is to notice the difference between the 6-foot-1, 200-pound Gallup and the Rams' previous marquee wide receiver, Rashard Higgins, now with the Cleveland Browns. The personable and similarly talented Higgins didn't just name himself "Hollywood," he tattooed it across his back. He not only didn't mind the spotlight. He craved it.
Gallup is confident and doesn't hide it, but he is more low key, almost to the point where it seems discordant with his flashy game.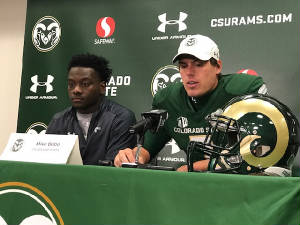 "So you guys heard him," said Stevens, who (at left) appeared with Gallup in the interview room. "He has 263 yards and is expecting better of himself. He definitely has become a guy I can rely on. You can tell that anybody who has that many yards as a receiver, that's obviously the case. And they weren't all wide-open catches and throws today. He went up and made a lot of good plays for me, for this offense. We really relied on him today and he really came through in the clutch when we needed him to."
Gallup said, "It was business as usual tonight, but I had some people in the stands, so I had to make it look good. I had family that used to watch me in high school and they have a son who used to love to watch me in high school, and they came up to watch me tonight."
I asked Bobo if Gallup was starting to remind him or the Cincinnati Bengals' A.J. Green, Georgia's star receiver when Bobo was on the Bulldogs' staff.
"A.J. Green's pretty good," Bobo said, laughing. "He is a different player than A.J. because he is so strong and (because of) his ability after the catch to run the ball. But as far as a playmaker and a guy at the receiver position, they can change a game, and he's very similar to A.J. Green. A.J. Green could change at game at the receiver position and that's hard to do."
Gallup's path to Fort Collins was unlikely. He was raised in small-town Monroe, Georgia, between Atlanta and Athens. Michael was born in Atlanta and was adopted by the Gallup family when he was 10 months old. He was raised among seven multiracial siblings, with five others also adopted.
"It was a small town," Gallup told me during spring practice. "Everybody came to the football games. Me being a country dude, a country man, I wasn't always hanging out in a city. I was just trying to catch some fish and ride my dirt bike, things like that."
At that point, Gallup corrected himself. He didn't try to catch fish. "Oh, I was always catching fish," he said. "Just like football. I had a friend who had a pond in his backyard and he only lived about 20 minutes from me, and I used to go down there just about every day."
After transferring in from Butler Community College in El Dorado, Kansas, Gallup had a breakout 2016 season as a junior for the Rams, with 76 receptions for 1,272 yards and 14 touchdowns.
This all comes after Gallup was a highly-regarded prospect as he played for Monroe Area High and when the Hurricanes participated in 7-on-7 camps at Georgia, where Bobo then was an assistant. Gallup ended up earning 16 letters — four each in football, basketball, baseball and track and field — in high school and power five conference programs were interested.
"You saw a kid that was a man among boys playing at his high school," Bobo said. "He played wideout, he played quarterback, and he would run around and make plays. He didn't have those muscles he has now, but he had a big frame. You saw a guy who in the moment could make plays."
Gallup's grades were fine, but his test scores didn't pass NCAA muster, leading him to take an intermediate step to the Division I game.
As a freshman at Butler in 2014, he had 44 receptions for 780 yards and 11 touchdowns for the Grizzlies. He played in only three games in 2015 as a sophomore because of an ankle injury, finishing with nine receptions for 74 yards and one TD. That limited his visibility and he was part of the Bobo program's February 2016 recruiting class.
After a slow start in 2016, Gallup came on, with the highlight a 13-catch, 213-yard receiving game against Air Force, and he was a first team all-Mountain West choice. And now more and more agreeing with Ahki Muhammad.
He's going to have what these days passes for a long NFL career.
UPDATE: Gallup Monday was named the Mountain West Conference's offensive player of the week.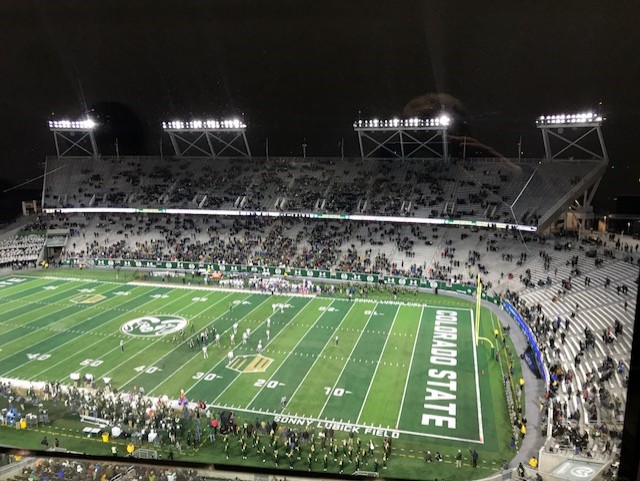 This was taken late in the third quarter, with CSU trailing 35-31. The crowd, officially a sellout, had dwindled ... a bit. Chilly conditions and a late start -- the game eventually ended at 12:04 a.m. Sunday -- contributed to the fans' flight.


Mile High Sports, October 13:
Avalanche and Eagles make it official:
Partnership moves to AHL in 2018-19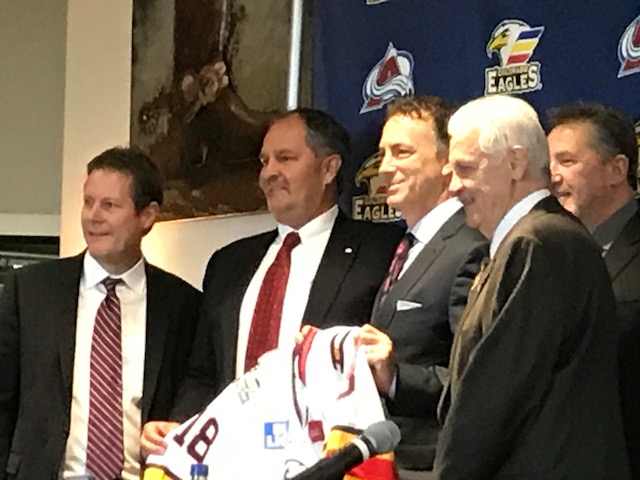 Posing with an Eagles jersey: Avalanche assistant GM Craig Billington, Eagles owner Martin Lind, Avalanche GM Joe Sakic, Eagles founder Ralph Backstrom, and Eagles President/GM Chris Stewart. The Eagles were Backstrom's vision and opened play in 2003.
October 10
LOVELAND -- The original heralding news conference at the Budweiser Events Center, scheduled for October 2, was postponed in response to the horrific events in Las Vegas, and the Avalanche and Colorado Eagles instead on Tuesday officially announced and essentially toasted the upgrading of their relationship in 2018-19.
That's when the Eagles will move to the AHL as the Avalanche's top affiliate, stepping up from the second-tier ECHL.
I've written a lot about the Eagles over the years, going as far back as taking a tour of the under-construction Loveland arena in 2002 with Eagles founder Ralph Backstrom, the former Montreal Canadiens standout and ex-University of Denver coach. And here's my piece in the current Mile High Sports Magazine about the Eagles and their phenomenal success, both on the ice and in becoming one of the primary entertainment attractions in the burgeoning Northern Colorado corridor.
I enjoyed being at the Tuesday news conference, which was more celebration than a media function, and I spoke with, among others, Eagles CEO/owner Martin Lind and Avalanche general manager Joe Sakic about what went into the move and the changes it will bring.
I was interested to find out whether the Avalanche and the Kroenke Sports ownership, while joining the trend in the NHL to have their AHL affiliates as close as possible, and in some cases also owning them, attempted to buy the Eagles franchise outright and completely operate it themselves.
Their answers: No. And no.
Sakic said that once the Avalanche and Eagles began their NHL-ECHL affiliation last year, the thought of taking it up another step was always a consideration.
"We talked about leaving it open as a possibility if it was what Martin wanted to do," Sakic said. "I think over time, he wanted to really expand hockey in Northern Colorado. He runs an unbelievable organization. They do it really well here, and he wanted a higher level of hockey. The American Hockey League is what he wanted to achieve for the marketplace. And for us, it's a home run to have your minor-league team 50 minutes up the road. It's perfect for development, more hands-on opportunities with our young players. Just going up and down the road will be a perfect setup."
Sakic said this will work as well as if the Avalanche bought the Eagles.
"We have a a great affiliation agreement ... A lot of the NHL teams out west started the (AHL) West Division, and we wanted to be part of that," Sakic said. "It think it's 66 games that they'll be playing, so it's less games, more practice time. To have your team so close to you, you don't have to worry about flights, delays and things like that. They can drive right to the rink and we'll be able to have guys come up and down more, especially younger guys, to be with us a little bit more."
Lind's success as a developer has been a major part of Northern Colorado's growth. He said he wasn't ready to part with the Eagles, and that there was more to it than business.
"I don't think it was the right timing for them or me," he said. "We kind of grew the Eagles to be Northern Colorado's team, and we do a lot of benevolence with this. I don't want to lose that. There are a lot of people who benefit from the giving and the charity work we do. The Avalanche do a great job with that, but we live here and this is part of our community, too."
The move is not without risk.
The dynamic will change, with ticket prices going up about $3 on average. Since they began play in the Central Hockey League in 2003, the Eagles for the most part have been a hot ticket, filling the 5,289-seat Budweiser Events Center on most nights -- while also winning two CHL championships (and the Ray Miron President's Cup) before claiming the ECHL title (and the Patrick J. Kelly Cup) in June.
Addition of porch/standing areas might bring the capacity closer to 7,000, and locker rooms and training facilities will undergo renovation, but there will be no major seating expansion of the 14-year-old building for the arrival of the AHL.
In 2018-19, after 15 years of essentially lining up their own talent under a strict salary cap and limitations on veteran players on the roster, the Eagles will be more dependent -- in fact, completely dependent -- on the Avalanche to stock the roster.
The ECHL salary cap is $12,600 a week and each team can have only four "veterans," defined as players with 260 or more games of professional experience.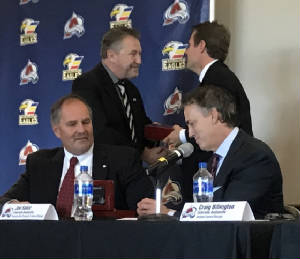 In the ECHL, an NHL affiliation means accepting, at most, a handful of second-tier prospects tricking down to the "AA" level, which was serendipitous for the Eagles in their playoff run last spring when the Avalanche sent down several players from (non-playoff bound) San Antonio to get them more games and playoff experience. (Not coincidentally, at left, Eagles president/GM Chris Stewart presents ECHL championship rings to Avalanche assistant GM Craig Billington and Sakic.)
"I see this being a harmonious relationship, because we are in the same media market," Lind said. "Even though there's a gap on I-25 between us, our success is going to be very important to the Avalanche organization. Their fans are going to look to the future here now, and their success is going to be our success. They're not going to skip paying attention to us.
"The AHL franchises that are in different time zones from the NHL franchise, you can have a disconnect. The fans base might not follow them. But this is going to be an Uber driver away, or they are literally going to be moving players in a taxi cab. Our success is going to be super-important for them. The organization that Joe and Craig are running right now, it looks like they're looking to the future. And that's good.
"This year, when we were on the second tier, the AHL players the Avalanche sent here dominated, just dominated. That tells me where they're headed with that franchise."
Stewart has been a master at working the salary-cap and limited-veteran system at the "AA" level, both in the CHL and ECHL, and I can't help but think he'll miss some of that.
"It's been a big part of the game for me for a long time," he conceded. "But this for me is an opportunity that I'm going to make the best of as it stands today. . . This is an oppportunity we wanted to follow up on. It was never Martin's goal to make beaucoup amounts of money in hockey. He's already a wealthy man, 10 times over. Hockey is just another amentity for Northern Colorado."
For this season, the Avalanche' AHL affiliate will remain the San Antonio Rampage before the St. Louis Blues will take over the affiliation next season. The Eagles will seek a second straight ECHL title.
"I think it will be good," Stewart said of this season. "From what I saw last year, they're very much into seeing us succeed. We understand there are going to be times we have to help out the (Rampage) with a player or two. But that's all part of development. You have to develop players, you have to be able to keep your building full, and the best way to do that is win."
Beginning next season, the Avalanche will provide and pay the players, and in that sense, the Eagles will be at the mercy of the NHL team 50 miles down Interstate 25. There will be less financial risk for the Eagles' ownership and management.
But will it be as much fun?
That's going to be the tricky part.
It will be better hockey, with players on both rosters on any given night a sudden summons away from the NHL. Yet at the CHL and ECHL level, the Eagles have made a habit of recruiting and signing players who are minor-league standouts but haven't been able to stay on AHL rosters, even if that means they're better than an NHL organization's prospects. (Yes, there is politics in hockey, too.) This season, the Eagles still will have standout center Matt Garbowsky, plus the ECHL's top defenseman in Matt Register, and the Colorado-raised brother tandem of Collin and Drayson Bowman, both returned from playing in Europe last season. It will be Collin's second stint with the Eagles.
After this season, the game changes.
With the Eagles as their top affiliate, the Avalanche's challenge will be to provide a product that not only is nurturing of organizational prospects, but measures up to the Loveland franchise's winning tradition at the "AA" level. A good ECHL team is far more fun to watch than an AHL bottom-feeder, and the Avalanche can't shrug that off, because a winning culture aids development, too.
At the news conference, I circled back to ask Sakic about the Avalanche's 2-1 start heading into the Wednesday home opener against Boston.
"We're happy with it," Sakic said. "I liked the energy and i liked the passion. The third period at Boston, we played a solid third period with the lead. You take the positives, but we know we have a lot of work to do. We have a young team." He added that, yes, he is seeing evidence of the offseason overhaul, leading to the Avalanche getting younger and faster. "But we know we have to keep going, keep working, keep getting better as a team. But, yeah, we're younger, we seem like we're hungrier, and we're quicker out there. We want energy, excitement and we want to win some games. We have skill to capitalize in mistakes now, and you have to play with passion and excitement, and I think we're going to do that."


The Budweiser Events Center -- outside and inside.


Can't somebody tackle No. 14?
Kent runs around and through Buffs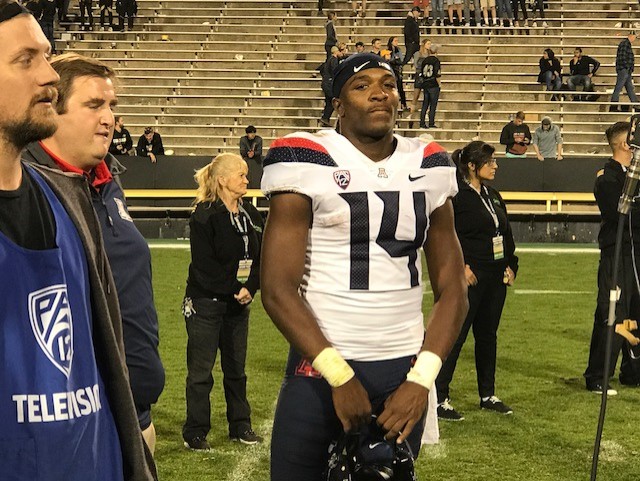 Khalil Tate waits to do a television interview after the game, as Phillip Lindsay, below, heads for the locker room.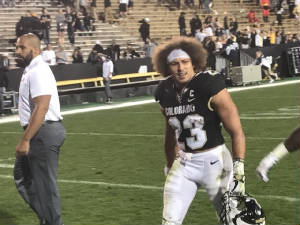 October 7
BOULDER -- Let's get one thing out of the way: The Rise was Real.
To retroactively write off the Colorado Buffaloes' stirring 2016 season, their fourth under Mike MacIntyre, as an aberrational fluke, is unfair.
What's happening now, though, is the result of a relative leadership void in the wake of the departure of Sefo Liufau, whose inspirational attitude at time was as important as his play, plus key starters on the defensive side of the ball; the can't-be-overestimated toll of losing defensive coordinator Jim Leavitt to Oregon; and, yes, a bit of a letdown in the wake of a collective exhaling after MacIntyre's tenure was transformed from tenuous to relatively secure with a long-term contract extension.
The Buffs are 3-3 overall and 0-3 in the Pac 12 after their 45-42 loss to Arizona Saturday night at Folsom Field. At least it was wildly entertaining, with elusive Arizona sophomore quarterback Khalil Tate piling up 469 yards of total offense (142 passing, 327 rushing) and Buffaloes running back Phillip Lindsay running for 281 as be became the program's all-time leader in career all-purpose yards, surpassing Rodney Stewart's seven-year-old mark of 4,828 yards.
The 327 yards was an NCAA Division I record for rushing by a quarterback, and the stunning part was that the 18-year-old Tate came into the night as the Wildcats' backup.
For his opening statement at his post-game news conference, MacIntyre began with a plea he had first made to broadcasters after the first half.
"Would somebody please tackle 14 for Arizona?" MacIntyre said. "That's the difference in the football game. He was amazing."
That's italicized because that's the way MacIntyre said it.
"He should be national player of the week," MacIntyre added. "Phenomenal player, and I think they found their quarterback now. He's a phenomenal player. . . We had him hemmed up, made him change direction, we'd stop the original play multiple times and he just outruns us. And we missed him a few times. he made some great plays. Of course, there's some things we could have done better, coached better. But we couldn't tackle him."
At that point, MacIntyre said the closest thing to a similar coaching experience was when he was at San Jose State and Colin Kaepernick was at Nevada.
"A couple of times against Kaepernick, but they pulled him early because we couldn't score against Nevada, they were so good at that time," he said. "That was when they were like eighth or ninth in the country."
CU has only two home games remaining and the modest goal of becoming bowl-eligible will be challenging, requiring beating Oregon State in Corvallis, California in Boulder and pulling out another win against Washington State, Arizona State, Southern California and Utah. And the additional discouraging part of that is that bowl eligibility in the wake of the 2016 Pac 12 South title was supposed to be a given.
It's not.
This also shows how fragile a turnaround can be, in the sense that this went from a program that became competitive, but at times seemed to find ways to lose in 2015, to putting together a good-karma season a year ago when, until the very end, everything seemed to fall into place.
"We've lost two heartbreakers in a row, really, down to the wire," MacIntyre said, bringing up the defeat in the Rose Bowl to UCLA. "That's the way Pac 12 games go. Last year, I think we won five of them like that and we'll eventually win some more."
The biggest concern should be that this team is underachieving. Yes, despite the major losses on defense and everything else.
Starting with being outplayed and even physically beaten for much of the 17-3 Rocky Mountain Showdown win over Colorado State -- yes, under third-year coach Mike Bobo, the Rams are bona fide threats to win a Mountain West divisional title -- the Buffaloes have been largely unimpressive as a team.
Lindsay remains one of the right spots.
MacIntyre saluted Lindsay "for ... what he has done for our program, for the University of Colorado and the way he represents the University of Colorado and the way he represents the state of Colorado. For him to do that, go down in the history books forever, it'll be hard to break that all-purpose yards (record). It's stood for a long time. He's got at least seven more games, that's what we hope, so he could put it far in the area where they could bring him back every year and say, 'Here's Phillip Lindsay back.' His hair will be gray by then. I'm really happy for Phillip, how he battled it and how he fought. He was the first one talking in the locker room about what we needed to do and how we need to do it.
"They key now is you don't point fingers. That's what I talked to them about. You bond together."
For his part, Lindsay passed on talking about individual accomplishments. "I'd rather not talk about that right now," he said. "At the end of the day, we didn't get the win. That's what we wanted. We're going back to square one and get stuff rolling again. I'm proud of my teammates."
Lindsay bristled a bit when, with a preface about turning the corner in 2016, I asked if the Buffaloes through they were underachieving.
"You have to understand," he said. "You have people go, you have people leave for the NFL," he said. And he added: "If you guys don't like it, you don't have to be here. We're going to be all right."
Lakewood's Chad and Holly Sigg
on the night of terror in Las Vegas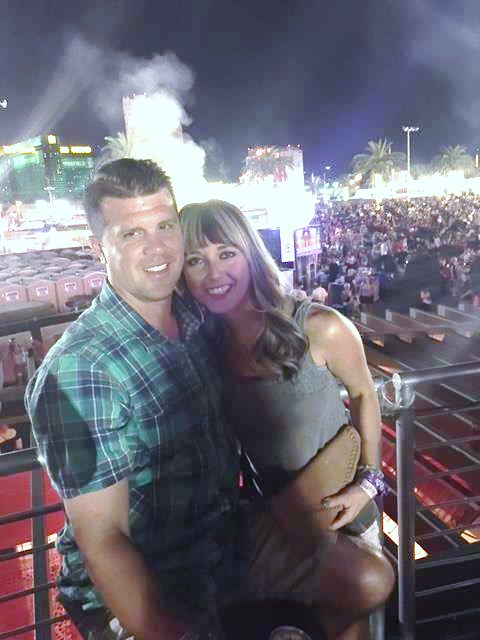 October 6
From a rooftop terrace perch above a bar area about 75 yards from the Route 91 Festival main stage Sunday night in Las Vegas, Lakewood couple Chad and Holly Sigg watched and listened as country star Jason Aldean performed his hit song, "When She Says Baby."
Suddenly, at about 10:05 Pacific Time: Pop.
Pop. Pop. Pop.
In the kitchen of his Lakewood home this week, Chad recalled wondering: "Is this part of the show?"
Aldean continued singing.
Chad quickly realized, no, this wasn't fireworks.
"That's gunfire!" he told Holly.
"Are you sure?" an incredulous Holly asked.
As the popping continued, Aldean stopped in mid-song and, with his band, left the stage.
"The stage went black and the screens went black and you could really hear the gunfire," Chad recalled.
As spectators near the front were hit and chaos ensued, Chad and Holly heeded the frantic exhortations to get down.
The small rooftop cocktail tables became shields, upended and placed at the front of the rooftop deck.
Chad and Holly dropped to the floor of the deck, and as they lay prone on their stomachs, they waited.
In terror.
* * *
Helen and I watched the Broncos-Raiders game Sunday at a small gathering at the Arvada home of dear friends LeAnne and Danny DiTirro. Danny is Longmont's fire battalion chief, LeAnne a former United Airlines flight attendant. They are Chad Sigg's parents.
As the game wound down, Leigh Ann Brewer arrived at the house, dropping off LeAnne and Danny's grandchildren, 8-year-old twins Cameron and Catelyn. Leigh Ann Brewer is Holly Sigg's mother.
The grandparents were taking turns with the twins for the weekend.
Why?
LeAnne DiTirro told us that Chad and Holly were out of town. Their trip was giving the grandparents on both sides, grandparents enamored of the twins, a chance to be with Catelyn and Cameron even more than usual. To maybe even hear the precocious Catelyn say that she doesn't enjoy attending Fireworks Night games at Coors Field as much as other games because those aren't the diehard Rockies fans. (How old is she? Eight, going on 27?)
The twins' parents were attending some country music festival.
In Las Vegas.
* * *
That night, as I did some writing, the horrific news began coming from Las Vegas shortly after 11, Mountain Time.
Active shooter. Country music festival. Two dead.
I told Helen.
For most of the rest of the night, we watched, fearful and horrified as the reported toll of dead and wounded mounted.
Damn.
Should Helen call LeAnne? Should she text? Should she ask?
Finally, at 7 a.m., Helen sent a carefully worded text to LeAnne.
Soon, we heard back.
Holly and Chad were OK. But shaken. That didn't make the news less horrifying, but the two we knew were there, were all right. One death was too many. Eventually, the toll ended up at 58.
Damn.
* * *
Chad, an Arvada West High graduate who played baseball at Fort Hays State in Kansas, is a Westminster firefighter who for the past 17 years has been an assistant baseball coach at Green Mountain. His former high school teammate, Brad Madden, was the head coach, but now that Madden recently shifted to Ralston Valley, Chad has decided to concentrate on coaching Cameron's team.
Holly is a peformance management lead for Deloitte Audit.
They are casual country music fans. Chad was a heavy metal aficianado growing up, favoring Metallica. He later would joke that when he played baseball at Fort Hays State, the music choices in town were country or Madonna's Greatest Hits. Chad grew to like both. Holly came aboard later, especially after the twins were born. It was fun and safe music to play in the car. Catelyn and Cameron liked to sing along, and that was both fun and important.
Holly and her cousin, Sara Brewer, are close. Earlier this year, the cousins mused about how much fun it would be to attend the Las Vegas festival. It was idle chat, but Holly's uncle, Dave Brewer, went ahead and bought four tickets to the three-day festival -- for him and Sara, Holly and Chad. One reason was that Holly's birthday is September 30, and that would be a Saturday, the middle day of the festival. Dave also lined up a suite for all four at the Mandalay Hotel, essentially diagonally across the street from the festival lot.
It was going to be a fun family trip.
* * *
Chad and Holly arrived in Las Vegas Friday morning. The all-event festival tickets didn't require all-session loyalty, and they planned to pick their spots -- and acts. That night, after a restful session at the pool, they went to the concert venue and listened to Lee Brice, the Brothers Osborne and the headliner for the evening, Eric Church.
The venue atmosphere -- essentially an open lot abutting Las Vegas Boulevard -- fascinated Holly.
The purple "G.A." bracelets -- for general admission -- could be linked to credit cards for easy purchases, including food and drink, on the grounds.
"It was like a combination of the Denver Stock Show and a concert," she said. "When you first got through the gates, they had the different booths where they were selling cowboy boots and jewelry, then the booths for drinks and food."
That first night, they accidentally stumbled across the general-admission vantage point they would favor the rest of the weekend. The popular spots were on the open artificial turf area, where concertgoers stood or otherwise staked out areas for their lawn chairs or blankets.
"On the side of the main stage, they had the VIP area, and right behind that, they had this makeshift bar, and on top of that, they had a rooftop patio," Chad said. "We went there for drinks and we stood with the crowd. We were far from the stage, but you could hear the music and they had the screens. We worked our way around to the back and there were security guards at the bottom of the stairs and at the top of the stairs. I just asked them if we could go up there, and they said sure, go up there and have fun."
On Saturday, Holly's birthday and the second day of the festival, Chad and Holly did some more pool time and worked out in the Mandalay Bay gym -- yes, they worked out ... in Las Vegas -- and watched Brett Young's performance on the main stage before celebrating Holly's birthday at dinner in the nearby Aria Hotel.
The next day, the priorities were clear: Chad and Holly wanted to make sure they were able to watch the Broncos face the Raiders. Chad placed a couple of bets (presumably on the Broncos) and picked up food from one of the hotel restaurants to bring back to the suite. They saw the Broncos pull out the 16-10 win over the Raiders in a game that ended shortly after Cameron and Catelyn arrived at their grandparents' home.
Dave and Sara Brewer took calls about a family emergency, and soon went to the Las Vegas airport -- McCarran International -- to head back to Denver.
Chad and Holly were on their own. They scrambled to get to the backup "Nashville" stage at the back of the venue to see up-and-coming country star Luke Combs. "We were really close," Holly said. "We had amazing spots. The kids and I are really into one of his songs. So we called them and Face Timed the kids so they could hear it live."
They headed toward the main stage area, seeing Jake Owen perform as they stood in the general admission area. They returned to the rooftop vantage point above the bar and far back, waiting for headliner Justin Aldean's appearance. Some country fans wore headphones and danced to "silent disco" songs only they could hear. Chad and Holly enjoyed the people watching.
Then Jason Aldean was on.
Soon, the gunfire began.
"You could see people panicking and running, especially on the far side of the stage," Chad said. "I told Holly, 'It sounds like it's coming from the Mandalay Bay.' And looking at the people and seeing where they were running, you could tell they're weren't running toward the fire. They were running away from it. You could hear the spraying of the bullets."
With the others on the rooftop, they got down and stayed down for several minutes. The shooting sounds came in bunches, off and on.
"I was thinking of my kids," Holly recalled.
They heard someone calling, "Metro says to get out of here!" Then, "Go! Go! Go!"
With the others, they scrambled down the stairs. Chad and Holly had entered the venue through the general admission gates on the north side, but workers now had opened one of the VIP gates along Las Vegas Boulevard.
"We were in this mass rush of people," Chad said.
He stopped when he and Holly came across a woman holding another woman who had blood on her. It wasn't her blood, though. Chad asked her if she was all right.
"My husband's been shot, my husband's been shot!" she said. She pointed to the pocket of Chad's shirt. "He was shot right there!" she cried. But her husband wasn't there, and the Siggs resumed their move to the VIP gate.
Once on the sidewalk, they hurried toward the Tropicana Hotel, to the north. From the pedestrian bridge at the intersection of Tropicana Avenue and Las Vegas Boulevard, they stopped and watched the first responders -- mostly police -- roll in and block off the area.
"People were going by, saying, 'What's going on, what's going on?'" Chad said. "People were trying to console each other or explain to each other what was going on."
The rest of the night was a jumble as it became more clear what the shooter had done.
Chad and Holly first went to the Luxor Hotel, connected by a walkway to the Mandalay Bay. They were stopped and told they couldn't go any farther, their hotel still was shut down and off limits. Those trying to get to the Mandalay Bay were herded in the area of the shut-down casino. They waited and began watching a local station's coverage on one of the televisions in the area. Chad found a remote on a deserted desk and turned up the sound. Others went into the hotel's theater.
Among the texts Chad and Holly sent was this one from Chad to his mother at 10:45.
"You still up?
When you hear something
We are okay
Mass shooting at the concert."
LeAnne and Danny hadn't yet heard what was going on. They wouldn't get much rest overnight, either.
Holly and Chad heard the "shooter down" statement on the coverage.
In the Luxor, emotions were frayed, with many next herded into the basement, into the buffet area. Chad and Holly eventually joined them briefly, saw many resting in the booths and noticed the smoky atmosphere. They went back upstairs to the casino area and from seats in front of slot machines, watched the television coverage and checked their cell phones, by now running low on battery power. Soon, a Metro police officer passed among them, trying to explain the possible next steps.
Chad and Holly soon decided to check the walkway to the Mandalay Bay. The entrance doors were open. So they walked back to their hotel, where the shooter had killed himself on the 32nd floor a few hours earlier. Metro officers met them as they came down the escalator and directed them to the Michael Jackson theater. By then, it was about 5 a.m. Chad and Holly waited in the theater's lobby.
Amazingly, Holly managed to get on the phone with a terrific Southwest Airlines agent and changed their flight home from 9:45 that morning to late afternoon.
Hearing and seeing the coverage, Chad asked himself if, knowing what he knew now, he could have run up toward the stage area -- into the most dangerous area -- and tried to help. But he didn't know then what he knew now.
"My main concern was getting Holly out," he recalled.
"You felt fortunate, but so horrendously sad," Holly said.
About 7:30, the hotel guests were told they could return to their rooms. Chad and Holly quickly decided to try and catch their original flight. They were staying on the 19th floor, and the bank of elevators to that area were open. The bank leading to the area of the 32nd floor, of course, was shut down and heavily guarded. They made it to their room, quickly packed and rushed back down. They were told they might be able to catch a taxi at the west valet area, but they were only trickling in. They ended up sharing a ride to the airport with another couple.
They made the 9:45 flight.
When they were reunited with the twins, the hugs were even tighter than usual.
RIP, Red Miller, A Ring of Famer
and Battler In Every Way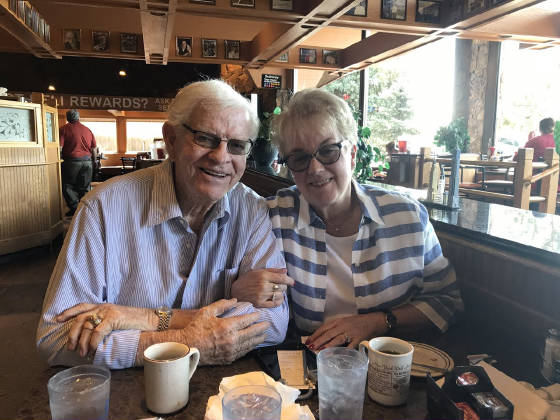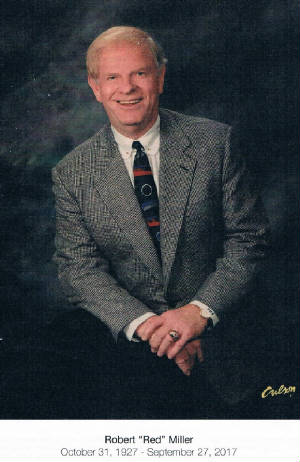 October 5
UPDATED
Red Miller, who had suffered a stroke nine days earlier while watching the end of the Broncos-Chargers game at home, passed away in the early morning hours on September 27, and his funeral in Greenwood Village today was a moving experience.
What a terrific man.
Mostly because of that magical 1977 Broncos season, his influence and role in the transformation of Denver from an outpost with an inferirity complex to a major market were significant -- almost to the point where it can't be overstated.
Thoughts and prayers go out to his wife, Nan; his son, Steve, and all the extended family.
At the Thursday service, Steve -- who like Red is a gifted pianist -- honored Red by playing "A Closer Walk With Thee" and "Somewhere Over the Rainbow," as well as offering memories of Red in a turn at the microphone. Nan also spoke, as did grandchildren Taylor, McLane, Bobby, Nick and Cory, and it all was touching. Many members of the '77 Broncos attended and Billy Thompson represented Red's former Bronco players in a turn at the microphone.
The above is Red and Nan when I had breakfast with them on August 23 at New York Deli News. We had an enjoyable conversation, and he already was looking forward to and excited about his induction into the Broncos' Ring of Fame at the November 19 game against the Cincinnati Bengals. The honor was both well-deserved and overdue, and it's unfortunate that it didn't come sooner.
Here's what I call the Quintessential Red -- Red being Red -- passage from '77, about the Raiders rivalry, as excerpted on a newspaper site after Red was named to the Ring of Fame. This is not meant to be a book plug. It is meant to tell you about Red. And what made him Red.
And this is an additional excerpt, about Red's background, including growing up in Macomb, Illinois as the son of a coal miner and scrambling for everything he had.
I'm proud to have told his story.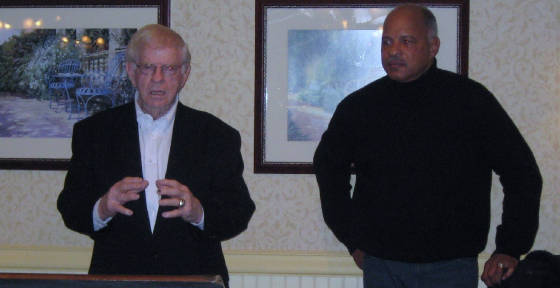 Red and Haven Moses, of the M&M Connection, in 2003.
Wounded in theater shootings,
CSU's Golditch reacts to Las Vegas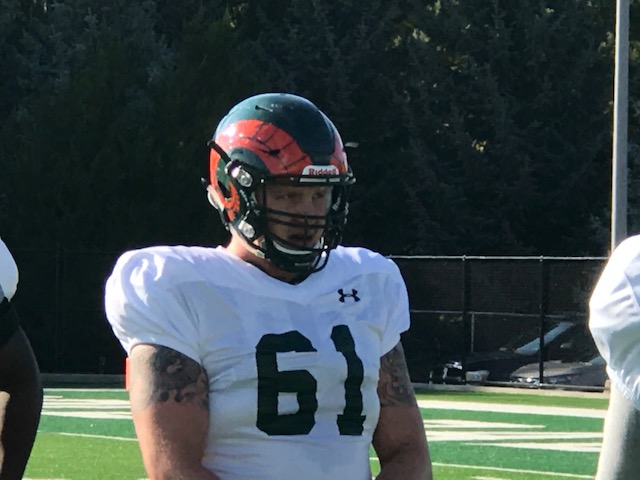 Zack Golditch at the Rams' Tuesday practice.
October 3
FORT COLLINS -- Colorado State offensive tackle Zack Golditch awakened Monday and on television spotted the terrible news.
"It was very tragic and my heart definitely goes out to those people affected by it," Golditch said after the Rams' practice Tuesday, when the death toll in the Las Vegas shootings was at 59.
"I know what those people are going through and I really feel for them, in all their situations. They're going through heartbreak. I don't know if anyone was affected the same way I was, so I can't really say much more, but I know they're struggling."
In July 2012, Golditch was a Gateway High senior-to-be when he attended midnight showings of "The Dark Knight Rises" at a multi-plex theater complex in Aurora. A deranged shooter opened fire in one theater, killing 12. Amid the horror and chaos, Golditch was among the 70 wounded. He was in the adjacent theater when shrapnel burst through the wall and struck him in the neck.
Because they were struck by fragments coming from the other theater, Golditch and two other wounded were the only victims whose injuries led to lesser-charge guilty pleas of second-degree attempted murder at the 2015 trial, and the killer was sentenced to 12 life sentences, plus 3,318 years.
When he later consented to speak about the trial and verdict during the 2015 football season, Golditch would only say, "Justice was served."
On Tuesday, as sad but heartening stories of heroism amid the Las Vegas horrors continued to be discovered and told, Golditch said, "You can always find some positivity in negative situations. For me, it was seeing the support from the community around me, the messages of love, people coming together after what happened."
Five years later, Golditch now is a redshirt senior for the Rams, and he and center Jake Bennett -- from Bear Creek -- anchor the CSU line for one of the most productive offenses in the nation, outside of the 17-3 loss to Colorado in the opener. Even the 41-23 loss to Alabama looks better each week, since the Crimson Tide allowed a total of three points in subsequent SEC wins over Mississippi and Vanderbilt.
"Zack has played awesome this year," CSU coach Mike Bobo said Tuesday. "We've talked about him a lot the last couple of weeks. He's an unselfish guy, he's moved around. He's played right tackle, left tackle, he's played guard. He's playing at a high level for us. He's got really good technique. He's got a little bit tougher. He's always had toughness, so maybe the word I'm looking is that he's a little bit nastier in trying to finish here in ballgames."
Golditch said the offensive line "definitely has room to improve. It seems like we're breaking in a shoe this year. It's like you kind of wear a shoe a couple of days and it feels good, but it's not really broken in. We're starting to understand the big picture of things, we're starting to bring guys along.
"That's not just on the offensive line, it's on the backfield, Nick (Stevens), the receivers, defense. The defense is definitely stepping up big this season. I think our upside is what we want to make it. I think we have the potential to do great things in this conference. I think we have the potential to play our best, every Saturday. Everybody."
And after all, it's just football.
Catching up with the Finns: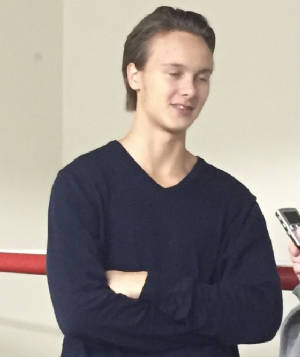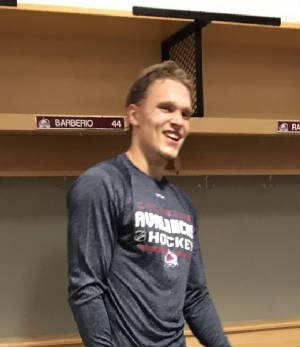 DU's Henrik Borgstrom Avalanche's Mikko Rantanen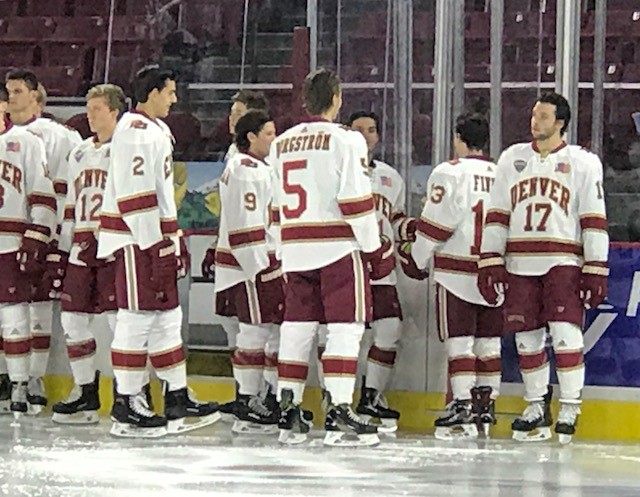 Henrik Borgstrom (5) and his Pioneer teammates before the team picture was taken Tuesday.
After ruling out "one and done,"
Borgstrom is back with Pioneers
September 26
There were times last season, during the University of Denver's NCAA title run, when I'd catch myself wondering: How did Pioneers freshman center Henrik Borgstrom ever last until the Florida Panthers claimed him with the 23rd choice of the 2016 NHL draft?
And not only that, how did he go unclaimed the year before, his first year of draft eligibility?
Even on a team with eventual Hobey Baker Award winner Will Butcher and World Junior Championships American hero Troy Terry, plus other players that helped make the Pioneers a terrific blend of talent, character, grit and chemistry, Borgstrom often took over games.
He was only 19 and looked young enough to be counting down the days to the driver's license test. Listed at 6-foot-3 and 185, he was lanky and in need of being locked in the weight room.
He was playing thousands of miles from home, something European players become accustomed to, but only after that year of two of coping with the culture shock and their second languages as everyday communication, especially testing when that also includes university classrooms.
After piling up 22 goals and 43 points in 37 games as a freshman, Borgstrom is back for a second season with the Pioneers, ruling out a one-and-done scenario that would have been similar to Tyson Jost, the No. 10 pick last year, signing with the Avalanche after his freshman season at North Dakota and joining Colorado for the stretch run. It wasn't shocking, given that his physical immaturity was obvious, including to the Panthers. But Borgstrom returning still is a huge boost to the Pioneers' chances of repeating.
"I don't think I was ever too close," Borgstrom said Tuesday at Magness Arena. "In my mind, I had a clear picture of this year and in my opinion, I just needed a year of two more. . . I even talked with Florida, but I kind of knew I wanted to come back and I don't think I'm ready to go there yet. I want to be confident about myself."
The intriguing complication was that Montgomery, the ex-NHL journeyman forward who won't move on to coach in the NHL unless it's on his terms and in the right spot, interviewed for the Panthers' head-coaching opening that eventually went to former Avalanche defenseman Bob Boughner, an assistant with the San Jose Sharks last season.
"At first, the team was waiting for him to make his move," Borgstrom said. "But he has built this program and I feel like he's so smart, he knows so much about hockey, it was scary if he would have left. We're so happy he came back, too."
Borgstrom added he "would have considered" signing with Florida if Montgomery had taken the Panthers' job, but it's worth noting that even as an NHL coach, Montgomery likely would have considered it best for Borgstrom -- and his NHL organization -- in the long run to play at least one more season of NCAA hockey.
"It would have changed a lot," Borgstrom said of a possible Montgomery departure. "Monty was the guy who recruited me here, with (assistant) David Carle. I kind of thought who would be the next coach and stuff like that. You have to go over all that stuff and it was kind of scary."
On Tuesday, Montgomery noted of Borgstrom: "It's amazing how much strength he's put on. I think the biggest thing is for him to gain that professional consistency, coming every day to get better. It's scary what he can be if he attains that simple goal, I don't think he really can be stopped."
A recent bout with mononucleosis after his return to Denver in August temporarily derailed Borgstrom's offseason conditioning program.

"I actually put on 10 pounds in the summer, but I lost it. Once I got back here, I got sick and I wasnt able to eat or anything," he said. "I'm trying to get that weight back. I felt strong. I still feel stronger than last year, for sure, but I want to get that rate back. I feel better right now."
So now the quest is for a repeat, a daunting task in any sport -- and any level.
"Our goal is to win another 'natty,' and that's the first thing in my mind," Borgstrom said. "That's why a lot of players, guys like (Evan) Jansen and Troy (Terry), they decided to come back, too, to accomplish the same thing. Personally what I want to do is be a better hockey player this season, more consistent all the time and be at my best level every night. I know that's possible. I just have to get a focus a lot better in certain games."
There probably was more of a chance that Terry, the Highlands ranch product who was Anaheim's fifth-round choice in 2015, would sign over the summer, but he also is back and a candidate to play for the U.S. Olympic team in South Korea early next year.
"He had a great season last year and this season obviously we have a special team again here at the university," Borgstrom said. "It's a great opportunity for him to represent his country again. I don't know if he can be more of a hero (than in the WJC last season) after last year, but hopefully he can do it."

Rantanen hoping to build on
solid rookie season for Avalanche
September 24
When Mikko Rantanen scored six goals in his final eight games of Colorado's horrible 2016-17 season, the Avalanche at least avoided the additional embarrassment of not having a single 20-goal scorer.
Goals at Dallas and St. Louis on the season-ending road trip left Rantanen with 20 on the nose, and I talked with him about it in the visiting locker room at the Scottrade Center after the final game. There was a certain symmetry to the accomplishment, too, since the Finnish rookie was -- and still is -- only 20.
"Of course, it's a good milestone," Rantanen said. "But it's such a tough season for the team, it's tough to be too happy. I'll try to do it more often too."
Rantanen managed to reach 20 goals despite suffering an ankle injury suffered in a rookie showcase game against San Jose, missing training camp and then starting the season at San Antonio on what amounted to a four-game rehab and conditioning assignment. He also missed two of Colorado's final 10 games with a lower body injury before returning for that final two-game road trip.
If the young Finn is the Avalanche's leading goal-scorer again this season, that won't be a good sign. That's got little to do with Rantanen himself, but more to do with the expectations and necessity for Nathan MacKinnon, Matt Duchene (if he isn't traded) and Gabe Landeskog to greatly improve on their production in mostly horrific and underachieving years. As the 10th overall choice of the 2015 draft who spent most of his first pro year going through indoctrination to the North American game in the AHL at San Antonio, Rantanen is on track to perhaps threaten the 30-goal barrier this season.
He had his first goal of the exhibition season Sunday night in a 5-1 win over the Minnesota Wild at the Pepsi Center.
"It's hard to say," Rantanen said after the game. "I never try to say how many goals I'm going to score. I just want to play hard and if it comes, it comes."
Last season, Ratanen's emergence was one of the few positives in what was the NHL's worst single-season performance since the 1999-2000 Atlanta Thrashers stumbled to 39 points ... as a first-year expansion franchise.
"The sky's the limit for Mikko," Avalanche coach Jared Bednar said after the rout of the Wild. "I have high expectations for him. He's not going to sneak up on anybody now. So he's going to get the other team's best defenders every night, which he did for the most part last year as well. He's going to play a lot of minutes and we want to use him properly. For me, I think he can become more consistent. We've got to make sure he's pushing the pace for our team on a nightly basis, for every period and every shift."
Rantanen is playing on a MacKinnon-centered line, and that seems likely to remain the case when the Avalanche opens the regular-season with a three-game trip to face the New York Rangers, New Jersey Devils and Boston Bruins.
"I want to get better all-around, defensively, too," Rantanen said. "I want to be more effective in the O-zone, too, to help the team and try to get more possession time. That's what we need as a group and if you are on the power play, that needs to be better, too. We're younger and we're faster, too, and the game is going that way, where you need a lot of fast guys to build on. We have that and it's going to be an exciting season."
As general manager Joe Sakic promised last season, the Avalanche has jettisoned marginal -- or worse -- veteran talent and gotten both younger and faster. What that will translate to in the standings is far from certain, but Rantanen more is among contemporaries this season than he was when he was the "kid" in 2016-17.
"I don't think I'm going to be playing a lot different," he said. "I'll be playing smarter, only because I know the league better. I know what to expect, so it will be easier this year. Everybody knows what last season was, so we have to forget it and go forward. I think everybody's hungry to win this year and get some crowds back."
Buffs likely would have won, anyway,
but officials ruined the Showdown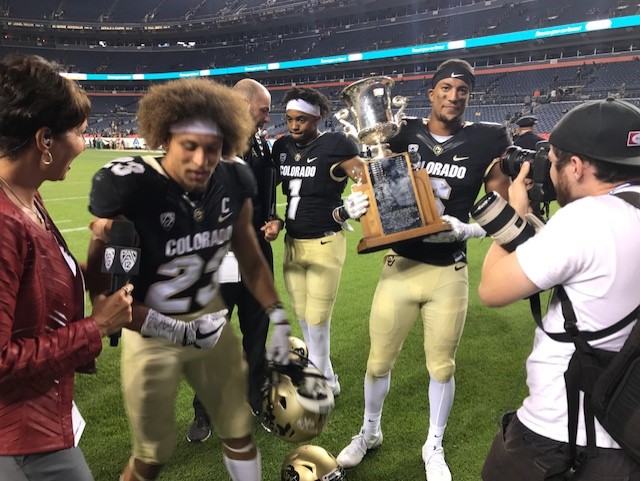 Buffs Phillip Lindsay and Shay Fields as defensive back Evan Worthington holds the Centennial Trophy postgame.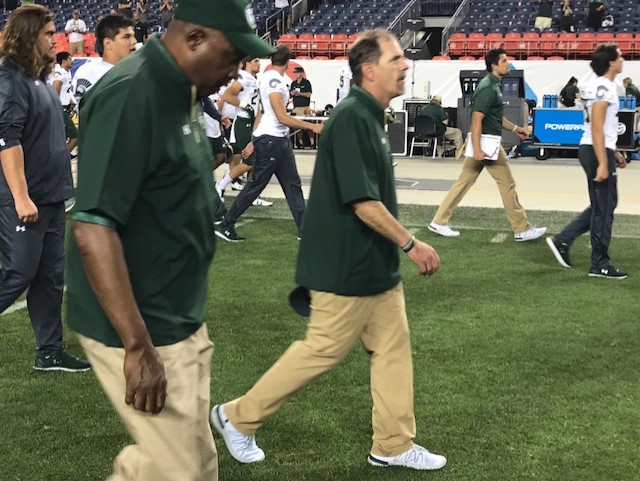 Mike Bobo was not a happy man coming off the field after the game -- and it wasn't (just) about his team's play.
September 1, 2017
Late in the third quarter of the Rocky Mountain Showdown Friday night at Mile High Stadium, after an offensive pass interference call on Colorado State wide receiver Michael Gallup wiped out his catch and a 33-yard gain to the Colorado 15, the Rams called timeout.
Clearly, the major reason was to provide Rams coach Mike Bobo a chance to let the Pac 12 officiating crew know that this was getting ridiculous.
It was the third offensive pass interefence call on the Rams, and the earlier ones negated CSU gains of 17 yards to the CU 9 in the first quarter and 27 yards for an apparent score two plays earlier in the third. Those Nick Stevens completions went to Olabisi Johnson and Detrich Clark, respectively, who drew the interference calls. And to add to the frustration for CSU, an apparent Stevens 40-yard TD pass to Johnson two plays after the interference call on Clark also was negated because of a CSU personal foul on guard Jeff Taylor for illegal hands to the face.
The interference penalties ranged from marginal to, well, head-scratching perplexing in what turned out to be the Buffs' 17-3 win.
None of them should have been called.
I'm not sure I've ever written this before because I usually disdain this approach, whether from media, fans, players or coaches.
The officials took over the game and ruined it.
It's most common in basketball, but aggravating in any sport.
After the Buffaloes won, their celebration after collecting the Centennial Cup -- curiously, sans any significant ceremony -- was surprisingly low-key. Yes, the Buffs celebrated. Yes, they probably are the better team. Yes, they likely would have won without those calls, and even if, say, Johnson's catch had stood up to get the Rams to within 17-10, the dynamic would have changed and with more of a sense of urgency, CU might have responded offensively.
But that TD suddenly would have made it more interesting.
After the scoreless second half, CSU ended up outgaining the Buffs 397-345 on a night when the announced attendance of 73,932 -- given the many obvious blocks of empty seats in the stadium that seats 76, 125 -- led to raised eyebrows, too. When the game ended, contrary to what I wrote in the piece between this one, Bobo and CU's Mike MacIntyre's handshake was perfunctory at best. Bobo was peeved. Not at MacIntyre, but peeved. To be fair, and to be clear, this was not just about the officiating, but it entered into it. And when Bobo opened the floor for questions in his post-game news conference, I noted that he had used that timeout to express his opinion to the officials, then asked him what he said and what he thought of the officiating.
"It's like, Terry, like I just told our football team," he said. "We talk about having a standard, and our standard is edge ... and excuse-free. We don't make excuses. We let other people make them for us. We didn't win the ballgame, so we didn't do what we came here to do."
MacIntyre eventually got around to praising the CSU defense and highly respected defensive coordinator Marty English, but he didn't exactly jump on the chance to say, hey, that was a pretty good football team the Buffs had just beaten. That doesn't offend me and I mention it only because it was so noticeable and a departure from what I expected to hear. Yes, this is an in-state rivalry and sharp-edged, but I wondered if Bobo's brusqueness after the game entered into it. And to MacIntyre's credit, he didn't try to sell any malarkey about the calls being justified.
"The calls go either way all the time," MacIntyre said. "We all watch it on film and calls always can go either way. There is no doubt about it. You never complain about the officiating. We have a quote at CU: No excuses, no regrets."
It was CU's opener, and it showed. But now the Buffs have a couple of walkovers coming up -- against Texas State and Northern Colorado -- before the conference opener against Washington in Boulder on Sept. 23.
Bobo wasn't grinning about this, but he noted that after the 44-7 loss to the Buffs a year ago, he wasn't sure what kind of team he had -- and set about finding out in throwing-against-air practices as he challenged the Rams. Now, CSU has gone 1-1 against Pac 12 teams in the first two weeks and this has done nothing to diminish expectations that the Rams -- with a favorable conference schedule and a down division -- will contend for the Mountain West's Mountain Division title.
NOTE ON PLAY-BY-PLAY
Here's the play-by-play listing for the offensive pass interference call on the Rams in the first quarter:


Later, the play-by-plays have differing versions of the third-quarter Stevens-to-Detrich Clark pass, two plays before another P.I. call on Johnson negated a touchdown. Here's the one handed out after the game, showing Stevens-to-Clark was a 22-yard play to the 5.

And here's the (correct) one transmitted by email, showing it was a 27-yard TD called back.

They could carpool to banquets:
The Rival(ry's) coaches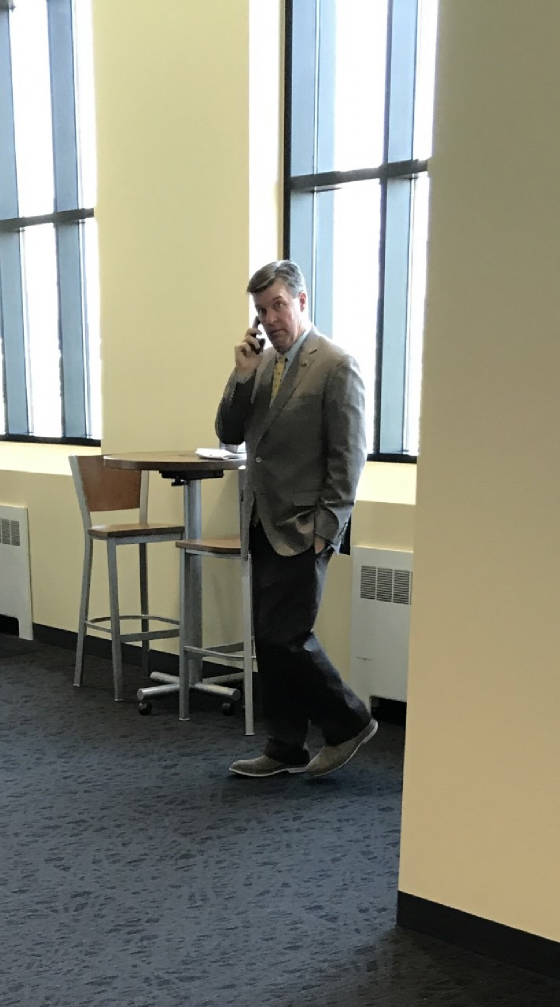 Part of the week's obligations: Mike MacIntyre does a radio interview after his Tuesday news conference.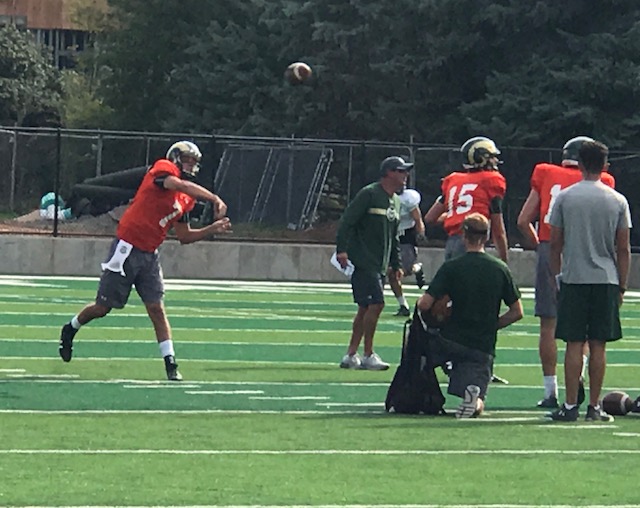 In Fort Collins Tueday, Rams quarterback Nick Stevens throws in the early part of practice
with Mike Bobo standing by with the practice plan in hand.
August 31, 2017
FORT COLLINS -- Several times a year, Colorado's Mike MacIntyre and Colorado State's Mike Bobo end up at the same banquets, luncheons or other functions.
It is not often enough to cultivate a friendship, nor are the circumstances conducive to encouraging it.
And now on Friday night, they will shake hands and make small talk on the field at Mile High Stadium before the game, and then after it's over, again briefly wish each other the best of the luck the rest of the season before one heads to the dressing room and the other prepares to accept the rivalry trophy with his raucous team gathered around him.
This week, I asked both coaches on Tuesday -- one in Boulder, one in Fort Collins -- their feeling for the state of the rivalry.
"I've said for a long time, it's a 365-day-a-year rivalry," MacIntyre said. "I saw a guy the other night at the thing I had to speak at, he showed me a picture of an outfit he had to wear to work (when CSU won). He said, 'Coach, I don't want to have to wear this outfit again.' ... You have little things like, little ribbins. I even had one person who said they lived in Fort Collins znd every time CSU beats CU, they get letters about going to a funeral. It's just one of those things, it reverberates throughout the state. You have little side things like that all the time that make it more of a rivalry. I think it's pretty cool, pretty fun."
In Bobo's case, it involves seeking to a checkmark, since the Rams are 0-2 in the rivalry under him. (The Buffs are 3-1 against CSU under MacIntyre.)
"We need to win it to make it a rivalry," Bobo said. "Since I've been here, we haven't won. That would help, to go out and perform well and find a way to win a ballgame. But it's definitely a rivalry, it's Colorado-Colorado State, it's the two schools in state, and we play it in Mile High Stadium and there's going to be 70,000-plus people there, and that tells you the importance of the game. There's passion for both sides, for both those fan bases. As the head football coach when you're addressing your football team, you want them to play well, for yourself, your university and your fan base."
None of that moved the needle, and as both coaches tended to the media details in the shortened week, the themes remained consistent, not quite as scripted as if being read off a teleprompter, but close to it. Bobo tends to be more shoot-from-the-hip and spontaneous in his conversations with the media, but the switch from more informal standing post-practice availabilities in the hallway in the Moby Arena complex to the stage and table in the new stadium's home team interview room has led to him slightly toning down that approach. But both were being careful this week, diplomatic, complimentary. As as coaches, yes, MacIntyre and Bobo know what the other is going through, about the commonality of the experience, and that in this case has led to mutual respect.
The rivalry is scheduled for three more meetings -- in 2018 and 2019 in Denver and 2020 in Fort Collins -- before shutting down for at least two seasons. I've been on record for many years that the game belongs on the campuses, not in Denver, and now that CSU based its stadium campaign on extolling the on-campus gameday experience, the staging in Denver makes even less sense. However, if this week's game is a terrific show, on every level, the selling of this game as a bit like -- not exactly like, but like -- Georgia-Florida in Jacksonville or Texas-Oklahoma in Dallas again is more credible.
There is room on the non-conference schedules for a home-and-home series in 2023 and 2024, and a gentlemen's agreement is in place on that, if not signatures. Also, I don't rule out something happening to reconfigure the 2019 Colorado schedule, with the Buffs' "home" game against the Rams moving from Denver to Boulder, and the Sept. 7 game against Nebraska -- the second in the home-and-home against the Cornhuskers in the revival of that rivalry -- moving from Boulder to Denver.
And nearly six years later ...
Colorado State opens its stadium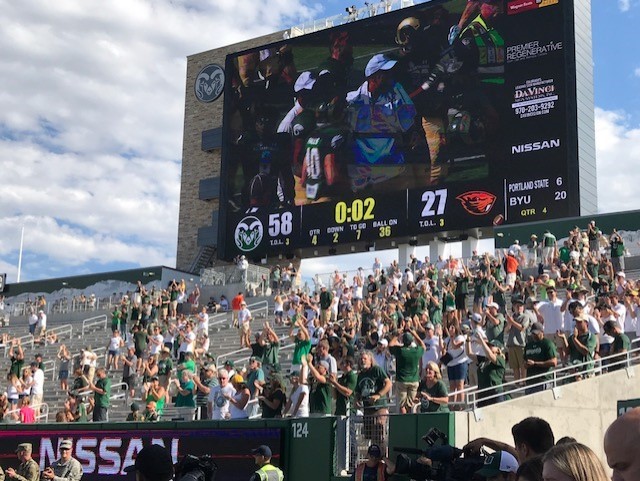 The final seconds roll off the clock.
August 27, 2017
FORT COLLINS -- As the Oregon State-Colorado State kickoff approached Saturday at the Rams' new on-campus stadium, I found the story online and thought back to my chat with school president Tony Frank in his office in December 2011.
(An aside: From here on, until CSU sells the naming rights to the stadium, I'm just going to call it Sonny Lubick Field. The $20-million contribution over 30 years to transfer the Sonny Lubick Field designation from Hughes Stadium to the new facility was roughly what CSU hoped to get for naming rights, anyway, helping explain why the school is willing to wait for the right offer for the stadium name. Folsom Field works for Colorado. Sonny Lubick Field can work for Colorado State, at least until the naming rights are sold.)
A few weeks before my talk with Frank, prominent alumnus, former quarterback and booster Jack Graham had reacted to athletic director Paul Kowalczyk's pitch to him to contribute to upgrading the Hall of Fame room at Moby Arena by saying that wasn't a difference maker.
A difference-maker, Graham said, would be … get this … an on-campus football stadium. Soon, he was extolling the project to Frank.
This is part of the transcript of my conversation with Frank a month later.
FRANK: "When Jack came to me [in mid-November] and was saying, 'You know, this Moby idea that I've been pitched to contribute to is interesting, but I don't think it changes the game. I think what would change the game is an on-campus stadium.' And he started talking about the big view for athletics and some of his experiences that he'd had and what had led him to talking about this…He said, 'I would like to lead the effort to raise the funds to build an on-campus stadium.' So we talked about that for a while and I said, 'Let me think about that a little bit.' And the more I thought about it, the more I thought, 'This is exactly the sort of thing I'm looking for.'
"So I went back and met with him the next week … I said, 'The on-campus stadium is great, I think it's a great project, but I don't think it's a game-changer. The game-changer is a cultural change in athletics and that starts from the athletic director down. I'm thinking of making a change there and are you interested?'"
FREI: Can we anticipate an on-campus stadium?
FRANK: "Well, I think we'll try hard to get there. Immediately, when you say something like that, people say, 'Where are you going to get the money?' We don't know. We haven't raised a penny for it. There's not been a cent committed. And, 'Where will you put it?' At this point, I have people in Facilities going, 'Really? An on-campus stadium? OK…and what exactly can we tear down?' So we're going to have to figure out a place to make that work and what that looks like. I don't know if we'll get there or not. I think we'll try hard, because I do think that would be a big factor. One of the things I do think about that is the idea of recreating that college game day atmosphere where your alumni are coming back, bringing their kids, and people are coming to your campus. You can get somebody out of Denver, with a high school kid, and they can say, 'Hey, let's go up and watch the CSU game, and while they're here, they could see this campus.' We have this great campus and what a great way to get people on it. Even if we were successful and start really packing people in at Hughes, the people who aren't from CSU are never going to connect to this campus, never are going to see that. So I don't know if we're going to get there or not. We're going to try hard."
CSU pulled it off.
Six years later, Sonny Lubick Field opened.
Wedging it in among other coverage duties at the newspaper, I extensively covered and opined through the process, much of the time from 2015 on finding ways to schedule myself for CSU coverage around Avalanche coverage. I wrote about the stadium process through forums, board of governors meetings, controversies, steps forward, steps back, and the ultimate green-lighting of the project on December 6, 2014, and then the construction.
And Saturday, the first game.
The Rams were impressive in the 58-27 pummeling of Oregon State, with Nick Stevens throwing for 334 yards and three touchdowns -- quite a contrast to the disastrous season-opening performance against Colorado a year that led to him being pulled and losing the starting job until freshman Collin Hill suffered a season-ending knee injury against Utah State on Oct. 8. CSU has elite talent at wide receiver, most notably Michael Gallup, and the problem won't be scoring points. The defense gave up 333 yards to Oregon State in the first half before playing well in the second, coming up with Tre Thomas' game-breaking 44-yard interception return for a touchdown to open up a 34-20 lead.
I asked both Stevens and senior center Jake Bennett what that first=game experience was like, especially considering that if they keep coming back, they can still be bragging in their 50s that they played in the stadium's first game.
"It was incredible," Stevens said. "Like you said, there's only one first game here, so you're a part of history of the stadium forever. Haley (Nick's wife) bought me a brick on my birthday last year so our names are on the stadium forever. That's a real cool deal when you can have something that's going to be here forever. We';re obviously not going to build another one of these in five years, so you're legacy is going to be here for awhile. So it was really, really an awesome atmosphere, and I'm glad it turned out the way it did."
Said Bennett, from Lakewood's Bear Creek High School: "Right now, I think it's damn cool. I played in the last game at Hughes, the first one here and I can also say that we won both. It's just something special for me and something I'll be able to tell in my glory years later down the road."
Graham, the proud parent, was there. Fact is, as bitter as their parting was -- and it was, and still is, more bitter than publicly disclosed -- the stadium would not have been built without the combined efforts of these two men. Shepherding the project through the labyrinth approval process couldn't have been pulled off by anyone but Frank, with his deep reservoir of credibility and record of success at CSU, and if he had accepted another job before the green lighting, the 2017 opener might have been at Hughes Stadium Saturday.
Graham's idea and energy were indispensable, of course, and John Morris -- first Graham's deputy, then his interim successor -- made crucial contributions that helped keep the project from unraveling. And even Jim McElwain -- yes, Jim McElwain -- had a hand in it, since without that remarkable 10-2 season in 2014 as the Board of Governors were about to decide the fate of the stadium proposal, it would have been much harder to gain approval.
And late Saturday afternoon, McElwain's successor -- Mike Bobo -- looked out at the assembled media in the home team interview room at field level and appropriately opened with: "First of all, I just wanted to say how excited I am for this university, this community, the Fort Collins community, our fan base. It was an awesome day to be a Ram."
Oregon State is going to have a hard time avoiding the Pac 12 North cellar, but the Beavers were a major test of legitimacy for the Rams. If they weren't good enough to beat the Beavers on this emotional opening day, they would have had no shot at beating the Buffaloes in the Rocky Mountain Showdown Friday night and a painful 1-3 start would have been looming. Now, with CU playing its opener and the Rams having a game in the book, this shapes up even more as a competitive, fun night at Mile High Stadium (yes, that too) -- regardless of which team wins.
The stadium? There still are a few bugs in the system, and the major one was that concession lines were intimidatingly long. That can be taken care of, though. Traffic was no worse than conventional football game-day traffic, and in fact, the drive from Denver to the stadium -- albeit with the plan to arrive at least two hours before the game -- actually took less time than it does on a business or school weekday, given Fort Collins' growth, weekday traffic and the fact that the entire city seems to be under construction.
Long-term, the Rams' hope to get to the Big 12 or otherwise break into a Power 5 league, or to become the powerhouse of the Mountain West, took a huge step forward Saturday. Attaining the latter might lead to the former. The stadium was in progress when league officials interviewed CSU and other possible expansion candidates, so it already has come into play as a selling point.
Unfortunately, in the college football arms race, nothing is stagnant. Oregon's showcase facilities not long ago were the gold standard. But the Ducks two years ago opened up a new football operations building connected to Autzen Stadium. So many other schools, including CU, have upgraded existing stadiums and built new facilities to go with them. New gets old fast. Now, with CSU's football facilities, including adjacent practice fields, concentrated at the stadium, the trick is going to be to stay on top of things.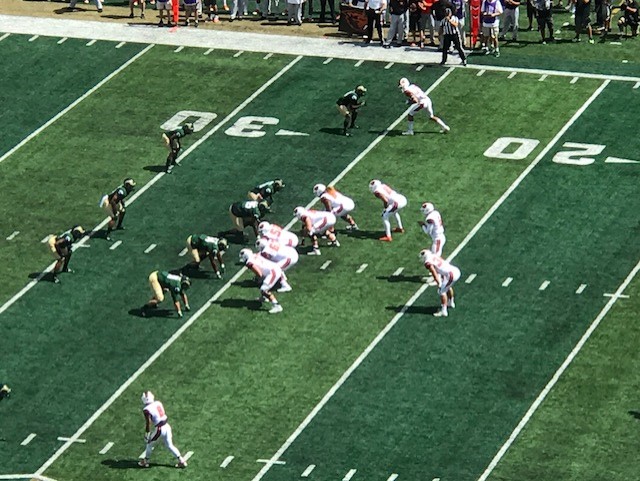 The Beavers are about to run the first play from scrimmage in the new stadium.
Ryan Nall (34) ran for one yard.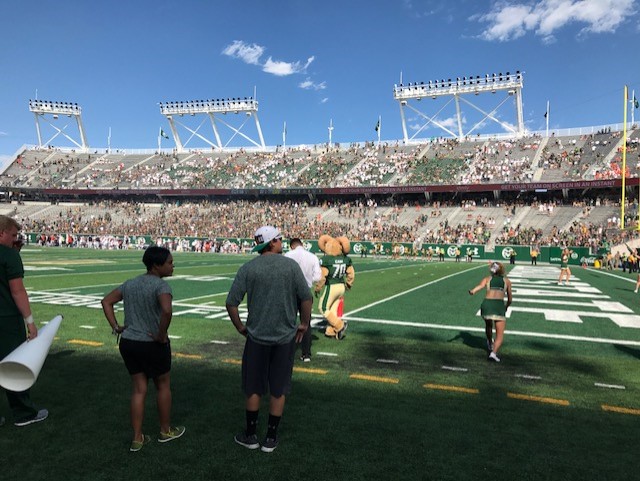 From the field late in the game. As CU has known for years, and CSU discovered Saturday,
one of the perils of putting the stadium next to the library is that when the games get
out of hand, students rush off to study. (That's the story and we're sticking to it.)
Mike Bobo post-game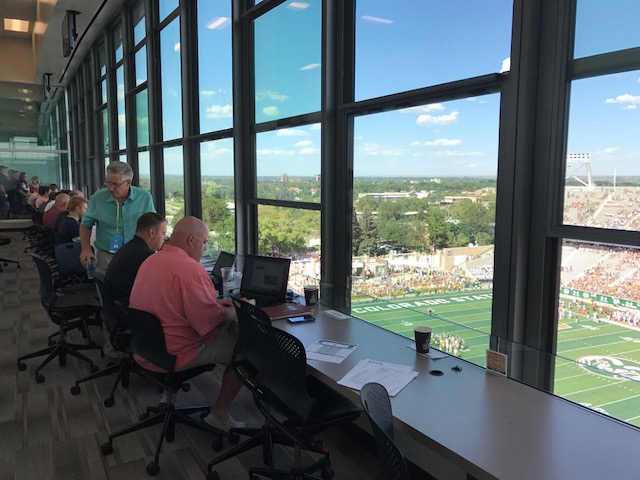 Front row of the new press box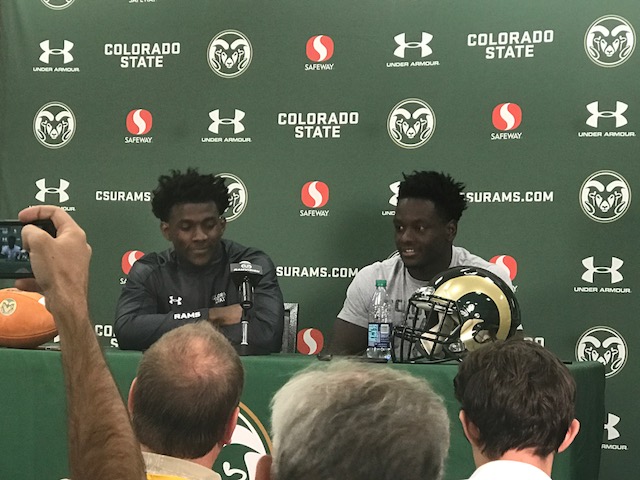 Wide receivers Detrich Clark and Michael Gallup in the interview room.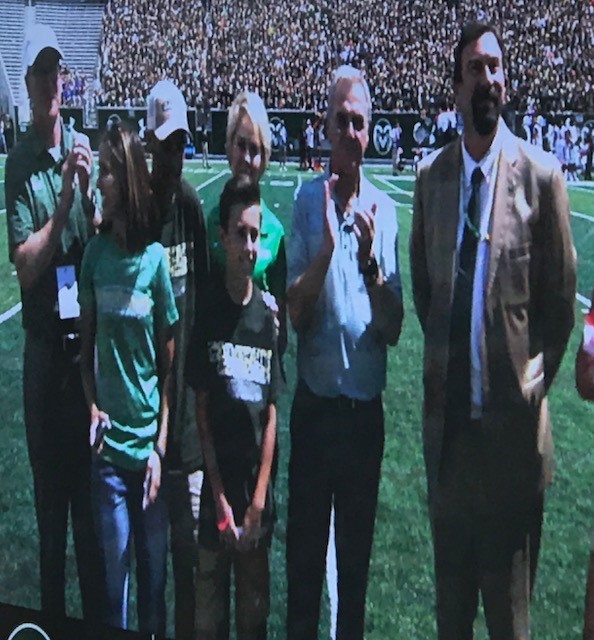 Scoreboard shot of Sonny Lubick, as in Sonny Lubick Field, with Tony Frank.
My story on the $20-million donation that enabled the Sonny Lubick
Field designation to be transferred to the new stadium.
Blog with full transcript of that December 2011 interview
My June 2012 column on no turning back on stadium project
My February 2013 column on Jack Graham
On "Frozen":
Let Her Sing, Let Her Sing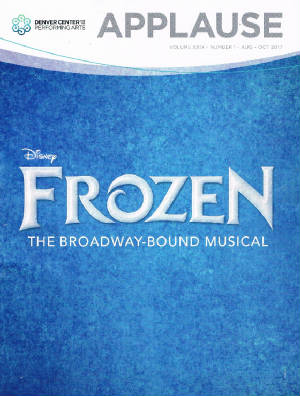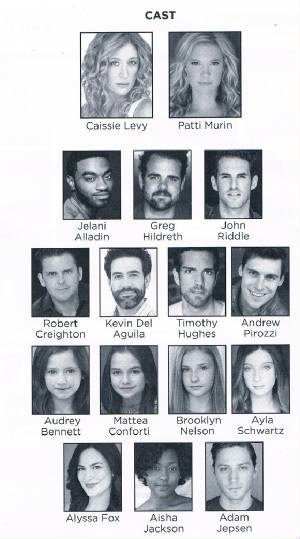 August 25, 2017
Checking in with the Rams:
We're talking about practice ... fields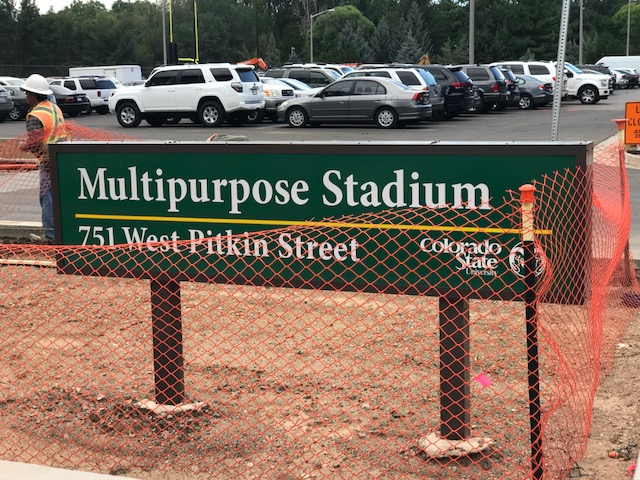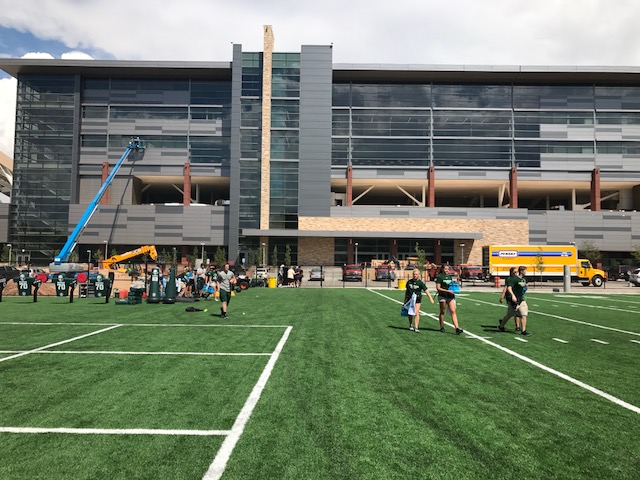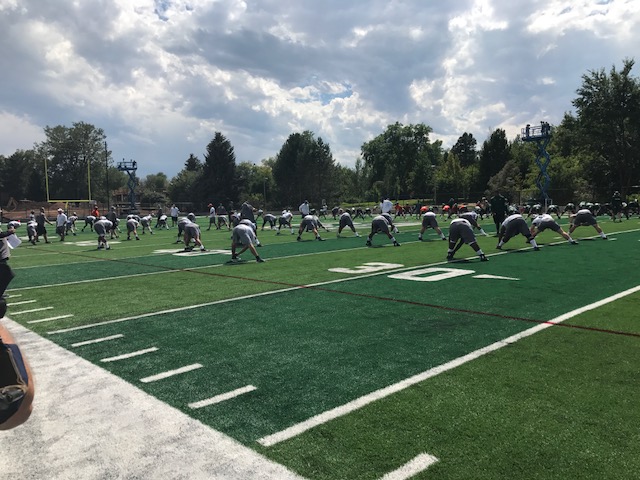 The new practice fields, against the backdrop of the west side of the stadium.
FORT COLLINS -- With the days counting down before the Multipurpose Stadium's first game, against Oregon State on August 26, I attended a Colorado State practice on the artificial turf fields just west of the stadium.
With the stadium understandably getting much of the attention, this has been underplayed: These are the practice fields that, at least in theory, might not have been.
They weren't locked in as part of the original plan, and CSU hoped to keep the project within spending constraints that would enable the practice fields to be an "add-on" while keeping the bonded indebtedness within the original budgeted amount.
Here's what athletic director Joe Parker told me in May in advance of president Tony Frank's updating report to the CSU board of governors: "We bought some things off our 'add-alternate' list with contingency dollars, including the practice fields on the west side and a couple of other pieces. The practice fields never were in the project to begin with, and that was the one thing we wanted to make sure we could add, if we managed the project well. It's an almost $3 million investment."
Let's be realistic: After going through all of this, CSU would have searched for virtually any way possible to get the practice fields into the stadium project.
Maneuver through that labyrinth and then have the Rams continue to practice on inadequate fields next to Moby Arena, or perhaps other nearby areas on campus, and not next to the stadium? I'm assuming the Rams still would have dressed for practice and been headquartered in the plush new quarters at the stadium, but the walk would have been, well, a pain.
To the public, it would have been no more an eyebrow-raising curiosity, and it certainly wouldn't have diluted the enthusiasm over the stadium, but to the Rams program itself, it would have been a slight asterisk amid the euphoria. A plush new house with a carport instead of a garage. A nice new car with a stupid donut spare tire. (Oh ... they all come that way?) "Hamilton" tickets for the night after Lin-Manuel Miranda left his show.
Because of the geography around the stadium -- with Lake Avenue near the southern side and Pitkin Avenue at the northern side -- there wasn't unlimited space for the new practice fields, and Mike Bobo will have to make do with what amounts to a field and a half of artificial turf, as opposed to roughly twice as much space on the grass and artificial turf fields next to Moby.
I asked Bobo whether the lesser practice space affected anything he and his staff could try to do.
"It does a little bit," he said. "But I actually like the closeness of everybody, on the practice fields. We had a lot of space, but parts of the practice fields were so far away, sometimes we weren't as crisp when we changed between periods or (when) we changed drills. We're able to fly around a little bit more. We're always going to be moving at practice. I felt more energy. And the biggest reason is I like the surface. The surface is 10 times better, many times better than the surface there. It was hard for our guys to go fast and keep their feet. So this surface helps us a lot."
Senior tackle Zack Golditch, from Aurora's Gateway High, noted: "I don't feel we need tons of space. We have our field and another field next to it. Offense and defense, you only really need two fields. The turf is amazing, the facilities are amazing, and I think it will change the program. It's something we even saw this first day of practice. And now, when you think about the vidoes and the graphics years ago about what this place was going to look like, it looks exactly what it was supposed to look like. I don't think it's teally hit me yet, but it's incredible. And to be able to practice right there and to visualize ourselves playing in there August 26, it's pretty cool. To be from Colorado and to be able to open the stadium, I think that will be a life-long memory."
So, no, it isn't just the stadium on game day. But building this place is a huge step forward on the overall facilities front, too.
"I think that you can build team chemistry a lot faster when you have a facility where guys aren't here just to lift and are then going straight home," said quarterback Nick Stevens. "There's guys around everywhere, the new locker room, the new players' lounge, and I see guys going into the weight room a lot more motivated to do extra work and stay around because the facilities are so nice, they kind of want to get the most use out of it. It helps chemistry-wise, that's for sure."
Within the past two years, I've toured the upgraded football facilities at both Oregon and Colorado as part of existing stadiums, and CSU's new digs in the new stadium itself are in the same league -- figuratively, not literally. Including the practice fields. Everything's in one place.