March 21, 2021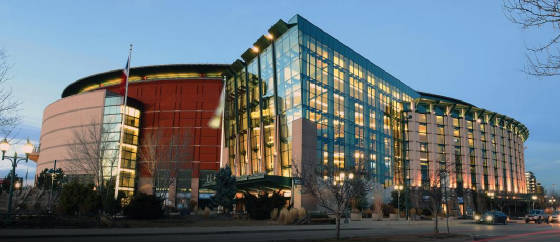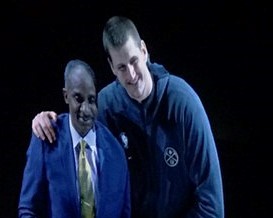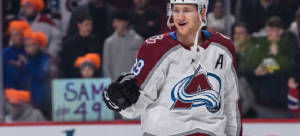 Left: Denver's only first-team NBA All-star team choices . . . 41 years apart.
Right: Nathan MacKinnon.
Handicappping and promoting Nikola Jokic's MVP candidacy is a favored topic of conversation in Colorado.
As it should be.
But, to me, this tends to be underplayed: In Jokic and the Avalanche's Nathan MacKinnon, Denver has the top tandem of NHL and NBA stars playing in the same market.
Yes, there, Denver is a slam-dunk, empty-net No. 1.
I'm confident that isn't cheerleading, new-wave "fan-alism," attempting to pander to a fan base that in many cases sees through it.
Much of it is the eye test, but here's something concrete: No other market had players on both of the official first- or second-team NBA and NHL All-Star teams after the 2019-20 season.
Jokic and MacKinnon both were second-team choices last season.
Go back another season, to 2018-19, and Jokic was the Nuggets first first-team choice since David Thompson in 1978. (For fun: He joined Truck Robinson, Julius Erving, George Gervin ... and Bill Walton, who suffered a broken foot with 20 games remaining, also sat out the entire next season and never was the same the rest of his career.)
For 2020-21, Jokic's MVP chances have improved of late, with the 76ers' Joel Embiid out indefinitely with a bone bruise in his knee and the Lakers' LeBron James missing time with a high ankle sprain.
The other possibilities include Damian Lillard of the Trail Blazers; Steph Curry of the Warriors; two-time reigning MVP Giannis Antetokounmpo of the Bucks, who also now will miss at least one game with a sprained knee; James Harden of the Nets; Luka Doncic of the Mavericks; and Kawhi Leonard of the Clippers.
On the hockey side, MacKinnon -- actually a decent former hoops player in Halifax and an NBA fan -- hasn't slipped after he finished second in the Hart Trophy voting to New Jersey's Taylor Hall in 2018. He has missed four games this season, but his 32 points still are 18th in the league. Plus, he has been instrumental in creating opportunities for linemates Mikko Rantanen, who has 17 goals, and Gabriel Landeskog (9) .
It is unfortunate that Jokic and MacKinnon have been doing this somewhat in the dark in Denver.
The Nuggets and Avalanche have been alternating appearances at Ball Arena minus fans in the building and without widespread distribution of the Altitude television broadcasts.
That'll change in April -- at least on the crowd front. The television troubles seem destined to continue.
A maximum of 4,050 ticketholders will be allowed in the seats in the long-anticipated loosening of the COVID-19 protocols. On Nuggets' nights, they'll be chanting, "MVP, MVP ..." On Avalanche nights, they could sing, "You gotta have Hart..." (Sorry. I couldn't resist.)
It will be interesting to see the breakdown of the fans willing to enter the building at this point, even with only roughly 22 percent of the seats filled.
Will the majority have fought masks, social distancing, restaurant and bar restrictions, and even disdained vaccinations?
I say that because even with increased numbers of potential fans managing to obtain vaccinations -- one shot or two, already or soon -- it still seems prudent to ask: We've waited this long ... what's the rush now? Why not wait until next season? Equating this to allowing 12,500 for Rockies games at Coors Field is ridiculous, given it's an open-air stadium and at last check the roof on the local arena wasn't removed in the name-change transition.
This is far down the list of prioritized concerns, but Colorado largely has been missing great shows.
With the best NHL/NBA market tandem there is.
Here's my unscientific -- meaning there isn't a points system -- ranking of 16 markets with both hockey and hoops. I used a bit of license in the New York and Los Angeles metro areas to have two-team pairs -- Lakers/Kings, Clippers/Ducks (that's the biggest stretch), Nets/Islanders (actually, both Long Island), and Knicks/Rangers. This season, there's also the asterisk of the Raptors playing out of Tampa, where they's sharing an arena with the Lightning. But I left them paired with the Maple Leafs here. And the player choices are instinctive, considering both star power and whether they (still) are a team's best player.
Also, with barely half of the NBA and NHL teams involved, some great players won't be on the list. Antetokounmpo and Connor McDavid, for example. Final disclaimer: I was trying to balance the NBA and NHL considerations, meaning that if markets seem ranked low despite having a superstar, it's because the representative from the other sport isn't as prominent on that league's marquee.
1, DENVER
Nuggets: Nikola Jokic
Avalanche: Nathan MacKinnon
2, LOS ANGELES
Lakers: LeBron James
Kings: Drew Doughty
3, CHICAGO
Bulls: Zach LaVine
Blackhawks: Patrick Kane
4, WASHINGTON
Wizards: Bradley Beal
Capitals: Alex Ovechkin
5, DALLAS
Mavericks: Luka Doncic
Stars: Joe Pavelski
6, BOSTON
Celtics: Jayson Tatum
Bruins: David Pastrnak
7, SAN FRANCISCO BAY AREA
Warriors: Steph Curry
Sharks: Brent Burns
8, TORONTO
Raptors: Pascal Siakam
Maple Leafs: Auston Matthews
9, PHILADELPHIA
76ers: Joel Embiid
Flyers: James van Riemsdyk
10, MIAMI
Heat: Jimmy Butler
Panthers: Aleksander Barkov
11, NEW YORK
Knicks: Julius Randle
Rangers: Artemi Panarin
12, LONG ISLAND
Nets: James Harden
Islanders: Matthew Barzal
13, SOUTHERN CALIFORNIA
Clippers: Kawhi Leonard
Ducks: Rickard Rakell
14, MINNEAPOLIS/ST. PAUL
Timberwolves: Karl-Anthony Towns
Wild: Ryan Suter
15, PHOENIX
Suns: Devin Booker
Coyotes: Conor Garland
16, DETROIT
Pistons: Jerami Grant
Red Wings: Dylan Larkin