For Terry Frei's On the Colorado Scene commentaries, go here
Guest commentaries
Scroll down for:
September 7: Jeff Morton on Altitude vs. Comcast/DISH/DirecTV
July 8: Jeff Morton on Nuggets trade
June 21: Jeff Morton on Nuggets draft(s)
June 17: Jeff Morton on the Anthony Davis trade
June 12: Ryan Boulding on Ryan O'Reilly
June 4: Jeff Morton on Raptors exec Masai Ujiri
May 24: Ryan Boulding on what Pavel Francouz signing means
May 23: Ryan Boulding on Avalanche's offseason options.
May 20: Jeff Morton on the Nuggets' Tim Connelly melodrama.
By Jeff Morton:
Look down at the sand:
Kroenke, KSE, Altitude
have drawn a line in it
September 7, 2019
In late August of this year Altitude TV -- which broadcasts Denver Nuggets, Colorado Avalanche, Colorado Rapids and Colorado Mammoth games -- announced it was in danger of being pulled off the air by "The Big 3."
Specifically, Comcast, DirecTV and the Denver-based Dish Network, all with expiring five-year contracts to carry the Stan Kroenke-owned network, planned to remove Altitude from their basic cable packages.
The plight of regional sports networks, or RSNs, has been laid out ad-nauseum since the Altitude announcement, so I won't go over the fractious history -- other than to say the RSN model is and has always been a money pit for big cable/satellite providers; and that it's not exactly a money maker for those that own a solitary network like Kroenke Sports and Entertainment.
The way to make a profit with RSN's is to own multiple networks and use your weight as leverage against the so-called Big 3.
No one wants to hear a sob story about billionaires losing money to other billionaires, myself included. (Stan Kroenke's net worth is listed as $9.8 billion.)
It's not a way to gain sympathy and Altitude's gambit to involve the public in protesting to to carriers, primarily Comcast, isn't sustainable.
Once games start being missed it becomes a pox on both houses.
Since Altitude doesn't own multiple stations and networks, ala Sinclair, the leverage isn't what Altitude and KSE would want it to be.
It's just reality.
The changing media market has been hard to navigate and the public has yet to decide where they want their sports to be viewed. Fans generally prefer to watch games from the comfort of their homes, which is why sports attendance in arena/stadium has dropped a bit.
At the same time many still have traditional cable and satellite in their homes but have been increasingly adding streaming options. Hulu, Amazon Prime and Netflix are the most popular, with the Google-owned YouTube TV right behind them. This has been largely supplemental and hasn't yet replaced regular cable/satellite viewing.
Yet...
You can feel a change coming and it will happen whether the Big 3 or even KSE and Altitude want to admit it.
Today, the higher ups at Altitude admitted they are mulling options such as Amazon Prime to buttress their dispute with the Big 3. This would be a positive step if it was a serious exploration of the avenue of streaming.
Let's be perfectly frank. The public wants options to view sports. Viewers want what is convenient to THEM not what makes the most money. In the public view, if consumers have the option to view streaming, and that is their preferred way of indulging in their sports content, then that option should be and should have been available to them. Likely long before now.
While Altitude has flirted with streaming via Altitude NOW it was linked to cable/satellite subscriptions and was primarily for mobile devices -- and not as an "option," but more as an extension.
The Big 3, make no mistake, are trying to squeeze Altitude into going onto a sports tier for a number of reasons. The primary one is the recent advent of their own RSN's.
AT&T Sports Network (who owns DirecTV) and Comcast RSN's (Comcast) are ostensibly in competition with the likes of Altitude and would very much like their own networks to get preferential treatment. Additionally (and unfortunately for KSE) the contracts with all Big 3 distributors expired within a week of each other, leaving Altitude with little recourse to rely on one.
Are the Big 3 colluding? Sure seems like it to me!
Do they care? Not in the slightest!
This is a blatant and in some ways inevitable power play by providers whose main motive is a bald-faced attempt to diminish the Altitude product under the guise of poor ratings, which actually were increasing for both the Nuggets and Avs the last season.
The Big 3 know that placing Altitude on a sports tier where it is jumbled in with other channels you likely don't want to purchase or have anything to do with will diminish Altitude's reach and therefore increase their own RSN's. That's obvious.
It's also obvious that KSE's owner, Enos Stanley Kroenke, is a determined negotiator and tends to prefer to win every deal he is a part of. That's been his history going back 20 years. The likelihood of Kroenke accepting a deal where Altitude is severely diminished as a viable network is very unlikely.
So where do they go from here?
That exploration of a partnership with Amazon Prime would be a great start for Altitude, with the expectation that they lose money for a few years.
If the Big 3 are going to force you onto a sports tier package, then a partnership with a company the size of Amazon would actually take much of the sting out of such relegation ... IF it is sincere and serious.
Altitude then would be a bit of a sports viewing pioneer when it comes to major professional sports. And that would be pretty cool.
Unless there is a big break through on the cable/satellite front this could be a pathway to autonomy for Altitude and the KSE affiliated teams.
My friend Terry Frei believes that there will be a deal struck between the morning skate and airtime of the Avalanche's Oct. 3 opener, against Calgary at the Pepsi Center.
I hope he's right, or close, and that cooler heads prevail before real damage is done to up-and-coming teams -- the Nuggets and Avalanche -- and their fan bases.
This is a tense time for fans of all the KSE affiliated teams and it could be a harbinger of a new and bold frontier for sports viewership.
Or it could be you pay to watch Nuggets and Avalanche games while also getting The Do It Yourself Network or the Cooking with Glassware Network. We shall see.
The clock is ticking.
By Jeff Morton:
Trading for Thunder's
Jerami Grant is a major
step forward for Nuggets
July 8, 2019
There's wishful thinking. There's reality. Then there is a fortunate collision of circumstance that results in what amounts to a gift landing in your lap.
You can be excused if you believe the last factor has graced the Denver Nuggets this Monday morning in July.
There was great frustration expressed when the Nuggets decided to "run it back" (in today's social media parlance) by picking up Paul Millsap's $30 million option for next season as well as signing Jamal Murray to the largest max contract in Nuggets history. While teams all around the Nuggets were making big moves to acquire big free agents and making trades to improve their team, the Nuggets were taking care of their own.
You are forgiven for getting swept up that in the swirl and excitement that is the NBA between the Draft and the opening days of free agency.
After the team decided to extend the qualifying offer to forward Trey Lyles, who was so bad last season he was a minus every time he stepped on the floor (the only Nuggets player with that distinction) people were resigned that the run it back squad was going to contend with a suddenly deeper and more competitive Western Conference. I can see "Run it Back Squad" being printed up as t-shirts as we speak.
Then low and behold something happened on the way to a ho-hum offseason of wondering if Michael Porter Jr. could be healthy enough to start the season:
Kawhi Leonard signed with the Los Angeles Clippers AND in a stroke of business savvy managed to convince both Paul George and the Oklahoma City Thunder into trading George to the Clippers as well.
This was fortunate, my friends.
An offseason that was as surreal as John Carpenter's last horror masterpiece In the Mouth of Madness is suddenly looking more like Assault on Precinct 13 with every single contending team in the NBA's West loading up for a titanic battle. The Nuggets took advantage of OKC's Paul George misfortune and desperate need to vacate salary cap tax territory and turned it into their own upgrade by trading for Combo Forward Jerami Grant in exchange for a top 10-protected 2020 First Round pick. This allowed the Nuggets to rescind their qualifying offer to Trey Lyles.
This move, while not an acquisition of a superstar is actually, in some way, better for where the Nuggets are heading with internal development. The team has been lacking defensive depth at the power forward slot and Grant would provide size, length and athleticism that the team lacked last season (made painfully obvious by the inability to guard Portland Trail Blazers forward Rodney Hood who's exact skill appeared to be being taller than the Nuggets other wing players).
Where fans should be encouraged is -- despite the fact that the team didn't make any substantial moves in free agency -- they were patient enough to see that something would shake up. Now, lets not be foolish here. There was some tremendous luck involved as the Thunder were caught up in a player power-play that stripped them of their best player from last season. This isn't something that comes along very often, and the Nuggets were definitely the beneficiary, sending away a first round pick that would surely be very late in the round.
This move is encouraging. The team proved that it saw it's need and addressed a good portion of it. Grant can be a contributing player on both offense and defense without sacrificing the core of what makes the Nuggets special as constituted.
So while the team was lucky, no doubt, they took advantage of their opportunity to buy low on a good YOUNG player who can fit what they do.
Things just got that much more interesting.
By Jeff Morton:
NBA picks aren't risky.
But Bol comes with
lots of question marks
June 21, 2019
No draft picks are, inherently, a
risk
in the NBA.
Anyone who equates ANY pick as risky in the modern league is either projecting or being this side of myopic.
Since the NBA instituted a rookie pay scale and maximum salary structure during the 1998 lockout, no pick can ever be called a risk.
Hell, even Michael Porter Jr. and his tenuous back situation isn't risky.
Rookies make (comparatively) so little money compared to their veteran counterparts, even first round picks won't foul you up forever if they turn out to be busts.

(Hello, Tyler Lydon.)
Because rookies make so little, even if you overreach on a draft pick, it's not franchise-destroying. Why not? If you're terrible you can correct yourself the next season with a better pick.
Case in point: I still don't know what the Cleveland Cavaliers were thinking when they claimed Anthony Bennett with the first pick in 2013, but they clearly they didn't care by the time they had lured LeBron James back the following year.

On Thursday night, the Nuggets traded for the 44th pick in the NBA draft from the Miami Heat. They paid what is known as "cash considerations" and a promise of a future (as yet undefined) 2nd round pick for inured 7'2" Oregon center and Manute Bol progeny Bol Bol, who is named after his grandfather, Bol Bol Chol.
A projected lottery pick, Bol fell that far into the second round of the NBA draft and (like the previous draft featuring MPJ) right into the Nuggets' lap.

I spoke to several people around the scouting community late on draft night and early Friday morning, gathering as much information on Bol as I could. It was a personal quest to find out why he fell that far. Nearly to a man, they said "feet" and some variant of "Yao Ming" or "Bill Walton."
So there was real fear that Bol's foot injury, which cost him most of his season at Oregon, would foreshadow other foot related ailments. At any rate, it was something that clearly (and late in the process) spooked all but one NBA team.

One source I spoke to said, "It's more about the potential of re-injury than anything else. Feels like teams were spooked."
I asked if it was a risky pick for the Nuggets.
"Not at all, in fact, like Porter Jr. the year before he landed in just about the most perfect situation for him to flourish," the source said. "They didn't need him immediately and they can let him come back slowly. Getting Bol in the second round, at that spot, was pretty much the best thing for both the Nuggets and Bol himself. If Bol comes back healthy and can play for extended stretches, he has the potential to be really special."

He's not a risk in the slightest.
Where and how the Nuggets acquired the immensely talented Bol, especially considering they had no draft pick this year, was a
coup d'etat
and shows how fortunate the Nuggets organization and fans are that President of Basketball Operations Tim Connelly chose to stay in Denver.
Where Nuggets fans need to be cautious (as opposed to deeming picks a risk) is when it comes to the health of both MPJ and Bol is when they come back, and also tempering immediate expectations of what they can do right off the bat. Both are long term projects that needed time when they were drafted and will
likely
need time to work themselves into not only basketball shape but NBA level shape. Then their health will be ably monitored by the Nuggets training staff.
Because the Nuggets have Nikola Jokic on the roster, and to a lesser extent at the moment, Jamal Murray, they can afford to take a flyer on these projects. They are players who, if they work out, can take the Nuggets to an even higher level than they are right now. With the imminent NBA Summer League stint of MPJ in Las Vegas, anticipation (rightfully) is building. Maybe the same can be said for Bol when he is deemed healthy enough to play.
It isn't a risk to bank on upside in a league where rookie salaries are so manageable. Maybe it's just about tempering expectations until you can see what they can do?
I know that's what I will do.
Jeff Morton's Colorado Sports Guys/Mortcast podcast
By Jeff Morton:
Is Anthony Davis to
Lakers a big deal ...
for the Nuggets?
June 17, 2019

On Friday night, the New Orleans Pelicans traded Anthony Davis to the Los Angeles Lakers for a bevy of young players, including Lonzo Ball -- and, presumably, his father Lavar -- plus three first round picks.
That's quite a haul for the Pelicans, who had been battling Davis and his agent's desire to get him the the Lakers and their unwillingness to deal with former agent-turned-Lakers GM Rob Pelinka.

Nevertheless the long-expected trade got completed. That was to the relief of those directly involved, but also to the consternation of those in the Wester Conferemce, considering the Lakers now feature both LeBron James and Davis. That will launch the Lakers into a contending spot -- something they most definitely
didn't
occupy last season.
That is probably an understatement.
The trade raises a question involving the NBA team that occupies the Pepsi Center in the winter: Did the Denver Nuggets take a big step back in the Western Conference pecking order without having done anything?
The answer, predictably, is both yes and no.
Neither the Nuggets nor any other NBA team should base decisions and force actions -- and force -- decisions on the fact that another franchise loaded up.
What other teams do shouldn't affect how you build your team.
However, the combination of Davis and James did change the calculations for EVERYONE in the NBA Western Conference.
That's what happened when Kareem Abdul Jabar was traded from the Bucks to the Lakers in 1975. Teams didn't whither and die just because Kareem went west. Teams still played their games and the Lakers didn't win their first title of the Kareem era until after Magic Johnson was drafted following the 1979 season.
Just because Davis was sent to the Lakers doesn't mean this team is destined to replace the suddenly vulnerable Golden State Warriors in the West.
It just creates another challenge.

How the Nuggets respond to their own challenges and situations will be key.
Privately, brass will tell you they are really excited about Michael Porter Jr., the 2018 first round draft pick who sat out the whole season. They are encouraged greatly by his workouts and his progression from back surgery last year. How that affects the team in the upcoming season is another question.
Undoubtedly, Porter will be eased back into game action. He hasn't played any meaningful basketball outside of two University of Missouri games in two years.
Watching the (very fortunate) Toronto Raptors win the NBA title this season, beating the injury-riddled Warriors in the Finals, after gambling on a trade for Kawhi Leonard -- which very well could work out to a one-year rental.

Will more teams take the Masai Ujiri approach of gambling for a one-year payoff? That is something else to consider. Winning a championship validates any approach, even if a repeat seems extremely unlikely.

I don't get the sense that the Nuggets are terribly concerned about the Davis trade to the Lakers. And why should they be?
They were the No. 2 Western Conference seed in a year where the Warriors were (largely) still the Warriors.
The notion is to keep doing what you're doing until you finally break through.
That way of thinking wears out in this league, though. If the Nuggets count on internal growth this next season and they take a step or a couple steps back what will that reaction be? How will they proceed?
Sometimes your window closes quicker than you think and faster than you know. The Nuggets went from the Western Conference Finals in 2009, to out in the first round due to a collision of unfortunate circumstances.
That time to compete is finite and the key to building the next step for this Nuggets team is understanding when your window is open and take the next step. Otherwise you may end up left to the NBA memory banks.

The Nuggets believe they know exactly what to do. Now, the trick is do it -- and see if it works.
Jeff Morton's Colorado Sports Guys/Mortcast podcast
By Ryan Boulding:
Ryan O'Reilly is a
champion, deserving
Smythe choice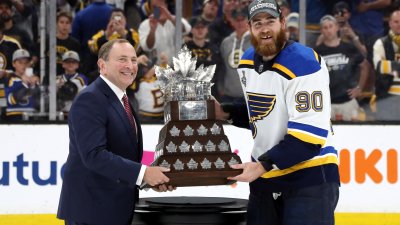 Left to right: Gary Bettman, the Conn Smythe Trophy, and Ryan O'Reilly
June 12, 2019
First of all, let me say congratulations to the St. Louis Blues and the Boston Bruins on one hell of an entertaining, exciting, and tense Stanley Cup Final. The effort from both sides was top-notch the whole way.
There were also some incredible storylines to follow throughout the playoffs.
Zdeno Chara playing through a broken jaw, and likely Vince Dunn as well, is not only commendable but insanely dedicated. Pat Maroon taking a discount to return to his hometown, where his son was living, puts a bow on a tender moment. The fact that the Blues went from last in the league in early January to winners of the top prize in June is nearly impossible to comprehend.
And let's be honest, the city of St. Louis landing its first-ever Stanley Cup is certainly more enjoyable than watching the city of Boston take home another title.
Now to the meat of the column: Congratulations to Ryan O'Reilly, the Conn Smythe winner as the playoff MVP.
It's OK for those in Colorado to be happy about his accomplishment.
Considered somewhat of a profane phrase in Avalancheland, mentioning O'Reilly often means being met with one of two emotions from those who fanatically cheer the burgundy and blue.
There's vitriol from those who still feel a lingering sense of betrayal at the way things played out with the man who wore No. 37 in Colorado for three seasons before donning his signature No. 90 in 2012. Then there's those who are lost in the void of the question of what could have been had things not gone sour.
Both are steeped in the fact that "Factor," or "Radar," depending on whom you ask, certainly was a fan favorite during his five and a half seasons — if you count the lockout shortened 2012-13 — with the Avs.
He stormed out of the 2009 NHL Entry Draft, where he went 33rd overall, to become the youngest player in team history to make his NHL debut and never looked back. The Clinton, Ontario, native put up 246 points (90 goals, 156 assists) with Colorado before a tenuous situation with management finally boiled over ahead of the 2015 NHL Draft.
It was during this stretch where O'Reilly began to blossom into the Selke Trophy-worthy flower that he is today, a likeness of Patrice Bergeron on either side of the puck. He could play offense, he could play defense, he could play center or wing. He would run the bleachers in Pepsi Center after games, win or lose, just to constantly keep improving. He didn't rest on his green laurels. He could stay out of the penalty box and he wanted to get paid fairly for his services.
Unwilling to take a bridge deal, as had fellow 2009 draftee Matt Duchene, O'Reilly entered a contract holdout situation after his entry-level deal expired in 2012. The lockout didn't help negotiations, and when word came down from on high that the season would be played from the half-way point on, O'Reilly was still waiting for an equitable offer. He was playing in the KHL during the work stoppage, and there he remained for a time when many of his fellow sojourners returned to their betrothed squads.
That detail is important, because it very nearly played a disastrous role in what followed.
After returning to Canada to train for an eventual return, O'Reilly received an offer sheet -- an NHL rarity -- from the Calgary Flames. That put Colorado in panic mode. The Avs had to quickly decide, on a night when they were facing none other than the Flames at home, whether to keep the young talent or let a then division rival have him at the hefty price of a deluge of draft picks. The organization matched the two-year, $10 million offer and looked to move on, though neither club was cognizant of the fact that O'Reilly would have had to clear waivers had he signed with the Flames, and that meant the Columbus Blue Jackets — last in the NHL at the time — could have claimed him for free.
I still remember the awkward press conferences from Avs general manager Greg Sherman, downstairs, and Flames boss Jay Feaster, upstairs in the press box.
"You can't play hockey forever," O'Reilly told us members of the media after it was over. "It's a business and you've got to get as much as you can when you can."
While it was a reasonable concept from a young man thrust into the professional sports spotlight and handed dump truck loads of money, that mentality didn't play well in the communist-like world of sports fandom. Either you're all rowing in the mutual direction of winning a Stanley Cup, for the greater good, or you're not worth the expensive jersey your name is printed on.
And after a couple more years and a salary arbitration to preempt another testy negotiation, O'Reilly's stature within the organization had slipped to the point that he was traded to the Buffalo Sabres, along with Jamie McGinn, for Nikita Zadorov, J.T. Compher, Mikhail Grigorenko, and a draft pick that would become A.J. Greer after a trade with the San Jose.
Even for those mad about O'Reilly being "difficult over money," there was no denying that his departure eventually helped Colorado get to where it is today — a team that made a legitimate push in the postseason.
And while it's easy to buy the public-facing narrative of him being more worried about money than the team, it would be folly not to think that there was more going on behind the scenes — perhaps including a lack of belief in the longevity of his particular talents.
It wasn't all sunshine and roses for him from there, as things tend not to be for young people learning their way in the world. Shortly after landing a hefty seven-tear, $52.5 million contract from Buffalo, the 24-year-old was charged with driving while ability impaired and failing to stay at the scene of a crime after crashing his truck into a Tim Hortons in Ontario.
O'Reilly looked to put the incident and the jokes -- they last to this day -- behind him as he did what he did best in Buffalo, but team success would remain elusive.
Now would be a good time to mention an awkward interaction I had with O'Reilly at the 2016 NHL Draft in Buffalo while at at a local beverage establishment.
The kind and humble person that he is, O'Reilly joined me and some colleagues for some chit chat before mentioning he would be driving back to Ontario with his wife, Dayna, for the summer.
As we were leaving, as any well-meaning though somewhat socially awkward person might say to another planning a road trip, I told him to drive safe.
His reply was, "Oh yeah, because of the Tim Hortons thing?"
Foot-in-mouth backpedalling from yours truly followed.
Hard work, dedication, leadership, relentless drive, and a friendly Canadian demeanor can only get you so far out on the ice in a team sport, and after a series of frustrating seasons, O'Reilly reached rock bottom.
"I feel throughout the year I've lost the love of the game multiple times and I need to get back to it because it's just eating myself up," he told the Buffalo media at the end of the season.
Honesty of that caliber is rarely rewarded in this league, and despite reiterating that he wanted to stay in New York, he was traded to the St. Louis Blues.
Woe would continue for the Sabres, who not only missed the postseason again after a strong start, but also saw one trade piece, Patrik Berglund, go missing in action from the team before showing up in Sweden, contract voided, in perhaps the weirdest story from the NHL this year.
O'Reilly was on to his third team in just nine seasons. Many questioned how effective he really was. His team again struggled mightily in the first half of the year and then suddenly things came together. Early campaign fights were forgotten, hot rookie goaltender Jordan Binnington stepped up and became a keystone for the club, and O'Reilly went ahead and had his best year to date with 77 points (28 goals, 49 assists) in 82 regular-season games.
From there, the Blues didn't stop. O'Reilly led (tied) playoff players with 23 points (eight goals, 15 assists) in 26 games as his squad went 16-10 to take Lord Stanley's chalice home to Missouri.
It's an incredible story for an outstanding guy, and it's OK and safe and fair for Avalanche fans to feel happy for a former player that was near and dear to them once upon a time. There's no questioning your loyalty or judgement for appreciating someone of his ilk.
Despite the holdout, despite the trades, despite the crash, despite the Sabres, despite the Central Division rival Blues, despite the meddling from his coach father — hardly noticeable compared to Paul Stastny's father, Peter — this fine young man managed to win the hardest championship in sports.
Boy what a ride it's been to watch him traverse the world of hockey.
Congrats to one of the good guys, a superb talent and person.
Ryan Boulding on Twitter: @rboulding
By Jeff Morton:
Give Masai Ujiri
Credit: He's willing
to roll the dice
June 4, 2019
It must be surreal - check that, it is surreal -- for hard-core Denver Nuggets fans to watch the 2019 NBA Finals matching the Toroto Raptors and the Golden State Warriors.
National TV ratings are down a bit, largely due to the series featuring a team from Canada, plus Warriors fatigue.
But there is an extra level of intrigue among Denver fans because of someone not featured on the court.
That someone would be Raptors General Manager Masai Ujiri.
Remember him?
He's the man who pulled off an extremely ballsy trade before the season began to acquire Kawhi Leonard from San Antonio, with no guarantee the enigmatic two-way star would re-sign with the Raptors.

Before that, Ujiri was the Nuggets GM who managed to make the Carmelo Anthony trade in 2011, after being greeted with Anthony's s "Trade me to the Knicks" ultimatum in the late summer of 2010.
That ultmatum left the Nuggets and Ujiri with zero leverage. Zero? It might have been worse than that. This was not a star presenting team with a list of acceptable destinations.
This was Carmelo saying:
Trade Me to New York
. It was where his wife, La La, wanted to be in her career, and it would make things simpler.
Yet Ujiri got a package fom the Knicks that to a stunning extent mitigated the damages and enabled he Nuggets to parlay that deal to other acquisitions.
And (stay with me here, folks) Ujirii was the same GM who was the architect of the Nuggets' NBA franchise best 57-win team in 2013.
Yes, Ujiri left the Nuggets in one of the most bizarre and chaotic offseasons since GM Bernie Bickerstaff gave star center Dikembe Mutombo the proverbial finger in 1996, allowing him to leave for a package that totaled -- let's add all this up -- nothing.
I'm not alone in documenting the trials and tribulations, plus eventual successes, that Nuggets Team President of Basketball Operations Tim Connelly has gone through to make this very young 2019 Nuggets team what it is today.
Connelly's path is one of more struggle and certainly more of a rebuild than was the case fpor Ujiri, the man Connelly replaced.
Meanwhile, after he went to Toronto, Ujiri hit the ground running and has generally had success every season while being foiled every year by the LeBron James juggernaut.
Now Ujiri knows what Patrick Ewing and Pat Riley felt like in the 1990's with Michael Jordan.
But I digress.
The Nuggets are in an much more difficult conference than the Raptors.
They undertook more of a thorough rebuild than the one Ujiri was involved with in Toronto. Yet there are some interesting parallels to draw between the 2013 Nuggets and the current Raptors.
Most significantly, they involve the highly risky trades that led off these seasons.
In 2013, Ujiri engineered a trade and brought Andre Iguodala to the Nuggets.
He since has stated (many times) that he had hoped to convince Iguodala, the former Philadelphia 76ers star, to stay in Denver.
Now with the Raptors, Ujiri's strategy and hopes are the same with Leonard.
He is hoping the grand gesture and the big gambit pay off enough to convince Leonard to stay with the Raptors. On the court, Leonard has more than lived up to the faith Ujiri showed in him. But there's no guarantee how long it will last.
That sort of strategy
blew up in the Nuggets' faces after Iguodala's, well, interesting behavior during the series versus the Warriors. He spent virtually ALL of his free time WITH the opposing team and seemingly showed little interest in Nuggets camaraderie.
Iguodala departed Denver shortly after Ujiri left town, and it didn't surprise anyone covering the team at that time.
The question now is: What will happen with Leonard after this season is completed?
If he leaves and joins a team on the West Coast, what will that say about Ujiri's big gesture to go for broke in a now LeBron-less Eastern Conference?
It will be interesting to see how it plays out once these Finals are over. In the grand scheme of things -- if you were asking me -- I have much more respect for teams that go for broke rather than those who sit on their hands and preach endless patience. You only get one shot and sometimes you have to go for broke.

The Nuggets are not quite in the "go for broke" territory.
The Nuggets have built slowly and plan to build.
Yet, the time will come when they need to do SOMETHING rather than count on the cards they have.
What will the Nuggets do when the chips are down?

Their former Nuggets and current Raptors GM risked quite a bit twice with (so far) mixed results.
Sometimes it's just worth taking a shot.
By Ryan Boulding:
Francouz signing
clarifies only so much
about Avalanche net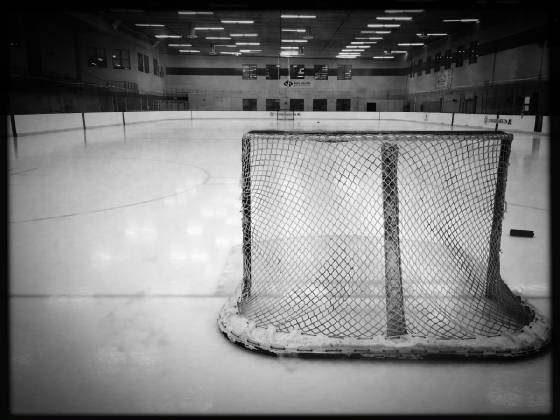 The two nets at the Avalanche practice rink. We can assume Philipp Grubauer is going to be
in one of them. Will Pavel Francouz be in the other?
May 24, 2019
With the news coming out today that Czech reminder Pavel Francouz signed a one-year deal with the Colorado Avalanche, one piece of a convoluted summer puzzle—see my previous column below for more on that—has seemingly fallen into place.
That is, with a few question marks at the goaltending position, Francouz is at least remaining with the organization. Where he'll be slotted is the next conundrum.
In a recent interview with Slovakia-based David Puchovsky of Eurolanche fame, Francouz confessed that he didn't feel the AHL had much to offer him moving forward.
"At the moment, I don't think it would give me all too much. I viewed it as a necessity in order to adapt to North American hockey," the 28-year-old tender told Puchovsky. "I won't make any ultimatums, but I would like to move forward, to progress as a player."
Stopping short of saying he'd rather return to Europe or test his luck as a goalie-for-hire on the free agent market, Francouz did imply that the NHL is the next stepping stone on his personal hockey journey.
The comments mirrored what was said about current Avs goaltender Philipp Grubauer before he was traded to Colorado from the Washington Capitals. Grubauer wanted to be a starter, not anyone's backup, and it would be just a matter of time before he usurped the job from Semyon Varlamov.
Now Colorado is in wait-and-see mode. Wait and see if something can be worked out with Varlamov to bring him back into the fold. Wait and see if there's a cheaper goalie dipping a toe into the market on July 1 with a proven track record of NHL experience. Wait and see what Spencer Martin's camp is looking for on the 23-year-old's third contact.
So maybe a little honey was poured in Francouz's ear. Maybe the front office told him that they can't guarantee that they won't bring someone else in, but they can promise he'll have a decent shot at the backup job come training camp.
They'd certainly hate to lose a man of his talents, which is why he got a $260,000 raise for one more show-us-what-you-got season.
None of this plainly means Varlamov's time with Colorado is done, either. Yet it does make it seem more likely given the way things are stacking up on the back end organizationally, and when you consider the now-known intentions of Francouz.
I maintain that Varlamov can still play exceptional hockey, though the extreme workload he faced during his prime, in lean years for the Avalanche, certainly has taken its toll on his body. A good 60-40 split could work for him somewhere with a solid defensive structure, and if he can't find the contracthe's looking for in Denver —not doubt one with some term for a little security— he'll head elsewhere.
A consummate team guy, Varlamov is a competitor. He hates losing as much as anyone else in that dressing room, and that includes losing his starting position and any standing within the organization. The same goes for any goalkeeper on the roster. They'll all fight for playing time and a higher spot on the depth chart and for a chance at Lord Stanley's silver chalice.
As far as goaltending up and down the depth chart, the only thing we know for sure is that Grubauer, Francouz, and Werner have contracts at this point. How everything shakes out from here is up to the men behind the burgundy curtain. It will be telling to see what the next goaltending contract, if there is one, is.
That's the move that will really show the masterstroke at play.
Ryan Boulding on Twitter: @rboulding
By Ryan Boulding:
Change coming for
new epoch of
Avalanche hockey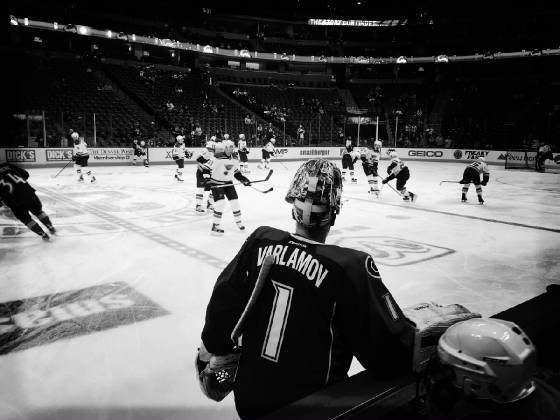 Among the Avs' offseason questions: Will Semyon Varlamov be back? And, if so, at what price?
May 23, 2019
Make no mistake, changes are coming for the Colorado Avalanche this summer.
Like those of us unsure of what our future looks like in a world without the reliability of the next season of "Game of Thrones," fans are entering the summer wondering what lies ahead in this new epoch of Avalanche hockey.
Maybe it's finally time for one of those hashtags of yore to be suitable (#AvsNewAge, #NextEra, #WornWithPride).
Still, the winds of change will be blowing through Denver this offseason and they won't be bringing the usual Greeley-based bovine flatulence that we're used to.
Get jazzed about the 2019 NHL Draft all you want. After all, the organization owns the fourth —thanks Ottawa! — and 16th overall selections at the summer selection, along with choices in rounds two, three, five, six, and seven. Prepare for the cupboards to be stocked there as usual, though it's unlikely that any of those kids will be ready to take the leap to the stronger, further, faster NHL.
Yet outside of the annual frothing over futures, fans need be paying attention to the makeup of the overall organization. The Avs have only 26 players under contract for next season, which means a lot of qualifying offers and contract negotiations need to occur between now and July 1.
Some decisions seem obvious, like finding a way to keep Semyon Varlamov as the 1B to Philipp Grubauer's apparent 1A in the goaltending tandem, however unlikely that may seem at this juncture. Goalie fatigue is real, people, and asking Grubauer to play 60-plus games in a season, something he has never come close to doing, is a lot.
So is expecting Pavel Francouz, who made his North American debut last season with the AHL Colorado Eagles, to remain a keeper in waiting instead of seeking NHL-level employment, whether ready for it or not, elsewhere. An unknown commodity at the top tier, Francouz seems likely to test the waters if not given a shot at the backup role, which means another new face—hello, Cam Talbot—could be joining the backstopping squad.
Once heir-apparent Spencer Martin saw his footing in Colorado's system slip when Francouz joined the organization as a summer acquisition and quickly became the Eagles' go-to in net for the majority of the season and all of the playoffs. Things for Martin went from not ideal to complicated when Swedish monster Adam Werner signed a two-year, entry-level deal last week, making official his full-time leap to the North American goaltending game.
The departure of Varlamov and Francouz ensures more AHL time for Martin, who will need to accept a qualifying offer or file for salary arbitration in order to stay, but he'll continue to slip down the depth chart unless real progress is made soon.
On the defensive end of the ice, once the Avalanche's bane, things are looking up. Everyone knows the impact Cale Makar already has made, and he's likely to see time the way Sam Girard did when he arrived in town. That leaves a six-man set once Nikita Zadorov gets the big payday he's been looking for since holding out to get more money on his last contract. Arbitration certainly seems like a possibility there.
So what does that mean for Patrick Nemeth, Mark Barberio, Ryan Graves, and Conor Timmins?
Nemeth is going to walk. Depth dictates that. Barberio and Graves, once the latter signs a nice qualifying offer, will both be AHL primaries or seventh defenseman guys.
Timmins is a different case altogether. The 20-year-old defensive stalwart missed an entire year of hockey, and that's not something you just bounce back from. His development has taken a major blow, and now he'll have to work twice as hard to regain his confidence and timing. Expect him to spend the entire summer working to get to zero and his first year as a pro with the Eagles as he rediscovers what made him such a great prospect in the first place.
Mason Geertsen, Anton Lindholm, and Sergei Boikov will all be qualified, which gives the Eagles an abundance of blueliners and makes David Warsofsky somewhat of a question mark—though he did lead Eagles defenseman with 32 points.
Then there are the forwards. Top-to-bottom, this is where the tapestry of change will be seen. Joe Sakic and Co. have to decide how many young stars they're willing to dedicate consistent ice time to and how many players they're willing to let walk in order to grow that talent. The trouble is, those young guys—J.T. Compher, Vladislav Kamenev, Alex Kerfoot, AJ Greer, Dominic Toninato, and Sheldron Dries—all need new deals of their own.
(If you're keeping count at home, that moves Colorado up to 40 contracts with a goalie and Warsofsky).
Then there are the tough choices.
Analytics darling Gabriel Bourque should be allowed to walk at free agency. The team needs his spot for (insert one of Greer, Toninato, Dries, or Martin Kaut). Derick Brassard wasn't worth the deadline gamble and can find work elsewhere. There's value in keeping Colin Wilson around, though his spurts of productivity make you wonder if a prospect could also manage 27 points (12 goals, 15 assists) in 65 regular-season matches.
And what about Sven Andrighetto? The Swiss firecracker was scratched frequently last year after seemingly falling out of favor with head coach Jared Bednar and his staff—though he still managed to see action in 64 games. His case was so perplexing that, at one point in December or January, a visiting Swiss reporter actually interviewed me in the press box during intermission. His questions were about what Andrighetto needed to do to crack the lineup and whether he could still play at the NHL level. My answers were the obvious, "It's hard to say but it seems like an uphill battle," and "I certainly think he could fill a bottom-nine role," respectively.
Andrighetto is a restricted free agent, which means the team only needs to make him a qualifying offer to maintain his rights. However, he can—and likely will—file for arbitration in order to have a third-party determine his value. It's safe to say that, for the Avalanche at least, he isn't worth the $1.4 million he was making last year. So that means the team needs to decide whether to walk away and let the 26-year-old become an unrestricted free agent or qualify him for at least $1.4 million and then attempt to trade him or stash him in the AHL, which would require him to pass through the waiver wire. A sign-and-trade scenario is most likely here, unless he asks for more money.
On the prospect side of things, Julien Nantel will likely receive his offer and continue to work on his game. Nantel and Lindholm are the only two prospects left from what was a disastrous 2014 NHL Draft. Uncertainly about the proper direction of the team and questionable decision making at the top left the Avalanche with an enormous void in the pipeline with this age group.
Max McCormick, acquired from the Ottawa Senators in a minor-league deal that sent J.C. Beaudin the other way, will get another shot at being a veteran leader on the Eagles. So will Andrew Agozzino, who worked his tail off to finally score his first NHL goal last year, and Scott Kosmachuk, who played a little over half the season last year.
Gustav Olhaver, Colorado's seventh-round selection in 2015, will see his rights enter the free market on July 1. The six-foot-six, 215-pound Swede never quite panned out for the Avs, and his eight points (four goals, four assists) in Sweden's lower-tier Allsvenskan league are proof that he doesn't have what this organization is looking for.
Now none of this means anything without talking about the $8 million Finnish gorilla in the room: Mikko Rantanen, a pending restricted free agent. Obviously, Rantanen will be signed for the foreseeable future, but how nasty is it going to get between now and the day the ink hits the page?
If you're Colorado, the sales pitch is that Rantanen is the future, but he needs to be a team player! He needs time to settle into the player he'll be for good! He needs to take the same -- albeit extremely low -- deal MacKinnon ($6.3 million a season) took before he really broke out! Hell, even Sidney Crosby makes it work for the Pittsburgh Penguins, right? This gives Colorado room to maneuver and also doesn't upset the ego of MacKinnon, who at this point is the squad's best player.
Think David Pastrnak's $6.6 million booking with the Bruins. I mean, Mark Stone only made $3.5 million per year on his second deal, so the Avs have that too.
But Rantanen is worth more than that—so is MacKinnon—and he's proven it the last two seasons. Add him skating in Game 7 on what was very clearly a painful lower-body injury suffered in Game 6, and the 22-year-old couldn't do much more to show his commitment.
His camp will have eyes on deals coming down the road for Mitch Marner in Toronto, Sebastian Aho in Carolina, and Brayden Point at Tampa Bay. These are all similar players in similar roles from the same draft class looking to get paid.
However, Rantanen's camp could also push the envelope and say that he's roughly on pace with Jack Eichel, who is making $10 million per year for the next eight seasons, and Stone, who received $9.5 million for the next eight years, after Rantanen pushed the pace with 209 points (80 goals, 129 helpers) in 239 games (.87 points per game in that span) since entering the league.
Splitting the difference not only makes Rantanen the highest paid player on the club, but it brings him closer to a $7.5-8 million deal, which will probably be in the six to eight year range.
That brings us to a total of 46 contracts, leaving room for the organization to bring in four more players before reaching the NHL-mandated 50-contract cap.
With such little wiggle room, it wouldn't be surprising to see a trade happen at or around the Draft, as Colorado has bargaining pieces to use without hemorrhaging futures for the now.
What the team desperately needs is a reliable second-line center, a player that can provide the spark the teams needs after splitting up the top scoring trio—which I maintain should be called the Twine Line—while also allowing Carl Soderberg to bolster the third pairing.
There are a few young and cheap options out there, like Ryan Dzingel, who had 56 points in 78 games—mostly with Ottawa—last year while making $1.8 million, or Anders Lee, a young vet looking to step up from his $3.75 million.
A splashier option at center could be wooing San Jose Sharks captain Joe Pavelski, who would come at a price but also may be weighing his options ahead of some roster uncertainty with his current team in California.
Whatever it may be, the Avs as you knew them are looking to evolve and move forward this summer, and they have a lot to do to accomplish it.
Ryan Boulding on Twitter: @rboulding
By Jeff Morton:
Hey, SOME of what
was out there about
Connelly even was right
May 20, 2019
You've got to fish or cut bait.
That was my initial reaction to Monday's
announcement that Tim Connelly, the Nuggets' president of basketball operations, indeed would be staying with the organization and not pursuing the same position with his hometown Washington Wizards.
But I also am certain it saved the franchise as we know it.
Your perspective rests entirely on your view of Connelly and his role in the Nuggets' improvement to 54 wins, the Northwest Division championship and the No. 2 seed in the Western Conference this season.
Does he deserve the credit that has been given to him recently, or is his success a product of a well-crafted team effort?
Actually, Connelly would immediately say it was a team effort and that he receives far too much praise for what he has accomplished as leading the Nuggets' rebuild the past six seasons. This mindset was enforced with collective front-office contract extensions in February, including for General Manager Arturas Karnisovas.
Yet, with team President and Governor Josh Kroenke impressed with Connelly's vision for the Nuggets future, Kroenke Sports and Entertainment recognized something that we all came to realize this last weekend of nail-biting:

If anything, Connelly hasn't gotten
enough
credit.
It's almost as if he's taken for granted.
In a league in which trying to maneuver behind the scenes to be considered the architect of all franchise progress while -- and this is important -- playing up that collaborative team effort in
public
, Connelly has been refreshingly honest.
The Nuggets were Team Chaos in 2013.
They were a Western Conference No. 2 seed in 2019.
The progress was even greater than is evident on the basketball court, given the unique inner workings of the front-office structure.
Connelly sits at the head of a very efficient, almost family-like front-office structure, with a knowledgeable staff that works in unison. It truly is a machine that is greater than the sum of its parts, and Connelly deserves credit for not caring about hogging the spotlight. He set the tone, he oversaw the collaborative process while having crucial, indispensable input, and it worked.
This Nuggets organization has seen these pivot points before and has largely failed to step up.
Repeatedly, the organization and ownerships made the wrong choices, then went in the wrong direction for long stretches. It's a legacy of closing to the verge of greatness or elite status, then fouling up, and it goes far back.
How about when the Nuggets -- with the paint still drying on the logo switch from Rockets to Nuggets -- giving David Thompson the largest contract in professional sports at the time in 1978? That's considered genius now, but the fact was, the ownership couldn't afford it at the time and it nearly bankrupted the franchise. This wasn't the Nuggets' fault, but it also was part of what led Thompson down a path of crippling cocaine abuse.
How about owner Sidney Shlenker succumbing to the arm-twisting of Commissioner David Stern and in 1989 selling the Nuggets to two businessmen who couldn't afford to operate the team as a major-league entity? The ensuing decade of ownership chaos coincided with the worst downturn in Nuggets history.
How about the departure of GM Masai Ujiri in 2013 after a franchise-best 57 wins?
So as the word came that Connelly was on the Wizards' radar to succeed the fired Ernie Grunfeld, those knowledgeable about Nuggets' history and their tendency to foul up in these crossroads moments wondered if it might happen again.
If Connelly left to join the Wizards, Karnisovas' promotion from the GM job to president of basketball operations was likely. In all my discussions, I've come away with the feeling that KSE's faith in their long-time No. 2 basketball executive as a potential head of the front office was deep-rooted and genuine. (It's interesting to note the differences in job titles in KSE's two teams. Joe Sakic, clearly the head of the hockey operation, is the the Avalanche's executive vice president and general manager.)
The confidence in Karnisovas would have tempered KSE's disappointment in losing Connelly, but the point is, Connelly is a proven commodity now, deserving of both praise and that contract extension. Pique over Connelly listening to another team -- a team granted permission to speak with him -- and virtually hoping he left would have been misguided.
The complication is that there was so much misinformation out there about Connelly and the Wizards.
The media for the most part got it wrong.
Here's the bottom line: At no point did Connelly commit to doing anything more than speak with Wizards owner Ted Leonsis and listen to what he had to say.
Connelly wasn't trying to get out of Denver. Not even close.
He grew up in Baltimore and to this day doesn't try to downplay his affinity for his hometown, and his family for the most part still resides in Maryland and the DC areas.
He cut his scouting teeth with the Wizards, then known as the Bullets, for 15 years.
That organization gave him his first shot in the NBA.
Why wouldn't he listen to the Wizards, and in particular Leonsis, like Stan Kroenke among the richest figures in the country?
As the saying goes, however, listening does not mean accepting and after Josh Kroenke -- Stan's son and also the president of the Avalanche -- spoke with Connelly over the weekend, Connelly's decision was to stay. Also, Kroenke is a different sort of boss in hockey, where he concedes what he doesn't know, than in basketball, a sport he played at the collegiate level and knows. He has supreme confidence in his own ability to navigate the ins and outs of an increasingly complicated league.
That's all crucial to the Nuggets' future. It shouldn't meet with diminishing shrugs, implying that if Connelly left, the franchise now is moving in the right direction would have been just fine.
Even though Connelly has been the GM/Team President for six seasons (the third-longest tenure in Nuggets history, behind Carl Scheer and Bernie Bickerstaff), the Nuggets ascendancy on the national stage has taken place only in the last year or so. Connelly's departure would set the Nuggets reputation and perception back. Fairly or unfairly, that's reality. In a time when you need to pitch to potential free agents that Denver is the place you need to be, stability is No. 1. The Los Angeles Lakers serve as a cautionary tale.
Semantics can come into play in these sorts of discussions -- What constitutes an offer? What doesn't? -- but my understanding after checking around is that the Wizards eventually made Connelly a conceptual offer, but the earlier reports that they were to the point of haggling over whether the contract would be for four years or five years were, to put it nicely, inaccurate.
This consistency is the start of a much-needed franchise evolution. The perception of the Nuggets has always been that they will find a way to take the wrong path. From Josh Kroenke down the team seems to want to buck history and build upon what has been started and improve everything in the organization. Can they do it? That answer will come in the next few years. But keeping the architect of your 54-win, second-seeded team was a very nice signal -- and a nice start.

At a time in the past where the Nuggets would so often shoot themselves in the feet with a magnum, they decided to take what for them has been a path less traveled (for them).
Regardless of how things shake out, that first step is always a great start.

Jeff Morton's Colorado Sports Guys podcast