On "Frozen" in Denver:
Let Her Sing, Let Her Sing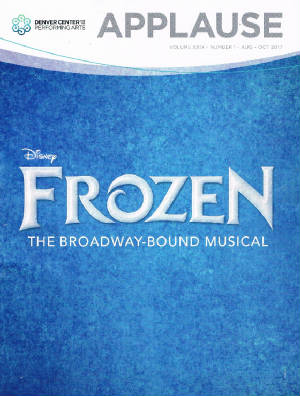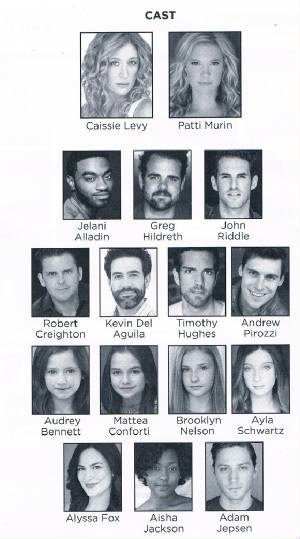 August 25, 2017
(From On The Colorado Scene)
If only we could have consulted with one of the 6-year-olds in princess costumes down the row to better understand the plot...
And if I can get "Let it Go" out of my head by the next Tuesday, I'll be fortunate.
Yes, my wife and I saw "Frozen" this week as the Disney Theatrical Productions' newest stage show continued its seven-week run at the Buell Theatre in Denver, in advance of an official March Broadway opening at the St. James Theatre. As both a night on the town and as entertainment, it's enjoyable, and it's also fun to feel a part of the elaborative process as the show gets its tryout here before a nearly five-month gap before preview performances begin in February. After the inevitable tinkering, it will be interesting to see how closely what opened in Denver will resemble what opens in New York.
As two of the few people in America who haven't seen the movie, we were a bit in the dark at times about the complications of powers and politics in Arendelle, plus the translation of animation figures to the stage. (Oh ... those guys with tails are trolls!)
"Frozen" has its own story, of course, but it also seemed both derivative and familiar, as if previous Disney animation-to-stage productions and "Wicked" had been thrown in a blender to produce the next show.
It's especially reminiscent of Disney's first stage musical, "Beauty and the Beast" (1994), as when Anna's thawing has tones of the Beast shedding the spell and beginning the transformation back to the prince.
And for adult regular show-goers, when sisters Elsa and Anna sing the reprise of "For the First Time in Forever" in the second act, it's strikingly similar in tone and style to when by-now-friends Glinda and Elphaba are singing the touching "For Good" near the end of "Wicked." And part of the reason it's eerie is that Patti Murin, who plays Anna here, has been Glinda and Caissie Levy, Elsa in Denver, has been Elphaba. Even the Elsa standby, Alyssa Fox, was Elphaba when the "Wicked" national tour most recently passed through, in 2015. And, yes, Idina Menzel -- the original Broadway Elphaba -- was the voice of Elsa in the "Frozen" movie, and was instrumental in making "Let it Go" iconic even before John Travolta botched her name.
I almost expected there to be a voice coming from behind a curtain in a later scene -- and that when it is flung open, Gaston is behind it.
Clearly, one of "Wicked's" legacies as it continues it runs in New York and on the road is that so many of the promising or already-there musical theater actresses of their generation have played those roles. It has become: Give me a Glinda. Or ... Give me an Elphaba.
Turning successful animated, comic-strip or comic-book figures to humans on stage always has been challenging, and that's reflected here. There is no attempt to be as intricate as "Lion King," or even "War Horse," but Sven the reindeer and Olaf the snowman are presented with ingenuity. The show also is wickedly clever and funny, almost to the point of being excessively adult in tone in spots, at least given the targeting of the pre-teen segment of the audience. There's even what amounts to a teasing burlesque scene. Past Disney successes have managed to pull off the adult-kids duality, but there are moments when this is pushing the envelope. That's not a statement of prudishness, but about a what-is-this-trying-to-be identity that even produces a bit of confusion.
Songs have been added since the film. But at this point, and I suspect it will change by the time the curtain rises for the first preview at the St. James, Levy -- as Elsa -- still doesn't have enough to do ... or sing. The plucky little sister, Anna, comes off as the star of the show, at least if one has to be chosen, and that's because of the roles, not those who play them. Yes, despite "Let it Go."
Those are quibbles, notes on a card I would have handed to someone collecting reaction as we returned to the lobby. Season-ticket holders will be surveyed.
Disney shows are not automatic blockbusters, as we saw with "The Little Mermaid," another production that had its tryout in Denver. But maybe even without significant retooling, this'll run for 10 years. And we're getting the first look.