April 20, 2020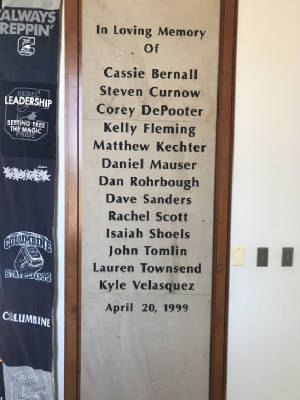 I was honored to help former principal Frank DeAngelis, who remained on the job at Columbine until his 2014 retirement, with his 2019 book, They Call Me "Mr. De": The Story of Columbine's Heart, Resilience, and Recovery.
I also was privileged to aid Patrick Ireland, Columbine's "Boy in the Window," with his memoirs. (Excerpt on ESPN.com.)
The experiences and research convinced me that perhaps the most underplayed aspect of the killings was the ease with with the two student murderers obtained the four guns they took into the school that day.
They had:
-- A 9mm carbine.
-- A 12-gauge pump shotgun.
-- A double-barreled shotgun.
-- A TEC-DC 9 semi-automatic handgun.
The killers, not yet 18, watched as a female friend, who had just turned 18, purchased the first three guns for them at a well-known Adams County gun show from unlicensed private dealers. She showed ID and paid cash. She later said she wasn't asked to fill anything out and might have gotten cold feet if she had been. That was it.
The killers sawed off both shotguns.
They bought the TEC-9 for $500 from a seller introduced to them by a friend. That transaction was illegal and both involved in the sale served prison time.
OK, now tell me that the killers would have found a way to acquire guns for their killing spree. Some way. Somehow. But it was disgustingly easy. And, to a point, it still is.
Yes, laws have tightened since. Because of State Legislature foot-dragging, major reforms first came through the ballot initiative process, with Amendment 22 pushed by Tom Mauser, whose son, Daniel, was among the Columbine murder victims. That required background checks for buyers at gun shows. Then the state mandated that all sales at gun shows go thorugh licensed dealers. And after the Aurora theater shootings, state law required that even unlicensed dealers run background checks on all buyers, even outside of gun shows.
Yet last year, an 18-year-old Florida woman with a Columbine obsession, Sol Pais, traveled to Denver and purchased a double-pump shotgun at a gun outlet two miles from Columbine. She passed both state and federal background checks, but she had done research and knew she wouldn't have been able to purchase a shotgun in Florida, where the minimum age for "long guns" was 21. She knew she could in Colorado. After Columbine and other schools went into lockdown one day and were closed the next, Pais' body was discovered after she committed suicide near the foot of Mount Evans.
I'm not here to get into a deeper argument about gun rights and gun control. I know all those lines. On both sides.
I also won't run through the list of other school shootings, here and elsewhere.
But today, I'll say: Remember the Columbine 13. And all the others.