September 23, 2022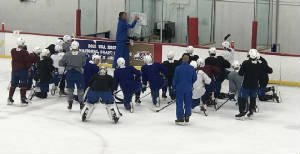 Avalanche coach Jared Bednar at the whiteboard.
After returning from Tulsa, I attended the second day of Avalanche training camp Friday at Family Sports Center. As I watched the early stages of the first practice -- involving Group 1, or what resembled the defending Stanley Cup champions' likely lineup on opening night -- I quickly tallied.
This was my 31st NHL training camp.
Five with the Colorado Rockies from 1977-81.
Then 26 with the Avalanche, starting in 1996. (I still was with The Sporting News, covering football, when the Avalanche held their first training camp in 1995.)
That's every year from 1996 on, except the NHL's dark season of 2004-05.
It's a bit tricky and requires definition of terms flexibility, but there still were training camps in some form in other truncated seasons.
Gone are the daily doubles of my early days of covering the Rockies, when the primary goal still was to get into shape after an offseason of rest, sloth and in some cases even gainful employment. The conditioning revolution in all sports was just getting started.
Now at least the official breakdown has the Avalanche training camp lasting three -- three! -- grueling days. The six-game exhibition season begins with split squad games Sunday, at Minnesota in the afternoon and at home against Vegas at night opposite the nearby 49ers-Broncos game. (Good planning.)
In addition to taking looks at the Avalanche's offseason additions -- including goalie Alexandar Georgiev and center Evan Rodrigues -- I was struck by the return to normalcy in the past-practice media availability in the Family Sports locker room.
No more closed dressing rooms and evolving protocol in reaction to the Covid pandemic.
No more Zoom calls.
No more sessions with players being brought to interview rooms for what mostly were stilted Q & A sessions lacking spontaneity and anything remotely resembling conversational give and take. Under the conditions, followup questions were discouraged and informally banned. Players and coaches usually tried to make the best of it, but the truth was that many teams liked being in collegiate-style control and at one point, I even wondered if we'd ever roll back to open locker rooms in the NHL and NBA. My experience over the years has been that givebacks involving media protocol and availability are, well, rare.
So on Friday, I was back in the Avalanche practice dressing room for the first time since early 2020. I was looking to talk with notable Colorado players for my Avalanche preview piece for Mile High Sports Magazine's upcoming Hockey and Hoops issue.
And Nathan MacKinnon came off the ice.
He sat down at his stall and we actually had a real conversation.
I make no claim of getting revelatory material out of him, and I know the major reason were remained alone was that he had been available both at Wednesday's media day, when he discussed his eight-year, $12.6-million-a-year contract extension; and after Thursday's opening training camp practice.
I asked him about how fun and challenging it was going to be this season, filling the role of high-profile defending champions.
"I really can't tell you how hard it will be," MacKinnon said. "I don't think it will be any different than last year. Last year was really challenging. It's still the same. It was a good experience, though. Hopefully, we can get into other teams' heads, put some doubt in their minds, knowing that we're defending champions. It's being aggressive again. So, yeah, I have confidence we can go back to back here."
I brought up the champions' swagger. The Avs definitely seem to have it.
"You need confidence," MacKinnon said. "You need a short memory. That's what we did so well in the last playoffs. We didn't dwell on losses. We kept things moving. We flushed games down the toilet. We never lost two in a row. That's the big thing with that mentality."
As great as the Avalanche were in their prime years, when they won the Stanley Cup twice in the pre-cap era, they never won it two years in a row. Players' knowledge of a franchise's history usually is sketchy, but when I asked MacKinnon if becoming the first Avalanche team to repeat could be part of the motivation, he knew what was involved. As defending champions, the Avs twice lost to the Detroit Red Wings in the Western Conference Finals -- in 1997 (six games) and in 2002 (seven games).
"They probably should have won three or four," MacKinnon said. "They ran into some really good teams and we're going to do the same thing. But we're going to have fun with the season. It's a great time. The grind is fun. We're looking forward to it."
Finally, I asked about his own goals, especially now that his contract extension is out of the way and won't be a topic of speculation and discussion all season.
"I'm going to play my best hockey this season," he said. "I feel it will be the best year of my career. I feel good. We'll see what happens. Hopefully, everyone has their best seasons this year and we're a powerhouse."
If that happens, a repeat is a pretty safe bet.