For 2020, scroll down for...
On the Colorado Scene Commentaries
* = Columns on woodypaige.com. They also are available, 2019 on, here.
MOST RECENT, IN THIS ORDER BELOW
Jan. 16 -- Ryan Graves, always a plus
* Jan 16 -- An NFL coaching hire should be for CEO
Jan. 15 -- Gradishar snub has become a bad joke
Jan. 14 -- Avalanche too good to rationalize
Jan. 14 -- Nathan MacKinnon wins two major Colorado honors
Jan. 10 -- Short memories about Avs' goaltending
Jan. 9 -- Irv Moss was a Colorado Classic
*Jan. 8 -- David Stern was cool to internationalization ... at first
Jan. 5 -- Buffs' epic collapse against Beavers
Jan. 2 -- Cale Makar gets back on track
*Jan. 1 -- College QBs are scrambling
January 16, 2020
Avalanche's Ryan Graves:
The young D-man is always
looking at plus side of things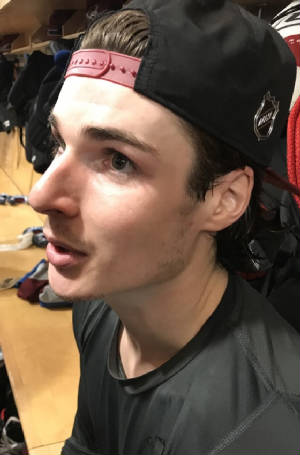 After Avalanche defenseman Ryan Graves had a goal and was a plus-one in Colorado's 4-0 win over San Jose Thursday night, he was up to a plus-31 for the season.
That's not just good.
It's the best in the NHL.
Yes, Ryan Graves (right), the 24-year-old D-man who is far from the Avalanche's most recognizable player and usually is squeezed off the marquee.
But there he is, at the top, just ahead of two members of the Carolina Hurricanes -- Dougie Hamilton (plus-30) and Erie High School grad and Colorado College's Jaccob Slavin (plus-26).
Graves' fellow Avalanche defenseman, Ian Cole, is fifth, at plus-23.
After the Thursday win at the Pepsi Center that featured Philipp Grubauer rebounding for his first shutout of the season and making 27 saves, the dressing-room atmosphere understandably was an upbeat contrast to how it was after the four consecutive losses -- the final two in overtime at home -- that preceded it.
"It's one win," Graves said. "But we're going to keep going."
Grave mostly has been paired of late at even strength with prized rookie Cale Makar, and it has benefited both. For one thing, it enables Erik Johnson to be paired with Samuel Girard and compensate for the undersized Girard's defensive shortcomings. Plus, and perhaps more important, Graves and Makar mesh well.
"He's an elite player," Graves said. "He's fast. It's a treat in a D pairing to give it to someone who can break the puck out with their feet, and he certainly does that. I just go D to D and see him take a hard stride and he's by two of their forecheckers and that's something that's tough to do. He's a treat to play with and I think we can complement each other. I'm definitely a safe style and he's dynamic and he can take his chances where he wants to. We've been playing well together. I think we've played with everybody so far this year and we have seven able D here and we're confident in everybody."
At that point, I asked Graves about the significance of being atop the plus-minus list. It's essentially (but not completely) an even-strength stat and it can be affected by a goalie's work, but it's still a fair element in evaluating a skater's work. Graves also has seven goals and 10 assists for Colorado.
"I try to sorry about the minuses more than the pluses," he said. "I'm plus whatever I am and I definitely don't have that many points. So it's not me putting the puck in the net every time. But for me, every game I'm trying to be reliable defensively and trying to keep the minuses to a minimum. If I'm reliable defensively, I'm the best asset to the team. Obviously, we have a high-scoring offense and we have a lot of talent here, so I think that if you can keep the puck out of your own net, the offensive kind of comes."
The remarkable part of the story is that Graves is a showcase example of the cliche -- that it takes defensemen longer to develop. And the Avalanche got him from the Rangers in a February 2018 trade for defenseman Chris Bigras.
That was a what-the-hell deal for both teams, involving young D-man considered disappointments.
Graves, a fourth-round draft choice in 2013, was in his third AHL season in the Rangers' organ-eye-zation and slid over to the Avs' AHL affiliate at the time, the San Antonio Rampage.
It's actually a bit of an upset that he has made the jump to the Avalanche and is playing well, and that he seems to have become an entrenched NHL D-man. after splittting time with the AHL Colorado Eagles and Avalanche last season.
Bigras, a second-round pick in that same 2013 draft (the one in which the Avs claimed Nathan MacKinnon at No. 1 overall), is in the AHL with the Philadelphia Flyers' affiliate, the Lehigh Valley Phantoms.
"There's been doubts, yeah," Graves said. "There are times you're wondering. I was fortunate to get a chance here, for the Rangers to let me go and get a fresh start somewhere else. They obviously had some really good defensemen coming to theier system too, so I hold no ill will towards them. I'm thankful for my opportunity here. It's been fun. It's just a start for me and I know there's a lot of work to be done."
Like MacKinnon, Graves is from Nova Scotia, in his case Yarmouth.
"That's good company," he said with a laugh.
I also asked Avalanche coach Jared Bednar about the significance of Graves' plus-minus as a measure of his effectiveness.
"I see it and I say, 'Yup, it's accurate," Bednar said. "I look at his play. He's a heavy, solid, committed defender and he just has really good instincts. He's got a great shot, number one. But if you look at it, there are some D that are really active and dynamic and they're always up in the rush. When we're in the offensive zone, a guy like Girard is all over the place.
"There's other guys who just kind of find a niche. . . He doesn't roam around. He's getting all those points from distrubuting the puck or shooting the puck or getting it into the right areas out on the blue line. Great O zone, blue line movement, and he makes good decisions. He made two or three plays tonight where I went, 'Yeah, wow,' and then he shoots one and gets the goal. He has another chance joining the rush ... I mean, he's doing a lot of great things on both sides and it's why he's playing with Cale."
Those are all pluses.
January 16, 2020
NFL coach search
should be for CEO,
regardless of resume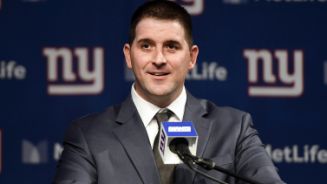 January 15, 2020
Gradishar Hall of Fame
snub, once mystifying,
has become bad joke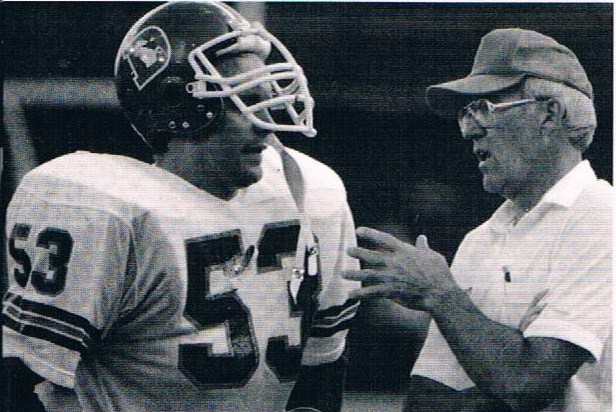 Randy Gradishar with renowned Broncos defensive coordinator Joe Collier
This was going to be a chance for the Pro Football Hall of Fame to get it right.
Finally get it right.
Instead, the word came Wednesday that Randy Gradishar wasn't among the 10 players in the "Centennial Slate."
The consolation for Colorado residents and Broncos fans with institutional knowledge about the area was that beloved long-time Denver resident Winston Hill made it. He was a Jets tackle blocking for Joe Namath, Matt Snell and Emerson Boozer, then after retirement twice owned barbecue restaurants in Denver.
Trust me: They were terrific and Hill often was there, mingling with customers. Even sports writers. He passed away in 2016.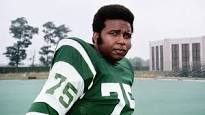 The 10 player choices were: wide receiver Harold Carmichael, offensive tackle Jim Covert, safety Bobby Dillon, safety Cliff Harris, Hill, defensive tackle(/actor) Alex Karras, safety Donnie Shell, defensive tackle Duke Slater, end Mac Speedie (a one-time Broncos head coach in the early AFL years), and defensive end Ed Sprinkle.
This is so obvious, I'm not even going to run through Gradishar's bona fides -- well, at least after saying he was one of the best short-yardage linebackers in NFL history.
Look, I get -- and I witness and have been a part of -- that media get caught up in "hometown" sentiments much of the time in these kinds of matters. But this goes beyond that. This is more than a homerism-powered bandwagon. In fact, it isn't that at all.
Gradishar belonged in the Hall of Fame long ago.
This is a joke. An absolute joke.
A few years ago -- I believe it was when I was writing '77 -- I emailed long-time Sports Illustrated writer Paul "Dr. Z" Zimmerman and asked him about what many had said about Gradishar's candidacy. That Zimmerman spoke against Gradishar as a Hall of Fame selection in the committee meeteing, citing that he believed the Broncos padded the tackle statistics in Gradishar's era. It was widely perceived that while Zimmerman perhaps hadn't blackballed Gradishar, his opinions in the selection committee meetings were influential.
Zimmerman with civility emailed m
e back and said, no, that was not true and he would be upset if I wrote that.
I believe he believed it wasn't true, but also that semantics, hair splitting and definition of terms was involved in the cronyism-affected, horse-trading milieu that was the surprisingly small committee of the time, with one representative from each team's market.
The problem is, that set the precedents and Gradishar essentially was shoved back into the background as other mostly worthy choices came up for consideration. I'm absolutely convinced that Broncos "Orange Crush" cornerback Louis Wright -- a shutdown corner before the term was invented -- also should be in the Hall of Fame.
Bbut that's the other problem: The Broncos, still were under-represented as a franchise when their obvious and usually more contemporary choices got in (Elway, Zimmerman, Little, Davis, now Bailey ...).
Gradishar, Wright, Karl Mecklenburg and Steve Atwater -- yes, and others -- still were out there.
The Pro Football Hall of Fame selection process, while tweaked in recent years, still is ridiculous, capricious and unreliable.
Gradishar should be in and while I hate the linking of this word with sports, it applies here.
It's disgraceful.
Read the Gradishar introductory chapter in '77 here
January 14, 2020
Avalanche is too good
to rationalize getting
anything but 2 points
After Dallas defenseman Esa Lindell scored at 1:54 of overtime to give the Stars a 3-2 win Tuesday night, Avalanche captain Gabe Landeskog -- who was on the ice with Nathan MacKinnon and Cale Makar -- slammed his stick, broke it and heaved it to toward the other end of the ice before charging into the bench and toward the dressing room.
It was that frustrating.
The Avalanche is stumbling along, at 1-4-2 in its last seven home games -- with the two overtime losses in succession.
Colorado still is ensconsed in a playoff spot, in third in the Central Division, but the standings are compacting and those outside the playoff field if the season ended today (don't you love that kind of talk) are closing in.
That's point No. 1.
Point No. 2 is that this team NEVER should lose two overtime games in a row.
Settling for one point is unadulterated failure.
The win-some, lose-some mentality in overtime should be a complete joke for the Avalanche.
Why?
It's as if when then-Detroit GM Ken Holland suggested the 3-on-3 overtime format as the prelude to a shootout, he was proposing the placing of a premium on speed, skill and the ability to take advantage of what can look like a doubling in size of the ice sheet.
That's the Avalanche, at least last season and this season.
So the Avalanche's OT futility is mystifying. Inexplicable. Unfathomable. And, yes, inexcusable.
Colorado was 3-12 in games that went to overtime in 2018-19.
This season, the Avalanche now is 3-6 in games that have gone to overtime. (Among those, the Avalanche has lost its only shootout, at Dallas on Dec. 28. That was another lost opportunity within the division.)
That's dreadful.
That makes no sense. I'm semi-serious about this: It'a almost to the point where sending out Matt Calvert, Pierre-Edouard Bellemare and Ian Cole out to open OT might shake things up and open up opportunities for MacKinnon, et al, in the later matchups ... if it goes that far, of course.
And it was just a little too easy to wave off losing ground to the Stars -- now two points ahead of the Avalanche -- by attributing it to the play of Denver-born Stars goalie Ben Bishop, who had 41 saves and allowed only the first-period goals from Nikita Zadorov and Landeskog that gave Colorado a 2-0 lead.
The Colorado collapse repeated a pattern of late, with no lead safe and third-period collapses commonplace.
This also was the rare occasion when Avalanche coach Jared Bednar, perhaps hoping to forestall a feeling of panic, pulled punches and seemed to be rationalizing rather than assessing.
"I thought we were engaged, start to finish," Bednar said. "Checked hard, worked hard offensively. I mean, I thought we played real hard. I don't know how else to summarize it. It seems like right now, what can go wrong, will go wrong. Again tonight, you see it, so we just have to keep grinding. I liked our push, even in the third period, we were up a goal and we were still going after them, we didn't want to sit back. We didn't want to let them come at us. We hit a couple of posts, we had a couple of grade-A chances that we created. Their goalie makes the saves."
Bishop was good, but this was no 62-minute standing-on-his-head performance, either. Aain, the Avalanche is too good now to rationalizing these kinds of losses as 27 straight opposing goalies emulaing Patrick Roy or Dominik Hasek...on their best nights.
"I think we've gone through it in years past, too," Bednar said. "I don't think it's home-road. You lose a little confidence, pucks stop going in for you a little bit, and like i said, you make a mistake, it seems like it's in the back of the net. That's not goaltending tonight. Our goaltender was excellent. They're finding ways to capitalize on chances and we're not. . . I think if you play like that on most nights, you get two points."
No. Those sorts of losses, to divisional opponents, are the worst. They're lost points. They're failures. Not taking advantage of opportunities.
And there's no excuse.
Updated January 14, 2020
Nathan MacKinnon nets
two major Colorado
honors for 2019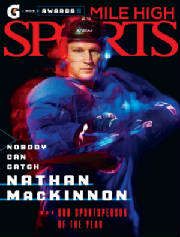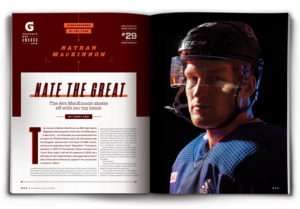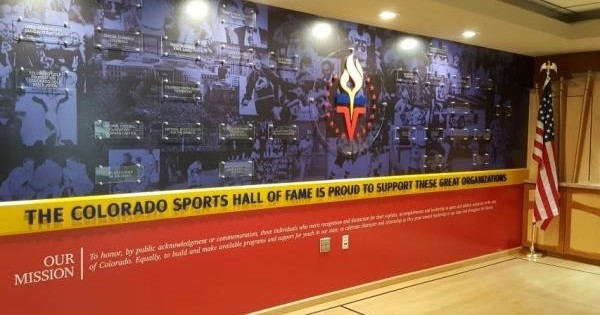 In the past four days, Nathan MacKinnon Friday was named Mile High Sports Magazine's Sportsperson of the Year for 2019, and then Tuesday also was voted the Colorado Sports Hall of Fame's Male Athlete of the Year.
The timing just worked out that Mile High Sports CEO Nate Lundy and Editor Doug Ottewill posted the story and revealed the choice of MacKinnon as Friday as the Avalanche was set to face the Sidney Crosby-less Penguins Friday night at the Pepsi Center.
Unfortunately, Crosby -- MacKinnon's fellow Halifax Regional Municipality native and close friend -- missed his 27th consecutive game with a lower body injury.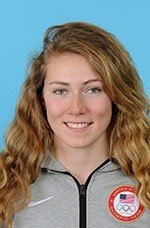 Of course, there were other worthy candidates for the Mile High Sports honor. I mention Mikaela Shiffrin, Nikola Jokic, Nolan Arenado, Trevor Story, and, yes, the late Pat Bowlen. (My thinking there was another posthumous honor.) With hindsight, Troy Calhoun probably should have rated mention.
For the record, I didn't have a vote for the Mile High Sports honor, but I agree with the selection of MacKinnon.
As a long-time member of the Colorado Sports Hall of Fame selection committee, I did have a vote in the Hall of Fame male athlete of the year choice Tuesday, and, yes, I voted for MacKinnon.
The awarding of separate male and female awards made the choice less difficult than the Mile High Sports choice, given Shiffrin's continuing dominance of the World Cup circuit.
Shiffrin and MacKinnon will be honored at the Hall of Fame's annual awards banquet on April 23 at the Hilton Denver City Center. It's unlikely that MacKinnon will be present, given that's 19 days after the final regular season game, and he most likely will be competing in the Western Conference semifinals with the Avalanche or be playing for Canada in the IIHF World Championships.
Featured will be the six-member 2020 Induction class, selected last October: Lindsey Vonn, Bob Gebhard, Alonzo Babers, George Gwozdecky, Terry Miller and Erin Popovich.
Other award winners selected Tuesday were:
Male college athlete: Thomas Staines (Colorado State University-Pueblo track & field).
Female college athlete: Lynnzee Brown (University of Denver gymnastics).
Male high school athlete: Cohlton Schultz (Ponderosa wrestling).
Female high school athlete: Anna Hall (Valor Christian track & field).
January 10, 2020
Short memories? Avs'
goaltending was shaky
last season ... until February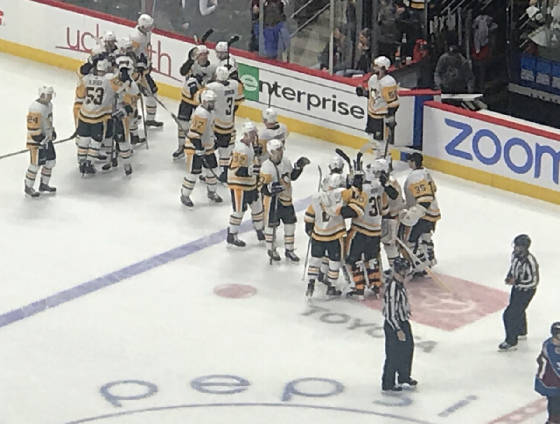 The Penguins celebrate after their 4-3 overtime win
The Avalanche's goaltending has been, well, spotty lately.
The latest example was Friday night, when backup Pavel Francouz allowed four goals on 30 shots, including a soft, 5-hole game-ender by the Penguins' Jared McCann at 3:19 of overtime, giving Pittsburgh a 4-3 win.
Colorado now is 1-4-1 in its last six home games.
In the net, No. 1 Philipp Grubauer has been struggling, and his goals-against is up to 2.92 and his save percentage is a pedestrian .909.
Francouz, at 29 and in his first NHL season after coming over fromEurope to primarily play for the AHL Colorado Eagles in 2018-19, has come back to earth after playing well enough to bring up the issue of a "goaltending controversy" -- in the more desirable context of one goalie stepping up.
"I don't like separating our goalies from our team," said Avs coach Jared Bednar. "Because there were areas of our game tonight that were great. But that's a really good hockey team. It was a really good hockey game. I have no problem with the way we played and the effort that we played with. There'll be some guys that watch that game and say they have to be better, they have to give us a bit more. I'm sure Frankie probably would say he wants one of those goals back."
Amid the talk of panicking and making a trade for a veteran goalie as the Feb. 24 trading deadline approaches, this seems to have been forgotten: This should look familiar.
Last season, the Avalanche's goaltending, with Grubauer and Semyon Varlamov in the net, was brutal for a long stretch.
In late January, I wrote:
The lack of faith in the men is in the net is debilitating for any team, and one of the reasons is that it becomes a rationalization. . . or a self-fulfilling prophecy. Teammates become tight, overly concerned that a single mistake too often can lead to a puck in the back of the (wrong) net. And on the rare nights when the goaltending is major-league and larcenous -- in other words, on the nights when the Colorado goalie has done his job -- the post-game narrative is a condescending overreaction, as if Semyon Varlamov or Philipp Grubauer has reprised Patrick Roy or Dominik Hasek in their primes and the game video should be sent to the Hall of Fame in Toronto.
But not long after that, Grubauer snapped out of it. He claimed the net and was larcenous down the stretch as the Avalanche claimed a playoff spot, knocked off Calgary in the first round and then fell to the Sharks in the Western Conference semifinals. The No. 1 job seemed to be his. Varlamov wasn't re-signed and ended up with the Islanders, for whom he posted a 32-save shutout against the Avalanche last Monday. And Francouz all along looked to be at least a capable NHL backup.
My point?
It's too soon -- way too soon -- to write off Grubauer ... or to overreact and pronounce the Avalanche goaltending as a disaster. If Grubauer hadn't shown what he can do when he's on and confident, it would be different.
The Avalanche (25-15-5) has 55 points after 45 games. Last season, Colorado (20-17-8) had 48 points after 45 games.
I'm not guaranteeing that Grubauer will repeat his late-season stingy stretch of a year ago. Or saying that Francouz is capable of that kind of standing-on-his-head, self-assured play if given the chance to be the No. 1 guy.
But there's no need to panic.
Yet.
January 9, 2020
Irv Moss and that grin
were Colorado Classics.
RIP, Irv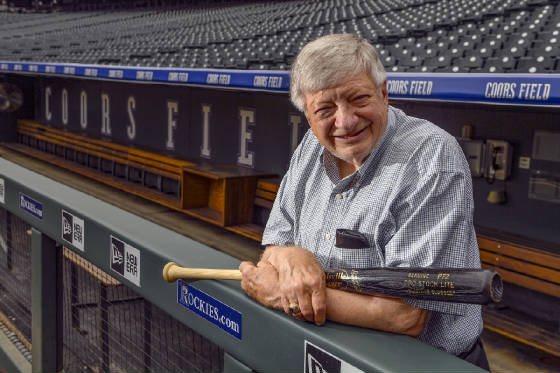 Irv Moss in 2016, as he was about to retire. Photo courtesy John Leyba
This On the Colorado Scene entry has been moved.
Please click for my current commentary and my
profile/salute of Irv Moss at his 2016 retirement
It has been much noted that we lost two legendary Irvs in 11 months. Please click for my Greeley Tribune columns on Irv Brown after his death in February 2019
January 8, 2019
Stern was cool to
internationalization at first,
but soon was all-in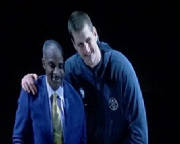 January 5, 2020
Just when it seems
Buffs will start 2-0 in
Pac-12, roof caves in

The Oregon State bench, with coach Wayne Tinkle at left, reacts as the final seconds count down.
BOULDER -- I was at the Pepsi Center Thursday night, watching the Avalanche whip the defending Stanley Cup champion St. Louis Blues, but one television in the press box was tuned to the ESPN2 broadcast Oregon vs. Colorado in the Pac-12 opener for both schools at the CU Events Center.
Without being able to hear, but with friends and social media contributing impressions, I inferred that analyst Bill Walton had a nice time during his visit, and also that he probably knows he would have fit in as a student in Boulder, and not just because he would have played with Scott Wedman and Dave Logan.
And I wondered whether a sign from God was involved, and what Walton was saying, when the broadcast feed disppeared for the final two minutes and the studio folks back in Bristol had to put away the Doritos and fill time until the feed returned ... which it never did.
But that night, the Buffs impressively knocked off the fourth-ranked Ducks 74-65, improved to 12-2 overall and seemed to re-emphasize its claim as Pac-12 contender and possible NCAA tournament team.
Also, though, the Buffs needed to hold serve at home, and that's why Sunday's 76-68 loss to Oregon State at the CU Events Center was doubly devastating.
The Buffs needed a sweep of the Oregon schools at home to set the tone for the conference season.
If it had happened, CU might have cracked the AP top 25. and were in great position to claim it when they led by seven at haltime, by 12 with 13:21 left, and still by 11 with 7:57 remaining.
(Update: Actually, much to my surprise, and underscoring that the game ended at 8 p.m. Eastern, the Buffs had climbed into the AP top 25 released Monday morning -- at No. 25.)
Consider this: In that final 7:57, the Beavers outscored the Buffaloes 24-5.
For CU, that's ugly.
That's a collapse.
The Buffaloes stopped moving on offense, got trapped and often turned the ball over against the Beavers' 1-3-1, couldn't hit the shots they did get, didn't defend well, fouled on Beavers' prayer 3-pointers, and lost their poise. For the Beavers, guard Ethan Thompson had 24 points, including 16 in the second half.
Other than that, all was fine for CU.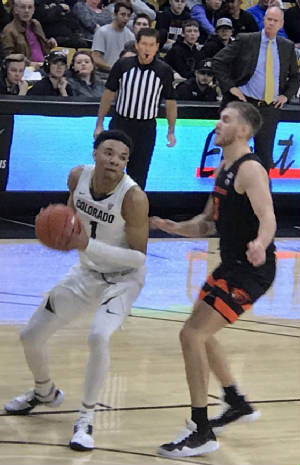 Tyler Bey (left), who finished with 20 points, didn't score after his dunk with 8:54 left. And he didn't get the ball down the stretch, with the Buffs playing tight.
Guard McKinley Wright IV had 14 points, 10 assists and 7 rebounds, but he didn't take control when it most mattered.
Uh, there still are a few bugs in the system.
It was a blown opportunity to take advantage of opening the conference season with the set at home, and when it was over, the four schools involved -- Oregon, Oregon State, CU and Utah -- all were 1-1 in conference play. Oregon rebounded with a Saturday win at Utah, and the Beavers had lost at Salt Lake in the Thursday league opener.
So, really, this became a treading-water first weekend for the Buffs ... and it should have beeen more.
""We just didn't execute," Wright said. "We practiced against all that defense. We knew it was going to come at some point, but we didn't execute down the stretch."
CU coach Tad Boyle was befuddled.
"Disappointing loss, to say the least," he said. "Credit to Oregon State, don't want to take anything away from them. We imploded the last five minutes of the game against that 1-3-1 and it's frustrating because we practiced against it, we knew it was coming, we talked about it ... We didn't know when it was coming, but we knew it was coming at some point. I thought it was kind of a last resort for Oregon State, they were down 10 with five minutes to go. They said, 'Well, let's throw that out there and see if they can handle it,' and, whoo, we did not handle it. We peed down our leg and turned that thing over and got on our heels and lost our aggressiveness."
(Yes, he said, "Peed down our leg.")
Boyle added, "One of the things we talk about against that defense is that it's not very sound especially boxing out. You can really offensively rebound against it. But in order to offensive rebound, you have to get shots. We couldn't get shots because we turned the thing over. . . I take responsibility as a coach. We did not handle that well. That's my fault.
"We lost our composure and confidence, we got on our heels and that can't happen. It's league play and welcome to the Pac-12, guys. We're a veteran team. That's what's disappointing. If we have a bunch of freshmen and sophomores out there, I'm like, 'OK, we'll learn from this,' but that's not the case. There are no excuses to be made for that."
I asked Boyle why his attempts to arrest that lack of composure hadn't worked.
"I think you have young kids out there, playing a game in front of a lot of people on a big stage," he said. "Sometimes they handle it well and sometimes they don't. And when they don't, it just happens. You have to live with it, you have to move on from it, and you have to learn from it."
January 2, 2020
In front of his former
UMass teammates, Makar
gets back on track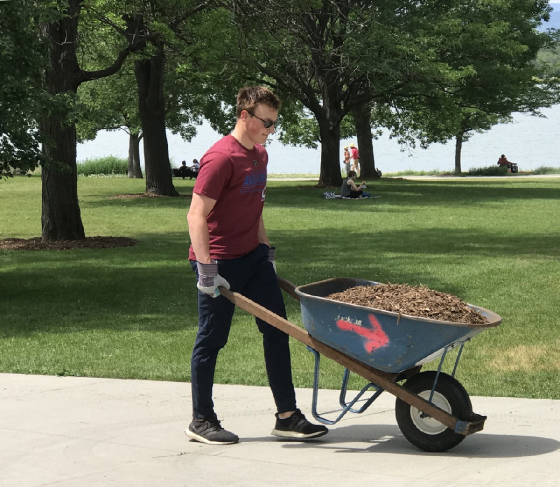 Last summer, Cale Makar helped out on a Kroenke Sports and Entertainment community service
day at Denver's Sloan's Lake Park.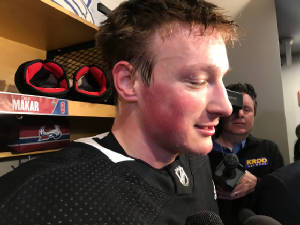 Last spring, Cale Makar and most of the UMass hockey players sitting together at the Pepsi Center Thursday night beat the Denver Pioneers in the Frozen Four semifinals and then fell to Minnesota Duluth in the championship game.
The next day, Makar -- Colorado's first-round pick and No. 4 overall in 2017 -- signed with the Avalanche and within 48 hours of the title-game loss stepped into the Colorado lineup for its Game 3, first-round win over his hometown team, the Calgary Flames. "There was such a quick transition, but at the same time, this is what you're been working for," Makar said Thursday night.
And all -- or at least most -- has gone well since, with Makar one of the early favorites to contend for the Calder Trophy as the NHL's top rookie as the Avalanche head for one of the league's bright-lights circuits, in this case consecutive road games at Newark against New Jersey Saturday, at Uniondale against the New York Islanders Monday and in Manhattan against the Rangers Tuesday.
Although he missed eight games with an upper body injury before returning to the lineup last weekend, Makar -- the Hobey Baker Award winner as NCAA hockey's top player last year -- leads NHL rookie defensemen in points, with 31, and is second only among all rookies to Buffalo's Victor Olofsson, who has 35. Makar has nine goals and 22 assists and is a plus-5.
That was after he had a goal and an assist in the Avalanche's 7-3 rout Thursday night of the defending Stanley Cup champions, the St. Louis Blues.
The Minutemen, who meet DU at Magness Arena Friday and Saturday, eagerly checked in as spectators -- for the record, following NCAA student-athlete regulations when lining up the tickets after the schedule came out -- to watch their former teammate.
"I keep in touch with all those guys," Makar said. "It's pretty awesome they were able to come, that's for sure. . . I didn't get to see them at all, but I love all those guys. I don't want to reminisce in the past, but it was awesome to have them out there and hopefully, I'll be able to see them tonight."
Along the way this season, there have been occasional reminders that as gifted as he is, the transition for young defensemen is the most difficult and even the elite at te position can look befuddled and rushed at times as rookies.
But he's back.
"I don't think I'm out of shape at all," he said. "Tonight, I'm a little bit sick, so I was taking pretty short shifts. It's stuff you deal with. It's getting comfortable again with the pace."
I asked Avalanche coach Jared Bednar if Makar's continuing education in the NHL game.
"I thought he was good tonight, number one," Bednar said. "Maybe had a couple miscues with the puck, but he was dangerous in the areas we want to see him.
If I break down his season, his start was probably putting a little too much pressure on himself with lockdowns, trying to do too much in areas where he should just be simple, and not doing enough in areas where we thought he could do more. There was some meetings and he grabbed it right away and came around.
"I think we saw some excellent play before he was hurt. Now he's already faced some adversity in his pro career. It's the first time he's ever been hurt, and it lasted longer than what he wanted. I think there was some frustration there. I think coming out of that, he was trying to pick off where he was at the start of the year, he was trying to do too much when he shouldn't. . . Now he's starting to build it back.
"I expect that we're going to see real good play here from Cale going down the stretch. He's an important piece to our lineup and he just keeps getting better and better. I think that where he can grow is we get him to a point where he's mature and he gets in better condition. Not that he's not a well-conditioned athlete. He grows into a man and we get him into the area where we can start playing him more and more and get him up in the high 20s."
He means minutes, of course.
January 1, 2020
College QBs are scrambling,
and that doesn't mean
leaving the pocket