For 2020, scroll down for...
On the Colorado Scene Commentaries
* = Columns on woodypaige.com.
FEBRUARY, IN THIS ORDER BELOW
Feb. 26 -- Leila Morrison honored at Avs-Sabres
Feb. 24 -- Dorrell wins the news conference
Feb. 22 — Karl Dorrell is Mr. X
Feb. 19 -- On the CU coaching search
Feb. 17 -- How long will Rantanen be out?
*Feb. 17 -- On Pac-12 coaches' bailouts
Feb. 12 -- Tucker cashes in. OK, we get that. But there's a better way
Feb. 8-11 -- Mel Tucker, CU, MSU and a trip to picturesque Watkins
Feb. 11 -- Gruuuub is back in the groooove
Feb. 11 -- Buffs hoops alone on top of Pac-12. Really.
Feb. 7 -- On unretiring CU uniform numbers
Feb. 4 -- Worse than Gradishar: Wright hasn't even gotten a sniff
February 28, 2020
Putting too much (draft)
stock in Combine is
risky ... and even stupid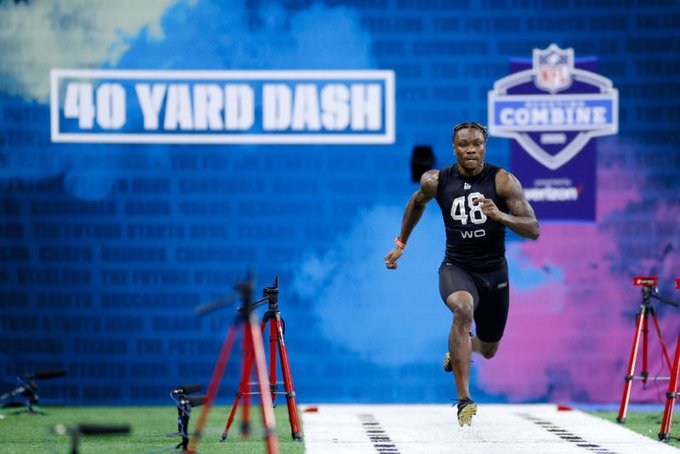 February 26, 2020
Leila Morrison among
those honored on Avalanche's
Military Appreciation Night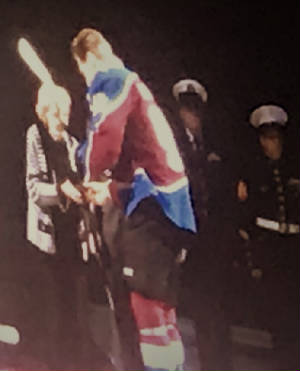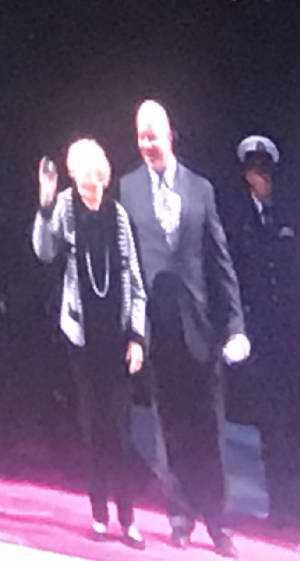 Leila Morrison with Gabe Landeskog, left; and Jake Schroeder, right.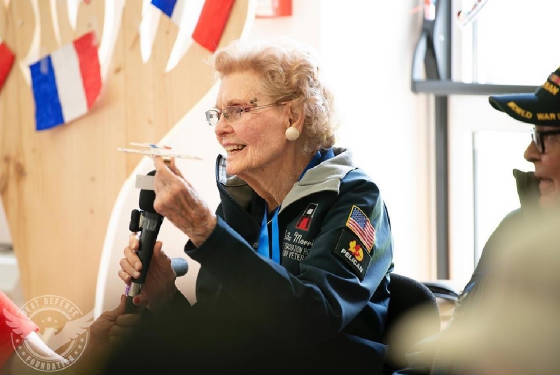 Leila Morrison speaking to French schoolchildren at Normandy.
Video from @nhlonnbcsports Twitter account
I've had two nice chats with World War II combat nurse Leila Morrison in the last six days.
One was at Jake Schroeder's and the Denver Activities League's Overlord Project dinner at the University of Denver.
The other was in the Pepsi Center's Club Lexus before the Sabres-Avalanche game Wednesday night.
Honored on Military Appreciation Night, Morrison dropped the ceremonial first puck for the captains -- Gabe Landeskog of the Avalanche and Jack Eichel of the Sabres. Then, as she held Schroeder's arm, she stood with him at center ice as he sang the National Anthem.
,
I've interviewed Leila and written about her several times, and here are links to two of the pieces that resulted.
Leila as one of the six Colorado-connected World War II veterans who received the French Legion of Honor Medal for their service in Europe.
Leila as one of the veterans escorted to Normandy by former NFL linebacker Donnie Edwards' Defense Foundation at the 75th anniversary of D-Day.
There is some overlap and repetition, so read the second if you're especially curious about Edwards' organization, which seeks to take veterans back to theirbattlefields -- before it's too late.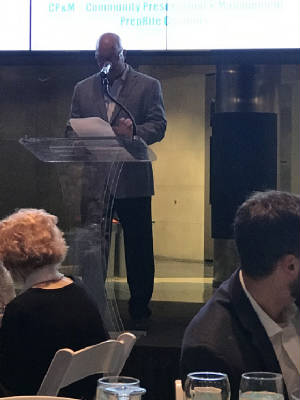 Jake Schroeder at the Project Overlord dinner. That's Leila, at left. watching him.
February 24, 2020
Dorrell already is
winning over Buff fans --
and other skeptics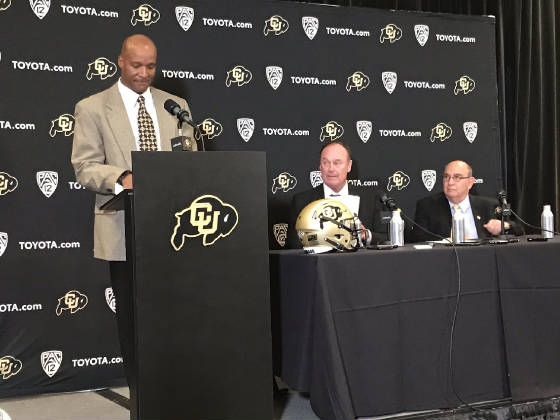 Karl Dorrell, Rick George, Phil DiStefano
BOULDER -- Karl Dorrell was calm and composed Monday morning in the Dal Ward Center at Folsom Field, yet emotional in the first places.
While he will be no firebrand as the Buffs' head coach, it became more clear with every second why CU athletic director Rick George saw Dorrell as a possible good fit as a successor to Mel Tucker.
That was even before he discovered that Dorrell had built a new home in Lafayette in recent years, after buying the lot earlier.
Early in the search, a friend with football connections mentioned to me that maybe the Buffs should at least talk with Dorrell because he lived in Boulder. I initially took that to mean Dorrell had kept the home he and his family lived in during his days as a CU assistant as an investment. (The Boulder part turned out to be inaccurate. But my point is, his continuing connection to Boulder was no secret, though I discounted it after noting he had just been promoted to assistant head coach/wide receivers with the Dolphins. As it turned out, he returned to the Colorado home to spend NFL coaches' down time -- parts of June and July -- when he was with the Jets and Dolphins.
"Being an NFL coach and being in the NFL going on 10 years or so, it's a very volatile business where you move around a lot," Dorrell said. "We decided years ago that Colorado was going to be our home, to stay, when all was said and done. I had that inkling in the back of my mind, though, that my fondness for the university and getting a chance to be in this position would be a dream. And it came true."
He made the serious point that stamped him as different than Tucker.
"You're going to get a guy that's here for a long haul," he said.
Then he joked, "I built a home to prove it prior to getting the job...This is my dream job."
At this point, he is what the Buffs need. It wasn't so much what he said Monday. We've heard it all before. Winning the right way and all that. Tucker was more the evangelist in pitching his "culture" agenda -- one which turned out to be hot air. (Substitute another term for "hot air" if you wish.) But Dorrell was impressive and sincere.
As I noted below in a Saturday commentary after the news of Dorrell's selection broke, I still probably would have argued for going with Darrin Chiaverini as interim coach through the upcoming season and then re-evaluate. And if it came down to former fired UCLA head coaches, I probably would have opted for Jim Mora.
But the unreasonable and vehement overreaction to Dorrell's choice, and the unfairness and even the naivete of some in offering that criticism drove me more toward the Dorrell camp.
George and Dorrell told the stories of how the Buffs -- initially with a call from associate athletic director Lance Carl -- contacted Dorrell last Thursday. On that call, Dorrell mentioned he would be in the Boulder area within hours to return to his home and take advantage of the Dolphin staff's weekend off before journeying to Indianapolis for NFL Scouting Combine, which some in Colorado weirdly consider one of the biggest sports events on the national sports calendar.
During the Q-and-A part of the news conference, I asked Dorrell why if this was his dream job, why didn't he go after it more aggressively? He essentially said he deferred to Chiefs offensive coordinator Eric Bienemy.
"Did I want to pursue it? Yes," Dorrell said. "I'm very fond and have close relationships with a number of coaches that are from this program. Matter of fact, one specifically that's down the way at Kansas City. I'm very close with Eric. I was being the respectful guy of understanding where he was in the process. But I would say, yes, in the back of my mind I would love for Colorado to talk with me. But I knew there were some guys I was close with that had really great connections and had background and history here with this program, that they would have interest as well."
So how'd this eventually come about?
"I left Thursday night from Miami to come here to have a couple of days with my wife, son and family," Dorrell said. "I was flying out (of Denver) yesterday to go to the Combine in Indianapolis. I get this call Thursday afternoon about, 'Hey, would you be interested in the job,' and that kind of floored me, to be honest with you. It really surprised me. And I said, 'Absoutely!' 'Well, when can we talk?' I said, 'Well, I told Lance on the phone, 'I'm actually flying back to Colorado tonight, I'll be there Thursday night. He went and talked with Rick and he got back with me a little bit later that day. He said, 'Can we meet at your house?' and I said, 'Sure.' ... OK, I get that, we want to be discreet.
"So after I was on the phone with both Lance and Rick, I sat back in my chair and thought, 'I have to tell (Dolphins coach) Brian Flores what's happening. So I went in to see him. Brian's going to be a wonderful head coach. I love him. I've worked with him one year and it feels like 15 or 20."
He said he filled in Flores.
"He was very, very supportive," Dorrell said.
At that Thursday night meeting in Lafayette, he was offered the job. He said the Dolphins came back at him to try and keep him.
"I would probably still be there because of the way my career was going in the NFL, if it was another college job," he said. "But because it was Colorado, my home, I was nowhere it was going to take me away from this job."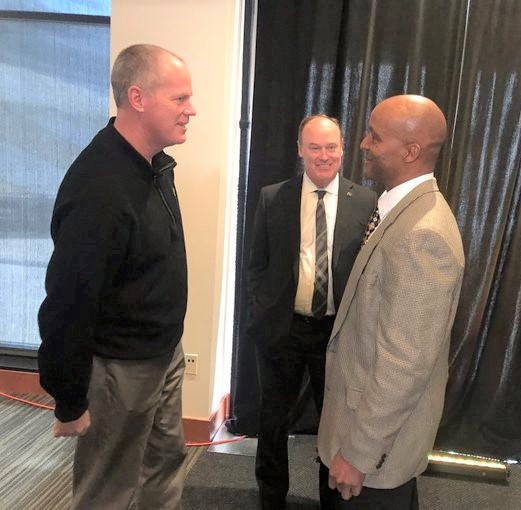 Tad Boyle meets Karl Dorrell as Rick George looks on.



February 23, 2020
Here's the official
CU News Release
Announcing Dorrell
From Dave Plati, CU Associate AD/Sports Information Director
Perspective from Neill Woelk of cubuffs.com
February 22, 2020
As CU coaching search
bordered on farcical,
Dorrell is Mr. X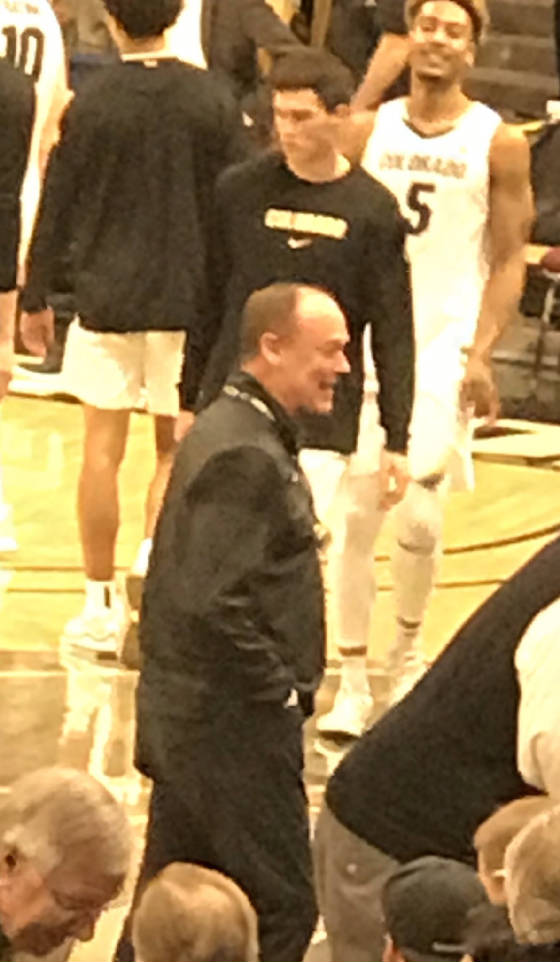 CU athletic director Rick George was at the Buffaloes' sold-out game against UCLA Saturday.
Over the last few days, I'd mentioned there often is a "Mr. X" in coaching searches, whether his identity ever comes out or otherwise.
Mr. X at CU was Dolphins wide receivers coach Karl Dorrell.
On Saturday, Pete Thamel of Yahoo Sports reported that Dorrell -- the former Buffs and Broncos assistant and former UCLA head coach from 2003 to 2007, when the Bruins went 35-27 and played in five bowls -- was the frontrunner for the CU job. Soon, other reports -- most notably from Ian Rapoport of the NFL('s) Network, meaning it came from the NFL grapevine -- pegged it as a definite hire. And the official announcement of Dorrell's hiring came Sunday afternoon, and Dorrell's introductory news conference is set for Monday morning at the Dal Ward Center.
By now, you know those "mentioned" in the past 10 days as athletic director Rick George and associate athletic director Lance Carl conducted the search. As the weekend began, more names were thrown into the mix. I'm not going to list them all again.
Dorrell isn't going to overwhelm CU partisans, but deserves open minds. At least to the point of: Give the guy a chance! Bluntly, some of the absurd lazy kneejerk reaction to Dorrell's hiring is driving me into his camp. He'll have to especially scramble to assemble a staff among those available after a handful of assistants caught the shuttle to East Lansing. How he would do that and who he had in mind obviously was one of the questions, and his answers must have been credible. Darrin Chiaverini played four seasons under assistant coach Karl Dorrell from 1995-98, and it seems certain he will remain as assistant head coach -- and not just for contract reasons. Same with the strategy needed to hang on to those in Mel Tucker's much-touted, but abandoned recruiting class, rather than have many ask for releases from their national letters of intent.
The standard of judgment for Dorrell will involve two things:
1, Was the right choice even among a field limited by the time of year and bizarre circumstances? For example, another former UCLA coach, Jim Mora, also twice had been an NFL head coach, but he apparently couldn't even get a sniff. That's hard to fathom. He was 46-30 as the Bruins' head coach in six seasons. His father, Jim, had been a CU assistant and his son spent time in Boulder in his youth. He wanted the job.
2, Given the pool, would it have been better to stick with Chiaverini through the 2020 season and then either strike the "interim" or open up a conventional, full post-season search? At this point, that's still what I think CU should have done.
By the weekend, it was apparent that Bielema had flunked the "floating" test, that Calhoun was going to stay at Air Force, Eric Bienemy was going to stay with the Chiefs and Steve Sarkisian had worked contact with CU for a raise at Alabama. (Not that there's anything wrong with that.) Names kept getting thrown out and even those trying to be cautious had to include them to be on the safe side. (As I did, too.)
One of the knocks of the hire we're hearing is that, gee, he was fired at UCLA. After five bowl seaons. Yes, that's a low bar, but it's not as if the Bruins were awful under him. UCLA also fired Mora. UCLA also fired Rick Neuheisel. UCLA also fired Bob Toledo, an excellent coach. The Bruins' program benefits from its picturesque campus and its glamor image, but it also plays in a stadium 45 miles from campus -- albeit a great one -- and gets less help from the registrars' office than other Pac-12 public universities. Chip Kelly will be fired at some point, too. And Bruins fans will continue to believe UCLA should be whipping everyone in the league, and that consistent competitiveness isn't enough.
Then there's his firing after a single season (2014) as Derek Mason's offensive quarterbacks coach. Also fired was wide receivers coach Marc Lubick. (Yes, he is.) The Commodores were dreadful that season offensively. They played our quarterbacks, including more than one in eight of the 12 games. You walk in and coach whom you have. I don't pretend to know the specifics -- whether the personnel truly was that bad -- but I know this much: Stuff happens in this game and those who don't get that don't understand coaching and college football. Almost every resume of excellent coaches includes a firing, whether individually or as part of a staff. Ask Nick Saban, fired by Earle Bruce at Ohio State.
Bottom line. I repeat: Give the guy a chance.
February 19, 2020
If the CU choice
is Troy Calhoun,
here's an introduction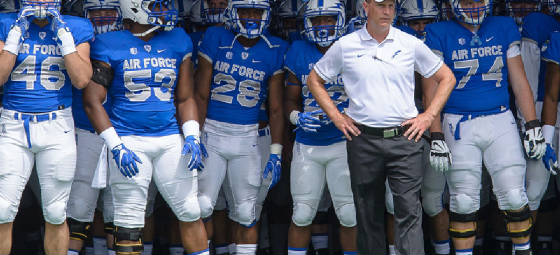 (To immediately get to my column profile of Troy Calhoun, scroll past the update.)
Updated Thursday afternoon
Early in the Colorado State coaching search, I asked out loud whether the site footballscoop.com had been vetted as credible in such matters. I wasn't skeptical. I was asking. I didn't know.
Then it was uncannily accurate during the clumsy CSU search process, with revelatory information, as if somebody had repositioned a plant on the balcony -- or the contemporary internet equivalent -- and then disclosed all.
So I assumeed that its report is accurate -- that the two finalists at CU are Air Force's Troy Calhoun and former Wisconsin and Arkansas coach Bret Bielema.
Then in a Thursday morning update, the site threw former Washington and USC coach Steve Sarkisian back into the mix, and Channel 9's Mike Klis -- likely working with NFL agents/sources -- has said that Chiefs offensive coordinator Eric Bienemy still is a possiblity.
Brian Howell of Buffzone.com lists Bielema, Bienemy, Calhoun, interim coach Darrin Chiaverini, Sarkisian and California's Justin Wilcox, and notes that two previously mentioned -- Arkansas State's Blake Anderson and ex-UCLA, Falcons and Seahawks coach Jim Mora -- don't seem to be possibilities. Wilcox, the son of Hall of Fame linebacker Dave Wilcox, seems to be a longshot to be genuinely interested.
Then in mid-afternoon, ESPN's Chris Low reported Sarkisian was staying at Alabama -- with (shocker) a sweetened deal. That doesn't necessarily mean he was offered, or was going to be offered, the job. It even could mean that he wasn't going to be and "withdrew" before the job went to someone else.
There is some misconception out there. This is not a conventional search-committee hire. The search committee is athletic director Rick George and associate AD Lance Carl. Chancellor Phil DiStefano undoubtedly is kept in the loop and has input, but this is not a case of "brass" sitting around a table or otherwise convening and taking a vote.
The choice and the deal still will have to be eventually approved by the, um, eclectic board of regents, and while it's hard to conceive of the board rejecting the contract, nothing -- especially in this strange process -- would surprise me anymore. So CU has to be at least conscious of that dynamic.
Keep in mind that Calhoun is coaching the Falcons in spring football. He also has been discussing a contract extension with the non-profit corporation that runs Air Force athletics, but nothing has been finalized and/or signed. So it wouldn't shock me if Calhoun or AFA issues a statement or just lets it be known that he talked with CU, but all are agreed Calhoun and the Falcons will continue to work toward closing the deal. And Calhoun would have simply checked out a possible option.
Then CU announces its choice.
But alternatively, it still seems possible Calhoun could be the CU hire.
As we await additional word, by way of introduction for Buff fans who might not be completely aware of Calhoun's background, here's my 2008 column on him.
AIR FORCE ACADEMY -- With the Rampart Range as the backdrop, and with the Air Force practice fields emptying of cadet football, lacrosse, soccer and even ultimate Frisbee players in the late afternoon, Troy Calhoun lifted his young daughter, Amelia, and placed her on his shoulders.
As the Falcons' Saturday home game against No. 20 Utah approached, the second-year Air Force coach smiled as he thought back to the circumstances that led to him arriving at the academy as a teenager in the mid-1980s.
They are the circumstances that give him credibility when he tells his players to hang in there as they cope with the rigors of the academy.
Calhoun, 41, has been there.
The former Falcons quarterback, who finished his career as the backup to the dynamic Dee Dowis and as a virtual assistant coach in uniform, not only has walked in the cadets' shoes, he has spit-polished them.
Calhoun was from the hardworking lumber town of Roseburg, Ore. His dad, Terry, was a teacher; his mother, Joyce, was an emergency room nurse. As he finished up at Roseburg High, he surveyed his options, even thinking of whether he would join many of his contemporaries in going to work at one of the mills.
"My mom pretty much said, 'There isn't a choice to be made here. You're going to the Air Force Academy,"' Calhoun said. "There were many days I was here when I was mad as I could be at my mother. It ended up being a super place for me. But about the first 18 months, you're thinking, 'Mean old Mom.'
"Yet, what are you going to say when your mom walks into the house, sometimes she had blood all over. It's not like you're going to complain about being sore or saying this is a little bit too stressful. I guess she did know best. … She tells me all the time she still has those letters from me, telling her how mean she was. I still needle her a little bit."
Calhoun's sister, Callie, was two years behind him at the academy and won six individual NCAA titles in cross country and track and field. So the choices to accept the congressional appointments worked out well for both of Joyce's children, and Calhoun was the natural selection as Fisher DeBerry's successor. By 2006, Calhoun had a deep résumé as an assistant coach on the collegiate and NFL level, including with the Broncos and Houston Texans.
He returned determined to diversify the Falcons' offense from its reliance on the option game. Perhaps the most amazing thing about his success in his first two seasons is the Falcons are winning during a major offensive transition. Calhoun again discovered that he had little choice; he had to back off a bit. The Falcons often run out of the shotgun and are getting considerable yardage from tailbacks, but the passing game isn't yet much of an option. In beating Houston last week to go 3-0 for the season, and increasing Calhoun's two-season record as head coach to 12-4, the Falcons didn't complete a single pass.
He has changed the Falcons' recruiting emphasis - an emphasis that in any case is subject to the congressional appointment parameters and high standards - in the hope of ratcheting up the speed quotient on the roster.
"You get a little more swift, you get a little more separation on the outside to get the throws in there," Calhoun said. "I'm not saying it's easy. I would almost bet that any time a service academy in the last 30 years had a winning team, it probably wasn't in the top 100 in passing. I think you have to keep pushing."
It also involves evolution, since the program's early days of success came when Ben Martin's teams were among the most imaginative and successful passing programs in the country, including when Ernie Jennings was the best wide receiver in the country in the Woodstock era.
"Back in that day," Calhoun said, "you probably had to be a little unique in your approach, too. Then, throwing the ball was a little bit unique. The thing you can't be is cut out of the same mold on offense and defense as everyone else. You have to be a little bit different. Maybe as you get a little more size and quickness, you can have a different approach, but you have to be resourceful and creative, and still teach clearly so your guys can execute."
And you have to keep in mind that some of your players still are learning to love the place.
February 18, 2020
How long will
Rantanen be out?
That is the question.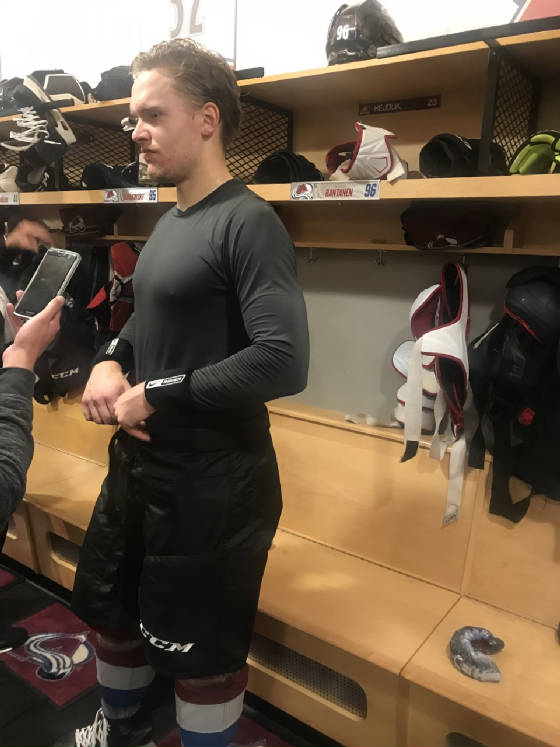 Mikko Rantanen in a better time ... on Opening Night.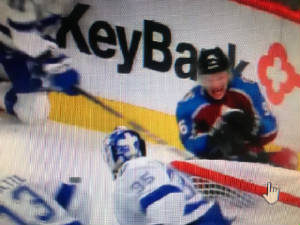 "Upper body," Jared Bednar said. "He'll be out weeks."
Weeks, as in plural.
Weeks, as in multiple.
Weeks, as in the Avalanche will have a hole to fill down the stretch of the regular season.
That was Bednar's vague post-game assessment after Mikko Rantanen was tripped by Tampa Bay defenseman Erik Cernak, slid and slammed into the end boards. He grimaced in pain and soon headed for he dressing room, done for the night in what turned out to be Colorado's 4-3 overtime loss to the torrid Lightning Monday night at the Pepsi Center. It appeared that he had suffered a shoulder or a collarbone injury.
The Avalanche's injury list already included goalie Philipp Grubauer and forwards Nazem Kadri, Colin Wilson and Matt Calvert (all lower body).
Add Rantanen, who earlier missed 16 games in late October and November with a lower body injury. Cernak drew a tripping minor on the sequence. (On Tuesday, the Avalanche seemed to subtly downgrade the severity of the injury, noting Rantanen was "week to week." Rumors that he had suffered a broken collarbone were unfounded.)
Rantanen also missed the final eight regular-season games a year ago with an injury before returning for the playoffs. Also, Gabe Landeskog missed nine games before returning for the final five. Then, Nathan MacKinnon stepped up with seven goals in the final 16 games and the Avalanche secured the final playoff spot in the Western Conference.
And Colorado also went through a series of injuries early this season, and MacKinnon essentially put the Avs on his back and said: Let's go. Ultimately in the 14 games Colorado was without both Rantanen and Landeskog, MacKinnon had 10 goals and 14 assists and the Avalanche went a decent 7-6-1 to stay in the hunt.
Now, the Avalanche has 24 games remaining, is mired in a three-game losing streak after winning five in a row. That's a failed opportunity and after getting one point Monday night, the Avs are one point behind St. Louis and Dallas in the Central Division.
"I think every team's going through it a little bit ... The other guys have to step up," Bednar said. "It's a great opportunity. We have to find out a way to carve out wins the way we did early in the year. It's going to get tougher and tougher, but hopefully we can get those guys back and healthy as soon as posssible. Guys are going to get opportunities with callups and more ice time for guys who have been here and wanting more ice time. We'll see what they've got."
MacKinnon had his 33rd goal of the season against the Lightning, but his giveaway in the OT led to Nikita Kucherov speeding in on a breakaway to beat Pavel Francouz through the 5-hole for the game-ending goal.
Francouz had 23 saves against the Lightning. Grubauer has played well recently, reminding of his revival down the stretch last season, and he is considered day to day. But the ongoing issue is how hard the Avalanche should continue to check out the veteran goalie options as next Monday's trading deadline approaches. Best bet: The Avs stand pat there, showing faith in Grubauer.
Forward is another story; it seems a virtual certainty Joe Sakic will make a deal or deals -- nothing spectacular -- and acquire veteran forward depth. And given the hockey world's low standards for vetting rumors and speculation, the annual game of tossing them against the wall is well underway.
On Tuesday morning, the Avalanche recalled right wing Martin Kaut from the AHL Eagles. Kaut was the Avs' first-round pick, at No. 16 overall, in the 2018 draft. He has five goals and 11 assists in 31 games with the Eagles this season. He turned 20 on October 2 and becomes the Avalanche's youngest player. It also was a jarring reminder that the Avalanche soon will have a player born in the 2000s.
February 17, 2020
Come on, folks,
Pac-12 isn't dropping
to Group of 6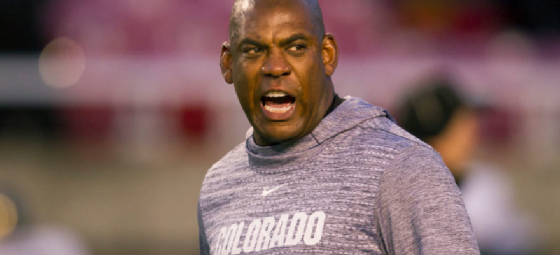 February 12, 2020
OK, we'll reluctantly concede
Mel Tucker cashed in big-time.
But the way he did it stinks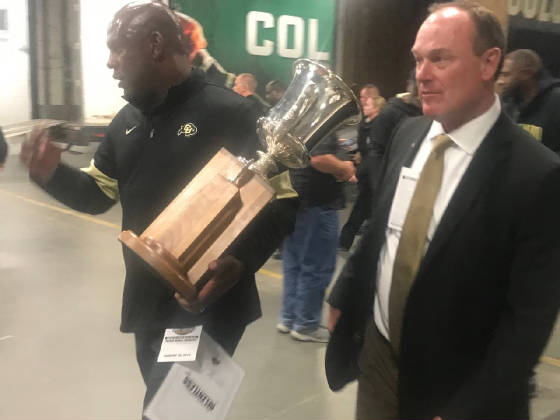 Win No. 1 of 5 in the Mel Tucker Era at Colorado. Here, he's with athletic director
Rick George with the Centennial Cup after CU's win over CSU in the Rocky Mountain Showdown
BOULDER -- Rick George looked -- and to an extent, sounded -- as if he had been blindsided.
Because he was.
The CU athletic director Wednesday was prone to begin his answers with, "Look ..."
It was not condescending or lecturing in tone, but more along the lines of giving us credit for not being naive about the ways of the college football world. And the "us" wasn't just the media members and athletic department staff in the offensive meeting room in the Champions Center, but those taking in the news confence via the Buffs' web site.
Four days after a Michigan State-connected plane landed three miles southeast of DIA Friday morning and spent nearly five hours here before taking off for San Jose, George took the call late Tuesday night from Mel Tucker's agent, saying Tucker was accepting the Spartans' job and bailing out on Colorado after one season.
A lot happened between those two points, obviously, with the Chicago-based search firm DHR operating on MSU's behalf, his agent representing Tucker, and MSU stubbornly coming back at him after Luke Fickell decided to stay at Cincinnati.
Look (I guess it's catching), as much as my natural instinct is to say it would be more honorable to reject any and all overtures for at least two seasons after a program gives you your first head-coaching chance, I get it. Even as a CU alum, I get it. I'm more perplexed than I am angry. Tucker's spiels about culture and buying in and character and even tradition don't only ring hollow.
They ring as empty hypocrisy. He even reiterated all those points in appearances on KOA and Altitude Sports Radio on Tuesday. There are several radio personalities and others involved in the interaction marveling at the gall of the man. And then he actually met with another group of boosters Tuesday night at the Denver Country Club, spewing the same malarkey. He was nanoseconds away from accepting the MSU job.
At his introductory news conference in East Lansing Wednesday night, Tucker said leaving the Buffaloes was the toughest decision he's hand to make in his coaching career.
"It was the right decision," he said. "There's no doubt in my mind about that."
He said of the courtship: "Late last week, Michigan State showed interest and I had interest as well. Strong interest, very strong interest. Throughout the process, I decided that it was time for me to take a step back from the process. Obviously there were other great candidates. The search continued then circled back to me, I want to say probably Monday morning with my representation. Ultimately sometime late last night, it was apparent to me that I needed to be here and that's kind of how it worked out."
Tucker deserves to have to cope with skepticism and even chortling disbelief the next time he tries to sell his bill of goods.
The video of him sitting and reaching out via cell phone to coveted prospect Ashaad Clayton, congratulating him and welcoming him to the Buff family, is a stunning embarrassment and should have been a warning sign. Clayton not only had been assured that the Buffs would unretire Whizzer White's No. 24, but that Clayton could wear it. Hey, unretiring a number worn by a three-sport college star/Heisman runnerup/NFL standout/World War II vet/Supreme Court justice is something done all the time to help land a prospect, right? (See earlier commentary below, where I emphasize Clayton has praiseworthy reasons to want to wear No. 24 and obviously is a terrific young man. But...)
Of course, now Clayton -- and others in the Buffs' recruiting class -- can ask for releases from their National Letters of Intent. Whether to try to follow Tucker or go somewhere else.
I asked George if he expected such requests and what CU would say.
"That's certainly possible and again, what I would say is have patience, we're going to move quickly, we're going to move expeditiously and we're going to have a great football coach," George said.
But the part that really stinks is that this wasn't the result of Tucker changing his mind.
His Saturday Tweet of commitment to CU after a Detroit Free Press Friday night story said that MSU intended to interview him and Fickell over the weekend was lame.
The plane already had come to the Denver area and departed, and Tucker traveled to California to make appearances with George at booster receptions Friday, Saturday and Sunday nights.
"I was asked formally for permission to speak to coach and that's a courtesy we extend to each other," George said. "You have to ask them if he spoke to them or not, but I'm certain that he probably has."
Those of us skeptical because Tucker didn't respond to requests for comment from Boulder media especially, which could have left him open to detailed questioning, were lectured to back off. His Saturday Tweet was his answer, right?
No. It was his dodge.
I asked George if he believed Tucker had been truthful through the process.
"Coach and I have a really strong relationship," George said. "We had a conversation on Saturday about his commitment to Colorado and I was comfortable with that. What transpired in the last 24 hours, it's disappointing. Look, coach is going to do what's best for his family and I support that. He made that decision and my focus now is moving forward with this program and where we're headed."
Also over the weekend, we were told, among other things, that Tucker's gushing portrayal of his affection for CU and the Buffs program at the receptions was convincing. I'm sure it was. He wasn't the Pinocchio character in the insurance commercial. He was talking of CU being a 22-year destination job. His boss was standing there.
"I believe what Mel told me," George said. "I think we had a shared vision of where we wanted this program to go. You have to ask him that question. But again, I'm committed to this program and we're going to go out and have an incredible coach."
At the very least, he was willing to listen and talk beyond the "Who me? I'm flattered" baloney of his Tweet.
All along, all knew Fickell was the first choice. The search firm -- used by CSU in the hire of Mike Bobo in 2014 -- is very good at vetting and presenting candidates to be interviewed, sometimes with special instructions from school officials. Initial meetings and talks would have been exploratory as Fickell listened and pondered, but MSU ultimately decided it needed Tucker -- Vic Fangio's fired predecessor as the Bears' defensive coordinator -- with a single 5-7 record on his resume as a head coach. (He also was 2-3 as the Jaguars' interim coach in 2011.)
It turned out he more than doubled his salary, to an average of $5.5 million annually, and that can ease what will be the inevitable frustrations as he coaches in the Big Ten in a troubled athletic department.
What next for CU?
Later Wednesday, offensive coordinator Darrin Chiaverini was named interim coach. That's a wise move, given his deep connection with the program, dating back to his playing days. He should be considered a viable candidate forthe permanent position, which would mirror what Oregon did in promoting assistant Mario Cristobal after Willie Taggart left after one year to go to Florida State.
Other than that -- and George used the word himself -- it's "tricky." Especially now. Trying to raid another program of its head coach -- even a Group of 5 program -- can come off hypocritical unless it is done so transparently, it can be an honorable search. I've tossed out some names, including those of former CU assistant and Oregon head coach Mark Helfrich; Air Force coach Troy Calhoun (what the hell, at least ask and check into his buyout); Dave Logan; and former Bengals head coach Marvin Lewis.
Notice, I just said "Dave Logan." It would take too long to list all he's done and is doing. That's part of my point. You know who he is. You maybe even know he was my high school and American Legion baseball teammate for a few months after my family moved to Wheat Ridge during my junior year and Dave was on his way to being one of three athletes drafted by the NFL, NBA and MLB. I am mystified by the tendency to trot out the kneejeerk, "... but he's a high school coach," and to ignore the unique situation and circumstances. I am in favor of CU seeking to interview him, if he's willing. He'd be on his own after that and I'm confident he'd handle himself well. And the one thing I think we can all agree on is that CU needed to keep an open mind in this search, to think outside the box.
Yes, I've said check into Chiefs offensive coordinator Eric Bienemy, but he likely soon will get an NFL job and he also has to accept some of the culpability for Jon Embree's failed tenure as head coach. (To this day, I believe Mike Bohn should have been more patient, and Embree now is assistant head coach with he 49ers.)
I'm also thinking there might be somebody out there I haven't thought of, who is out of the game now, is itching to get back and would pass muster with the regents, among others. Vance Joseph, who has beeen mentioned, is a non-starter at CU.
Now ... I'm going to be accused of being an unrealistic hayseed alum here. Some of my better friends disagree with me on this. They didn't go to CU. They don't sweat every time they see Muenzinger Auditorium. They go to LoDo for their college football, not Boulder or Fort Collins.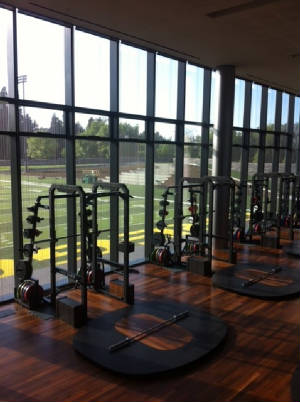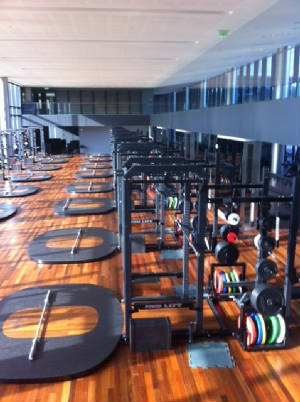 I'm tired of the CU program's defensiveness about "resources," and of outsiders trashing the CU job as one of he least attractive in the Power 5. George brought it up himself more than once at the news conference, even when he wasn't asked. Any CU coach has sufficient resources, George said.
Mike MacIntyre had facililty upgrade promises in his contract, and CU -- in part because it backed off the requirement to raise the money before breaking ground -- delivered. I took a tour through the latest version of the showcase Oregon facilities in the Hatfield-Dowlin complex (that's the weightroom, above) in the spring of 2014, shortly after it opened. CU is in that arms race. The Champions Center has less marble and leather ... and that's about it. And the notion that Boulder and the campus are anti-football is at least overstated. There are anti-football faculty on every campus in America -- including at Alabama.
Bring recruits to the US 36 overlook -- whether they've been promised a retired number or not.
CU can be a Pac-12 power.
It can be done.
If it could have been done with Mel Tucker as head coach, we'll never know.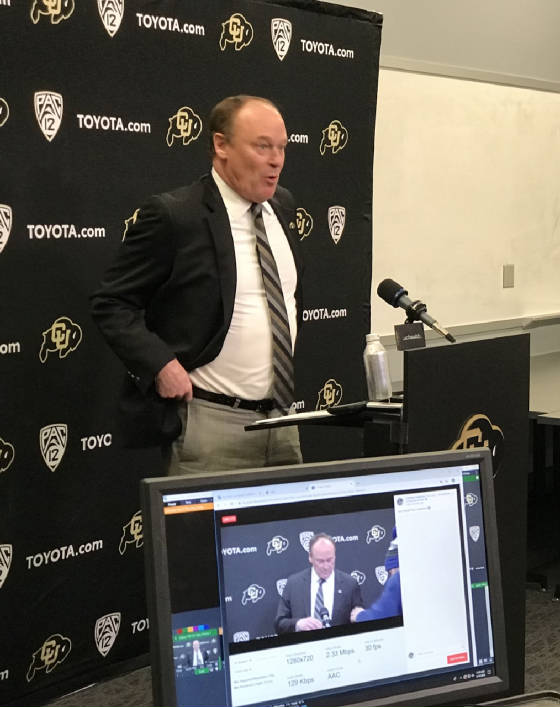 Rick George begins his remarks at the Wednesday news conference.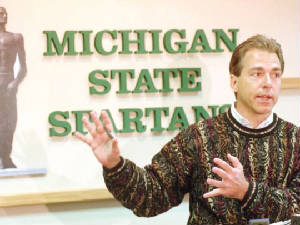 Final point: When I was at The Sporting News, I chronicled a year in a college football program's coaching transition.
I first checked in with the MSU program in their season-ending game at Penn State, when George Perles was on his way out, and then heading to the Cleveland Browns' facility to meet with the Spartans' new coach -- Browns defensive coordinator Nick Saban -- after he was hired.
Saban had just agreed to a five-year contract. His first-year base salary -- and I am not making this up -- was $135,000. (That would be $220,000 in 2020 dollars.)
Then I periodically checked in with Saban and his program for the next year, and here's the retooled story.
Ultimately, of course, Saban bailed on MSU to go to LSU. (Yes, MSU has had the shoe on the other foot.)
February 8-10, 2020
Mel Tucker, CU, MSU,
a Spartan entourage's trip
to picturesque Watkins ...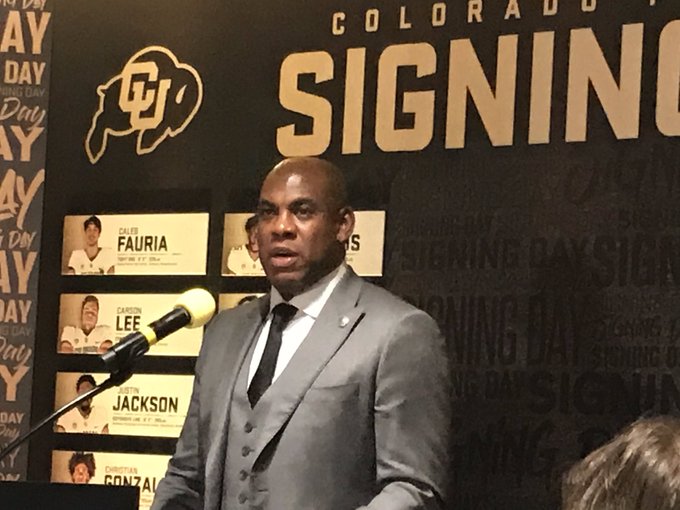 Midnight Tuesday night, post-Avalanche game: I've moved this commentary back to the top after hearing the rush of reports that Mel Tucker indeed is headed to Michigan State. Below was an evolving post, as you'll notice from the time stamps. But I believe it's clear Colorado media -- across the board, and I include myself -- didn't work hard enough to pin down Tucker about his initial contacts with MSU. That includes the situation when the MSU plane was in the Denver area from Friday morning at 9:15 until 2 Friday afternoon ... or before Tucker was in California at alumni functions on Friday and Saturday night.
The Bottom Line: Updated Monday
The word broke this morning, from Yahoo Sports (and other sites), that Cincinnati coach Luke Fickell had decided to stay with the Bearcats.
That begs the question: Will Michigan State seek to talk with Colorado's Mel Tucker -- and from all indications, speak to him for the second time? At least as of Monday afternoon, his name hadn't been tossed back into the mix.
When Tucker makes himself available to Boulder/Denver media and declares that ...
a) He has not interviewed and will not interview with Michigan State, or,
b) He acknowledges that he was interviewed or that he at least met with MSU representatives last Friday. (Yes, definition of terms can come into play.)
... that's more definitive than a Saturday Tweet that doesn't directly answer those questions.
Is there anything wrong with Tucker just listening and talking with MSU if the result is that, like Fickell, he stayed (or stays) with his current school? That's in the eye of the beholder. Suffice to say it can seem to call into question his complete commitment to CU, and that many CU partisans are angry that he apparently would talk with MSU after only a season in Boulder. Players who are being asked to buy into the Tucker program culture and future prospects hear of this, too.
As it turned out, the MSU entourage's plane landed at 9:15 a.m. Friday at the Colorado Air and Space Port airport at Watkins, three miles southeast of Denver International Airport, and then departed for San Jose at 2 p.m. If Tucker met with them then, before the Friday night and Saturday functions with CU supporters in California, it actually was before the Friday night Detroit Free Press story that said MSU was planning to interview Fickell and Tucker over the weekend. (That info came from following the flightaware.com link in the Detroit News story.) Those challenging this premise need to plot out the timetable. Tucker could have flown out Friday afternoon -- whether from nearby DIA or any of the other airports in the area -- and been in California Friday night.

From FlightAware.com. Note: UTC is seven hours ahead of Mountain Time.
The MSU entourage indeed interviewed Fickell in Cincinnati Sunday, and he seemed be the frontrunner. One online report based on a television sports director's Tweet had it that Fickell had taken the job, but that report was quickly yanked. And then the word came Monday morning that Fickell had said he would remain with Cincinnati, and soon came the Free Press story that Frickell and his wife had been concerned about the campus culture, which also could involve the impact of NCAA sanctions.
And Tucker? His Saturday Tweet continues to be taken almost universally as an adamant statement that he is staying put at Colorado. But now that it fell through with Fickell for MSU, that potentially changes the dynamic.
Tucker has done a terrific job at CU so far, and the 2019 record was secondary in drawing that conclusion. He astutely takes advantage of his mix of NFL and elite program college coaching experience. (It often seems to be overlooked that he a Vic Fangio predecessor as the Bears' defensive coordinator before he returned to the college game with Alabama and Georgia.) The outlook is promising in Boulder, at least if the standard is a return to perenially challenging in the Pac-12 South ... or for a league championship, period.
How could be frame this? He has made 10 coaching stops. He's seen how merciless the business can be. It's not out of line to say coaches, in virtually any situation, should listen. The untold part of the story is that many big-name coaches listened to and/or spoke with other programs -- without it ever coming out. (Especially in a quieter age, when secrecy was easier to uphold.) Others moved, as Rick Neuheisel did, for example, after four seasons with the Buffaloes. (The other examples are legion. Nick Saban going from Michigan State to LSU. Bret Bielema, now a possible candidate at MSU, going from Wisconsin to Arkansas. Willie Taggart going from Oregon to Florida State ...) And Tucker does have a history with Michigan State. The potentially bigger problem moving forward is if he doesn't head off the perception that, say, a search firm can include him on a list of viable candidates to be presented to a university seeking a new coach.
By Monday afternoon, both Detroit papers were tossing out a new batch of names, including former CSU coach Jim McElwain (who just finished his successful first season at Central Michigan) and Pat Shurmur, the newly hired Broncos offensive coordinator. Here and here (slide show). Tucker's name remained absent from those lists.
Here's how we got there.
Saturday morning
The first stipulation: For the moment, I'm assuming that the Friday night Detroit Free Press report -- saying that Michigan State plans to interview Mel Tucker and Cincinnati coach Luke Fickell this weekend for its vacant head-coaching position in the wake of Mark Dantonio's sudden retirement -- is true.
The paper and reporters David Jesse and Chris Solari are credible. This isn't someone throwing "I'm-hearing" darts.
Most important, neither CU athletic director Rick George nor Tucker himself jumped on the chance to respond to inquiries from Buffzone's Brian Howell Friday night and shoot it down, or even to use social media to do so. They were together at a CU supporter function in the San Diego area.
If that weren't the case, I'd believe it was possible that the message got garbled in the translation, that the Chicago-based search firm MSU is using, DHR International, had merely cited Tucker as someone the Spartans should consider and seek to interview.
That's the same firm, by the way, that CSU used in the process that led to the hiring of Mike Bobo in late 2014. I'm not saying this will come into play here, but the other thing to keep in mind is that the involvements of search firms and agents sometimes allows for plausible deniability, as in: "I have not been in contact with anyone from Slippery Rock Tech."
Also remember that a search firm vets, to whatever extent possible, and suggests or brings viable and diverse candidates to the table. It's hard to justify the use of a search firm if only one candidate is presented.
It's not even necessary to debate whether Tucker interviewing for the MSU job is understandable or is a betrayal. Nor is it necessary to compare it to Rick Neuheisel bailing out after four seasons to go to Washington, after CU had given him his chance to be a head coach in the wake of Bill McCartney's retirement and McCartney's own preference for Neuheisel's fellow assistant, Bob Simmons.
As Howell notes, Tucker likely would get a significant raise from the $2.675 million he is scheduled to make at CU this year, a larger salary pool for assistant coaches, and have more resources. Plus, he has attachments to Big Ten territory as a Cleveland-area native, as a former Wisconsin Badger defensive back, and as a graduate assistant at MSU and as an assistant at Ohio State.
Fickell is the favorite. It seems to be his job to lose -- or turn down.
If the report is true and Tucker at some point showily withdraws his name from consideration, it could be either a face-saving move after realizing Fickell is going to get the job, or a sincere choice to step out of the running. Either way, the damage likely is done.
His rhetoric -- previously impressive -- about building the culture of an elite program at CU will ring hollow. He will have made his ambitions clear and while career advancement is not a horrible goal, he will have stamped himself as a short-termer in Boulder ... if he has his way.
It's a fine line. It goes with the territory at Group of Five programs, for example, where if a coach leaves for a Power Five job, he can he thanked on the way out the door for making the program better ... as long as he handles his departure with class. Yes, that could have been the case at CSU with Jim McElwain if he had been more up front in the process. And Bobo interviewed with Missouri after his first season at CSU. He essentially declined to talk about it, but didn't deny it.
In this case, though, it would be Power 5 to Power 5. If he interviews, even if he stays, Tucker will have undercut his own program. At least in the short term. And while the ink has just dried on the national letters of intent signed on the second and final signing date -- including by the prized running back, Ashaad Clayton, who will get to wear the unretired No. 24 worn by the school's greatest athletic figure, Byron "Whizzer" White. Keep scrolling for my view on that.
I'm not going to rule out CU and Tucker being able to be adept in the damage control mode. Maybe this will all seem unreasonable kneejeerk reaction if he stays and passionately says the experience reminded him how determined he was to get the Buffaloes' program turned around after the 5-7 season in 2019. Yes, the record matched Mike MacIntyre's final season, but the program seemed to be making progress in other ways.
Yet this is where I'll be adamant as an alum: No way should CU offer him a sweetened contract, whether simply as a raise or an extension, to get him to stay or after he stays. Not now. His contract is his contract. That's not something you do after one season -- especially one 5-7 season. If he leaves, CU gets a $3 million buyout, easing the pain of the renegotiated $7.2 buyout of MacIntyre. CU should take that and move on.
Saturday afternoon
CU released the following statements, which notably did not directly address the issue of whether Tucker was interviewing with Michigan State or not. Curiously, the Free Press interpreted them as meaning Tucker was definitely was staying at Colorado.
CU Athletic Director Rick George:
"Mel has turned heads here with the culture he's quickly building and recruiting success he's had, so it's only natural that programs looking for a coach are going to be taking note. I know he's committed to the Buffs all the way and we're committed to supporting the vision he has for our program and winning championships. I've said plenty of times that we couldn't be more excited that Mel is our head coach."
CU Head Football Coach Mel Tucker (from his Twitter Account):
"While I am flattered to be considered for the head coaching job at Michigan State, I am committed to CU Buffs Football for the build of our program, its great athletes, coaches and supporters."
(He added hashtags: #UnfinishedBusiness #GoBuffs #Relentless #Culture #The Build.)
Closing remarks, for now:
1, It is not difficult to say, "I have not interviewed and I am not planning to interview for the coaching job at Michigan State. I am staying put at CU." If Tucker is trying to avoid being untruthful, more power to him. But he needs to say something like that. If it's true. FootballScoop.com — which indeed tends to get things right with an insider's bent — Saturday night said that Glenn Sugiyama of DHR had reached out to Tucker, and he declined to move forward. That begs for a definition of terms and leaves me wondering if that's covering tracks.
If Tucker met with Sugiyama and a Michigan State contingent, whether in Colorado or California, before attending another CU findraiser with George in the Bay Area Saturday, say that -- because it will come out.
Whether any of that would fit the parameters of making the original report accurate is open to question.
But I'll keep coming back to this: Tucker and George had opportunities to categorically shoot down the talk Friday night and early Saturday ... and didn't. If there was nothing there, CU didn't need to go through all this angst.
This isn't necessarily over, folks, especially if Fickell isn't hired for whatever reason to take over the football program in a problem-ridden athletic department.
2, Those trying to track travel to East Lansing are on the wrong scent. As I've alluded to, interviews not only rarely take place on the campuses involved, they -- especially when a search firm is involved -- can take place in conference rooms at airports or at airport hotels in neutral territories. Say, LAX, San Jose or O'Hare.
In this case, since Tucker is familiar with Michigan State, there would be even less reason for him to have to be interviewed at Michigan State. He was not interviewed in Boulder for the CU job, and the same is true of CSU's last two hires -- Bobo (interviewed in Las Vegas) and Steve Addazio (interviewed in Indianapolis).
In Fickell's case, the Michigan State entourage was headed to Cincinnati to interview Fickell Sunday. ("It's on to Cincinnati," quoth Bill Belichick.)
February 11, 2020
Gruuuuub is back
in the groooooove
for Avalanche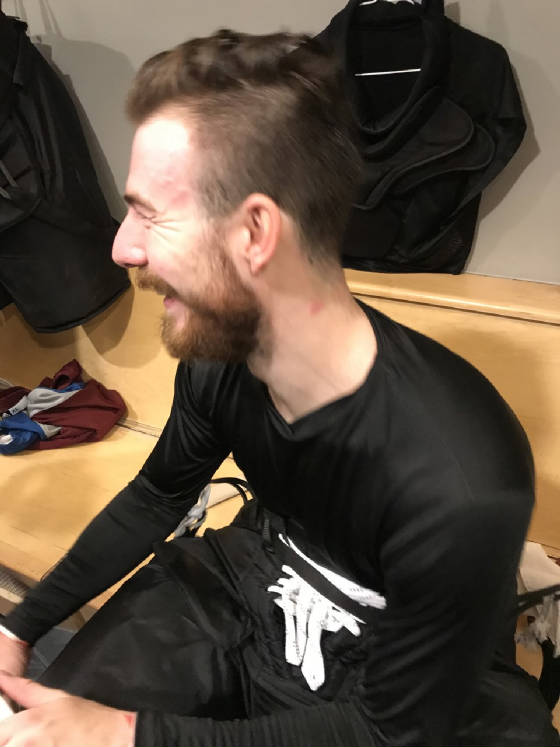 Philippe Grubauer was in a good mood after this third shutout of 2019-20.
Is this starting to look like the stretch run from last season?
After Phillippe Grubauer's 34-save shutout Tuesday night in the Avalanche's 3-0 win over Ottawa, the Colorado goalie had allowed only three goals in his last four starts.
It's similar to how it shook down a year ago, when the Avalanche got -- and this is he nice way to put it -- shaky goaltending as it waited for either Grubauer or Semyon Varlamov to step up. And Grubauer finally did, in February and beyond, as the Avalanche secured a playoff spot, knocked off Calgary in the first round and took San Jose to seven games in the Western Conference semifinals.
Now, with a better and deeper team in front of him, the bar is set higher as the Avalanche chases St. Louis for the Central Division lead and No. 1 Western Conference seed and seeks to advance farther in the postseason.
Through 55 games last season, the Avalanche was 22-22-11. After they ran their latest winning streak to five Tuesday night, they were 33-16-6, or a full 17 points ahead of last season's pace. This time, the goaltending has progressed from inconsistent and lackluster to staunch. Grubauer now has a 2.64 goaaaals-against average in 34 games, with a .915 save percentage and an 18-11-4 record. Rookie Pavel Francouz has been solid as his backup.
After the game Tuesday, I asked Grubauer if he felt as if he was back in the groove he was in late last season.
He knew what I was asking, but he first reframed the question for his answer.
The team's the thing.
"I think as a team, yeah, for sure," Grubauer said. "We're making things easy. If you play the way we play, that makes things really easy for me back there, so that's what we need to do."
I politely said, no, I meant his play.
"Yes, I feel good, I'm seeing the puck really well," he said. "Thanks to the guys."
He said the Avalanche's nearly two-week break for its bye week and the All-Star Game helped.
"I think it was really good for us everywhere," he said. "We were a little bit banged up, a couple of injuries," he said. "I wasn't that great leading up to the break, so it's nice to get a couple of days away from hockey and get your mind free and get ready for the last push."
Coach Jared Bednar noted the Avalanche has "tightened the screws on what we're giving up. And our goalies, I think, are playing better. I think it's a combination of both. . . There's a lot of hockey left to be played, right? We will monitor (Grubauer), but we want to keep him going and feeling good about his game. We had a number of games in mind at the beginning of he year for him to play and I think we're still on track to do that."
February 11, 2020
Buffaloes heading to
Oregon in first place
and ranked 16th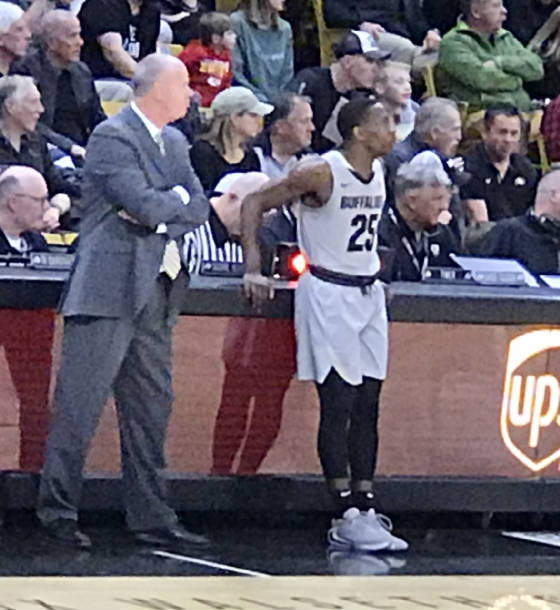 Tad Boyle and McKinley Wright IV during Stanford game
Look. There. at the top of the Pac-12 men's basketball standings.
After sweeping California and Stanford over the weekend in Boulder, the Colorado Buffaloes are alone in first place, at 8-3 in league play and with seven games remaining in the regular-season. They're one game ahead of Oregon, and they meet the Ducks Thursday in Eugene and then head up the road to face Oregon State in Corvallis Saturday.
CU coach Tad Boyle, a former Oregon assistant, isn't getting cocky here.
After the Buffs' Saturday 81-74 comeback win over Stanford, I asked Boyle how he felt about his team -- now 19-5 overall -- heading into the trip to the Willamette Valley.
"I feel good," Boyle said. "We know that Oregon trip's tough and Oregon's one of the most talented teams in our league. It's not easy to win there. We're going to have to strap our boots up and lace them up and let it all hang out. And Oregon State beat us this year (in Boulder). One thing I know about Oregon, they'll be ready. They're well-coached, they're a talented team."
No screaming headline or bulletin board material there, right?
Looking at this realistically, the Buffs have five of their final seven on the road, and after the Oregon swing, they have USC and UCLA at home, then are at California, at Stanford and at Utah.
Staying on top and claiming the seed in the Pac-12 tournament at Las Vegas will be difficult -- and perhaps even unlikely. Regardless, though, with sparkplug junior guard McKinley Wright IV leading the way, this has been Boyle's best coaching job and it's with a scrappy somewhat undersized team -- the Buffs list a three-guard starting lineup, and starting forwards Tyler Bey and Evan Battey both are listed at 6-8 -- that's especially fun to watch.
Wright, from North Robbinsdale, Minn., is terrific, averaging 13.8 points and 5.2 assists. Yet this team doesn't have the star power it has had in the recent past with Spencer Dinwiddie, now with the Nets, and (for one season) Derrick White, now with the Spurs. It's a roster that meshes, is hard-working and at this point perhaps even overachiving.
The Buffs are ranked 16th in the country, and that's rareified heights for the program. It's the 11th time they've been ranked in the AP top 25 this season, and they're 15th in the coaches' poll.
After CU trailed by 11 at halftime and 16 early in the second half against Stanford and rallied for the win, Wright alluded to being at the top of the standings. He had 21 points against the Cardinal and D'Shawn Schwartz, the junior from Colorado Springs, finished with 20.
"We knew we couldn't afford to loise this game," he said. "We have a target on our backs, the No. 1 team in the Pac-12. Everybody's going to give us their best shot."
The catch is that the Pac-12 is mediocre this season, with no real national championship threat. It's not deep enough to land anywhere close to a Power 5 league's typical quota of teams in the NCAA field.
That said, barring a complete collapse down the stretch and in the tournament, the Buffs seem a good bet to land their fifth NCAA berth in Boyle's 10 seasons in Boulder.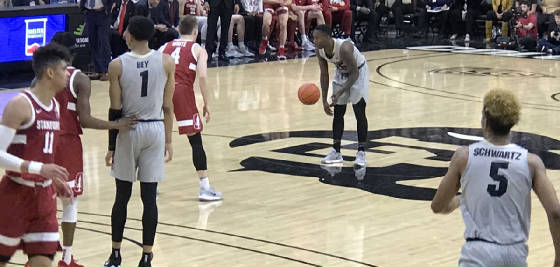 Buffs Tyler Bey (1), D'Shawn Schwartz (5) as McKinley Wright IV (25) takes stock in win over Stanford.
February 7, 2020
Unretiring CU numbers
at least should have been
publicly discussed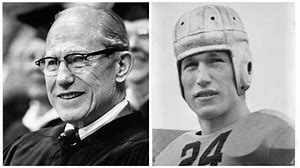 I've given this some thought since originally reacting after hearing about CU athletic director Rick George's Wednesday afternoon announcement.
CU was putting three retired numbers -- Byron "Whizzer" White's 24, Joe Romig's 67 and Bobby Anderson's 11 -- back into circulation while honoring the three ex-Buffs with patches on the specific jerseys moving forward. And the late Rashaan Salaam's 19 can be brought back as soon as 2036, honoring CU's only Heisman winner.
I will stand by this: If CU had put this up to a vote among alumni, or simply proposed it and asked for opinions, I would have voted no. Adamantly. I'm grateful to my alma mater and even to some folks still there, and proud to be an alum. But I disagree with this call, and especially with its timing and the perception involved.
I still would vote no.
I've heard the justifications and plans since. On the way to receiving my journalism degree at CU, I was advised to at least consider other points of view and countering arguments. Although this doesn't fit the "hot take" requirement that I must pick out an extreme and angrily pound the table and keys, I'll concede that some of the countering arguments are reasonable.
But we've got to start with this. On the way to receiving my history degree from CU, my appreciation for tradition increased.
-- White, from Wellington, was a Heisman Trophy runnerup and also a Buff basketball and baseball standout. He was selected as a Rhodes Scholar and was headed to Europe after his rookie NFL season with the Pittsburgh Pirates (yes, Pirates), but the outbreak of World War II in Europe derailed that and he returned to the U.S. He was an intelligence officer in the Pacific Theater during the war. He eventually was a United States Supreme Court justice appointed by President John F. Kennedy.
-- Romig, from Lakewood, also was a Rhodes Scholar and is one of the most honored physicists in U.S. history.
-- The versatile Anderson, from Boulder, was a consensus All-American too, starred for the Boulder Collegians baseball team in the summers, and also renowned as one of the top all-around athletes in a state that has produced a ton of them.
OK, the uniform patches will call renewed and ongoing attention to the three, plus to Salaam if his 19 indeed comes back into play in 2036.
Other schools are doing this. "Retired" numbers are becoming "honored" numbers. Point conceded. It would be even worse to selectively unretire some, but not all, long-retired numbers at any program and make those choices of prioritization. Just because others are doing it, that doesn't make it right.
The surviving players involved, or the other families, have signed off on it. (What are they going to say?)
I just believe when you retire numbers, that's it. At least at the college level. When you choose a college program, you're signing on to the tradition, too. One of the key lines in Mel Tucker's video presentations is, "The Pride and tradition of the Colorado Buffaloes will not be entrusted to the timid or weak."
(So don't throw Frank Tripucka and Peyton Manning, or Terrell Davis and Phillip Lindsay at me.)
This is secondary, yet also more problematic. CU announced it AFTER coveted running back prospect Ashaad Clayton posted the announcement that he would wear No. 24 at Colorado.
It came -- or at least seemed to come -- out of nowhere.
Clayton's reason for seeking No. 24 is praiseworthy and heartwarming, as you can see below.
I won't presume to know exactly when that issue entered the recruiting process and to what extent it was an issue in his decision as he also communicated with other schools as Wednesday's second national signing date approached. He clearly is a terrific young man. But the perception is that CU made this move to seal the deal for a single touted player. Regardless of who the player is and his motives, that's not a good precedent.
Is that wrong?
We're told it is, that this had been discussed and explored long before this came up publicly. I respect and trust those saying that. But I'd also argue that CU should have broached this as a possibility and sought reaction. In that process, CU could have presented many of the reasons for the move, perhaps preventing or at least lessening the negative feedback. Instead, CU now is trying to justify it after the fact.
So what else now?
Don't wave off those alumni with sentiments like mine. Don't trot out the lame and tired "off my lawn" dismissals of any view that cites history and traditions. Don't say we don't get the mentality of today's "kids" -- which they aren't -- and argue that this type of thing needs to be done.
Instead, salute that tradition. Don't just give it lip service. Truly prove that this can be used to additionally honor the former Buffs involved as representatives of CU's traditions, history and pride. History has its warts. This is not about embracing everything. I get that. Shamefully, CU didn't integrate its football program until the mid-1950s, or long after eventual football and wrestling stalwart John Mosley joined the CSU (A&M) program in 1939, showing up and asking for a uniform and hearing Harry Hughes say, "Sure."
Show this wasn't a recruiting strategy, a strategy retroactively concocted.
I'm still against this. But I -- and I think many others -- could be won over.
Fair enough?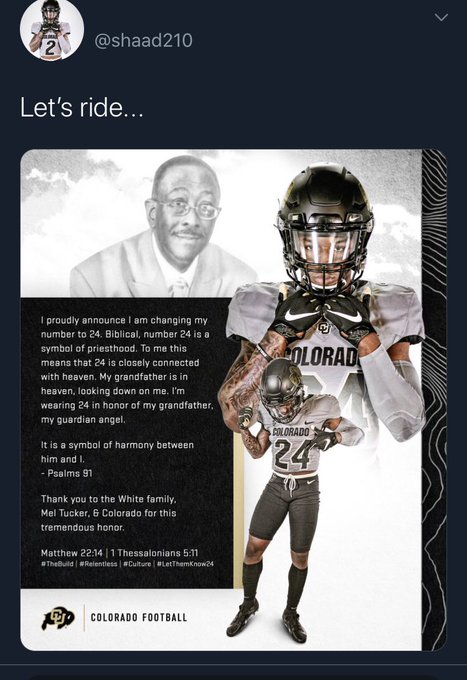 February 4, 2020
Congrats to deserving
Atwater, but Broncos
still under-represented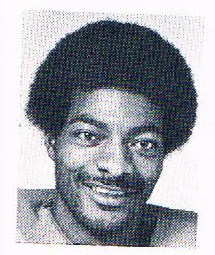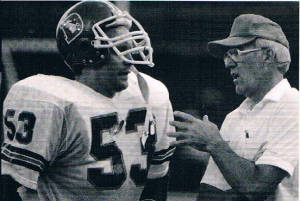 Louis Wright. Randy Gradishar and Joe Collier.
Yes, the Saturday announcement that former Broncos safety Steve Atwater was one of the selection committee's Class of 2020 Hall of Fame choices was worth saluting.
The committee got one right ... and for reasons that go far beyond a single crushing hit on the Chiefs' Christian Okoye.
Atwater will be the fourth Broncos' enshrinee in four classes, and the eighth overall. That's if you count (as you should) Champ Bailey and Gary Zimmerman, who didn't exclusively play for Denver.
But if anyone is tempted to say that all those familiar with the Broncos should be grateful, shut up and stop pointing out the shortcomings of both the process and the exclusion of Broncos who long ago deserved to be in the Hall, that's aggravating.
(Yes, we're hearing that.)
The process, though tweaked, is capricious and seriously flawed. In the regular selection commitee voting, there are two few voters, horse trading, a "swordfish" password at the door and unfair expectations for the commitee member from the candidate's market to act as keynote speaker and campaign manager -- whether the committee member was around to have actually covered that player or not. It puts the advocate in a difficult position at best, impossible at worst.
It was absurd that Floyd Little, the franchise's first superstar, didn't get in until 2010 … as a seniors candidate. That set the tone.
I'll stick to players for now, stepping away from the issues of when or whether Mike Shanahan and perhaps Dan Reeves should go in. Shanahan is at least on a par with Jimmy Johnson and Bill Cowher, who benefited from their post-retirement television studio exposure. (Not that there's anything wrong with it.)
The backlog of those deserving is extensive, and it includes:
-- Linebacker Randy Gradishar. He inexplicably wasn't among the 10 Centennial Slate senior (retired for at least 25 years) player choices for the 2020 induction class in mid-January. That was a makeup call opportunity after years of injustice.
-- Cornerback Louis Wright.
-- Linebacker-defensive end Karl Mecklenburg.
-- Center Tom Nalen.
Some wouldn't stop there. I will. For now. Those four have become backlogged. Others who played more recently jumped in line in front of them. Most of their times have come ... and, sadly, gone.
If you're here, you've likely heard or read my spiel about Gradishar many times. (Scroll down to my January 15 commentary for the latest version. The politics of his excusion are shameful and farcical.) I'm certainly not a voice in the wilderness, and it bugs me when the sentiment is waved off as Colorado hiomerism. It would be ignorant to deny that familiarity with and affection for Gradishar turns the vehemence up to 11. I realize virtually every NFL market has a former player or two (or more) championed as being long overdue for selection, and the line has to be drawn somewhere. But I'm confident that Gradishar belongs.
The others do, too. Or they at least deserved more consideration than they got through the selection cycles.
The most overlooked on all fronts has been Wright, because his low-key personality and efficient play didn't draw attention. The Broncos' Orange Crush pass defense approach was Louis had the opposition's top receiver -- and everything else fell into place beyond that. He was the best there was for a spell, he retired on his terms, and he stayed out of the spotlight in retirement, getting into teaching and coaching. I've found over the years that younger fans who have become aware of Gradishar as the Orange Crush's marquee player, and also know more of Tom Jackson because of his ESPN work, know very little or nothing at all about Wright.
So ...
Click on this for my introductory profile of Wright, and also additional passages about him, in '77: Denver, the Broncos, and a Coming of Age.
JANUARY, IN THIS ORDER BELOW
*Jan. 31 -- "Cut" Rockies broadcaster Jerry Schemmel reflects
*Jan. 28 -- LIV or so tips for Super Bowl party
Jan. 26 -- A walk-on Texas WR had lofty goals
*Jan. 24 -- With Pro Bowl and NHL All-Star on tap...
*Jan. 22 -- With all due respect, Nolan... E5
Jan. 20 -- Red Wings fans show, but take the L on way out
Jan. 18 -- Makar still has ways to go to catch Beck
Jan. 16 -- Ryan Graves, always a plus
*Jan 16 -- An NFL coaching hire should be for CEO
Jan. 15 -- Gradishar snub has become a bad joke
Jan. 14 -- Avalanche too good to rationalize
Jan. 14 -- Nathan MacKinnon wins two major Colorado honors
Jan. 10 -- Short memories about Avs' goaltending
Jan. 9 -- Irv Moss was a Colorado Classic
*Jan. 8 -- David Stern was cool to internationalization ... at first
Jan. 5 -- Buffs' epic collapse against Beavers
Jan. 2 -- Cale Makar gets back on track
*Jan. 1 -- College QBs are scrambling
January 31, 2020
"Cut" Rockies, ex-Nuggets voice
Schemmel reflects on plane crash,
wife's illness, Kobe ... and what now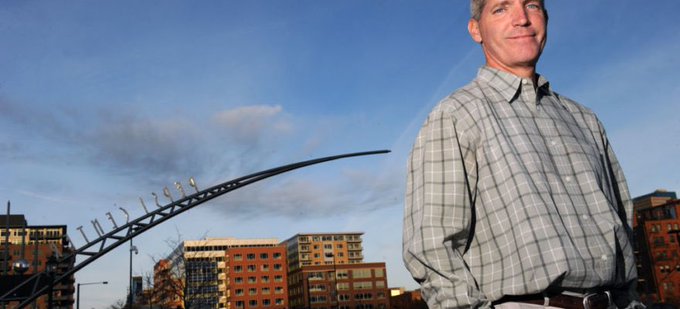 January 28, 2020
LIV (or so) tips
for making it through
a Super Bowl party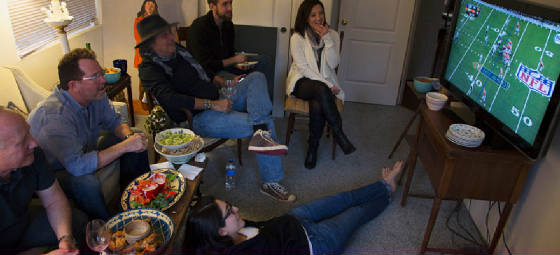 January 25, 2020
Even as Texas walk-on WR,
Kyle Shanahan set his
coaching goals high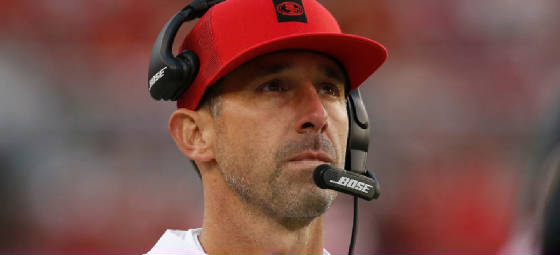 This is about how I came to write a column about a Texas Longhorn walk-on wide receiver named Kyle Shanahan in 2001— and about the eerily foreshadowing column itself, reproduced below.
I had spent much of the summer in Texas and Arkansas, doing face-to-face interviews and research for Horns, Hogs, and Nixon Coming, which would be released in December 2002.
I had a fall week circled on the calendar for a final, supplemental trip to Texas -- when the Colorado Buffaloes met the Longhorns, led by Chris Simms and Cedric Benson, in October.
I went down to Austin early in the week and met with Darrell Royal and James Street to connect dots and finish up.
On game day in Austin, I stayed on the Longhorns' side, writing a sidebar about their reaction to the 41-7 romp over the Buffaloes. I put in some ancillary interview requests, too, for a Monday column on Coloradans playing for the Longhorns.
When the main podium part of the news conference wrapped up, that Texas wide receiver was waiting for me in the back of the room.
Here's the column about Kyle Shanahan and the other Coloradan Longhorns.
Take a look.
Monday, October 22, 2001
Eyes of Texas on
Longhorns from Colorado,
including Kyle Shanahan
AUSTIN, Texas -- Longhorns football players still tend to be Texans, hooked since childhood on the lore of the UT program.
Yet when the Longhorns routed Colorado 41-7 on Saturday, three Texas players considered it more than a decisive victory over a Big 12 opponent.
Guard Tillman Holloway, from Faith Christian Academy in Arvada; tight end Bo Scaife, from Mullen High; and wide receiver Kyle Shanahan from Cherry Creek were able to shake hands with high school friends and opponents in Colorado's white jerseys, then say they wished the Buffaloes good luck the rest of the season.
And they meant it.
Scaife, a sophomore starter who had one catch for 7 yards, is having a solid year after recovering from the serious knee injury that forced him to sit out last season.
Holloway, also a sophomore, started against CU and splits time at left guard with junior Derrick Dockery.
And Shanahan, a walk-on junior who has developed into a valuable backup with the Longhorns, caught three passes for 26 yards.
"I've got a bunch of friends on CU, and it was fun to get the ball there," Shanahan said.
The Longhorns' program is the coaching laboratory for Shanahan, who hopes to follow his father, Mike, into the business. Kyle transferred to Texas from Duke after playing two seasons for the Blue Devils. At one of the nation's elite private universities, the basketball program was in the sports spotlight, and the football team, after a brief renaissance in the mid-1990s, had regressed to its typical losing ways.
"I went there excited, and I thought I could play there right away," Shanahan recalled. "And I did play right away. But I realized football was important to me, and I shouldn't be at a place that made me not happy. We didn't really have that edge. We weren't used to winning and we kind of acted like losers."
A Shanahan accepting losing? It wasn't going to happen. So after catching 13 passes in two seasons for Duke -- his sophomore season lasted three games before he suffered a hamstring injury -- Kyle transferred.
By now, Shanahan's role as a backup in the Longhorns' deep receiving corps probably is significant enough to warrant a scholarship, but it isn't much of an issue.
"I'm playing, and there are a lot of people who really need them," Shanahan said. "I'm happy with my situation."
Shanahan settled on Texas in part because he had met Longhorns coach Mack Brown when he coached at North Carolina, and Kyle and his father decided the Brown staff in effect would be good professors. Kyle is adamant he is a player first, a coach-in-training second, but adds that the Longhorns experience is helping him "see things from another angle. I know not everything in coaching is good, but I really couldn't see myself doing anything else but football. It has become such a part of my life."
Shanahan is insistent that he will begin as a graduate assistant on the college level. Yet he is ambitious; when asked about "the record I dream of breaking" for the Texas media guide, Kyle wrote: "Most Super Bowl victories by an NFL head coach."
"It does help having my dad, but I definitely want to take the long path and make sure I pay my dues," he said.
The 6-foot-3, 300-pound Holloway's path to Texas involved a family connection -- his grandfather, Bud McFadin, was an All-America guard at Texas from 1949-50, and eventually played for the Broncos. Holloway was born in Houston and moved to Colorado when he was 9. His father founded a church in Basalt, then moved the family to the Denver area for a couple of years before going back to Basalt.
Holloway was home-schooled for much of his education, but he played for Faith Christian, a natural tie for the family because his father was instrumental in the founding of Faith Ministries.
An all-state player, Holloway narrowed his choices to Nebraska and Texas. He made an oral commitment to Texas in the fall of 1998.
(Note: The copy of the column I have ends there. I'm pretty sure it was cut for publication. That happened. If I didn't, I should have mentioned that of the starters on the legendary 1969 Longhorns team, only three weren't from Texas, and two of those three were from Colorado. In fact, safety Freddie Steinmark and guard Bobby Mitchell were from Wheat Ridge High ... my alma mater.)
Kyle Shanahan's coaching path:
2003 – UCLA, graduate assistant
2004-05 – Tampa Bay Buccaneers, offensive quality control
2006-09 – Houston Texans, wide receivers, QBs, offensive coordinator
2010-13 – Washington Redskins, offensive coordinator
2014 – Cleveland Browns, offensive coordinator
2015-16 – Atlanta Falcons, offensive coordinator
2017 on – San Francisco 49ers, head coach
ADDITIONAL UPDATES:
-- Colorado rebounded to win the Northern Division and beat the Longhorns 39-37 in the Big 12 championship game. The Longhorns then beat Washington in the Holiday Bowl and finished 11-2. The Buffs lost to Oregon in the Fiesta Bowl and finished 10-3.
-- Bo Scaife, the Longhorns' tight end from Mullen, had a seven-year career with the Titans and Bengals and in retirement started Fresh Ed. Dylan-Palm Trujillo, one of my students at MSU Denver, told Scaife's story here. And here's a UCHealth story on him.
-- Tillman Holloway, the Longhorns' guard from Arvada's Faith Christian Academy, has been involved in several business ventures and is CEO of The Register, a networking club with outlets in Denver, Austin, Atlanta and Nashville.
Here's an alternative version of this
January 24, 2020
With NHL All-Star and
Pro Bowl on tap, ranking
four All-Star Games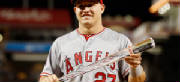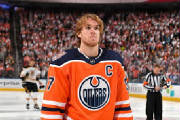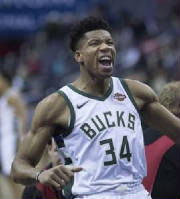 January 22, 2020
With all due respect,
Nolan, "disrespect"
is ridiculous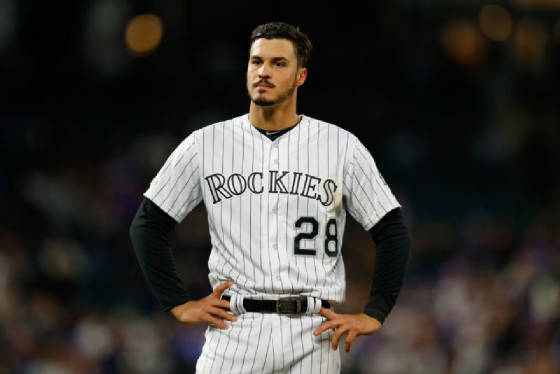 January 20, 2020
With MacKinnon, Kadri
scoring twice for Avs, Wings
fans take that "L" on way out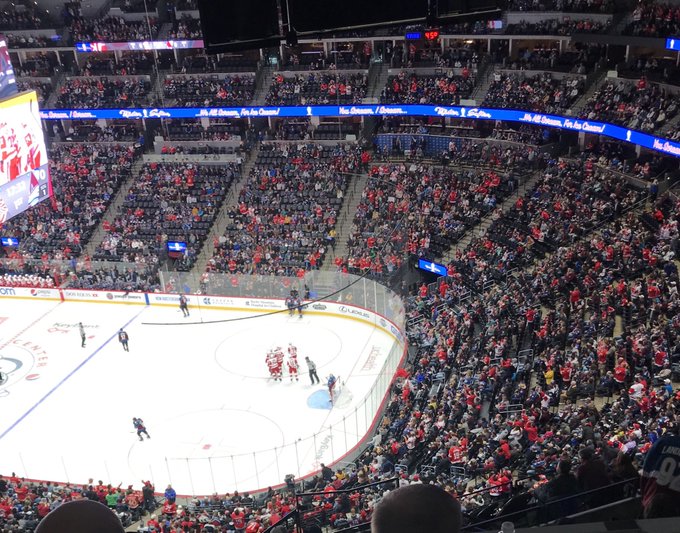 Red-clad fans, Red Wings celebrate early Tyler Bertuzzi goal that gave Detroit a 1-0 lead.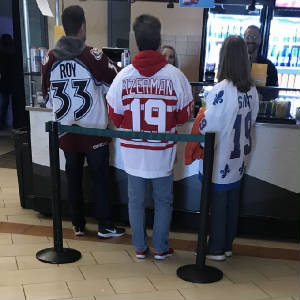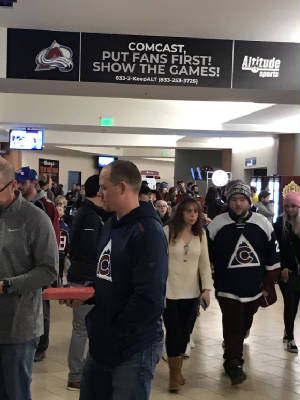 L: Stars from the rivalry's heyday -- or at least facsimilies -- visit the beer stand together.
R: The game was the NHL Network, but blacked out here. As the sign shows, KSE continues to hammer away at Comcast. Of course, if Comcast just showed the games without paying what KSE considers a sufficient rights fee, a $72 kazillion lawsuit would be filed the next morning.
The answer was "yes."
With the Detroit Red Wings coming into Denver with the worst record in the NHL, and with a realistic "chance" to post even fewer points than the 48 the Avalanche had in the historically dreadful 2016-17 season, I wondered if the area's transplanted Wings fans would show in the usual numbers at the Pepsi Center Monday.
They did. Looks down at the seats and around the concourse made it clear a significant portion of the Martin Luther King Day matinee crowd was rooting for the Wings.
My guess? Perhaps one-third?
Of course, most of them probably bought the tickets before it became clear just how bad the Red Wings were going to be, and after the 6-3 loss to the Avalanche, they are 13-34-4 for 30 points. (For the record, the 2016-17 Avalanche -- the worst bang-for-the-buck team in NHL history given the Avs were scraping the salary-cap ceiling -- were 15-34-2 for 32 points at the same point, after 51 games.)
Also, the biggest surprise of the Avalanche season has been that the number of "opposing team" fans in the Pepsi Center seats seems to have increased, rather than decreased.
The size of the Penguins' rooting contingent was especially jarring on Jan. 10. That night, I even learned what a "Yinzer" is, even as I longed for a visit to Primanti Brothers for a sandwich with the French fries in it. And the Blues, Wild and Blackhawks have been in twice apiece, with their fans extremely noticeable. As usual.
In a way, or in a lot of ways, Red Wings-Avs isn't nearly as fun as the rivalry in its heyday, and now the issue is when the Wings will be back to respectability after the Avs beat even their own timetable to pull it off.
On Monday, Nathan MacKinnon scored twice to get to 30 goals for the season, and Nazem Kadri also had two goals -- getting to 17, surpassing his total for all of last season at Toronto -- and an assist as the Avalanche finished 3-0-2 in its slow-starting homestand and now will be off for its bye week and the All-Star break before opening a road trip at Philadelphia on February 1. In fact, Colorado's next home game won't be until Feb. 11 against Ottawa.
Kadri centering the second line after he came from Toronto in the trade that sent Tyson Barrie and Alexander Kerfoot to the Maple Leafs has been part of an overall upgrade of scoring depth, and Kadri for the most part has kept his infamous temper from detracting from his net effectiveness.
"I had to learn the hard way, unfortunately," Kadri said after he game. "That's life's lessons, being able to learn from your mistakes. I understand that I'm much more valuable on the ice than I am sitting in the penalty box or in the dressing room. So it's about finding a balance. I'm always going to play with that edge and that pride and that's something that has made me as successul as I am."
Kadri added that he's having "tons" of fun with the Avalanche, and of late has been centering Valeri Nichushkin and Andre Burakovsky.
"I love it here," Kadris said. "I love the guys, I love the fans, everyone's made it so comfortable for me to just come in and do what I do."
I asked Avalanche coach Jared Bednar about that balance Kadri has found.
"Tonight I really liked him," Bednar said. "I liked him in a lot of different areas. He's had some important checking roles for us lately for us. That line's been good, Burakovsky's picked up his play over the last couple of games. Val just seems to make any line that he's on better.
"Kadri in particular tonight, I thought he played to his strength. If you look at his power-play goal, he came cruising through the slot, gets a screen, he gets a tip and he scores. On a long, extended shift for them in the third, he scores on the back side right after winning a cycle play. And then even on the (Ryan) Graves goal, another o-zone play where he just breaks the goalie's eyesight, great screen in front. I don't think (Jimmy) Howard's seen it, (Kadri) just slid out of the way at he last second. That's sort of been his M.O. coming over to us and those subtle plays make a big difference in scoring or not, whether the goalie can see the puck or not. So he's in on three of those."
As the Red Wings fans filed out, Kadri did the on-ice interview as the No. 1 star.
January 18, 2020
If you want to be picky,
Makar has a ways
to go to catch Beck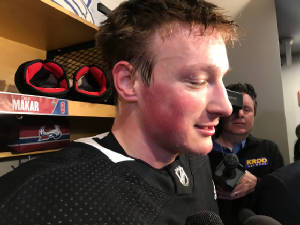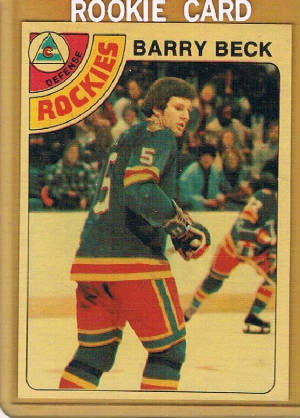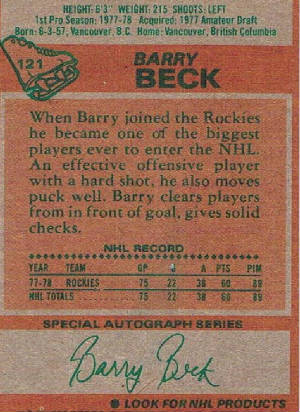 As the scrum was breaking up around Cale Makar in the Avalanche dressing room Saturday afternoon after about 10 minutes of interviewing, I just had to ask another question.
Did the Avalanche's prized rookie defenseman know who Barry Beck is?
"Pardon?" Makar replied.
I asked again.
"Um, it sounds familiar, but to be honest with you...," Makar started.
I jumped in and told him Beck was a defenseman for the old Colorado Rockies and had scored 22 goals as a rookie in 1977-78. He was a Calder Trophy runnerup to Mike Bossy, who had a staggering 58 goals as a rookie with the Islanders.
That season, I was fresh out of college and in my first year -- yes, a rookie -- on the NHL beat.
"No, I don't have that ... that might be a little bit before my time," Makar, the 2019-20 Calder frontrunner, said.
I wasn't trying to turn it into a sepia-toned nostalgic session about the Rockies, whose NHL tenure in Denver lasted six seasons -- from 1976-77 through 1981-82 -- but just was curious.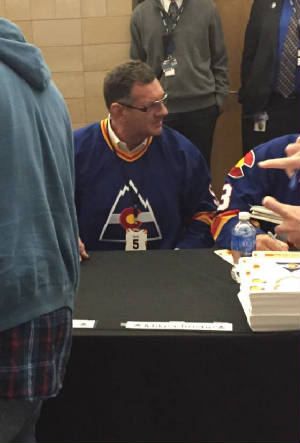 This had come up because with all attention paid to Makar passing John-Michael Liles to set the Avalanche franchise record for goals by a rookie defenseman, with his 11th of the season in the second period in the 5-3 win over the Blues, I received a tweet from Bill Bayne, a former Rockies employee now in Arizona. (Liles, now on the Altitude set as an analyst, had 10 goals as a rookie in 2003-04.)
Bayne (@azpuck) said: "Until (Makar) beats Barry Beck's rookie record of 22 goals and 60 points, he won't hold the Colorado NHL rookie record for a defenseman."
I answered: "I'll go along with that. I don't want Bubba mad at me. Not even now."
I also appended Beck pictures, including the one above that's from the appearance of several ex-Rockies at a 2015 Avalanche game.
While it was long before Makar was born, Beck also was from Western Canada and had been well-known in his prime as an intimidating defenseman -- he was the NHL's most fearsome fighter -- with a booming shot from the point. It wouldn't have shocked me if Makar had heard of Beck; but it didn't surprise me when he said he hadn't.
Beck was with the woebegone Rockies for two-plus seasons before they -- with the approval of controversial coach Don Cherry, who with the Rockies off to a 1-7-2 start was desperate for goal-scorers -- traded him to the New York Rangers on Nov. 2, 1979 for a multi-player package the Rockies soon essentially parlayed into acquiring Lanny McDonald and Joel Quenneville.
Trading Beck was a mistake, though, given he was a cornerstone for a franchise struggling on the ice and at the box office. He would have been a Hall of Famer had he not developed serious shoulder issues with the Rangers.
Who knows, perhaps if he hadn't been traded, the alternative universe would have led to the Rockies still being an NHL team -- and to New Jersey looking elsewhere for a team to call the Devils.
In retirement, Beck is a long-time resident of Hong Kong and coach of the national team, doing praiseworthy work both socially and athletically.
Before bringing up Beck in the dressing room Saturday, I asked Makar about getting the Avalanche franchise record.
"I'm very honored and stuff," he said. "But I don't believe I'm going to go home and celebrate. But, no, it's a credit to how well these guys have been playing. We have so many smart players in this team in terms of hockey sense and that's why everybody's been producing so well and getting career highs."
It's not hard to get career highs as rookies, whether in Beck's day or Makar's time, but you get his point.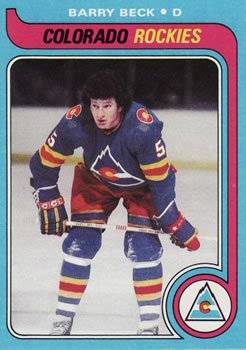 By the way, I told the story of covering the soap opera that was "Rocky ... Really Rocky ... Hockey" here, in an adapted chapter from Playing Piano in a Brothel.
Years later, when asked for a "Funny Hockey Memory," Beck told Mark Malinowski of The Hockey News: "
Don Cherry's dog Blue came waddling into our locker room. He came in and, you know how those dogs do it, he rubbed his butt on the floor – right in front of my locker, in the area I used to do push-ups. So I gave Blue a little whack with my stick and he ran yelping down the hall back to Don's office. Then Don came in and asked who did it? We kind of looked around, said we didn't know. The next day I got traded to New York. "
The day the deal was announced—ironically, the day before the Rockies played and beat the Rangers in Denver with a stunned Beck, who was having a home built near Evergreen, going through the motions—I saw Cherry and general manager Ray Miron walking down the hall in front of me. Cherry, who would last only one season on the job, actually patted Miron on the back. That might have been the last time that ever happened.
Beck quickly came to love playing in New York.
I doubt Makar is in danger of being traded.
January 16, 2020
Avs' Ryan Graves:
Always looking at
plus side of things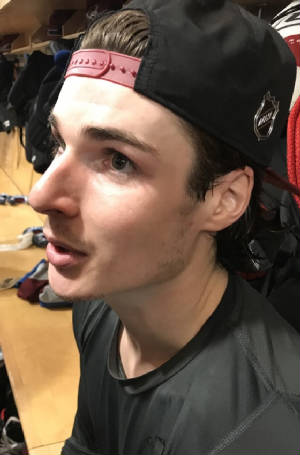 After Avalanche defenseman Ryan Graves had a goal and was a plus-one in Colorado's 4-0 win over San Jose Thursday night, he was up to a plus-31 for the season.
That's not just good.
It's the best in the NHL.
Yes, Ryan Graves (right), the 24-year-old D-man who is far from the Avalanche's most recognizable player and usually is squeezed off the marquee.
But there he is, at the top, just ahead of two members of the Carolina Hurricanes -- Dougie Hamilton (plus-30) and Erie High School grad and Colorado College's Jaccob Slavin (plus-26).
Graves' fellow Avalanche defenseman, Ian Cole, is fifth, at plus-23.
After the Thursday win at the Pepsi Center that featured Philipp Grubauer rebounding for his first shutout of the season and making 27 saves, the dressing-room atmosphere understandably was an upbeat contrast to how it was after the four consecutive losses -- the final two in overtime at home -- that preceded it.
"It's one win," Graves said. "But we're going to keep going."
Grave mostly has been paired of late at even strength with prized rookie Cale Makar, and it has benefited both. For one thing, it enables Erik Johnson to be paired with Samuel Girard and compensate for the undersized Girard's defensive shortcomings. Plus, and perhaps more important, Graves and Makar mesh well.
"He's an elite player," Graves said. "He's fast. It's a treat in a D pairing to give it to someone who can break the puck out with their feet, and he certainly does that. I just go D to D and see him take a hard stride and he's by two of their forecheckers and that's something that's tough to do. He's a treat to play with and I think we can complement each other. I'm definitely a safe style and he's dynamic and he can take his chances where he wants to. We've been playing well together. I think we've played with everybody so far this year and we have seven able D here and we're confident in everybody."
At that point, I asked Graves about the significance of being atop the plus-minus list. It's essentially (but not completely) an even-strength stat and it can be affected by a goalie's work, but it's still a fair element in evaluating a skater's work. Graves also has seven goals and 10 assists for Colorado.
"I try to sorry about the minuses more than the pluses," he said. "I'm plus whatever I am and I definitely don't have that many points. So it's not me putting the puck in the net every time. But for me, every game I'm trying to be reliable defensively and trying to keep the minuses to a minimum. If I'm reliable defensively, I'm the best asset to the team. Obviously, we have a high-scoring offense and we have a lot of talent here, so I think that if you can keep the puck out of your own net, the offensive kind of comes."
The remarkable part of the story is that Graves is a showcase example of the cliche -- that it takes defensemen longer to develop. And the Avalanche got him from the Rangers in a February 2018 trade for defenseman Chris Bigras.
That was a what-the-hell deal for both teams, involving young D-man considered disappointments.
Graves, a fourth-round draft choice in 2013, was in his third AHL season in the Rangers' organ-eye-zation and slid over to the Avs' AHL affiliate at the time, the San Antonio Rampage.
It's actually a bit of an upset that he has made the jump to the Avalanche and is playing well, and that he seems to have become an entrenched NHL D-man. after splittting time with the AHL Colorado Eagles and Avalanche last season.
Bigras, a second-round pick in that same 2013 draft (the one in which the Avs claimed Nathan MacKinnon at No. 1 overall), is in the AHL with the Philadelphia Flyers' affiliate, the Lehigh Valley Phantoms.
"There's been doubts, yeah," Graves said. "There are times you're wondering. I was fortunate to get a chance here, for the Rangers to let me go and get a fresh start somewhere else. They obviously had some really good defensemen coming to theier system too, so I hold no ill will towards them. I'm thankful for my opportunity here. It's been fun. It's just a start for me and I know there's a lot of work to be done."
Like MacKinnon, Graves is from Nova Scotia, in his case Yarmouth.
"That's good company," he said with a laugh.
I also asked Avalanche coach Jared Bednar about the significance of Graves' plus-minus as a measure of his effectiveness.
"I see it and I say, 'Yup, it's accurate," Bednar said. "I look at his play. He's a heavy, solid, committed defender and he just has really good instincts. He's got a great shot, number one. But if you look at it, there are some D that are really active and dynamic and they're always up in the rush. When we're in the offensive zone, a guy like Girard is all over the place.
"There's other guys who just kind of find a niche. . . He doesn't roam around. He's getting all those points from distrubuting the puck or shooting the puck or getting it into the right areas out on the blue line. Great O zone, blue line movement, and he makes good decisions. He made two or three plays tonight where I went, 'Yeah, wow,' and then he shoots one and gets the goal. He has another chance joining the rush ... I mean, he's doing a lot of great things on both sides and it's why he's playing with Cale."
Those are all pluses.
January 16, 2020
NFL coach search
should be for CEO,
regardless of resume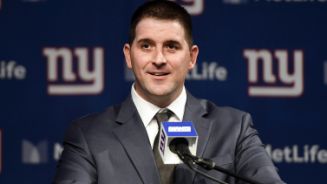 January 15, 2020
Gradishar Hall of Fame
snub, once mystifying,
has become bad joke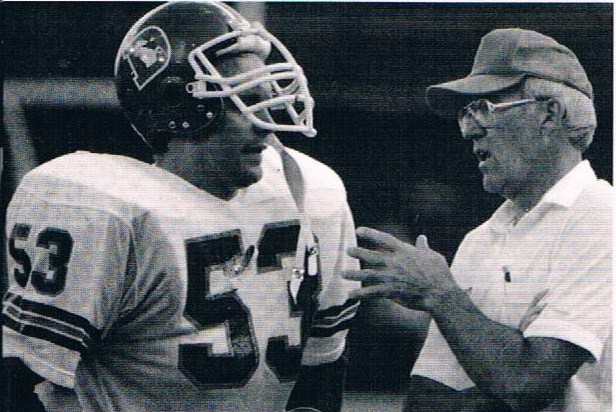 Randy Gradishar with renowned Broncos defensive coordinator Joe Collier
This was going to be a chance for the Pro Football Hall of Fame to get it right.
Finally get it right.
Instead, the word came Wednesday that Randy Gradishar wasn't among the 10 players in the "Centennial Slate."
The consolation for Colorado residents and Broncos fans with institutional knowledge about the area was that beloved long-time Denver resident Winston Hill made it. He was a Jets tackle blocking for Joe Namath, Matt Snell and Emerson Boozer, then after retirement twice owned barbecue restaurants in Denver.
Trust me: They were terrific and Hill often was there, mingling with customers. Even sports writers. He passed away in 2016.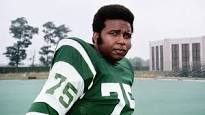 The 10 player choices were: wide receiver Harold Carmichael, offensive tackle Jim Covert, safety Bobby Dillon, safety Cliff Harris, Hill, defensive tackle(/actor) Alex Karras, safety Donnie Shell, defensive tackle Duke Slater, end Mac Speedie (a one-time Broncos head coach in the early AFL years), and defensive end Ed Sprinkle.
This is so obvious, I'm not even going to run through Gradishar's bona fides -- well, at least after saying he was one of the best short-yardage linebackers in NFL history.
Look, I get -- and I witness and have been a part of -- that media get caught up in "hometown" sentiments much of the time in these kinds of matters. But this goes beyond that. This is more than a homerism-powered bandwagon. In fact, it isn't that at all.
Gradishar belonged in the Hall of Fame long ago.
This is a joke. An absolute joke.
A few years ago -- I believe it was when I was writing '77 -- I emailed long-time Sports Illustrated writer Paul "Dr. Z" Zimmerman and asked him about what many had said about Gradishar's candidacy. That Zimmerman spoke against Gradishar as a Hall of Fame selection in the committee meeteing, citing that he believed the Broncos padded the tackle statistics in Gradishar's era. It was widely perceived that while Zimmerman perhaps hadn't blackballed Gradishar, his opinions in the selection committee meetings were influential.
Zimmerman with civility emailed m
e back and said, no, that was not true and he would be upset if I wrote that.
I believe he believed it wasn't true, but also that semantics, hair splitting and definition of terms was involved in the cronyism-affected, horse-trading milieu that was the surprisingly small committee of the time, with one representative from each team's market.
The problem is, that set the precedents and Gradishar essentially was shoved back into the background as other mostly worthy choices came up for consideration. I'm absolutely convinced that Broncos "Orange Crush" cornerback Louis Wright -- a shutdown corner before the term was invented -- also should be in the Hall of Fame.
Bbut that's the other problem: The Broncos, still were under-represented as a franchise when their obvious and usually more contemporary choices got in (Elway, Zimmerman, Little, Davis, now Bailey ...).
Gradishar, Wright, Karl Mecklenburg and Steve Atwater -- yes, and others -- still were out there.
The Pro Football Hall of Fame selection process, while tweaked in recent years, still is ridiculous, capricious and unreliable.
Gradishar should be in and while I hate the linking of this word with sports, it applies here.
It's disgraceful.
Read the Gradishar introductory chapter in '77 here
January 14, 2020
Avalanche is too good
to rationalize getting
anything but 2 points
After Dallas defenseman Esa Lindell scored at 1:54 of overtime to give the Stars a 3-2 win Tuesday night, Avalanche captain Gabe Landeskog -- who was on the ice with Nathan MacKinnon and Cale Makar -- slammed his stick, broke it and heaved it to toward the other end of the ice before charging into the bench and toward the dressing room.
It was that frustrating.
The Avalanche is stumbling along, at 1-4-2 in its last seven home games -- with the two overtime losses in succession.
Colorado still is ensconsed in a playoff spot, in third in the Central Division, but the standings are compacting and those outside the playoff field if the season ended today (don't you love that kind of talk) are closing in.
That's point No. 1.
Point No. 2 is that this team NEVER should lose two overtime games in a row.
Settling for one point is unadulterated failure.
The win-some, lose-some mentality in overtime should be a complete joke for the Avalanche.
Why?
It's as if when then-Detroit GM Ken Holland suggested the 3-on-3 overtime format as the prelude to a shootout, he was proposing the placing of a premium on speed, skill and the ability to take advantage of what can look like a doubling in size of the ice sheet.
That's the Avalanche, at least last season and this season.
So the Avalanche's OT futility is mystifying. Inexplicable. Unfathomable. And, yes, inexcusable.
Colorado was 3-12 in games that went to overtime in 2018-19.
This season, the Avalanche now is 3-6 in games that have gone to overtime. (Among those, the Avalanche has lost its only shootout, at Dallas on Dec. 28. That was another lost opportunity within the division.)
That's dreadful.
That makes no sense. I'm semi-serious about this: It'a almost to the point where sending out Matt Calvert, Pierre-Edouard Bellemare and Ian Cole out to open OT might shake things up and open up opportunities for MacKinnon, et al, in the later matchups ... if it goes that far, of course.
And it was just a little too easy to wave off losing ground to the Stars -- now two points ahead of the Avalanche -- by attributing it to the play of Denver-born Stars goalie Ben Bishop, who had 41 saves and allowed only the first-period goals from Nikita Zadorov and Landeskog that gave Colorado a 2-0 lead.
The Colorado collapse repeated a pattern of late, with no lead safe and third-period collapses commonplace.
This also was the rare occasion when Avalanche coach Jared Bednar, perhaps hoping to forestall a feeling of panic, pulled punches and seemed to be rationalizing rather than assessing.
"I thought we were engaged, start to finish," Bednar said. "Checked hard, worked hard offensively. I mean, I thought we played real hard. I don't know how else to summarize it. It seems like right now, what can go wrong, will go wrong. Again tonight, you see it, so we just have to keep grinding. I liked our push, even in the third period, we were up a goal and we were still going after them, we didn't want to sit back. We didn't want to let them come at us. We hit a couple of posts, we had a couple of grade-A chances that we created. Their goalie makes the saves."
Bishop was good, but this was no 62-minute standing-on-his-head performance, either. Aain, the Avalanche is too good now to rationalizing these kinds of losses as 27 straight opposing goalies emulaing Patrick Roy or Dominik Hasek...on their best nights.
"I think we've gone through it in years past, too," Bednar said. "I don't think it's home-road. You lose a little confidence, pucks stop going in for you a little bit, and like i said, you make a mistake, it seems like it's in the back of the net. That's not goaltending tonight. Our goaltender was excellent. They're finding ways to capitalize on chances and we're not. . . I think if you play like that on most nights, you get two points."
No. Those sorts of losses, to divisional opponents, are the worst. They're lost points. They're failures. Not taking advantage of opportunities.
And there's no excuse.
Updated January 14, 2020
Nathan MacKinnon nets
two major Colorado
honors for 2019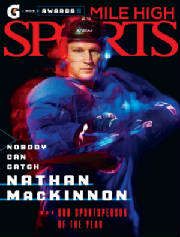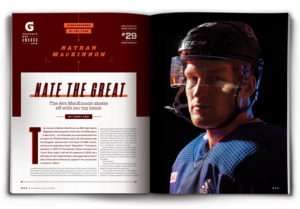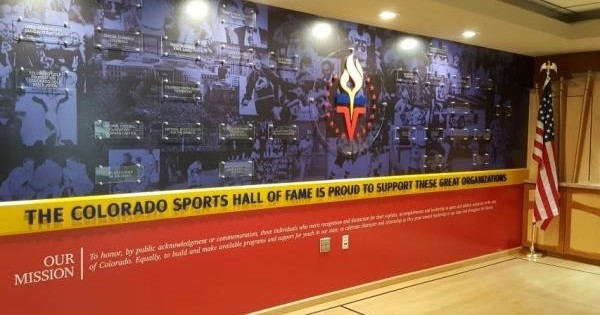 In the past four days, Nathan MacKinnon Friday was named Mile High Sports Magazine's Sportsperson of the Year for 2019, and then Tuesday also was voted the Colorado Sports Hall of Fame's Male Athlete of the Year.
The timing just worked out that Mile High Sports CEO Nate Lundy and Editor Doug Ottewill posted the story and revealed the choice of MacKinnon as Friday as the Avalanche was set to face the Sidney Crosby-less Penguins Friday night at the Pepsi Center.
Unfortunately, Crosby -- MacKinnon's fellow Halifax Regional Municipality native and close friend -- missed his 27th consecutive game with a lower body injury.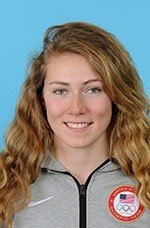 Of course, there were other worthy candidates for the Mile High Sports honor. I mention Mikaela Shiffrin, Nikola Jokic, Nolan Arenado, Trevor Story, and, yes, the late Pat Bowlen. (My thinking there was another posthumous honor.) With hindsight, Troy Calhoun probably should have rated mention.
For the record, I didn't have a vote for the Mile High Sports honor, but I agree with the selection of MacKinnon.
As a long-time member of the Colorado Sports Hall of Fame selection committee, I did have a vote in the Hall of Fame male athlete of the year choice Tuesday, and, yes, I voted for MacKinnon.
The awarding of separate male and female awards made the choice less difficult than the Mile High Sports choice, given Shiffrin's continuing dominance of the World Cup circuit.
Shiffrin and MacKinnon will be honored at the Hall of Fame's annual awards banquet on April 23 at the Hilton Denver City Center. It's unlikely that MacKinnon will be present, given that's 19 days after the final regular season game, and he most likely will be competing in the Western Conference semifinals with the Avalanche or be playing for Canada in the IIHF World Championships.
Featured will be the six-member 2020 Induction class, selected last October: Lindsey Vonn, Bob Gebhard, Alonzo Babers, George Gwozdecky, Terry Miller and Erin Popovich.
Other award winners selected Tuesday were:
Male college athlete: Thomas Staines (Colorado State University-Pueblo track & field).
Female college athlete: Lynnzee Brown (University of Denver gymnastics).
Male high school athlete: Cohlton Schultz (Ponderosa wrestling).
Female high school athlete: Anna Hall (Valor Christian track & field).
January 10, 2020
Short memories? Avs'
goaltending was shaky
last season ... until February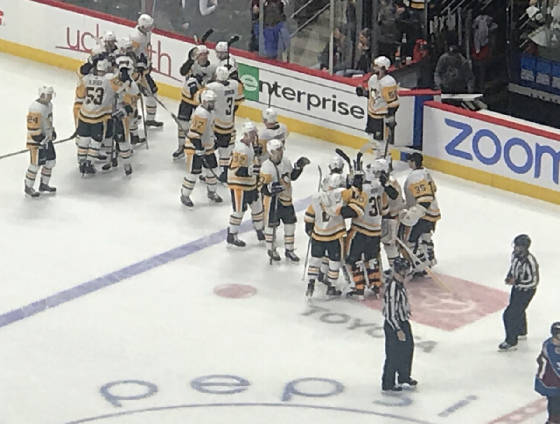 The Penguins celebrate after their 4-3 overtime win
The Avalanche's goaltending has been, well, spotty lately.
The latest example was Friday night, when backup Pavel Francouz allowed four goals on 30 shots, including a soft, 5-hole game-ender by the Penguins' Jared McCann at 3:19 of overtime, giving Pittsburgh a 4-3 win.
Colorado now is 1-4-1 in its last six home games.
In the net, No. 1 Philipp Grubauer has been struggling, and his goals-against is up to 2.92 and his save percentage is a pedestrian .909.
Francouz, at 29 and in his first NHL season after coming over fromEurope to primarily play for the AHL Colorado Eagles in 2018-19, has come back to earth after playing well enough to bring up the issue of a "goaltending controversy" -- in the more desirable context of one goalie stepping up.
"I don't like separating our goalies from our team," said Avs coach Jared Bednar. "Because there were areas of our game tonight that were great. But that's a really good hockey team. It was a really good hockey game. I have no problem with the way we played and the effort that we played with. There'll be some guys that watch that game and say they have to be better, they have to give us a bit more. I'm sure Frankie probably would say he wants one of those goals back."
Amid the talk of panicking and making a trade for a veteran goalie as the Feb. 24 trading deadline approaches, this seems to have been forgotten: This should look familiar.
Last season, the Avalanche's goaltending, with Grubauer and Semyon Varlamov in the net, was brutal for a long stretch.
In late January, I wrote:
The lack of faith in the men is in the net is debilitating for any team, and one of the reasons is that it becomes a rationalization. . . or a self-fulfilling prophecy. Teammates become tight, overly concerned that a single mistake too often can lead to a puck in the back of the (wrong) net. And on the rare nights when the goaltending is major-league and larcenous -- in other words, on the nights when the Colorado goalie has done his job -- the post-game narrative is a condescending overreaction, as if Semyon Varlamov or Philipp Grubauer has reprised Patrick Roy or Dominik Hasek in their primes and the game video should be sent to the Hall of Fame in Toronto.
But not long after that, Grubauer snapped out of it. He claimed the net and was larcenous down the stretch as the Avalanche claimed a playoff spot, knocked off Calgary in the first round and then fell to the Sharks in the Western Conference semifinals. The No. 1 job seemed to be his. Varlamov wasn't re-signed and ended up with the Islanders, for whom he posted a 32-save shutout against the Avalanche last Monday. And Francouz all along looked to be at least a capable NHL backup.
My point?
It's too soon -- way too soon -- to write off Grubauer ... or to overreact and pronounce the Avalanche goaltending as a disaster. If Grubauer hadn't shown what he can do when he's on and confident, it would be different.
The Avalanche (25-15-5) has 55 points after 45 games. Last season, Colorado (20-17-8) had 48 points after 45 games.
I'm not guaranteeing that Grubauer will repeat his late-season stingy stretch of a year ago. Or saying that Francouz is capable of that kind of standing-on-his-head, self-assured play if given the chance to be the No. 1 guy.
But there's no need to panic.
Yet.
January 9, 2020
Irv Moss and that grin
were Colorado Classics.
RIP, Irv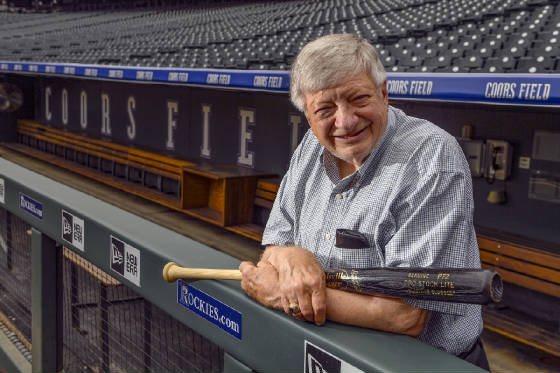 Irv Moss in 2016, as he was about to retire. Photo courtesy John Leyba
This On the Colorado Scene entry has been moved.
Please click for my current commentary and my
profile/salute of Irv Moss at his 2016 retirement
It has been much noted that we lost two legendary Irvs in 11 months. Please click for my Greeley Tribune columns on Irv Brown after his death in February 2019
January 8, 2019
Stern was cool to
internationalization at first,
but soon was all-in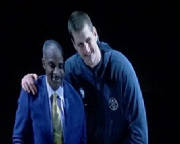 January 5, 2020
Just when it seems
Buffs will start 2-0 in
Pac-12, roof caves in

The Oregon State bench, with coach Wayne Tinkle at left, reacts as the final seconds count down.
BOULDER -- I was at the Pepsi Center Thursday night, watching the Avalanche whip the defending Stanley Cup champion St. Louis Blues, but one television in the press box was tuned to the ESPN2 broadcast Oregon vs. Colorado in the Pac-12 opener for both schools at the CU Events Center.
Without being able to hear, but with friends and social media contributing impressions, I inferred that analyst Bill Walton had a nice time during his visit, and also that he probably knows he would have fit in as a student in Boulder, and not just because he would have played with Scott Wedman and Dave Logan.
And I wondered whether a sign from God was involved, and what Walton was saying, when the broadcast feed disppeared for the final two minutes and the studio folks back in Bristol had to put away the Doritos and fill time until the feed returned ... which it never did.
But that night, the Buffs impressively knocked off the fourth-ranked Ducks 74-65, improved to 12-2 overall and seemed to re-emphasize its claim as Pac-12 contender and possible NCAA tournament team.
Also, though, the Buffs needed to hold serve at home, and that's why Sunday's 76-68 loss to Oregon State at the CU Events Center was doubly devastating.
The Buffs needed a sweep of the Oregon schools at home to set the tone for the conference season.
If it had happened, CU might have cracked the AP top 25. and were in great position to claim it when they led by seven at haltime, by 12 with 13:21 left, and still by 11 with 7:57 remaining.
(Update: Actually, much to my surprise, and underscoring that the game ended at 8 p.m. Eastern, the Buffs had climbed into the AP top 25 released Monday morning -- at No. 25.)
Consider this: In that final 7:57, the Beavers outscored the Buffaloes 24-5.
For CU, that's ugly.
That's a collapse.
The Buffaloes stopped moving on offense, got trapped and often turned the ball over against the Beavers' 1-3-1, couldn't hit the shots they did get, didn't defend well, fouled on Beavers' prayer 3-pointers, and lost their poise. For the Beavers, guard Ethan Thompson had 24 points, including 16 in the second half.
Other than that, all was fine for CU.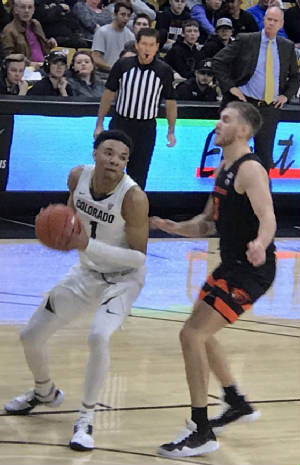 Tyler Bey (left), who finished with 20 points, didn't score after his dunk with 8:54 left. And he didn't get the ball down the stretch, with the Buffs playing tight.
Guard McKinley Wright IV had 14 points, 10 assists and 7 rebounds, but he didn't take control when it most mattered.
Uh, there still are a few bugs in the system.
It was a blown opportunity to take advantage of opening the conference season with the set at home, and when it was over, the four schools involved -- Oregon, Oregon State, CU and Utah -- all were 1-1 in conference play. Oregon rebounded with a Saturday win at Utah, and the Beavers had lost at Salt Lake in the Thursday league opener.
So, really, this became a treading-water first weekend for the Buffs ... and it should have beeen more.
""We just didn't execute," Wright said. "We practiced against all that defense. We knew it was going to come at some point, but we didn't execute down the stretch."
CU coach Tad Boyle was befuddled.
"Disappointing loss, to say the least," he said. "Credit to Oregon State, don't want to take anything away from them. We imploded the last five minutes of the game against that 1-3-1 and it's frustrating because we practiced against it, we knew it was coming, we talked about it ... We didn't know when it was coming, but we knew it was coming at some point. I thought it was kind of a last resort for Oregon State, they were down 10 with five minutes to go. They said, 'Well, let's throw that out there and see if they can handle it,' and, whoo, we did not handle it. We peed down our leg and turned that thing over and got on our heels and lost our aggressiveness."
(Yes, he said, "Peed down our leg.")
Boyle added, "One of the things we talk about against that defense is that it's not very sound especially boxing out. You can really offensively rebound against it. But in order to offensive rebound, you have to get shots. We couldn't get shots because we turned the thing over. . . I take responsibility as a coach. We did not handle that well. That's my fault.
"We lost our composure and confidence, we got on our heels and that can't happen. It's league play and welcome to the Pac-12, guys. We're a veteran team. That's what's disappointing. If we have a bunch of freshmen and sophomores out there, I'm like, 'OK, we'll learn from this,' but that's not the case. There are no excuses to be made for that."
I asked Boyle why his attempts to arrest that lack of composure hadn't worked.
"I think you have young kids out there, playing a game in front of a lot of people on a big stage," he said. "Sometimes they handle it well and sometimes they don't. And when they don't, it just happens. You have to live with it, you have to move on from it, and you have to learn from it."
January 2, 2020
In front of his former
UMass teammates, Makar
gets back on track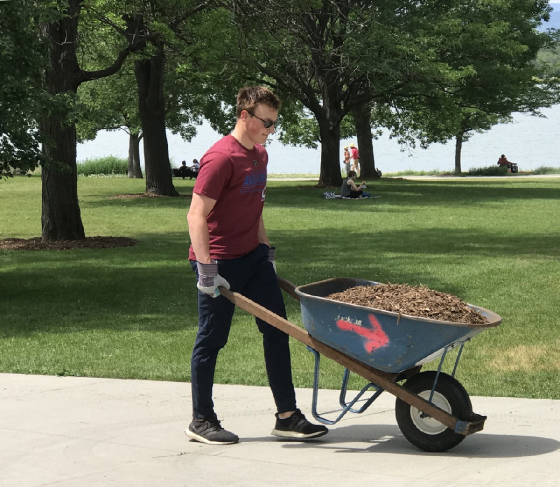 Last summer, Cale Makar helped out on a Kroenke Sports and Entertainment community service
day at Denver's Sloan's Lake Park.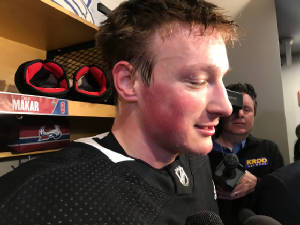 Last spring, Cale Makar and most of the UMass hockey players sitting together at the Pepsi Center Thursday night beat the Denver Pioneers in the Frozen Four semifinals and then fell to Minnesota Duluth in the championship game.
The next day, Makar -- Colorado's first-round pick and No. 4 overall in 2017 -- signed with the Avalanche and within 48 hours of the title-game loss stepped into the Colorado lineup for its Game 3, first-round win over his hometown team, the Calgary Flames. "There was such a quick transition, but at the same time, this is what you're been working for," Makar said Thursday night.
And all -- or at least most -- has gone well since, with Makar one of the early favorites to contend for the Calder Trophy as the NHL's top rookie as the Avalanche head for one of the league's bright-lights circuits, in this case consecutive road games at Newark against New Jersey Saturday, at Uniondale against the New York Islanders Monday and in Manhattan against the Rangers Tuesday.
Although he missed eight games with an upper body injury before returning to the lineup last weekend, Makar -- the Hobey Baker Award winner as NCAA hockey's top player last year -- leads NHL rookie defensemen in points, with 31, and is second only among all rookies to Buffalo's Victor Olofsson, who has 35. Makar has nine goals and 22 assists and is a plus-5.
That was after he had a goal and an assist in the Avalanche's 7-3 rout Thursday night of the defending Stanley Cup champions, the St. Louis Blues.
The Minutemen, who meet DU at Magness Arena Friday and Saturday, eagerly checked in as spectators -- for the record, following NCAA student-athlete regulations when lining up the tickets after the schedule came out -- to watch their former teammate.
"I keep in touch with all those guys," Makar said. "It's pretty awesome they were able to come, that's for sure. . . I didn't get to see them at all, but I love all those guys. I don't want to reminisce in the past, but it was awesome to have them out there and hopefully, I'll be able to see them tonight."
Along the way this season, there have been occasional reminders that as gifted as he is, the transition for young defensemen is the most difficult and even the elite at te position can look befuddled and rushed at times as rookies.
But he's back.
"I don't think I'm out of shape at all," he said. "Tonight, I'm a little bit sick, so I was taking pretty short shifts. It's stuff you deal with. It's getting comfortable again with the pace."
I asked Avalanche coach Jared Bednar if Makar's continuing education in the NHL game.
"I thought he was good tonight, number one," Bednar said. "Maybe had a couple miscues with the puck, but he was dangerous in the areas we want to see him.
If I break down his season, his start was probably putting a little too much pressure on himself with lockdowns, trying to do too much in areas where he should just be simple, and not doing enough in areas where we thought he could do more. There was some meetings and he grabbed it right away and came around.
"I think we saw some excellent play before he was hurt. Now he's already faced some adversity in his pro career. It's the first time he's ever been hurt, and it lasted longer than what he wanted. I think there was some frustration there. I think coming out of that, he was trying to pick off where he was at the start of the year, he was trying to do too much when he shouldn't. . . Now he's starting to build it back.
"I expect that we're going to see real good play here from Cale going down the stretch. He's an important piece to our lineup and he just keeps getting better and better. I think that where he can grow is we get him to a point where he's mature and he gets in better condition. Not that he's not a well-conditioned athlete. He grows into a man and we get him into the area where we can start playing him more and more and get him up in the high 20s."
He means minutes, of course.
January 1, 2020
College QBs are scrambling,
and that doesn't mean
leaving the pocket