Also, March 31 -- Nuggets' greatest ever? Here are No. 1 and No. 2
March 26 -- On the first day of statewide Stay-at-Home
March 10 -- Congrats to Dave Logan, Alex English ...
March 1 -- Altitude vs. Carriers goes on ... and on
March 30, 2020
Shoutout to arts community
as Castle Rock's Beth Malone
appears on "Stars in the House"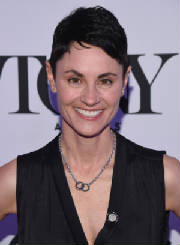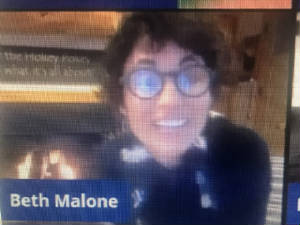 The coronavirus crisis obviously hits the arts community hard, too, with everything shut down.
Broadway star Beth Malone is from Castle Rock and is another product of renowned UNC theater program. Sunday, she was on the twice-daily streamed interview/mini-concert show, "Stars in the House," with others in a virtual cast reunion from Broadway's 2015-16 "Fun Home."
In "Fun Home," Malone played Alison Bechdel and earned a Tony nomination for Best Actress in a Musical.
During the streamed show Sunday, she told how she was about to leave the acting business altogether and go into teaching when he landed the role of Bechdel in a series of serendipitous circumstances.
The "Stars in the House" show, masterminded by Seth Rudetsky and James Wesley, is a fund-raiser for the Actors Fund, which benefits those struggling in arts communities -- not just actors -- from coast to coast. The money raised so far, even with optimistic projections, is a drop in the bucket for what's needed, so it's more about rallying and symbolic support. But it's interesting.
After being made aware of the show, I'm going to go back and sample more from the archived episodes. Monday night's episode is expected to be a "Taxi" cast reunion.
Here's the "Stars in the House" site, listing past and upcoming shows, also with an opportunity to contribute.
The streamed episodes -- with as many as six "windows" showing the scattered hosts and guests -- look to be mostly endearingly free-form, informal and unpretentious. However, the "Fun Home" reunion show also included an appearance by CBS chief medical correspondent Jon LaPook to talk about the coronavirus crisis.
One tip: From what I can tell, "Stars in the House" assumes deep, rather than casual viewer knowledge about shows and perfomers involved, and that mkes sense given the elective nature of watching live or choosing archived episodes. But, as I did, you also can be prepared to do reminder self-education with online research before, after or even while watching.
Other "Fun Home" cast members on the reunion show with Malone included Judy Kuhn, whom I saw as Florence in "Chess" just before it closed its short run in 1988, and Michael Cerveris, whom I saw as the title character in "Tommy." (Going to New York on the job often and getting frequent guest hotel points while following teams have their advantages. Helen and I have gone to New York often on our own, too.)
The New York production of Chess, with its ABBA-written dramatic score (it was no "Mamma Mia"), had a mess of a plot with great music and cast. The reviews are comical to read again: The critics sounded like parents screaming at their children to turn down the music. There have been many attempts to retool, present a coherent plot and get it right, most notably in the 2008 London concert version with Josh Groban, Idina Menzel and Adam Pascal. The show still has a cult following ... including me.
That "Chess" cast included David Carroll, who died too young of AIDS complications a few years later, after he also played one of Jim Bouton's teammates in the sitcom version of "Ball Four."
"Chess," which wasn't close to all high-decibel rock, was too noisy? The Who's "Tommy" opened only two years later. It was fun to hear Cerveris tell a couple of "Tommy" stories during the "Stars in the House" show Sunday.
Sorry, I got off track there. But that's what theater can do -- bring on free association. And I'll continue that as I finish this up.
Late in "Stars in the House" Sunday, Malone -- in front of her fireplace and holding her newly acquired dog, Molly Brown -- performed a number from "The Unsinkable Molly Brown." That revival was shuttered prematurely in New York after passing through the Denver Center Theatre Company and St. Louis Muny.
Malone played -- you guessed it -- Molly Brown.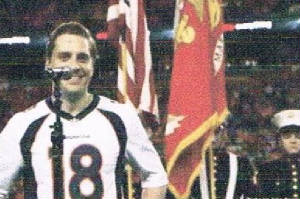 For fun, here's the column I wrote on another UNC-trained Broadway star, Andy Kelso, who went to Eaglecrest High. He and his wife, Sheila, live in New Jersey. For a time, Kelso co-starred in his (off-and-on) long-running lead role in "Kinky Boots" with my fellow Wheat Ridge Farmer, Annaleigh Ashford.
I'm also thinking of other theater performers with Colorado connections, including Lyndie Moe, granddaughter of former Nuggets coach Doug Moe; Joshua Bess (Columbine High) and Zach Kononov (Cherry Creek). At least Moe and Bess now live in New York, the U.S. coronavirus pandemic epicenter.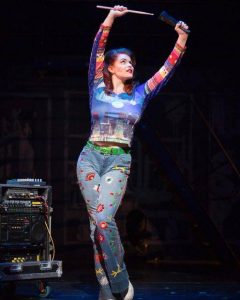 For two years, Moe (right) was Maureen in the 20th anniversary tour of "Rent," which did everything from one-night stands in smaller markets (e.g., Greeley and Cheyenne), to longer runs in major markets (e.g., Denver) both nationally and internationally.
Bess did a stint as Roger in that tour, and he was in Denver with Kononov performing in the "SpongeBob Musical" tour when everything shut down. Theater work is a precarious profession for all but a few the first place, but now...
Also, of course, the arts community is nationwide in scope. Theater companies, including the Denver Center for the Performing Arts Theatre Company, are being affected coast to coast, as are orchestras, dance companies ... and more.
To when the curtains rise again. . . including in those other wings of the arts, such as ballet -- where my sister, Susan, is a former Colorado Ballet principal and now is ballet mistress with the formidable Tulsa Ballet, which also performs around the nation and internationally. (I'll never forget the Oregonian's arts writer, Barry Johnson, telling me the ballet mistress is a "feared personage.") My family has both athletic and musical genes and Susan is the one who got both. I have three left feet and can't carry a tune.
Past Broadway and London shows are available via DVDs or streaming. Other arts are following, including the Tulsa Ballet, which also is offering a live streaming of a recorded show, "Tchaikovsky: The Man Behind the Music."
And "Stars in the House" can provide additional diversion ... for a good cause.
The Public Safety Alert reminder blared on my phone this morning at 7, an hour after Colorado Governor Jared Polis' state-wide, stay-at-home order went into effect.
We're in lockdown in Colorado -- and in many other states -- because of the coronavirus pandemic.
Here, it came on what would have been the Rockies' Opening Day at San Diego.
I was reeling, too, when the waves of developments kept coming, when everything seemingly changed by the minute, when in sports, basketball conference tournaments and then the NCAA tournament were canceled, when the NBA and NHL shut down ... and so much more, I'm not going to try and list it. Also here, after a bizarre Thursday when a Post Malone concert played the Pepsi Center and the touring "SpongeBob Musical" show went on at the Buell Theater, large gatherings became verboten. That tour now is shut down. The ripple effect is such that I could keep going ... to Pepsi Center workers, whether they're employed by Kroenke Sports, Argus Event Staffing or the Legends concessionaire; to others in the arts...and well beyond.
So much of what I read from those attempting to pontificate about the effect on sports had a stunningly short shelf life.
The absence of sports leaves a void, of course. Yet I can do without the widespread "this sure puts sports in perspective" offerings, though, and this is why: It's so far beyond that, the statement is mindless. Plus, I believe -- or at least hope -- that most sports fans, regardless of how passionate, always have understood what sports are. Diversion. Bonding on so many levels. Fun.
I might be in the minority, but the NFL's plowing on in its offseason with free agency seems more tone deaf every day. Hearing that (fill in player's name) got his market value while millions are out of work or face an uncertain future on so many levels, borders on the distasteful.
Mostly, let's hope that sports can return -- because that would signal the coronavirus situation is under control.
The movies "Breaking Away," "Slap Shot," "Bull Durham" and "Bang the Drum Slowly" should get renewed attention and repeated viewings.
Can't we blend red and blue and become purple? (I can hear the chorus, from both ends of the spectrum, of "Yes, but ...")
I understand that many will consider me naive, that it avoids the issue of who is credible and who is not, and of the capability of leadership; and sidesteps the argument that we have a responsibility to speak up -- from either end of the spectrum. Here's my desk-pounding stance: We're all in this together. Let's allow those who know what the hell they're talking about to plot our course -- and everyone else get out of the way.
But I don't need to or want to try to add anything beyond that to that polarized debate. Plenty of others are doing that.
March 25, 2020
"Smoke 'em inside":
salute to Jim Bouton,
landmark Ball Four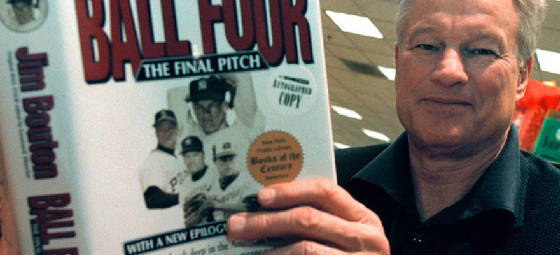 There were several other notable aspects to the announcement, including that Logan's coaching career -- he has won eight state championships at Arvada West, Chatfield, Mullen and now Cherry Creek -- officially isn't entering into it. Neither is his post-NFL playing career work as a broadcaster, including as the Broncos' long-time radio voice. He's being honored for his three-sport career at Wheat Ridge High School, and I was able to watch part of it from roughly 60 feet, 6 inches away.
I also was intrigued to note the other inductees will include Alex English, whom I covered when on the Nuggets beat; quarterback Tim Couch, the one-time No. 1 pick in the NFL draft; and former Colorado Rockies outfielder Matt Holliday, who still has not touched home plate. They're being honored, of course, for their high school careers in South Carolina, Kentucky and Oklahoma, respectively, and more details are in that linked story.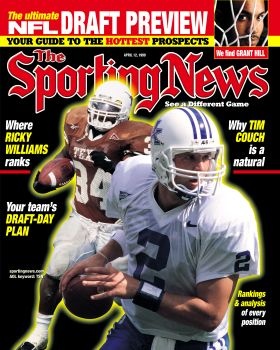 I visited Couch in Lexington as the 1999 draft approached, then traveled to his tiny hometown of Hyden to see where he grew up and document what a phenomenon he had been as a football and basketball star -- including as Kentucky's "Mr. Basketball" -- at Leslie County High School.
I included "A Man for All Seasons" chapter on Logan in the "Colorado Characters" section of one of my books, and here's the letter I wrote to the National High School Hall of Fame to back the Colorado High School Activities Association's nomination of Logan as a possible selection. (He had no idea that I was contributing it.)
Here it is:
Mr. Bruce Howard, director
National High School Hall of Fame
NFHS
PO Box 690
Indianapolis IN 46206
Dear Mr. Howard,
It is my pleasure to endorse Dave Logan for induction into the National High School Hall of Fame. He has made major impact on so many levels, first as perhaps the best all-around high school athlete in Colorado history. He starred in football, basketball and baseball with the Wheat Ridge Farmers. I was his teammate. Beyond that, it comes back to him utilizing his athletic and post-NFL professional success to make continuing contributions to the Colorado high school sports community.
After Dave left Wheat Ridge, he was an All-American wide receiver at the University of Colorado and played nine seasons in the NFL, mostly with the Browns. That's secondary here. Since retiring from the NFL, he has been – all at once – a peerless high school coach, plus a high-profile broadcaster as a talk-show host and the radio voice of the Denver Broncos. The point is, Dave doesn't "need" high school coaching. It needs him. He has so much else to do. Yet it would leave a void, both for himself and his charges, if he walked away. His high school teams have won so many football state championships, I've lost count and will trust others here to recite that record. But it's not about titles; it's about his impact on the young men he has coached. I know what he has meant to them. Combine that with his own high school athletic career, and I believe he would be a fitting choice for the Hall of Fame.
Yes, we go back a long way. My family moved from Eugene, Oregon, to the Denver area in the middle of my junior year, in early 1972. Dave was a year ahead of me at Wheat Ridge, and it was a memorable experience for me to be the other half of the Farmers' Logan & Frei battery that spring. I caught his no-hitter against our biggest rival, the Lakewood Tigers. I watched him hit the longest home run I've ever seen in high school baseball sail across another diamond and over another fence against the Jefferson Saints. I marveled at how competitive he was and how he insisted the rest of us should be, too. And this was his "third" sport! Also, I often note I am grateful to the hard-throwing right-hander for helping me set a state single-season record – for most passed balls.
Dave was done with high school football and basketball by the time I arrived, but I know he was All-State in both sports and, as noted, arguably remains the best all-around high school athlete in Colorado history. And this is the state that boasts former football/basketball star Byron "Whizzer" White and 1936 Olympic decathlon champion Glenn Morris as former multi-sport Colorado high school athletes.
As we played American Legion ball that summer, the Cincinnati Reds drafted Dave, officially as a shortstop. I later covered major-league baseball. I have no doubt that if he had devoted himself to baseball, he would have been a big-league pitcher or outfielder. In addition to football, he also was a basketball standout at CU. The Kansas City Kings claimed him in the NBA draft and the Browns took him in the NFL draft. He joined Dave Winfield and Mickey McCarty as the only athletes drafted in all three major sports.
After that, I followed and at times covered Dave's collegiate and NFL careers. Since his retirement, I've written about him as a high school coach. My father was a coach, at the high school, college and NFL levels. I have seen first-hand the impact high school coaches can make, winning and titles aside. So rather than emphasize trophies, I'll close with this: Dave Logan is a winner, period, and a Hall of Fame man.
Sincerely,
Terry Frei
They'll all be honored in Denver this summer.
February 28, 2020
Putting too much (draft)
stock in Combine is
risky ... and even stupid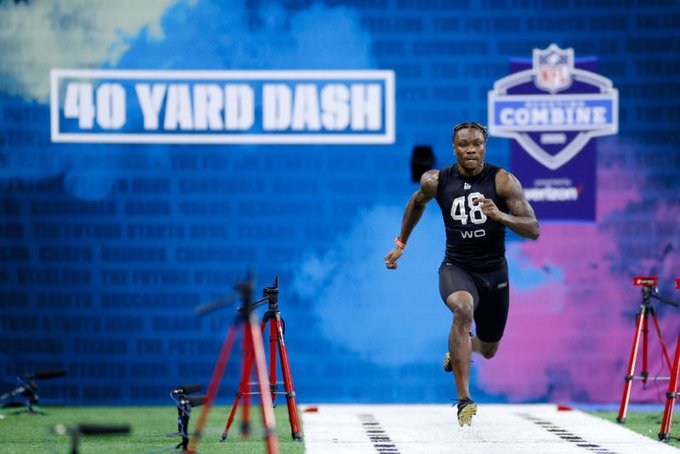 February 23, 2020
Here's the official
CU News Release
Announcing Dorrell
From Dave Plati, CU Associate AD/Sports Information Director
Perspective from Neill Woelk of cubuffs.com
February 22, 2020
As CU coaching search
bordered on farcical,
Dorrell is Mr. X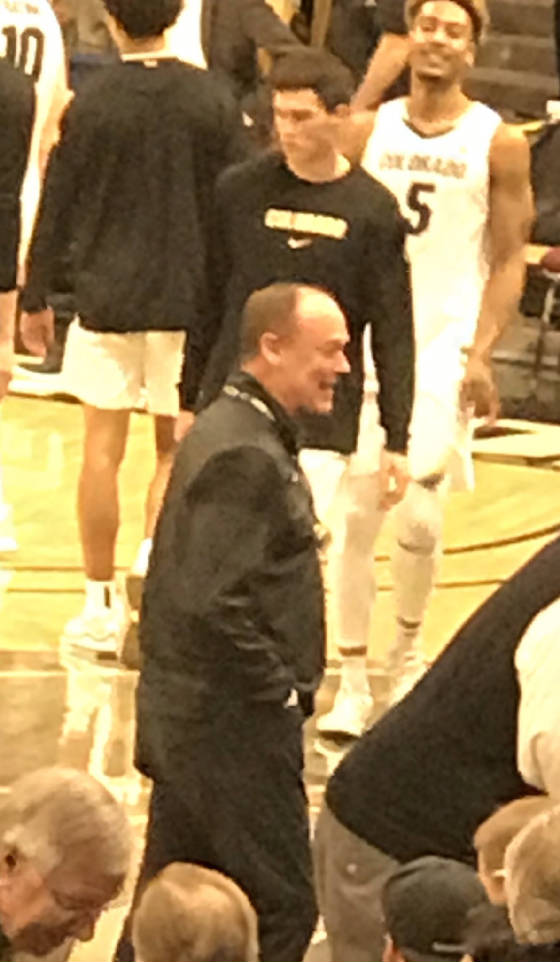 CU athletic director Rick George was at the Buffaloes' sold-out game against UCLA Saturday.
Over the last few days, I'd mentioned there often is a "Mr. X" in coaching searches, whether his identity ever comes out or otherwise.
Mr. X at CU was Dolphins wide receivers coach Karl Dorrell.
On Saturday, Pete Thamel of Yahoo Sports reported that Dorrell -- the former Buffs and Broncos assistant and former UCLA head coach from 2003 to 2007, when the Bruins went 35-27 and played in five bowls -- was the frontrunner for the CU job. Soon, other reports -- most notably from Ian Rapoport of the NFL('s) Network, meaning it came from the NFL grapevine -- pegged it as a definite hire. And the official announcement of Dorrell's hiring came Sunday afternoon, and Dorrell's introductory news conference is set for Monday morning at the Dal Ward Center.
By now, you know those "mentioned" in the past 10 days as athletic director Rick George and associate athletic director Lance Carl conducted the search. As the weekend began, more names were thrown into the mix. I'm not going to list them all again.
Dorrell isn't going to overwhelm CU partisans, but deserves open minds. At least to the point of: Give the guy a chance! Bluntly, some of the absurd lazy kneejerk reaction to Dorrell's hiring is driving me into his camp. He'll have to especially scramble to assemble a staff among those available after a handful of assistants caught the shuttle to East Lansing. How he would do that and who he had in mind obviously was one of the questions, and his answers must have been credible. Darrin Chiaverini played four seasons under assistant coach Karl Dorrell from 1995-98, and it seems certain he will remain as assistant head coach -- and not just for contract reasons. Same with the strategy needed to hang on to those in Mel Tucker's much-touted, but abandoned recruiting class, rather than have many ask for releases from their national letters of intent.
The standard of judgment for Dorrell will involve two things:
1, Was the right choice even among a field limited by the time of year and bizarre circumstances? For example, another former UCLA coach, Jim Mora, also twice had been an NFL head coach, but he apparently couldn't even get a sniff. That's hard to fathom. He was 46-30 as the Bruins' head coach in six seasons. His father, Jim, had been a CU assistant and his son spent time in Boulder in his youth. He wanted the job.
2, Given the pool, would it have been better to stick with Chiaverini through the 2020 season and then either strike the "interim" or open up a conventional, full post-season search? At this point, that's still what I think CU should have done.
By the weekend, it was apparent that Bielema had flunked the "floating" test, that Calhoun was going to stay at Air Force, Eric Bienemy was going to stay with the Chiefs and Steve Sarkisian had worked contact with CU for a raise at Alabama. (Not that there's anything wrong with that.) Names kept getting thrown out and even those trying to be cautious had to include them to be on the safe side. (As I did, too.)
One of the knocks of the hire we're hearing is that, gee, he was fired at UCLA. After five bowl seaons. Yes, that's a low bar, but it's not as if the Bruins were awful under him. UCLA also fired Mora. UCLA also fired Rick Neuheisel. UCLA also fired Bob Toledo, an excellent coach. The Bruins' program benefits from its picturesque campus and its glamor image, but it also plays in a stadium 45 miles from campus -- albeit a great one -- and gets less help from the registrars' office than other Pac-12 public universities. Chip Kelly will be fired at some point, too. And Bruins fans will continue to believe UCLA should be whipping everyone in the league, and that consistent competitiveness isn't enough.
Then there's his firing after a single season (2014) as Derek Mason's offensive quarterbacks coach. Also fired was wide receivers coach Marc Lubick. (Yes, he is.) The Commodores were dreadful that season offensively. They played our quarterbacks, including more than one in eight of the 12 games. You walk in and coach whom you have. I don't pretend to know the specifics -- whether the personnel truly was that bad -- but I know this much: Stuff happens in this game and those who don't get that don't understand coaching and college football. Almost every resume of excellent coaches includes a firing, whether individually or as part of a staff. Ask Nick Saban, fired by Earle Bruce at Ohio State.
Bottom line. I repeat: Give the guy a chance.
February 17, 2020
Come on, folks,
Pac-12 isn't dropping
to Group of 6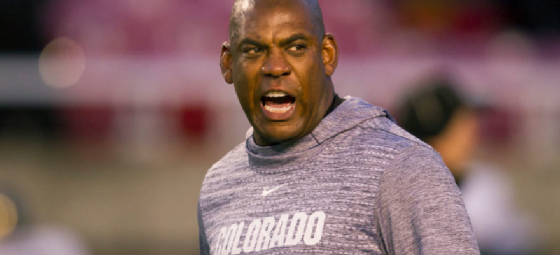 February 11, 2020
Gruuuuub is back
in the groooooove
for Avalanche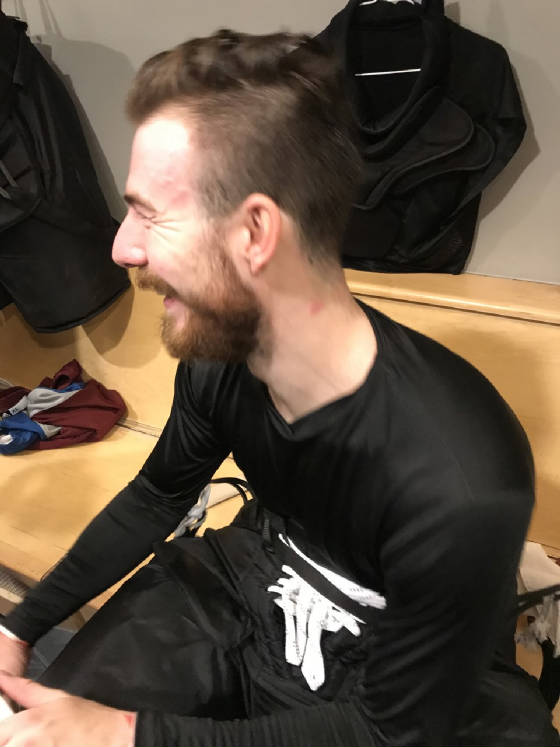 Philippe Grubauer was in a good mood after this third shutout of 2019-20.
Is this starting to look like the stretch run from last season?
After Phillippe Grubauer's 34-save shutout Tuesday night in the Avalanche's 3-0 win over Ottawa, the Colorado goalie had allowed only three goals in his last four starts.
It's similar to how it shook down a year ago, when the Avalanche got -- and this is he nice way to put it -- shaky goaltending as it waited for either Grubauer or Semyon Varlamov to step up. And Grubauer finally did, in February and beyond, as the Avalanche secured a playoff spot, knocked off Calgary in the first round and took San Jose to seven games in the Western Conference semifinals.
Now, with a better and deeper team in front of him, the bar is set higher as the Avalanche chases St. Louis for the Central Division lead and No. 1 Western Conference seed and seeks to advance farther in the postseason.
Through 55 games last season, the Avalanche was 22-22-11. After they ran their latest winning streak to five Tuesday night, they were 33-16-6, or a full 17 points ahead of last season's pace. This time, the goaltending has progressed from inconsistent and lackluster to staunch. Grubauer now has a 2.64 goaaaals-against average in 34 games, with a .915 save percentage and an 18-11-4 record. Rookie Pavel Francouz has been solid as his backup.
After the game Tuesday, I asked Grubauer if he felt as if he was back in the groove he was in late last season.
He knew what I was asking, but he first reframed the question for his answer.
The team's the thing.
"I think as a team, yeah, for sure," Grubauer said. "We're making things easy. If you play the way we play, that makes things really easy for me back there, so that's what we need to do."
I politely said, no, I meant his play.
"Yes, I feel good, I'm seeing the puck really well," he said. "Thanks to the guys."
He said the Avalanche's nearly two-week break for its bye week and the All-Star Game helped.
"I think it was really good for us everywhere," he said. "We were a little bit banged up, a couple of injuries," he said. "I wasn't that great leading up to the break, so it's nice to get a couple of days away from hockey and get your mind free and get ready for the last push."
Coach Jared Bednar noted the Avalanche has "tightened the screws on what we're giving up. And our goalies, I think, are playing better. I think it's a combination of both. . . There's a lot of hockey left to be played, right? We will monitor (Grubauer), but we want to keep him going and feeling good about his game. We had a number of games in mind at the beginning of he year for him to play and I think we're still on track to do that."
January 31, 2020
"Cut" Rockies, ex-Nuggets voice
Schemmel reflects on plane crash,
wife's illness, Kobe ... and what now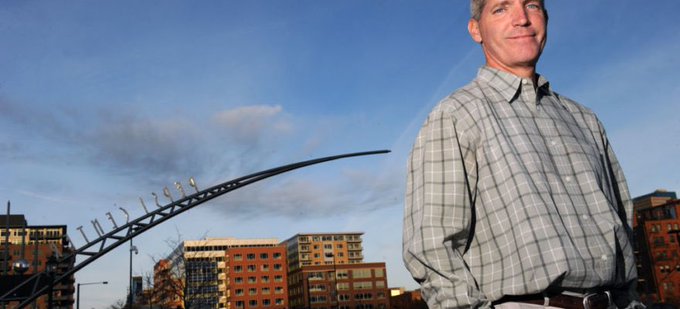 January 28, 2020
LIV (or so) tips
for making it through
a Super Bowl party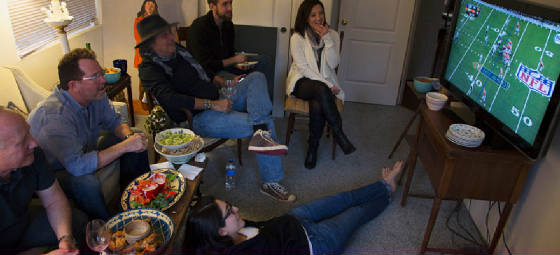 January 24, 2020
With NHL All-Star and
Pro Bowl on tap, ranking
four All-Star Games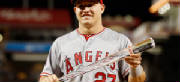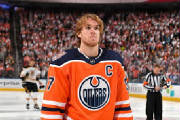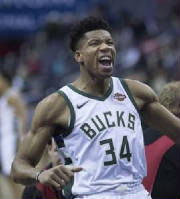 January 22, 2020
With all due respect,
Nolan, "disrespect"
is ridiculous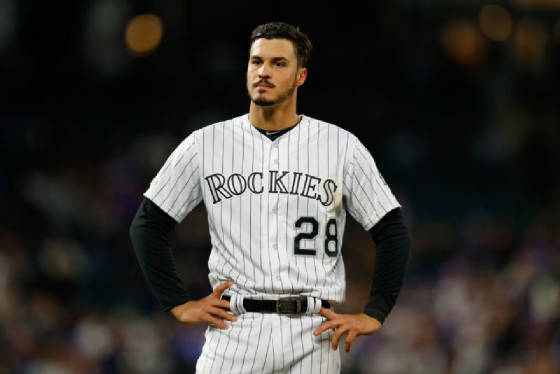 In the past four days, Nathan MacKinnon Friday was named Mile High Sports Magazine's Sportsperson of the Year for 2019, and then Tuesday also was voted the Colorado Sports Hall of Fame's Male Athlete of the Year.
The timing just worked out that Mile High Sports CEO Nate Lundy and Editor Doug Ottewill posted the story and revealed the choice of MacKinnon as Friday as the Avalanche was set to face the Sidney Crosby-less Penguins Friday night at the Pepsi Center.
Unfortunately, Crosby -- MacKinnon's fellow Halifax Regional Municipality native and close friend -- missed his 27th consecutive game with a lower body injury.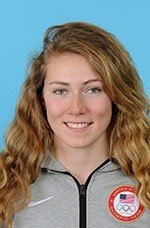 Of course, there were other worthy candidates for the Mile High Sports honor. I mention Mikaela Shiffrin, Nikola Jokic, Nolan Arenado, Trevor Story, and, yes, the late Pat Bowlen. (My thinking there was another posthumous honor.) With hindsight, Troy Calhoun probably should have rated mention.
For the record, I didn't have a vote for the Mile High Sports honor, but I agree with the selection of MacKinnon.
The awarding of separate male and female awards made the choice less difficult than the Mile High Sports choice, given Shiffrin's continuing dominance of the World Cup circuit.
Shiffrin and MacKinnon will be honored at the Hall of Fame's annual awards banquet on April 23 at the Hilton Denver City Center. It's unlikely that MacKinnon will be present, given that's 19 days after the final regular season game, and he most likely will be competing in the Western Conference semifinals with the Avalanche or be playing for Canada in the IIHF World Championships.
Featured will be the six-member 2020 Induction class, selected last October: Lindsey Vonn, Bob Gebhard, Alonzo Babers, George Gwozdecky, Terry Miller and Erin Popovich.
Other award winners selected Tuesday were:
Female college athlete: Lynnzee Brown (University of Denver gymnastics).
Male high school athlete: Cohlton Schultz (Ponderosa wrestling).
January 8, 2019
Stern was cool to
internationalization at first,
but soon was all-in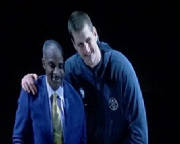 Last summer, Cale Makar helped out on a Kroenke Sports and Entertainment community service
day at Denver's Sloan's Lake Park.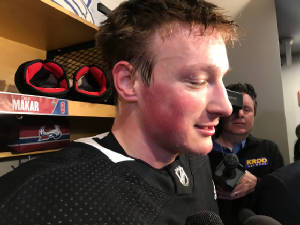 Last spring, Cale Makar and most of the UMass hockey players sitting together at the Pepsi Center Thursday night beat the Denver Pioneers in the Frozen Four semifinals and then fell to Minnesota Duluth in the championship game.
The next day, Makar -- Colorado's first-round pick and No. 4 overall in 2017 -- signed with the Avalanche and within 48 hours of the title-game loss stepped into the Colorado lineup for its Game 3, first-round win over his hometown team, the Calgary Flames. "There was such a quick transition, but at the same time, this is what you're been working for," Makar said Thursday night.
And all -- or at least most -- has gone well since, with Makar one of the early favorites to contend for the Calder Trophy as the NHL's top rookie as the Avalanche head for one of the league's bright-lights circuits, in this case consecutive road games at Newark against New Jersey Saturday, at Uniondale against the New York Islanders Monday and in Manhattan against the Rangers Tuesday.
Although he missed eight games with an upper body injury before returning to the lineup last weekend, Makar -- the Hobey Baker Award winner as NCAA hockey's top player last year -- leads NHL rookie defensemen in points, with 31, and is second only among all rookies to Buffalo's Victor Olofsson, who has 35. Makar has nine goals and 22 assists and is a plus-5.
That was after he had a goal and an assist in the Avalanche's 7-3 rout Thursday night of the defending Stanley Cup champions, the St. Louis Blues.
The Minutemen, who meet DU at Magness Arena Friday and Saturday, eagerly checked in as spectators -- for the record, following NCAA student-athlete regulations when lining up the tickets after the schedule came out -- to watch their former teammate.
"I keep in touch with all those guys," Makar said. "It's pretty awesome they were able to come, that's for sure. . . I didn't get to see them at all, but I love all those guys. I don't want to reminisce in the past, but it was awesome to have them out there and hopefully, I'll be able to see them tonight."
Along the way this season, there have been occasional reminders that as gifted as he is, the transition for young defensemen is the most difficult and even the elite at te position can look befuddled and rushed at times as rookies.
But he's back.
"I don't think I'm out of shape at all," he said. "Tonight, I'm a little bit sick, so I was taking pretty short shifts. It's stuff you deal with. It's getting comfortable again with the pace."
I asked Avalanche coach Jared Bednar if Makar's continuing education in the NHL game.
"I think we saw some excellent play before he was hurt. Now he's already faced some adversity in his pro career. It's the first time he's ever been hurt, and it lasted longer than what he wanted. I think there was some frustration there. I think coming out of that, he was trying to pick off where he was at the start of the year, he was trying to do too much when he shouldn't. . . Now he's starting to build it back.
"I expect that we're going to see real good play here from Cale going down the stretch. He's an important piece to our lineup and he just keeps getting better and better. I think that where he can grow is we get him to a point where he's mature and he gets in better condition. Not that he's not a well-conditioned athlete. He grows into a man and we get him into the area where we can start playing him more and more and get him up in the high 20s."
He means minutes, of course.